Howard Sherman, an arts administrator who lives in Manhattan, was walking through Times Square earlier this month when he noticed a man bearing a striking resemblance to Vice President-elect Mike Pence dressed in short shorts.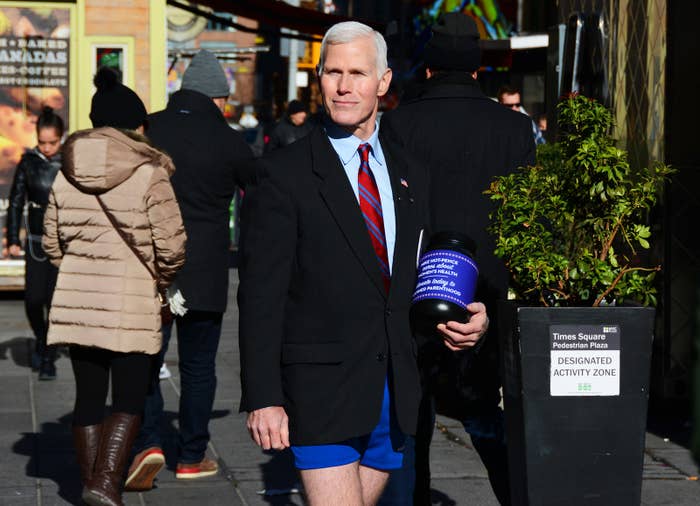 Pannell, a 51-year-old graphic designer and occasional actor, told BuzzFeed News that he decided to dress up as Pence and collect money for various causes because he was feeling very down after the election.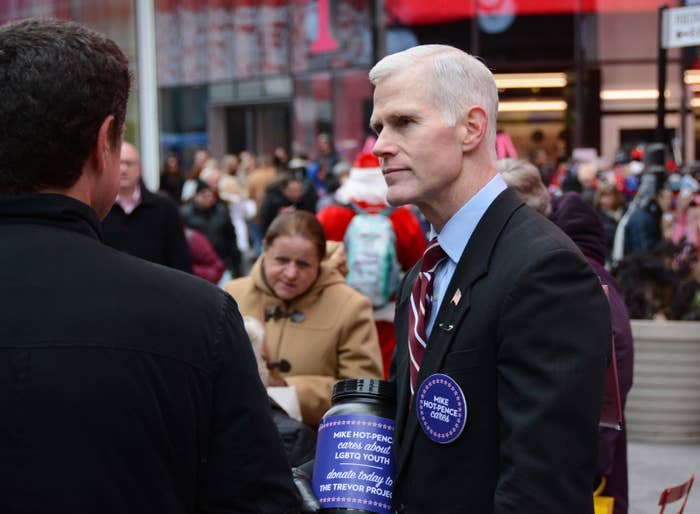 Pannell, who came out in his twenties, has so far collected money for Planned Parenthood, the Natural Resources Defense Council, and the Trevor Project — a national suicide hotline for gay and questioning youth — and hopes to collect for the International Refugee Assistance Project.
"These are all groups and causes that suffered when Pence was in office, so I worry about them in the next few years under a Trump-Pence administration," Pannell said.
Pannell said it was his family and friends who noted his resemblance to the vice president-elect, asking him if he was going as Pence for Halloween.
Pannell said he decided to keep his upper half "pure Pence" and donned a pair of vintage athletic shorts from his high school days for his bottom half.
Because he has a full-time job, Pannell collects money only on weekends.
Pannell said that reactions on the street have been overwhelmingly positive. "People want to give and they want to talk," he said.
"I'm 51. I never expect anything I do to go viral online," he said. "I do understand why people respond to it. It's funny, and it's hopeful, and people need that right now.