Lin Yi-Han, a 26-year-old author from Tainan, Taiwan, has become the center of a national controversy after she killed herself last month.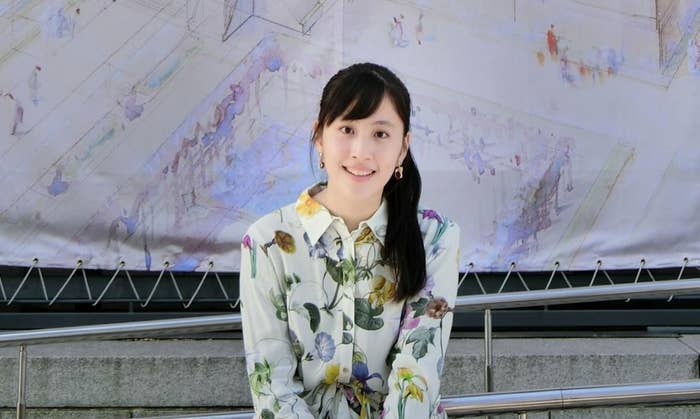 In February, Lin published her first novel, Fang Si-Chi's First Love Paradise.
The book was an immediate bestseller, and Lin gave several interviews summarizing it as "the story of a teacher, who has long used his status as a teacher to seduce, rape, and sexually abuse female students."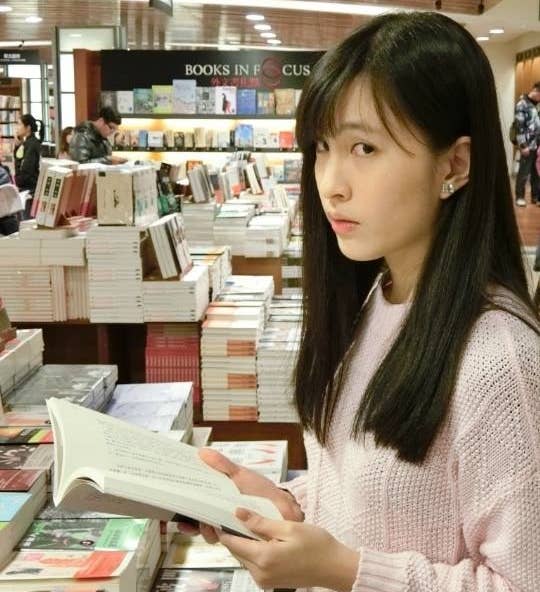 In Lin's final interview, the author said that "Mr. Lee" was based on a teacher she knew in real life, and that "the biggest massacre in the history of mankind is the rape of Fang Si-chi."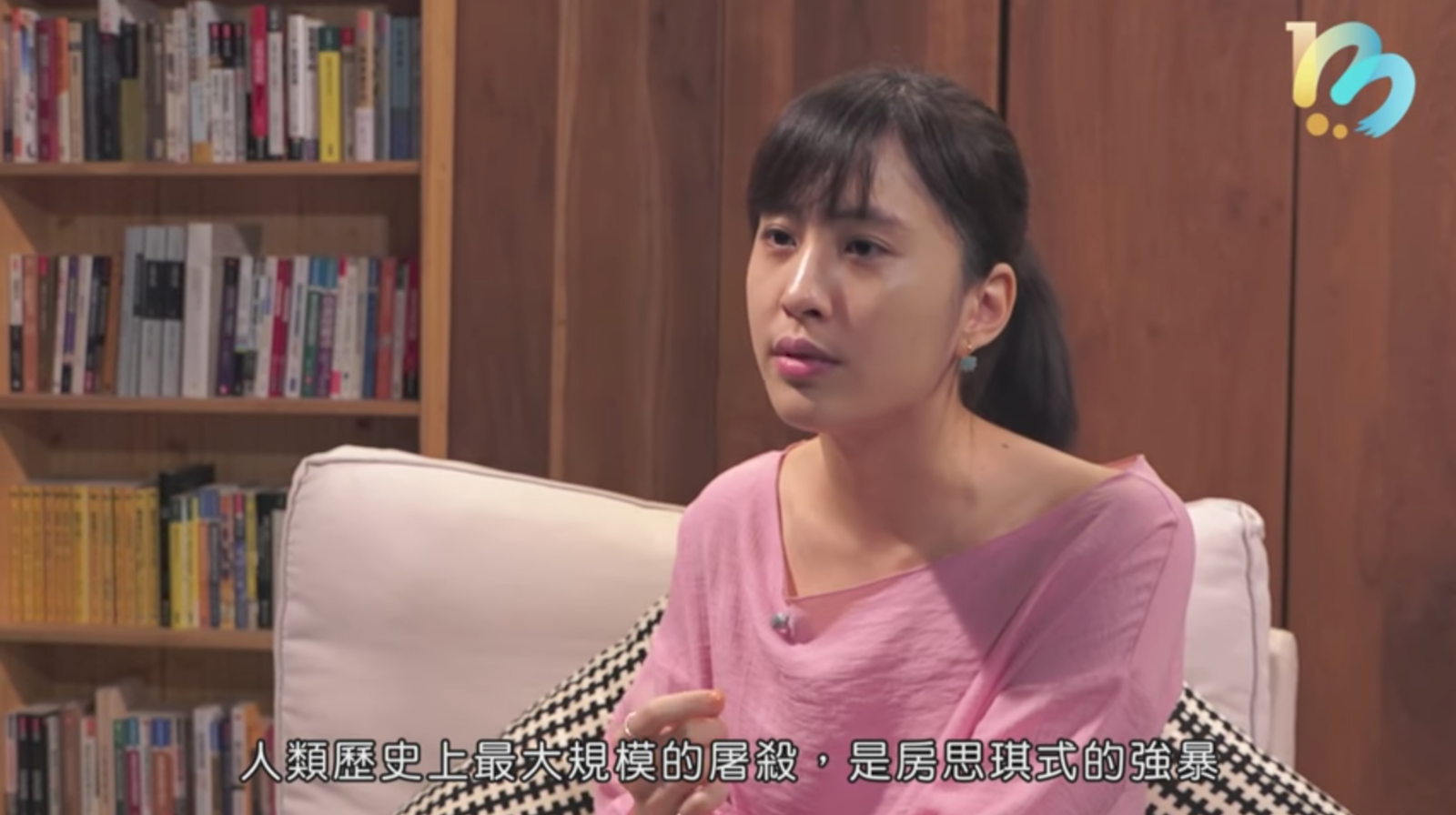 Lin was found dead in her bedroom by her husband a week later, on the morning of April 27. Police say that a suicide note was found at the scene.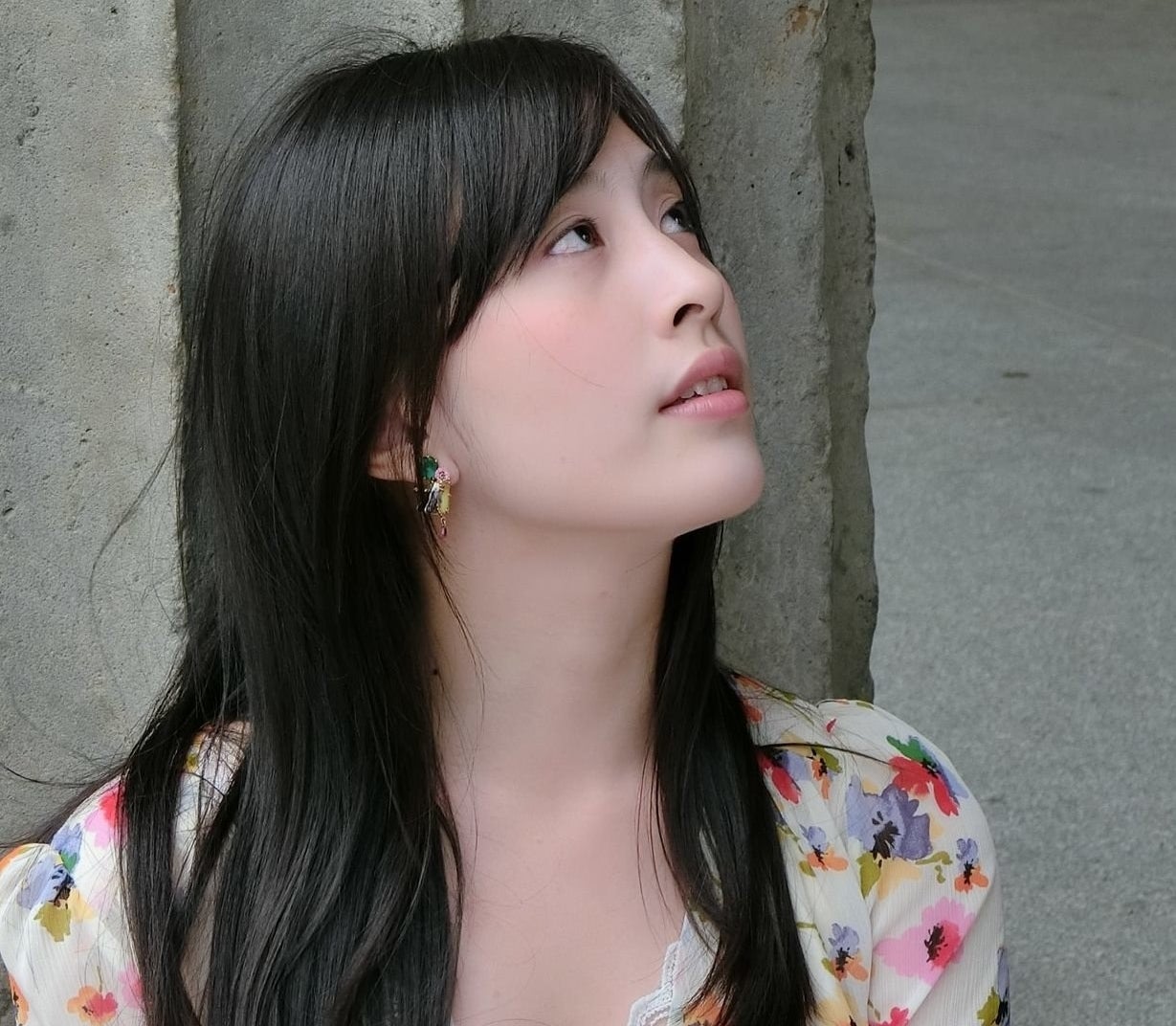 The news went viral on Taiwanese social media.


The day after her death, Lin's parents released a statement via her publisher, saying Fang Si-chi's First Love Paradise is a truthful record of their daughter's experiences.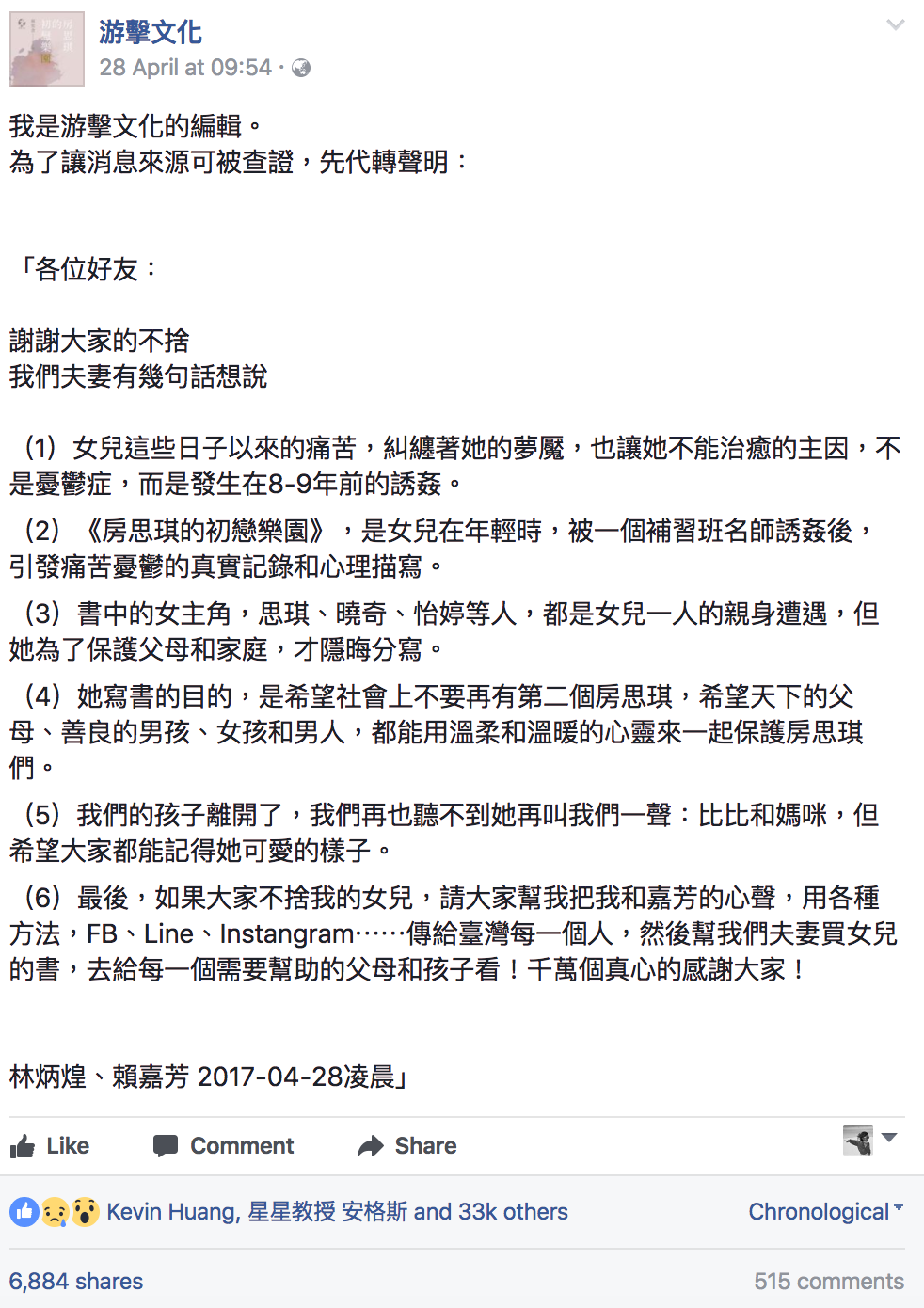 "The pain experienced by our daughter, the demons she faced, and the reason she can't be cured, was not due to depression, but from when she was seduced eight to nine years ago," they wrote.
Dear friends,

Thank you for your sympathy. We as a couple have some things we'd like to share.

(1) The pain experienced by our daughter, the demons she faced, and the reason she can't be cured, was not due to depression, but from when she was seduced eight to nine years ago.
(2) Fang Si-chi's First Love Paradise is a truthful record and reflection of the pain and depression our daughter experienced after she was seduced by a famous cram school teacher when she was younger.
(3) The characters in the novel – the main character Si-chi, and other characters Xiao-chi and Yi-ting, are all actual embodiments of encounters experienced by our daughter. But in order to protect her parents and family, she decided to separate her experience into different characters.
(4) She wrote this book in the hopes that there will not be another Fang Si-chi, in the hopes that the world's parents, boys, girls, and men will protect the Fang Si-chis of this world with gentleness and warmth.
(5) Our child has left us, and we will never again hear her call us "daddy and mommy," but we hope that everyone will remember her fondly.
(6) And lastly, if you feel saddened by the loss of our daughter, please share our thoughts with every single person in Taiwan – via Facebook, Line, Instagram – and buy our daughter's book for every parent or child who needs it! With thousands of thanks!

Lin Bing-huang and Lai Jia-fang
April 28, 2017, early morning
Lin's parents sent a separate statement to a group chat on messaging app Line asking members to share their message with others.
Based on Lin's parents' statement, the Tainan City Government launched an investigation into whether a cram school teacher had indeed violated the Sexual Assault Crime Prevention Act.
News of Lin's suicide — and her parents' subsequent statements — set off an online manhunt for the real-life identity of the teacher her book was based on.


The day after Lin's suicide, people across Taiwanese social media began alleging that the character of "Mr. Lee" was actually based on Lin's Chinese teacher, a famous cram school instructor named Chen Hsing.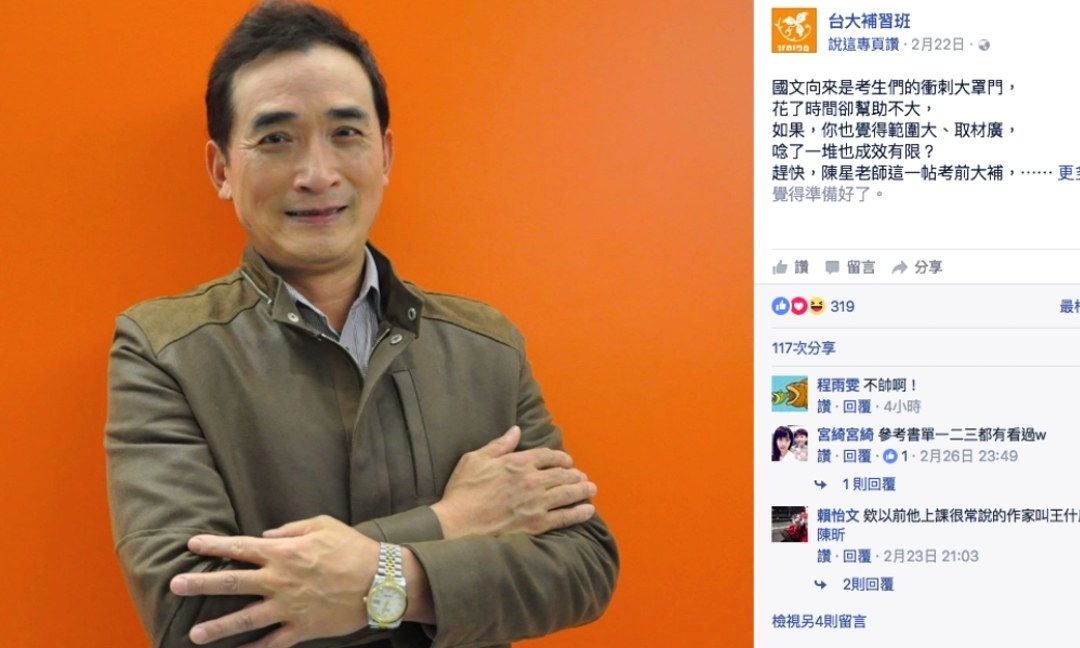 People on Taiwan's version of Reddit, PTT, created a "Chen-Hsing" board to discuss the allegations against Chen.

PTT users noticed that after Chen was branded the "pervert teacher" on social media, he canceled all of his classes. Several cram schools Chen taught at also quietly removed his name from their branding and websites.
As the social media frenzy was kicking into gear, a local legislator from Kaohsiung, Xiao Yong-da, publicly accused Chen, as well.
The legislator said that Chen's real name was Chen Guo-hsing and said Chen had been teaching at several schools under various pseudonyms, which is common for famous cram school teachers. Xiao swore on his career and said he would step down and not run for election if he was wrong about Chen.
Comments also surfaced on PTT accusing Chen of faking his master's degree.
Chen had previously said he got his degree from the language research institute at Kaohsiung's National Sun Yat-Sen University.
But a spokesperson for the university told Apple Daily that Chen was accepted to the university's Chinese literature program in 2006, but deferred for two years. After he still did not show in 2008, the university dropped him.
The spokesperson added that the university did not have a language research institute, and that Chen was accepted to the master's course in the department of Chinese literature, but "did not attend one day of class."
On May 9, Chen finally addressed the allegations and released a public statement through his lawyers, denying that he and Lin had a teacher-student relationship.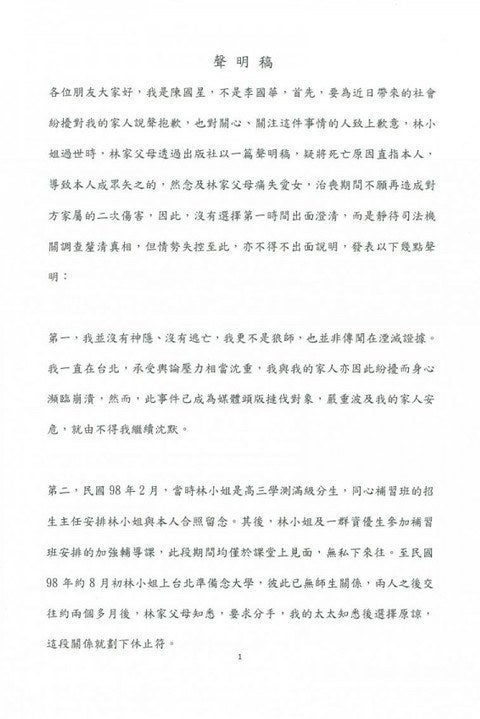 Chen said he had taught Lin in February 2009. He said that he did not start to date her until August 2009, when she was 18 and he was no longer her teacher. He said the couple were forced to end their relationship after two months because her parents objected and because he is married. Chen also said the contents of Lin's book were not based on true events, and denied having anything to do with Lin's depression.
Making things even stranger, local media have been unable to identify who Chen's lawyers are and he has been unreachable since delivering his statement.
The police investigation into whether Lin was abused by a cram school teacher is still ongoing, but an official suspect has yet to actually be named.
Also, several city governments in Taiwan have since announced stricter laws regarding the screening and hiring of cram school teachers.
All cram school teachers are now required to register with their legal names, and cram schools have to list the teachers' real names alongside their pseudonyms on advertising.
BuzzFeed News reached out to Lin's family and her publishers. Local police said they didn't immediately have a comment.
Nevertheless, threads about the controversy continue to pop up all over PTT, with people talking about suicide, cram schools, and rape culture.


It has also inspired other women to come forward to share their own experiences with sexual harassment and abuse.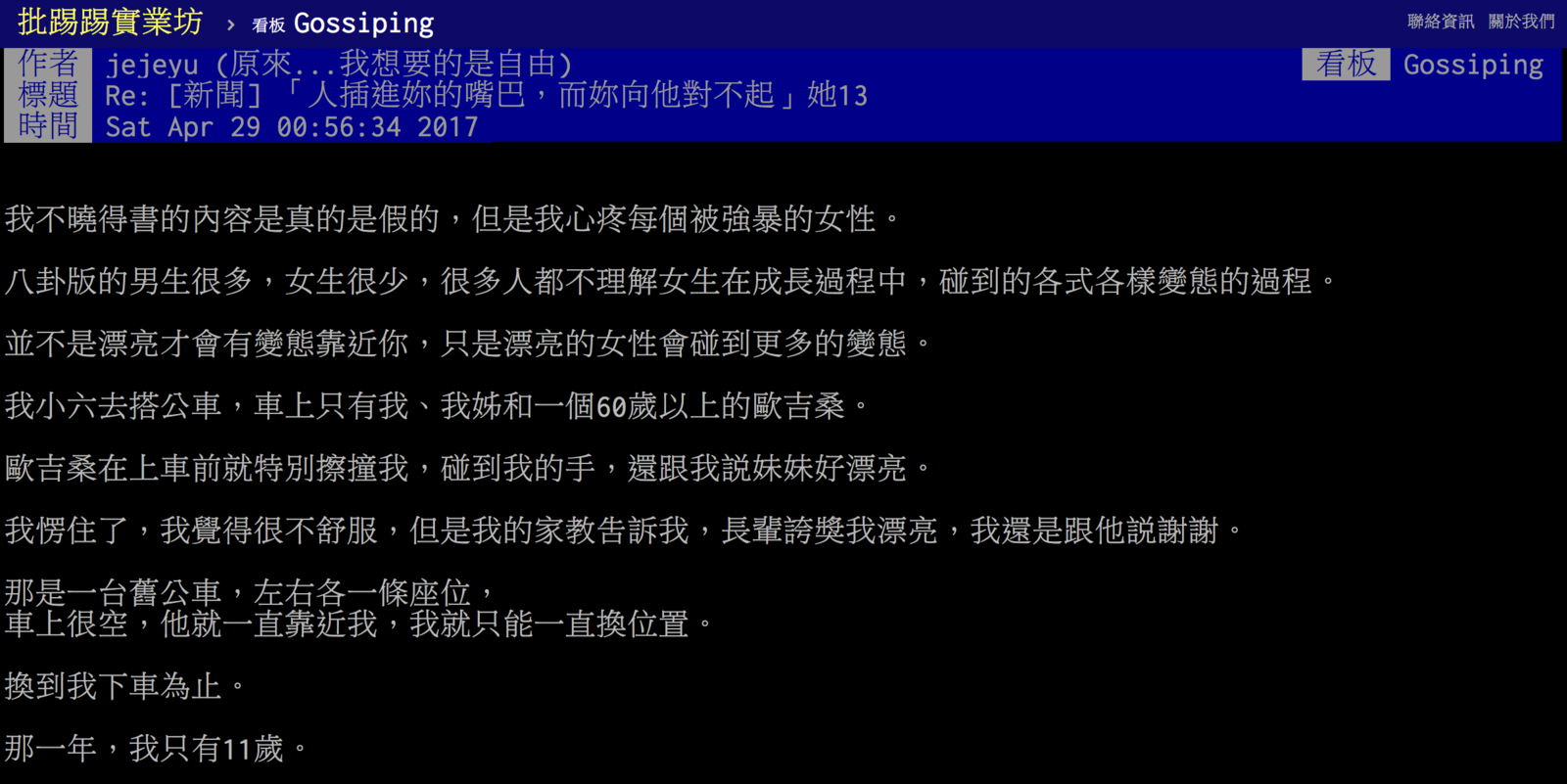 And it created a massive conversation about consent in Taiwan.