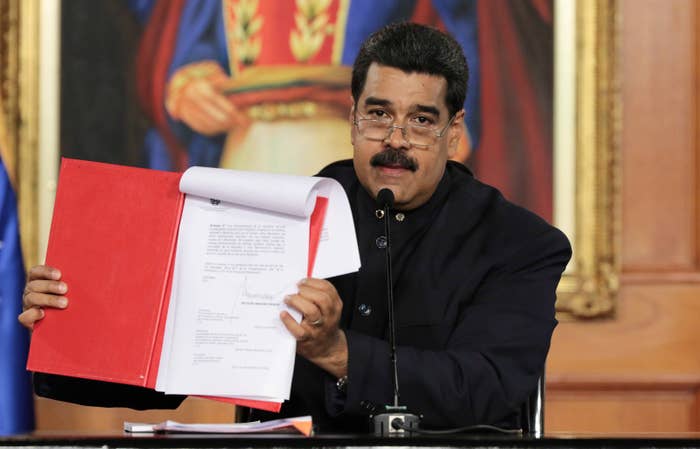 CARACAS, Venezuela — After weeks of renewed street protests and a growing chorus of concern from regional governments, Venezuela's president set in motion the drafting of a new constitution on Monday, pushing the embattled country into a deeper political impasse.
President Nicolas Maduro announced that his inner circle, including first lady and congresswoman Cilia Flores and Foreign Minister Delcy Rodriguez, will be in charge of overseeing the citizens' assembly that will write the replacement constitution.
"I have absolute trust in the people of Venezuela," said Maduro during a televised appearance. He repeated his recent call for Julio Borges, president of the opposition-controlled congress, to be jailed.
Anti-government leaders called for Venezuelans to rebel against the citizens' assembly. "What happened today is a fraud," said Borges. He called Maduro's announcement "the biggest coup d'etat in the history of the country."
Maduro has been unable to quell widespread medicine and food shortages, a homicide crisis, and inflation that the International Monetary Fund expects to hit 2,000% by next year.
The crisis has created a sustained challenge for chavismo, the socialist movement created by former president Hugo Chavez. In 2015, it lost its parliamentary majority after 16 years. The following year, the emboldened opposition mounted a campaign to hold a recall referendum for Maduro; it was suspended by the National Electoral Council, which has close ties to the executive branch despite its supposed independence.
International pressure mounted against Maduro after the chavista-friendly Supreme Court declared that it had taken over the congress's duties in March. It yielded following protest from the country's attorney general. Last week, Rodriguez announced that Venezuela was pulling out of the Organization of American States.
Calling the citizens' assembly was a sign of desperation, some analysts said.
"This is the last card the government can play and it's playing it now," said Pedro Afonso del Pino, a Venezuelan constitutional expert. "It's a door to a formal dictatorship."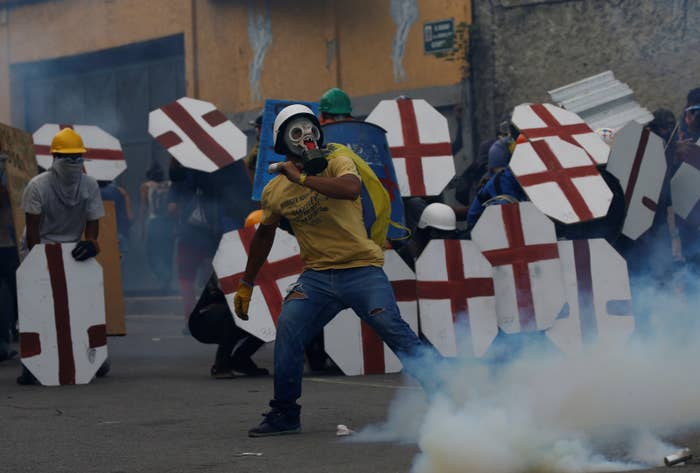 A citizens' assembly in Venezuela's current climate is contradictory, said Juan Manuel Raffalli, professor of law at the Andres Bello Catholic University in Caracas. Maduro, who has been unable to attract even a fraction of the adoration Venezuelans still direct at Chavez, does not want to change the constitution, which was written under his predecessor, but an assembly is tasked with rewriting the entire text, said Raffalli.
Opposition leaders and some legal experts fear that the socialist government will find or create loopholes to ensure that the assembly's members are government supporters — all while continuing to put off the regional elections that were due to take place last year.
But others believe that a new constitution might hold the answer to the country's deepening gridlock.
"This alternative could untangle the current political game," said Venezuelan constitutional lawyer Jesus Silva. "It would seem like there is no other solution."
On Sunday, Rodriguez admitted that Venezuela was facing challenges. "I will not be clumsy enough to admit that everything is fine from an official position," she told BuzzFeed News.
Hours before Maduro's announcement, thousands of protesters marched down Caracas's streets in an effort to reach the Supreme Court and National Electoral Council headquarters. They were pushed back by water tanks and peppered with tear gas. At the other end of town, government supporters clad in red streamed out of buses near the Avenida Bolivar boulevard to hold a rally.
At one point, a government-owned bus that did not appear to be participating in the march and was carrying a handful of unsuspecting passengers, including several children, came to a stop light near an anti-government march. A group of protesters surrounded the bus, yelling "Out!" and signaling its driver to turn back. At first the driver hesitated, but eventually gave in.
The crowd high-fived each other and cheered. "That's how, little by little, this is going to finally fall," Rosana Farias, a protester nearby, told BuzzFeed News.
The last 16 months have been marked by a stream of perceived points-of-no-return. Monday marked another. Between the marches and Maduro's actions, Venezuelans on Twitter described the day's events as the end of the Fifth Republic — the political phase founded under Chavez.
"Today was the first morning of the VI Republic!" one person tweeted.