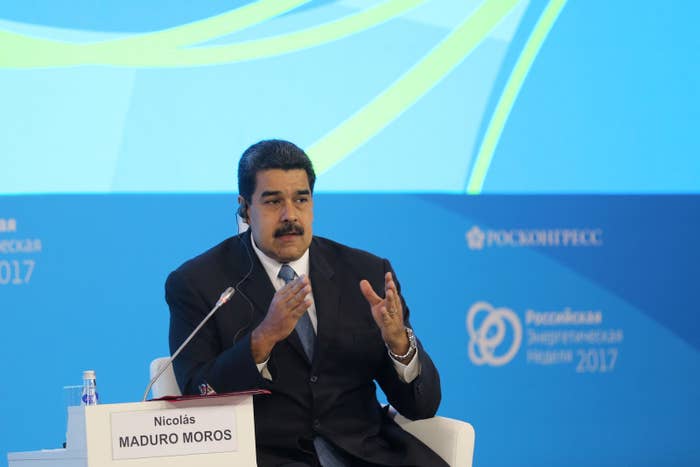 Venezuelan President Nicolás Maduro used a rare interview with a US news outlet on Wednesday to thank god for Vladimir Putin and accuse President Donald Trump of not knowing where Venezuela and Puerto Rico are on a map.
"He went to Puerto Rico and he came there during the tragedy and insulted them. These are our brothers," Maduro told PBS NewsHour correspondent Ryan Chilcote of Trump's visit to the hurricane-battered island.
"If you say to him, Simón Bolívar, he thinks that's a rocker, a singer. He doesn't know who that is," Maduro said, referring to the beloved revolutionary who shepherded Latin America's independence from Spain. "He repeats what the Pentagon writes for him."
The incendiary comments follow an escalating diplomatic feud between the two leaders. In August, Trump threatened Venezuela with a "military option," shortly after the US government added Maduro to its sanction list. The country was later added to the latest version of a list banning citizens of certain countries from traveling to the United States. (Venezuela was one of the few non-Muslim majority countries to be added.)
Maduro faces intense pressure at home, where a food crisis has caused people to lose an average of 19 pounds per year and medicine shortages have killed children suffering from treatable infections. More than 120 people were killed during street protests earlier this year.
"I never heard this. Who is saying this?" Maduro said when Chilcote inquired about the food crisis.
Maduro gave the interview onstage in front of an audience during the Russia Energy Week summit in Moscow, and deflected questions about the political and humanitarian issues at home, using the time to praise the host country's president instead. "Thank goodness there is such a leader in the world. A true leader, with a fast growing economy like Vladimir Putin," Maduro said. "He holds high the flag of peace, dignity."

Russia and China are Venezuela's last significant allies, with growing concern in Washington over the South American country's increasing dependence on the Kremlin. If Venezuela's state-run oil company PDVSA defaults, Russian oil company Rosneft could wind up with a 49.9% stake of Citgo, a US affiliate of PDVSA.
Maduro told Chilcote that he plans on deepening his relationship with Russia. "We're going to be given even more support to defend our sovereignty and our defense capabilities," he said.
Maduro blames many of Venezuela's problems on a US-backed economic war and mass media. Dozens of journalists were hurt during protests, expelled from the country or refused entry. Chilcote asked Maduro if he could guarantee that journalists will be given access to Venezuela in 2018, when presidential elections are scheduled.
If reporters were not given accreditation, it is "probably because of the libel and distortions that were spread by such mass media," said Maduro.
The interview ran just over seven minutes.
"It's been, uh, interesting speaking with you, sir," Chilcote said.