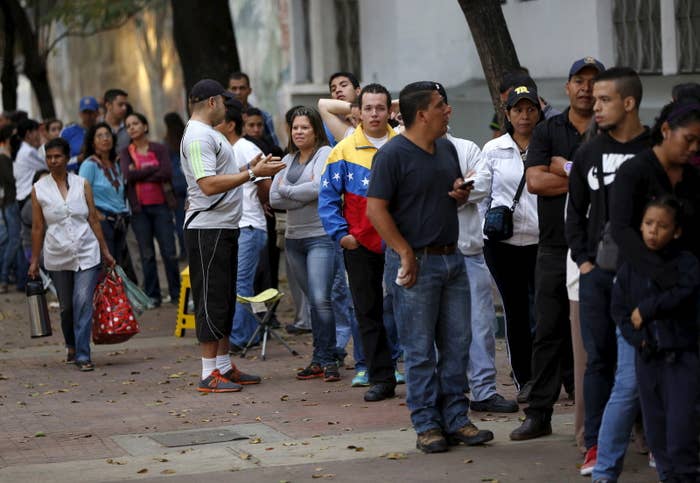 CARACAS, Venezuela — The Venezuelan opposition won a parliamentary majority Sunday, dealing a historic blow to the ruling party and posing a significant challenge to the political legacy of the chavismo ideology in the staunchly socialist country.
The opposition coalition, known as the Democratic Unity Roundtable, won 99 seats of the 167 seats in the National Assembly that were all up for grabs, according to the National Electoral Council. The ruling United Socialist Party of Venezuela — which prior to today held 96 seats — won only 46 contests.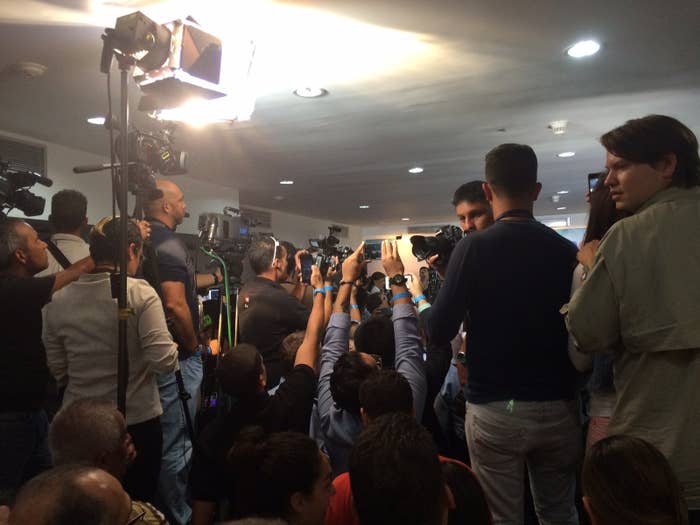 At the Altamira Village Hotel, where the coalition set up its election night operational base, cheers and whistles filled the room where the candidates had assembled. Claps erupted over the midsts of a chorus shouting, "We were able to do it!" Several people stood on chairs in the overflowing, overheated room to try, unsuccessfully, to catch a glimpse of the stage.
This is a "strenuous defeat of officialism," said Jesus Chuo Torrealba, head of the Democratic Unity Roundtable.
The opposition had been expected to win, with polls leading up to Sunday's vote giving it a two-digit lead over the official party bloc. Everyday life in Venezuela has become increasingly punishing during President Nicolas Maduro's administration: basic goods like deodorant and eggs are hard to find amid widespread shortages, triple-digit inflation has made life prohibitively expensive, and spiraling violence has traumatized the general population.

It was the first time since former president Hugo Chavez took office in 1999 that the opposition had been expected to trump chavismo, the socialist movement the deceased president founded.
It is widely expected that the opposition will issue a recall referendum to unseat President Nicolas Maduro and call for new presidential elections in coming months. With a majority in the National Assembly, the opposition will have significant power over budgets, laws and key official appointments.
Caracas, the capital city, was unexpectedly quiet on Sunday, though a series of controversies emerged throughout the day.
After former Bolivian president Jorge Quiroga said the government had behaved opportunistically during both the electoral process and voting day, the National Electoral Council revoked his observation credentials. "These people should be expelled from Venezuela," said National Assembly president Diosdado Cabello, referring to the group of former Latin American heads of state that had come to observe the election.
Polling stations remained open more than three hours longer than what was previously established. Sandra Oblitas, a National Electoral Council rector, said hours would be extended until everyone in line had had an opportunity to vote. During this time, the state-run channel, VTV, broadcast interviews with government supporters from polling stations in Chavista bastions across the country.
A campaigning ban was put into place Friday but Jorge Rodriguez, campaign manager for the ruling United Socialist Party of Venezuela, appeared on state-run VTV and urged supporters to "deploy through the entire national territory" and "go for the grand finale for a perfect victory" while stations were still open Sunday.