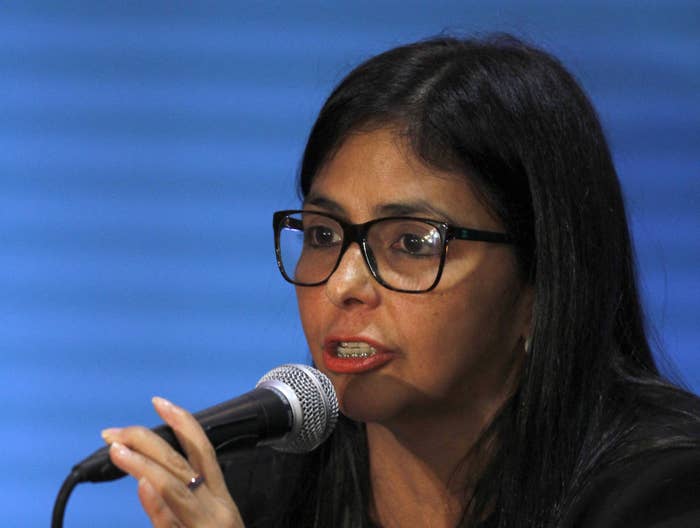 MEXICO CITY, Mexico — A terse meeting of the Organization of American States on how to preserve democracy in Venezuela resulted in the embattled country's foreign minister walking out from the proceedings altogether.
Foreign Minister Delcy Rodríguez said Venezuela will not recognize any pact made by the OAS's members during their general assembly meeting in Cancún, Mexico, issuing a warning to her counterparts across the region.
"I call on those who remain in this organization to remember that they have to take care of the durability of their own institutions if they don't want the same thing that happened to Venezuela to happen to them," said Rodríguez before picking up her belongings from the table and leaving.
The dramatic retreat was not surprising. Rodríguez announced Venezuela's exit from the 34-nation OAS entirely earlier this year after many of its members, including US Secretary of State Rex Tillerson, voiced their concern over the country's descent into chaos.
After a diplomatic tiff with Mexico's foreign minister, Rodríguez vowed to attend the organization's annual meeting to speak to him in person.
Mexico has taken the lead in the regional effort to pressure Venezuela's government to call new elections after a series of delays. As shortages of food and medicine batter the population, triple-digit inflation continues to climb, and an already high homicide rate rises, President Nicolás Maduro has become increasingly autocratic. He recently called for a rewrite of the country's constitution, sparking Monday's OAS debate about whether to recommend that the assembly tasked with drafting it be annulled.
More than 70 people have died during the frequent protests taking place in several cities around the country since Maduro's allies in the Supreme Court stripped the opposition-controlled Congress of its lawmaking powers. (The Court later retreated in the face of massive outcry, restoring the Congress's powers.)
The feud between Venezuela and Mexico's top diplomats escalated at an event in Miami last month, when Mexican Foreign Minister Luis Videgaray said Venezuela no longer had a "functional democracy" but rather, was showing "authoritarian traits."
Rodríguez reached for her phone right away. "It's unfortunate that the Mexican government attacks Latin American countries while gravely and massively violating the human rights of its own people," she tweeted.
"Venezuela rejects the vile and immoral declarations of @LVidegaray that show his submissiveness to the Hegemonic country that shields its failed state," she added.

At a press conference that day, Rodríguez said she looked forward to telling Videgaray "to his face" to deal with the disappearance of 43 students and violence in Mexico during the OAS meeting. The Mexican Foreign Ministry, in turn, said Mexico uses international public scrutiny as an "instrument of change."
Venezuela's participation at the gathering got off on the wrong foot even before Rodríguez's formal speech. The country's OAS ambassador, Samuel Moncada, was caught on camera engaging in a heated argument with Gustavo Tovar, a Mexican human rights activist, in a nearby hotel lobby.
"You've sold yourself out to the Americans," Moncada yelled at Tovar, who in response threw a bill at the diplomat and told him to take his "charity."
Venezuela's socialist government blames the country's elite and its US backers for destabilizing the country. A handful of countries in the region continue to support Venezuela, including Bolivia, Nicaragua and several Caribbean nations that receive subsidized oil from Maduro.
Rodríguez appeared calm as she addressed the other OAS members.
"I humbly ask the group of countries who promote intervention in Venezuela to think not only about the violent protesters, but also of the Venezuela that wants to work and that wants to overcome," she said.
Member states' diplomats remained in their seats and continued discussing the proposal. In the end, the resolution failed to get enough votes.