Venezuelans Are Ready To Finally See What Comes Next After Chávez
But whether the anti-chavismo coalition who seized control of the National Assembly can deliver is still up in the air. BuzzFeed News' Karla Zabludovsky reports from Caracas.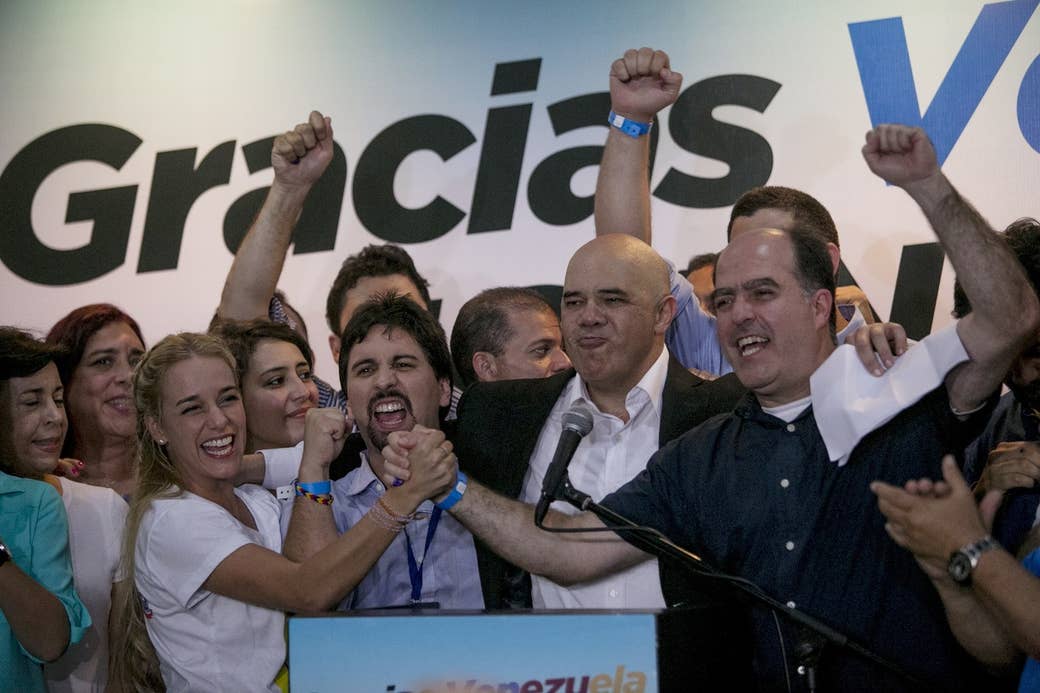 CARACAS, Venezuela — At the crack of dawn Sunday, a trumpet-heavy military song used by socialist icon Hugo Chávez to rally supporters on election days blared from a truck near the mausoleum where his body rests. By nighttime, with fireworks filling the starless sky with smoke, a similar truck blared the Venezuelan national anthem in the eastern part of the city.
The two songs, by then, belonged to markedly different chapters of Venezuela's history.
On Sunday, for the first time since Chávez took office in 1999 and set off an expansive socialist wave across Latin America, the ruling party lost control of the National Assembly. The opposition coalition, known as the Democratic Unity Roundtable, won at least 99 of the 167 seats, while socialists held onto just 46.
The ruling party lost the state of Barinas, Chávez's birthplace and one of the most loyal bastions of chavismo, in one of the most telling results of the night.
"Change in Venezuela starts today," said Jesús "Chúo" Torrealba, leader of the anti-government coalition, shortly after midnight Sunday from the opposition headquarters here. "The vote succeeded in democratically trumping an undemocratic government."
President Nicolás Maduro, who frequently repeated the government campaign slogan "To the National Assembly, whatever it takes" during the last few weeks, admitted defeat early Monday morning. His second-in-command, National Assembly president Diosdado Cabello — one of the most feared men in Venezuela — was more combative.
"If you said you were a chavista and you voted for the opposition, facts will demonstrate your error," tweeted Cabello. "To loyal chavistas, I give my life for them."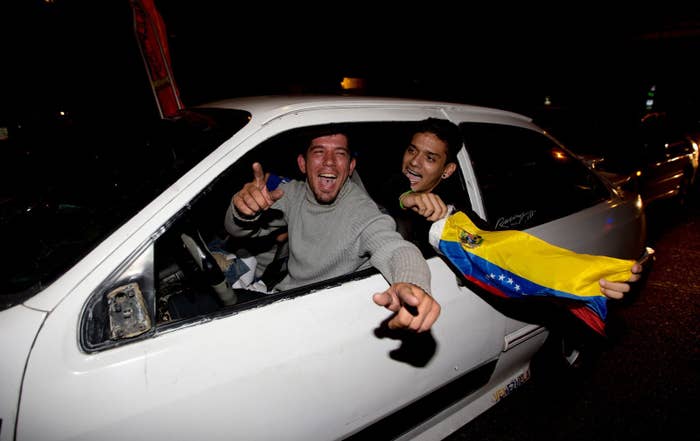 The opposition's triumph had been widely expected, with polls giving them a 20% lead in some districts. Still, there were concerns that both sides would take to the streets in case of defeat, possibly unleashing the kind of street violence that left 43 people dead last year.
The oil-rich country has plummeted into an economic crisis where widespread shortages force people to stand in hours-long lines daily to get basics like diapers and coffee, while triple-digit inflation makes these products into a luxury for many. Spiraling violence — Venezuela's homicide rate is the second highest in the world — has added to residents' growing list of daily concerns.
A tense calm descended on Caracas as people stood in organized lines outside polling centers Sunday. The streets were otherwise empty and most businesses remained closed.
In the neighborhood known as January 23, a strong chavista — the term given to followers of Chávez's chavismo ideology — bastion at the foot of the hilltop where Chávez's body rests, Luis Danes arrived before his local polling center opened at 6 a.m. "Today is a day of revolution within the revolution," said the 73-year-old, explaining that two diametrically opposed political models were coming to a head. If the opposition won, he said, predatory financial organizations like the International Monetary Fund would return to Venezuela.
Nearby, in the La Pastora neighborhood, Zasha sat on the sidewalk in front of her polling station, the humidity and heat forming a thin layer of sweat over her exposed skin. The four parallel lines to enter the polling station snaked outside the colonial building's facade for nearly a block.
"I grew up under that mandate and I could never betray it," she said, referring to chavismo. She was able to study tourism in Venezuela thanks to a scholarship she received from one of Chávez's social programs. But Zasha, 24, said Maduro, who Chávez hand-picked before his death in 2013, had not lived up to her expectations and joked that she might vote for an independent party.
Her family, in a microcosm of the polarized country, is strongly divided between government supporters and opposition.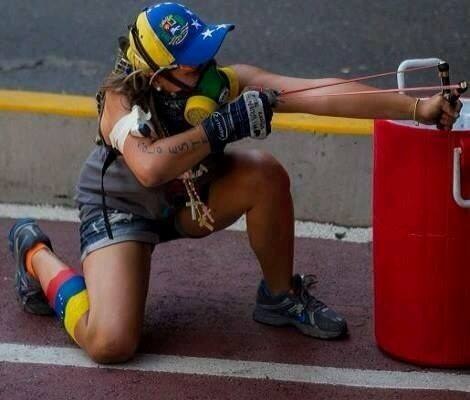 Across the city, Alejandra, who asked that her last name be withheld, shielded her freshly tattooed forearm from the sun as she waited to walk into the voting booth. Underneath her new, colorful feather, the faint outline of a slingshot was visible. It was the slingshot she had used to fight off police last year during a wave of mass anti-government protests here.
"The only line I stand in proudly now is this one," she said. Alejandra became a local celebrity after a photograph of her crouching behind a barricade, wearing a gas mask and preparing to shoot a slingshot went viral. She spent three months in the protest camps, known as guarimbas, that sprouted up throughout Caracas; her campmates dubbed her "the princess of the guarimba."
After a year of soul-searching, Alejandra decided violence would not spur the change many in Venezuela had been seeking. "I matured," said the 25-year-old student. "The answer lies in the vote."
Still, Alejandra voiced a concern many here, including opposition supporters, have: the opposition is significantly fractured and their current alliance, forged in time for campaign season, could fall apart. The differences between the factions are nearly as wide as those between chavismo and the opposition.
The factions' priorities are the same: release political prisoners, solve the economic and social crisis and change the government. The methods and timeline for these goals have resulted in tension between the groups.
"This opposition is glued together like a heel to a shoe, it's absolutely disjointed, with no type of project," said Nicmer Evans, a Venezuelan political expert.
Many here did not vote for the opposition because of an affinity to it, but rather, it was a "punishment" vote against the ruling party. Maria Betania Pena, who sat on the curb outside her voting center in the wealthy Chacao area eating ice-cream Sunday afternoon, admitted that she did not know who most of the opposition candidates she had voted for were. What she did know is that she wanted a change, desperately.
"If you work you can't stand in line to get basics such as feminine pads, but if you stand in line you can't work," she said of the catch-22 life in Venezuela has become. But it is violence that worries her the most: her father was killed during a home invasion last year. "I don't want to get killed for my cell phone," she said, her eyelids quivering.
Regardless of whether the opposition can remain united and accomplish its nascent agenda, Sunday's electoral results signaled an undeniable backpedalling on socialism in the Latin American country. Opposition leaders, candidates and supporters, gathered at a Caracas hotel, hugged each other as they wiped tears from their eyes shortly after the results were announced. At the intersection outside the hotel, people arrived during the early Monday hours to dance, shout, whistle and jump in unison to victory slogans.
"We are taking the blindfold off our eyes," said Brayan Romero, a 19-year-old who took a 15-hour bus from his home state of Táchira to Caracas earlier this week to celebrate the likely victory. "Too bad we cannot revive the dead," he added, speaking of the students that have been killed while protesting.
The chavistas' loss follows the end of socialist "Kirchnerism" in Argentina and Brazilian President Dilma Rousseff's plummeting popularity amid a major corruption scandal, signaling a political reversal in the region.