Venezuelan Opposition Leader Sentenced To Nearly 14 Years In Prison
Leopoldo Lopez will serve the sentence at a military prison.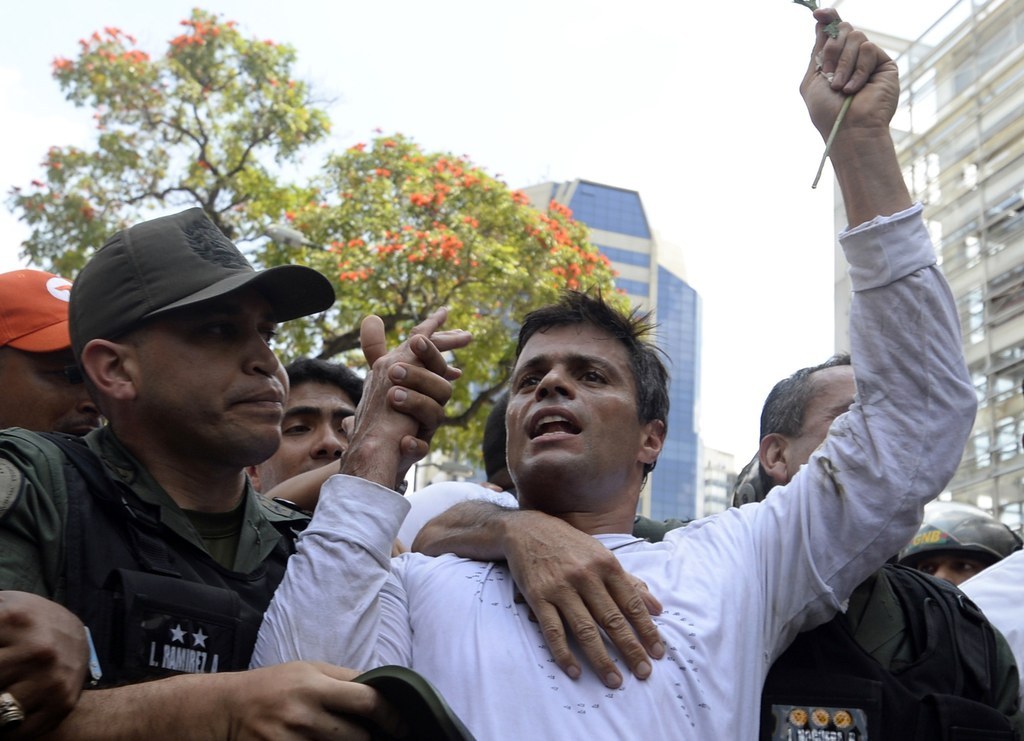 Leopoldo Lopez, the most public face of Venezuela's opposition, was sentenced to 13 years and 9 months in prison on Thursday after a judge found him guilty of inciting violence during mass anti-government protests in 2014.
Lopez, 44, will serve his sentence at the military prison where he has been held for nearly 19 months, since he turned himself in during a political rally. He had urged people to take to the streets and peacefully protest President Nicolas Maduro's administration and the problems plaguing the country, but the demonstrations became violent.
Scuffles between his supporters and pro-government activists erupted on Thursday as people waited outside the courthouse for the verdict.
Lopez's defense has 10 days to appeal the sentence. His lawyers have complained of irregularities during the trial, saying that judges won't allow them to present witnesses.
Secretary of State John Kerry said in a statement Friday that the U.S. "was deeply troubled" by the sentencing. "The decision by the court raises great concern about the political nature of the judicial process and verdict, and the use of the Venezuelan judicial system to suppress and punish government critics."
The Harvard University-educated economist and leader of the Voluntad Popular party has stayed in the public eye during his incarceration. He staged a month-long hunger strike earlier this summer to pressure Maduro's government to set a date for parliamentary elections.
Members of the opposition voiced their support shortly after the verdict was made public.
Maria Corina Machado, an opposition politician, tweeted: "This criminal regime condemns an innocent man without a single proof. All Venezuelans and the democratic world condemns the regime."
Henrique Capriles, another outspoken member of the opposition, wrote: "Justice in our Venezuela is rotten, today more than ever let's understand that the road to Leopoldo's and everyone's liberty starts the #6D."
Maduro's administration has been facing increasing pressure, with near triple-digit inflation, a spiraling security crisis and widespread shortages. He recently became embroiled in a deepening conflict with neighboring Colombia after he ordered several border crossings closed and deported thousands of Colombians he accused of smuggling.
The U.S. has repeatedly criticized Venezuela's human rights record; in March, Barack Obama issued an executive order freezing the assets of seven government officials suspected of human rights violations and declaring the South American country a national security threat. Three months later, the Venezuelan embassy in DC hired a US-based PR firm.