Venezuela Says It Is Willing To Take In 20,000 Syrian Refugees
President Nicolás Maduro said Venezuela would welcome 20,000 Syrians fleeing a civil war at home. His offer comes a year after he pledged to house Palestinian children orphaned by Israeli bombardments.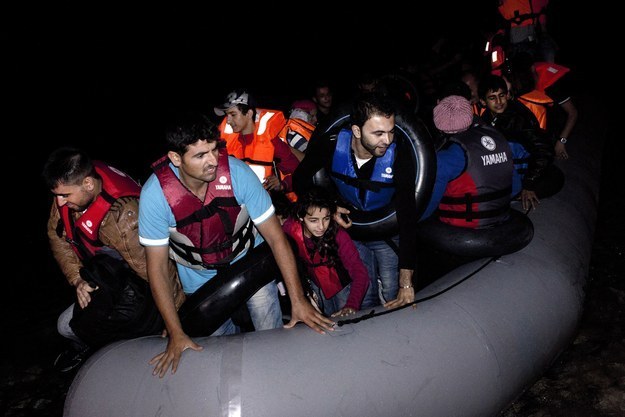 Venezuelan President Nicolás Maduro announced Monday that the South American country was willing to take in 20,000 Syrians as waves of refugees continue to take perilous journeys to reach Europe.
"I want twenty thousand Syrians, Syrian families, to come to our homeland, to share this land of peace, this land of Christ, this land of Bolivar," said Maduro during one of his regular televised speeches. "To work with us and to contribute with their love and their song to God, to contribute to the development of this magical land."
Thousands of people fleeing a civil war in Syria and other troubles states in the region have poured into Greece and trekked north by foot and on trains toward Germany every day for weeks now. The flow has strained police forces in Spain, Greece and Hungary among others, and prompted the governments of Britain, France and Germany to announce offers to accept thousands of refugees over the next years.
But Maduro's announcement to take in Syrian refugees comes at a time when he is undergoing a crisis of his own. The country, which was ranked the second most dangerous in the world by the United Nations in 2013, has been buffeted by near triple-digit inflation and widespread shortages. Maduro recently closed down several border crossings with Colombia and expelled thousands of Colombian migrants who he blamed for fueling illegal smuggling. His approval rating fell to a near record low of 24.3 percent in July, according to a Datanalisis poll.
On Monday, Maduro likened the security situation in Syria and its neighbors with the one in Venezuela.
"It's a new fascism, just like with ISIS over there and the paramilitaries here," said Maduro, referring to the presence of Colombian paramilitary forces in Venezuela.
It is not the first time Maduro offered to help people fleeing troubled areas of the Middle East. Last year, he launched a campaign titled "SOS Palestine" to demand an end to Israel's bombardment of the Gaza strip and pledged to build several shelters for injured and orphaned Palestinian children. The shelters would be named after former president Hugo Chávez.
Chávez had a close friendship with Syrian President Bashar al-Assad, whom he praised for standing up to "imperialist" powers.
Other Latin American countries, including Brazil, Uruguay and Argentina, have taken in Syrian refugees since the beginning of the civil war there in 2011.