An Intense Video Shows An Opposition Lawmaker In Detention After Chaos At A Military Parade
In the video, the lawmaker appears disoriented and his boxers are stained with feces. Rights groups say he looks drugged and could have been tortured.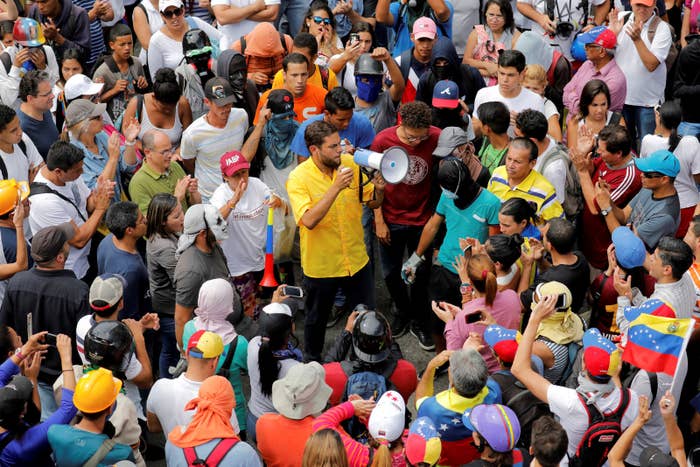 MEXICO CITY — A video showing a prominent Venezuelan opposition lawmaker inside a detention center has sparked fresh outrage in the troubled country.
In the video, leaked to a Venezuelan journalist by members of the country's intelligence service, the lawmaker, Juan Requesens, is seen looking dazed and wearing only a pair of soiled boxers and sandals. He struggles to stand on his own, leaning instead on a glass pane as a man speaking from behind the camera instructs him to turn around. His collarbone and ribs poke out of his skin.
The Venezuelan government has accused Requesens of participating in what it has called an assassination attempt against President Nicolás Maduro earlier this month. Maduro has blamed another opposition legislator, Julio Borges, and former president of Colombia, Juan Manuel Santos, for the chaos as well.
"This sends an intimidating message to the population: Don't protest," Rafael Uzcátegui, head of the Venezuela-based human rights group Provea, told BuzzFeed News. Uzcátegui added that Requesens appears to have been tortured.
Undeterred, a group of students in boxers staged a protest Saturday, a day after the video of Requesens, 29, was released. The gathering was small compared to anti-government protests last year, during which more than 120 people were killed, underscoring the protracted fatigue amongst detractors.
The US State Department has expressed its concern over Requesens' arrest. "#Maduro and his secret police continue to disregard the rule of law in their arrest and illegal detention of constitutionally elected National Assembly member @JuanRequesens. Latest example in a long litany of #HumanRights abuses," tweeted Francisco Palmieri, assistant secretary of state for Western Hemisphere Affairs.
Addressing the "ugly, scatological" video, Maduro said Requesens "got nervous, very nervous," during a televised meeting with the country's armed forces.
The blast, which the government says was carried out using low-flying drones, occurred during a military parade Aug. 4. Video of the episode showed soldiers running for cover after an explosion is heard off-camera as Maduro and his wife, Cilia Flores, look up at the sky in fear.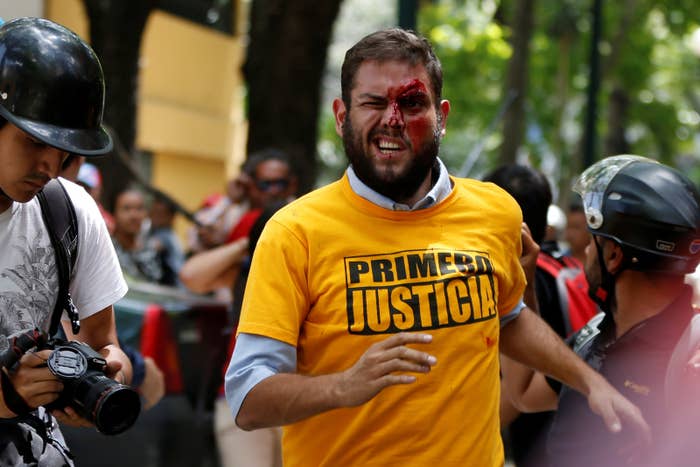 Almost immediately, Maduro blamed right-wing sectors in the country for the attack. The socialist president has faulted the country's conservative elite and foreign actors, including the US, for many of the problems that have pushed Venezuela to the brink of collapse.
Widespread food shortages have caused people to lose an average of 19 pounds per year, inflation is expected to hit 1 million percent by year's end according to the International Monetary Fund, and growing homicide rates have turned it into one of the most dangerous countries in the world. Millions of Venezuelans have fled to neighboring countries in the last five years, creating one of the region's largest mass population migrations in history.
Maduro's position in Venezuela appears solid, especially after the government began curtailing the opposition's political power following its 2015 electoral victory, when it won a majority of National Assembly seats. Last year, Maduro essentially replaced the legislative body with a Constituent Assembly made up almost exclusively of allies. The opposition, historically fractured, was weakened even further.
But demonstrations seeking to oust left-wing leaders, or prevent them from running for reelection, have spread across Latin America in recent months, including against Nicaragua's Daniel Ortega and Bolivia's Evo Morales.
During one of his signature, lengthy television speeches, Maduro aired a confession from one of the supposed plot organizers, saying Requesens had helped him cross into neighboring Colombia to pick up drones.
After his arrest, the government released a video in which a tense-looking Requesens confirmed his participation in the attack. Rights groups said that the lawmaker was likely under duress when he was recorded.
Last year, Requesens suffered several facial injuries after he was attacked by armed pro-government forces during a protest.