Venezuela Hires Washington Public Relations Firm
Caracas signed a contract with FitzGibbon Media just months after Venezuelan President Nicolás Maduro launched an anti-U.S. campaign.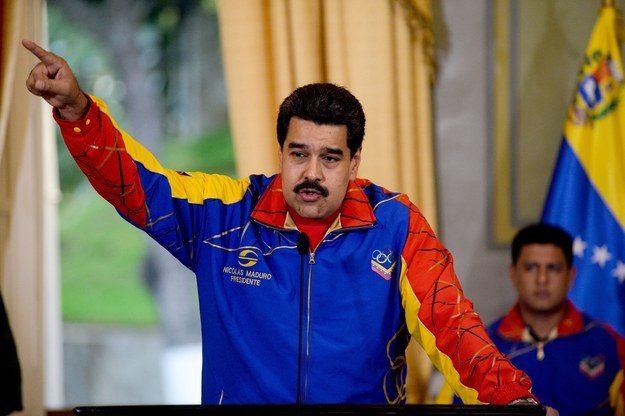 The Venezuelan embassy in Washington DC has signed a six-month contract with FitzGibbon Media, a DC-based progressive communications firm, just months after President Nicolás Maduro launched a renewed anti-U.S. campaign.
The contract, worth $150,000, is for "public relations strategy and media relations services," and runs through November.
The new deal was signed in June, three months after Maduro threatened to hand Barack Obama a petition with 10 million signatures denouncing U.S. aggression, during the Summit of the Americas, a regional conference with heads of state and government from 35 nations in the hemisphere.
"A patriotic, anti-imperialist conscience has awakened, which is necessary to build up Venezuela," said Maduro in March, shortly after Obama issued an executive order declaring Venezuela a threat to the national security of the United States.
The new contract comes as Venezuela faces internal strife over a worsening economic situation and a spiralling diplomatic crisis with Colombia. Venezuela has deported thousands of Colombians in the past month, accusing them of engaging in criminal activity. Colombia's president, Juan Manuel Santos, has fought back by saying Venezuela's socialist revolution was self-destructing.
FitzGibbon, which has also represented the Julian Assange Defense Fund and the Women Refugee Commission, has been sending around press releases for the Venezuelan government. In one sent earlier this week, it said the United Nations Human Rights Council "has recognized Venezuela's humane treatment of refugees, acknowledging its global leadership by allowing refugees to benefit from its social programs and by not having refugee camps, thus easing the integration process into Venezuelan society."
The release went on to praise Venezuela's success in dismantling a brothel where children were exploited and raiding an improvised explosives manufacturing site since it began its border crackdown.
In December, the Venezuelan embassy in DC signed a six-month contract with the law firm Hogan Lovells, which would "render advice on matters involving bilateral relations between the United States and Venezuela." It also signed a $420,000 contract with Massachusetts-based Rasky Baerlein Strategic Communications, which represents Petroleos de Venezuela, the state-owned oil company.