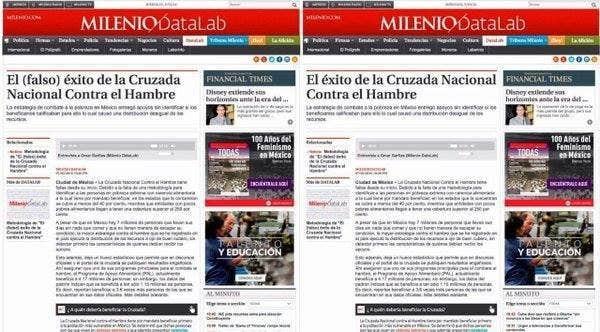 MEXICO CITY — A reporter and deputy news director at a national newspaper in Mexico have quit over allegations of government censorship, a reaction to the latest in a series of attempts to sweep negative coverage out of sight during Enrique Peña Nieto's administration.
The newspaper, Milenio, had published a five month-long investigation into an expensive anti-hunger government program on March 7. The front page story, titled "The (False) Success of the National Crusade Against Hunger," was produced by a team led by reporter Karen Cota, who analyzed more than 300,000 databases and concluded that the program funds were used haphazardly, leaving more than 60% of people in the poorest states without coverage.
The next day, Secretary of Social Development Rosario Robles Berlanga visited the paper's newsroom and met with its editor-in-chief, Carlos Marín, as well as Cota and another member of the paper's data unit, Milenio DataLab. According to Cota, Marín said the conversation with Robles Berlanga would be off the record.
"We defended the investigation point by point which provoked annoyance, anger and several hand slaps on the table on the part of the [Social Development Secretariat] officials," Cota wrote in a piece published on Medium last week. When she returned to her desk, Cota wrote, the story and several Facebook and Twitter promotional posts had been taken down. And "(False)" had been removed from the title.
A day after Robles Berlanga's visit, Milenio published a new story expounding the anti-hunger program's accomplishments and downplaying Cota's critical conclusions. The new findings were attributed to the National Statistics and Geography Institute.
Cota quit the following day. "Milenio DataLab is finished because the person who should have defended our work did not do so. That person wanted for us to work under conditions of censorship and null freedom of expression," Cota wrote in her public resignation letter.
Néstor Ojeda, Milenio's deputy director and Cota's husband, quit his position last week.

"The poor handling of external pressure led to my being summoned to deny the work, on my Sunday column 'Vuelta Prohibida', that seven technologists and journalists from Milenio DataLab did," Ojeda wrote in a letter also published on Medium.
Milenio executives argued that the story had "methodological errors" and that its conclusions were "debatable," in an editorial published last Friday. Marín could not be reached for comment and emails to his assistant received no reply.
Cota and Ojeda received an outpouring of support on social media, including from each other. The issue has taken over social media in Mexico since they resigned last week.

"Hey, I love you and we have each other. What else can I ask for?" Cota tweeted at Ojeda last week. Both declined to be interviewed.
Other reporters who have systematically denounced government ineptitude or corruption argue that they have been fired or been pushed into quitting in recent years. Prominent investigative journalist Carmen Aristegui was fired last year shortly after publishing an investigation into a possible conflict of interest involving a multi-million dollar mansion purchased by the first lady from a powerful government contractor. Supporters said MVS Radio, where Aristegui hosted an influential news show, fired her as punishment for exposing corruption within the president's innermost circle.
"Media outlets and their employees face pressure from a variety of actors looking to manipulate or obstruct news content, including owners with political or business agendas, major advertisers seeking positive or neutral coverage, and government officials," read a report released by Freedom House in 2015.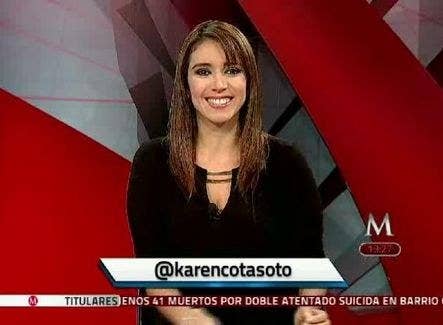 The government has been accused of trying to cover up other uncomfortable episodes. A group of independent experts cited the possibility of a cover up in its investigation into the disappearance of 43 students in southern Mexico in 2014. That same year, soldiers killed 22 civilians in Tlatlaya, Mexico State: according to the official version, the men came under attack by criminals but eyewitnesses denied this. The National Human Rights Commission later cited a likely cover up, concluding that soldiers had altered the scene of the crime.

Frustration with the government's opacity has grown in Mexico since Peña Nieto assumed office in 2012. After questions emerged regarding his wife's mansion in an upscale Mexico City neighborhood, Peña Nieto promised transparency. He appointed a friend, Virgilio Andrade, to investigate any possible conflict of interest in the transaction.