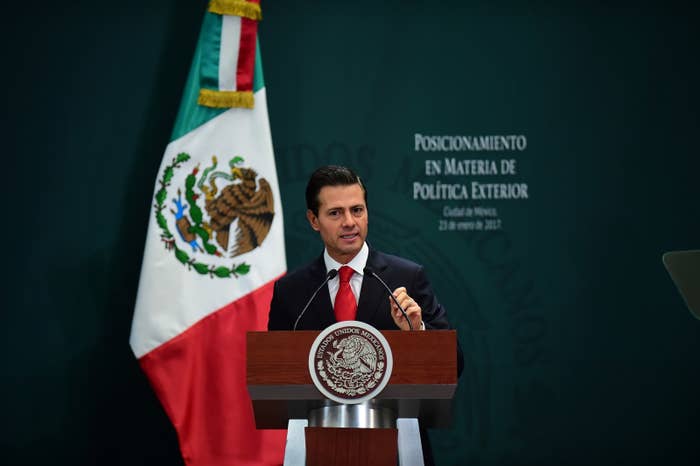 MEXICO CITY — Mexican President Enrique Peña Nieto on Thursday said he would not attend a meeting with US President Donald Trump after the latter signed an executive order to extend a wall along the USA's southern border and said Mexico would pay for it.

"We informed the White House this morning that I will not attend the work meeting scheduled for next Tuesday," he said via Twitter.
The move came after a tense day during which Peña Nieto came under intense pressure from the Mexican public to cancel the meeting. "Mexico does not believe in walls," he said in an address to the Mexican public Wednesday night. "I've said it once and I'll say it again, Mexico will not pay for any wall."
Trump ordered the construction of a border wall Wednesday, inching closer toward a campaign promise that threatens to fracture an already tense relationship with Mexico.

"We've been talking about this right from the beginning," Trump said as he signed an executive order launching the process of "immediately" building a physical wall between the United States and Mexico.
The action, taken less than a week before Peña Nieto was scheduled to visit his US counterpart, quickly drew calls for the meeting between the two to be canceled.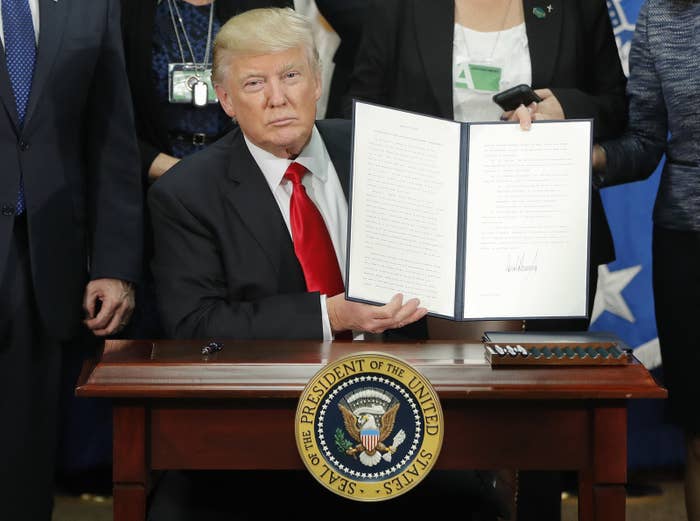 A person familiar with the matter said Peña Nieto was "considering" canceling the visit as of Wednesday afternoon, but spoke on condition of anonymity because plans had not been finalized.

In an interview Wednesday night with ABC News, Trump insisted Mexico would pay for the wall, saying, "there will be a payment. It will be in a form,
perhaps a complicated form."
And on Thursday morning, he tweeted about the planned Peña Nieto meeting, saying, "If Mexico is unwilling to pay for the badly needed wall, then it would be better to cancel the upcoming meeting."
In a message to Mexico, Peña Nieto criticized Trump's decision to continue construction of a wall but did not address whether or not he would follow through on his visit Tuesday.
He criticized the executive order, which he said only brought distance between the two nations.
In response, he said he was asking his secretary of state to enact protections for immigrants abroad. In effect, Peña Nieto said, the 50 consulates in the US will be become immigrant rights centers to protect their rights.
"Where there is a Mexican at risk that needs our backing, we should be there," he said. "His country should be there."
Construction of the concrete wall dividing the two countries, which Trump has said will be as high as 55 feet, was indeed one of Trump's first promises on the campaign trail. Further rousing the ire of his southern neighbors, Trump, in the same speech where he announced he was running for president, accused Mexico of sending criminals and "rapists" across the border and promised to deport millions of undocumented immigrants, the majority of them Mexican.
But of all his pledges, the wall has become the most controversial in Mexico. After a visit to Mexico two months before the election, Trump and Peña Nieto engaged in a Twitter tit-for-tat over who would pay for the colossal project — Trump repeatedly insisted that Mexico would bear the financial burden — which is seen by many as an affront to Mexico's dignity.
The executive branch will "develop long-term funding requirements for the wall, including preparing Congressional budget requests for the current and upcoming fiscal years," according to the executive order signed by Trump.
Trump and Peña Nieto were scheduled to meet next Tuesday. But some people said that Wednesday's announcement should make the Mexican leader reconsider his tone and perhaps even the encounter.
"There shouldn't even be an intention [on the part of Peña Nieto] to sit down and have a formal talk," Armando Ríos Piter, a senator who has campaigned against Mexico paying for the wall, told BuzzFeed News, echoing dozens of Mexicans on Twitter.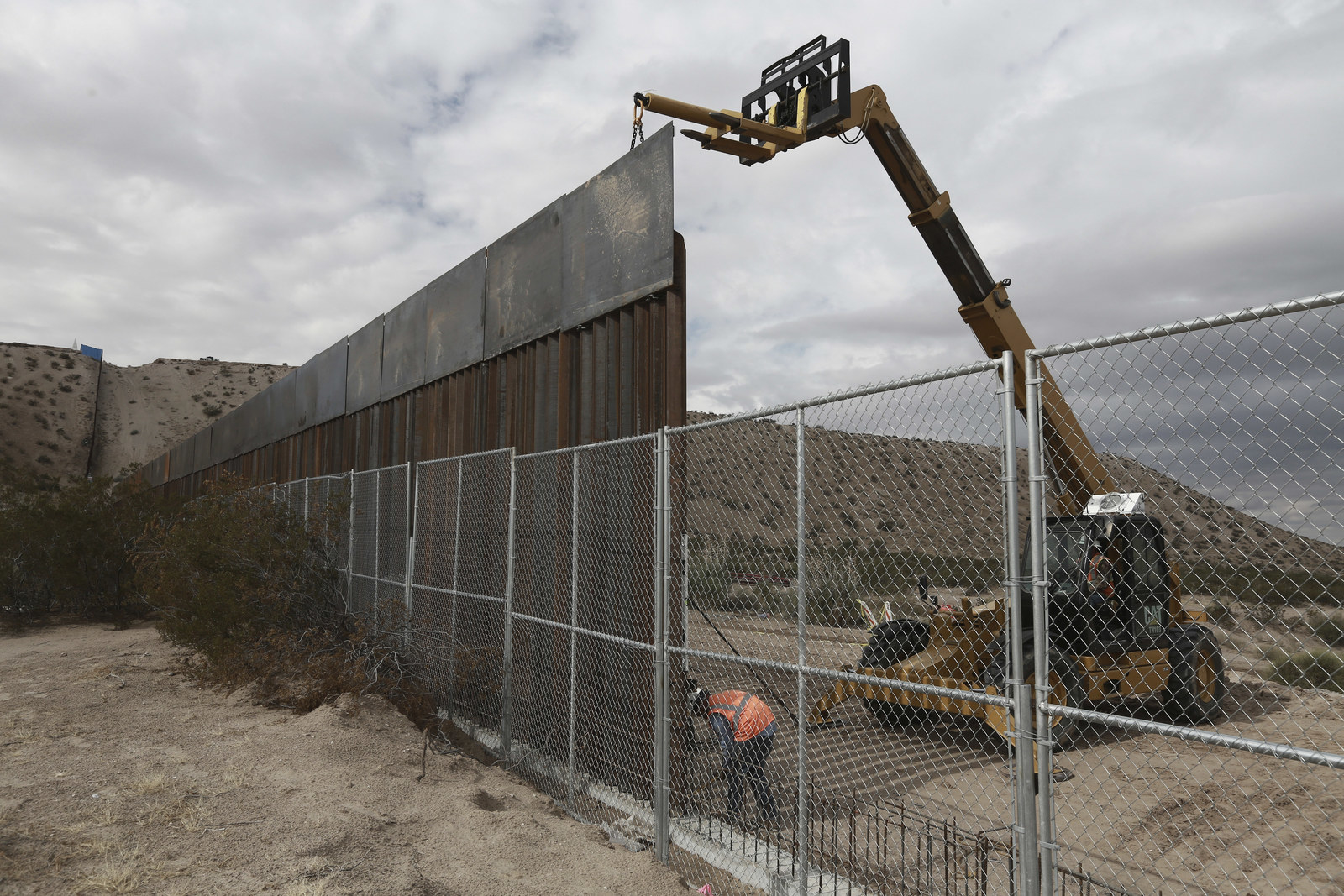 The construction of the wall is "an act of enmity, a hostile act," Ríos Piter said. "Let's not get lost in minutiae," he added, speaking about who would finance the wall. Ríos Piter has proposed instituting roadblocks in legislation so that no public funds go toward building the wall.
Andrés Manuel López Obrador, the frontrunner for next year's presidential election in Mexico — a left-wing populist — said Mexico will take the case of Trump's border wall to an international tribunal.
After his electoral triumph, Trump modified his initial stance, saying that he would use federal funds to pay for the wall and have Mexico reimburse the US later. One option he has suggested is through a tax on remittances, which totaled $24.8 billion in 2015.

"It's a commonsense first step to really securing our porous border," said White House secretary Sean Spicer Tuesday. "This will stem the flow of drugs, crime, illegal immigration into the United States."
There are, in fact, long stretches of fence across the border already. In Ciudad Juarez on Inauguration Day, women stood on the bridge connecting the city to El Paso, Texas, their hair braided together, to protest the wall.
Peña Nieto had tried to soothe relations with the US for months, first inviting Trump to Mexico for a formal meeting in August and then naming Luis Videgaray as foreign minister. Videgaray reportedly orchestrated Trump's visit to Mexico and, following criticism from Mexicans, was forced to resign before making his way back into the cabinet.
This week, in an apparent attempt to ease fears that he was pandering to Trump by appointing Videgaray, who is believed to have close ties with Trump's son-in-law and close adviser Jared Kushner, Peña Nieto said the relationship between the two countries must be based on respect and aim toward integration.
"No confrontation and no submission," said Peña Nieto. "The solution is dialogue and negotiation."
On Monday, Peña Nieto outlined 10 objectives that will guide Mexico's negotiations with the US. Among them are respect toward Mexican migrants, dignified deportations of them, and a joint effort to promote the the development of Central American nations, where unemployment and gang-related homicides have pushed thousands of people up through Mexico and into the US.
Shortly after Trump's inauguration, the peso, which lost about 20% of its value last year — the second-worst performing currency in the world post-Brexit UK — plummeted to a record low. Fear over the US pulling out of the North American Free Trade Agreement, or NAFTA, which Trump has threatened to do as part of his promise to "Make America Great Again," has been a key factor in the currency's decline.
Meanwhile, Videgaray and Minister of Economy Ildefonso Guajardo are scheduled to meet Wednesday and Thursday with Kushner, White House adviser Stephen Bannon, Chief of Staff Reince Priebus, and National Security Adviser Michael Flynn, among other top US advisers, to speak about security, migration, and commerce.
"There are very clear red lines that must be drawn from the start," said Guajardo during an interview with the Televisa network Tuesday. Mexico is prepared to walk away from NAFTA if the terms are unfavorable during a possible renegotiation, he added.
But according to Politico, the delegation was caught unaware of the executive order, which was due to be signed during the same day they would engage in talks with the White House.

BuzzFeed News reporter Sal Hernandez contributed to this report from Los Angeles.