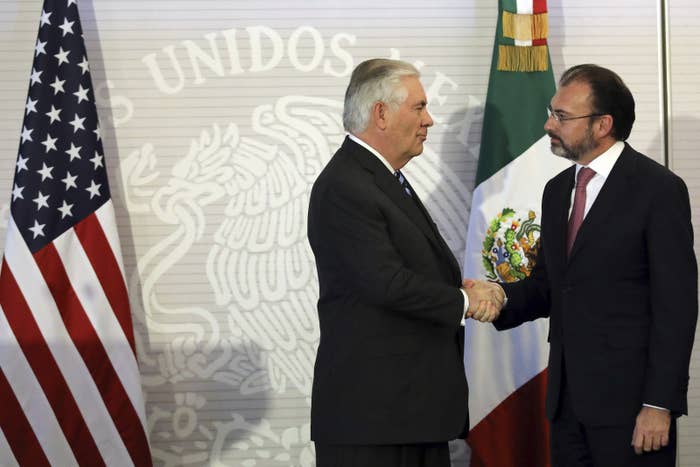 MEXICO CITY, Mexico — It was, at best, a tepid welcome for US President Donald Trump's cabinet members in Mexico.
Secretary of State Rex Tillerson and Homeland Security Secretary John F. Kelly arrived in Mexico Wednesday for two days worth of meetings amid increasingly strained diplomatic relations to discuss immigration, trade and security with President Enrique Peña Nieto and various high-level officials.
"This process will be long and it won't necessarily be simple, but the important thing is to take steps in the right direction," Mexican Foreign Minister Luis Videgaray said at a press appearance after Thursday's meetings.
Tillerson spoke about a consensus in modernizing the trade relationship, an issue Mexico begrudgingly agreed to renegotiate after Trump threatened to pull out of the North American Free Trade Agreement, and highlighted the importance of stemming the flow of drugs and illegal firearms across the border.
Attempting to assuage widespread fears among Mexicans both at home and in the US of potential human rights abuses, Kelly said that there would be no mass deportations or use of military force in immigration operations.
The Trump-backed border wall, which remains one of the biggest points of contention in the bilateral relationship today, was not mentioned publicly.
Tillerson and Kelly met with Videgaray — their second such meeting this month, — as well as the Mexican Secretary of Defense, of the Navy, of Finance, and of the Interior.
The possibility of a collegial exchange was put in doubt hours before the visit was scheduled to begin, when the Department of Homeland Security announced that it plans to send migrants who entered the US illegally across the Mexican border back to Mexico, regardless of their country of origin. Videgaray on Wednesday warned that Mexico would not accept the "unilateral" provision the US was trying to impose. At Thursday's press conference, he again stressed the "legal impossibility" of the US's decision.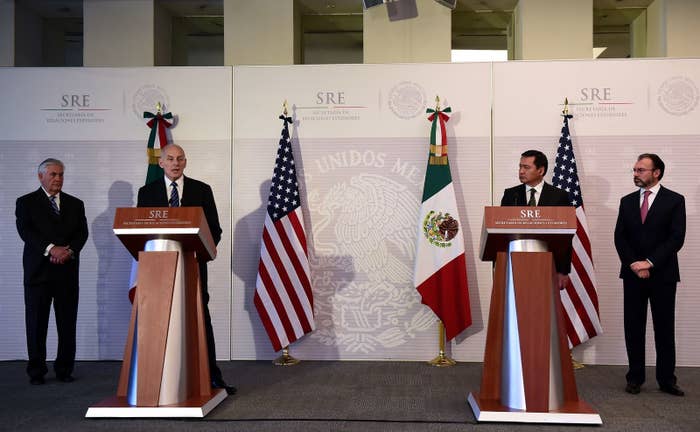 The repudiation came from across the political spectrum. "Their presence, in the midst of a threatening and hostile environment from their government, makes them unwelcome," said opposition Senator Miguel Barbosa, referring to Tillerson and Kelly.
In a sign of the increasingly untethered view of the relationship between the capitals and within Washington, White House spokesperson Sean Spicer called US-Mexico ties "phenomenal" on Wednesday while Trump, on Thursday afternoon, predicted the Mexico visit would be a "tough trip."
The conciliatory tone of the press conference was a respite after months of tension, but experts warned that it is no guarantee that the two countries will get back on a cooperative course.
"It's a bandage on a bigger problem which is the president's erratic style of government," said Michael K. Bess, a historian of the US-Mexico borderlands at CIDE, a research institute in Mexico.
During his first five weeks in office, Trump has lost his first national security advisor, declared the news media the "enemy" of the American people, withdrawn from the Trans-Atlantic Partnership trade deal, and strained relations with Australia after engaging in a protocolary but ultimately heated phone call with its prime minister.
And just one week after his inauguration, Trump drew the ire of both the Mexican political class and the general population after tweeting that an upcoming meeting with Peña Nieto should be cancelled if Mexico remained unwilling to pay for a 2,000 mile-long border wall.
Peña Nieto wound up canceling his entire visit to the US in response. During a follow-up phone call intended to quell tensions, Trump warned Peña Nieto that he would send troops to Mexico to "stop bad hombres down there."
That's all compounded by a sense of uncertainty both on who in the administration is in charge of foreign policy — Trump's son-in-law Jared Kushner is a top White House advisor and took the lead during Videgaray's visit to the US — and on the president's mercurial sense of priorities.
As if to highlight the point, Trump called impending deportations a "military operation" to get "really bad dudes out of" the US on Thursday. Kelly was then left to dispute that on camera just hours later.
"If Trump changes his mind tomorrow on what was said, then the meeting is pointless," said Bess of Tillerson's visit to Mexico.
The growing frustration in Mexico was underscored by a protest planned outside the US embassy on Thursday. Earlier this month, Mexicans and Americans poured into the streets to demonstrate against Trump's discriminatory policies and demand a respectful attitude from the leader.
Enmity between the neighbors has been escalating since Trump made scapegoating Mexico for crime and unemployment in the US a pillar of his presidential campaign, blaming the country for sending "rapists" across the border, accusing it of taking jobs from Americans, and threatening to deport millions of undocumented Mexican immigrants.
Trump has also ordered a review of US aid to Mexico by Friday. Since 2008, Congress has appropriated $2.5 billion for a program known as the Merida Initiative to help Mexico fight crime.
The diplomatic duel comes at a challenging time for Peña Nieto: his approval ratings have dipped to near-single digits after four years marred by corruption scandals, growing crime rates and a flagging economy.
Critics say Peña Nieto's reactions to Trump's insults have been at best lukewarm and at worst friendly, like when he invited the then-candidate to Mexico on an official visit. Then-Finance Minister Videgaray was forced to resign after reportedly orchestrating the meeting, only to be appointed foreign minister five months later.
People have also accused Peña Nieto of taking too long to develop a strategy to protect Mexicans living in the US illegally, including unifying and strengthening the country's network of consulates, even though mass deportations were one of Trump's earliest campaign promises.
It wasn't just Mexicans that were upset by Thursday's visit. Hundreds of Americans living in Mexico signed an open letter to Tillerson and Ambassador Roberta Jacobson earlier this week.
"Our families are these Mexicans. We worship in their churches. We attend our children's soccer games together. We depend on Mexico's welcoming attitudes and good will to help us navigate our lives here," the letter explained. "President Trump is undermining that environment."
The scrapped meeting between Trump and Peña Nieto has yet to be rescheduled.