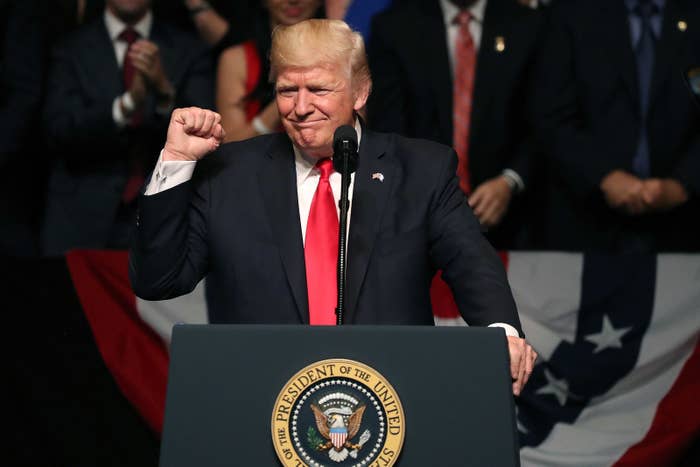 MEXICO CITY, Mexico — Ignoring widespread calls from members of his own party, business leaders, and human rights groups, President Donald Trump announced on Friday a rollback of some of the Cuba-friendly policies undertaken by his predecessor.
US citizens will no longer be able to engage in individual leisure travel to Cuba, according to a fact sheet circulated by the White House. The US government will also ensure that no profits from American businesses benefit Cuba's military.
"Effective immediately, I am canceling the last administration's completely one-sided deal with Cuba," Trump said during an appearance in Miami with exiled Cubans, veterans of the failed 1961 US invasion of the Bay of Pigs, and other opponents of the Castro regime in the audience.
Trump announced that the US will enforce the embargo and travel ban while keeping the embassy in Havana open, but would not loosen the new policies until all political prisoners are released, freedom of expression is respected and free and internationally supervised elections are scheduled.
"When Cuba is ready to take concrete steps to these ends we will be ready, willing and able to come to the table to negotiate a much better deal for Cubans, for Americans," Trump said. "A much better deal. And a deal that's fair."
The rapprochement with Cuba saw the US reestablish ties with the communist government following more than 50 years of enmity, using executive orders to reopen the US Embassy in Havana, lift many restrictions on US citizens traveling to Cuba, and allow for US companies to invest in the island.

The Cuban government denounced Trump's decision to rollback the measures that had been implemented under the Obama administration, and called the president's speech announcing the changes "hostile rhetoric."
"Again, the government of the United States is returning to coercive methods of the past," the government said in a statement. "It not only causes damage to the Cuban people and create an undeniable obstacle in the economic development of the country, but it affects the sovereignty of other countries."
Cuba also criticized Trump for adopting policies consistent with the "extreme minority," referring to Cuban immigrants who oppose reestablishing bilateral relations with the Castro government.
"The United states is not in a position to lecture us," the government said, pointing to worries that Cuba itself had over human rights issues in the US, including police brutality, gun violence, affordable healthcare, and the detention of enemy combatants in Guantanamo Bay.
Still, Cuba would continue its commitment to maintain "respectful and cooperative dialogue in topics that interest both countries."
In defending the rollback, White House officials cited the regime's repression — including holding political prisoners and the lack of free and fair elections — as why curtailing the measures implemented under then-president Barack Obama in 2015 was necessary.
"You watched the Women in White bruised, bloodied and captured on their way from mass. You've heard the chilling cries of loved ones or the cracks of firing squads piercing through the ocean breeze," Trump said during his speech. "Not a good sound."

But human rights advocates derided Trump's decision as hypocritical.
"We're willing to sword dance with the Saudis and praise the Philippines dictator," said James Williams, president of Engage Cuba, a civil coalition against the travel and trade embargo, referring to Trump's trip to Saudi Arabia last month and his reported praise for Philippines President Rodrigo Duterte's bloody crackdown on drug users. "This is the least concerned administration with human rights," he added.
Some Republican lawmakers, American professors, US agricultural leaders, and Cuban exiles had urged Trump to maintain the opening with the communist-led island. Many of them argued that Obama's policies had helped create jobs in the US while improving living conditions for ordinary Cubans.
Cuban hosts affiliated with Airbnb, for example, received $40 million since April 2015 from approximately 560,000 guests, according to a report the company released last week. Internet connectivity in public spaces grew after Google signed a deal with the state-run telecommunications company Etecsa. US air and cruise lines added Cuba to their portfolio of destinations.
A report by Engage Cuba estimated that rollbacks could affect 12,295 jobs in the US and cost $6.6 billion during Trump's term. "It seems like he's been sold a bag of goods that [go] directly against his America First policy," said Williams.
The measures are not as strict as some analysts and members of the business community feared, leaving large parts of the Obama-era detente in place — but they are likely to add a layer of confusion that could dissuade hundreds of US citizens from investing in Cuba.
Some observers said that Trump's rollbacks were intended to pay a political debt, rather than address concerns with the rights of Cubans.
"Human rights is being used as an excuse and a pretext for making good on a campaign promise and satisfying Marco Rubio and Mario Diaz-Balart," said Marguerite Jimenez, senior associate for the Washington Office on Latin America. Her theory was echoed by others in the business community.
Rubio and Diaz-Balart, both Florida lawmakers and sons of Cuban immigrants, have strong Cuban-American constituencies. Both were in attendance in Miami as the president signed his order.
Rubio riled the crowd packed into a sweltering theater shortly before Trump took the stage. "A year and a half ago an American president landed in Havana and stretched its hand to the regime," he told a crowd, eliciting boos. "Today, an American president lands in Miami and stretches its hand to the people of Cuba."
Vice President Mike Pence and Florida Gov. Rick Scott were also in attendance for the event.
Human rights groups questioned Trump credibility on the subject, noting the administration's growing rapport with authoritarian leaders in Egypt and Turkey, calling the rollbacks a mistake.

"So the question is, what makes you think that going back to the same policy that has failed, you will have a different result?" José Miguel Vivanco, director of Human Rights Watch's Americas division, said. He added that isolating Cuba again allowed the island's government to present itself as a victim, ironically enough taking the focus away from human rights violations.
Supporters of Trump's rollbacks argued that the biggest winner of the opening has been the Cuban military, which has received a large portion of the tourism-related revenues under Obama policy.
"A defensible US Cuba policy is one that supports the Cuban people with as little support to the regime as possible," said Jose R. Cardenas, former USAID acting assistant administrator for Latin America, in an opinion piece in Foreign Policy. Cardenas admitted that "the line between ordinary Cubans and the regime is impossible to discern."
The largest project since the US opening, the Gran Hotel Manzana La Habana Kempinski, the island's first five-star lodging, is operated by a Geneva-based hotel group under a contract with Grupo de Turismo Gaviota, a tourism conglomerate run by Cuba's military.
A letter from 55 Cuban female entrepreneurs expressed hopes that there was still one person in the administration who could help keep the Obama-era policies intact: Ivanka Trump. Addressing the president's daughter and close adviser, the women warned that a rollback would deal a deadly blow to the boutique hotels, shops, and restaurants that many of them had opened recently.
"Come to Cuba and get to know our companies, which we have built with our own efforts and that make us prouder by the day," the women wrote.