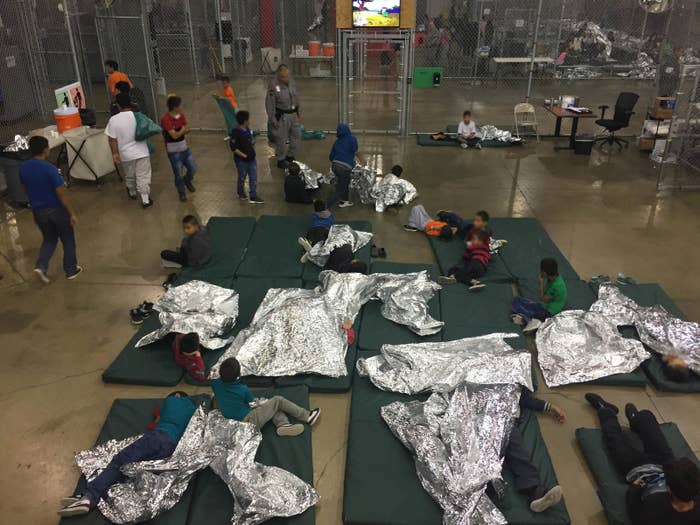 MEXICO CITY, Mexico — The Trump administration's policy of separating children from their parents at the border has been slammed by campaigns as Mexico nears a crucial presidential election.
José Antonio Meade, the ruling party's candidate, trailing in third place, said he was "horrified" and "profoundly distraught" during a campaign rally on Monday. "Mexico will be a voice that always speaks out loudly against these human rights violations."
"It's inhumane. We're talking about violations of all human rights guarantees," said Ángel Ávila, spokesperson for the "For Mexico to the Front" coalition, told BuzzFeed News. The coalition's presidential candidate, Ricardo Anaya, is second in most polls.
The Mexican government has yet to directly address the separations, which began in April after US Attorney General Jeff Sessions announced a "zero tolerance" policy against immigrants apprehended crossing the border, placing adults in US federal agents' custody while their children are held elsewhere. As of May 31, at least 1,995 children had been separated from their families. Amnesty International on Monday called the practice "nothing short of torture."
Carlos Alberto Figueroa Ibarra, director of human rights at Morena, the political party leading presidential polls, is among those who think the government is remaining silent on purpose, to avoid adding pressure to the already tense renegotiation of the North American Free Trade Agreement.
"The Mexican government's position is based on not angering Donald Trump," said Figueroa. (His party's candidate, Andrés Manuel López Obrador, is beating Meade, the PRI's candidate to replace current president Enrique Peña Nieto, by double digits.)
Trump's belligerent rhetoric against Mexicans and his frequent insistence that Mexico will pay for a border wall have strained the once-strong relationship between the two countries, with his administration viewed as volatile and dangerous here. The practice of separating families "is part of an ultra-right position, based off of religious fundamentalism," said Figueroa.
Before Monday, Mexico's collective attention span seemed unable to cope with the crisis on its northern border. It's currently in the midst of the largest and bloodiest electoral campaign in its history, with at least 113 candidates and politicians murdered. Trump's constant rhetoric has gone almost undiscussed on the campaign trail, as all candidates stay in lockstep opposed to him.
"There is an information high tide that is covering this story," said Figueroa.
The Mexican government has been accused by human rights groups of abusing Central American migrants making their way up through the country after fleeing gangs. Honduras, Guatemala, and El Salvador, where the majority of migrants entering the US are from, have some of the highest homicide rates in the region.
Honduras's first lady, Ana García de Hernández, advised Hondurans earlier this month to think hard before trekking to the US, saying that they would be separated from their children if they did make it across the border.
Foreign Minister Luis Videgaray said last year he was concerned about the US government's proposal to separate migrant children from their mothers. Since the US began implementing that plan, he has not released any related statements.
The Foreign Ministry did not respond to a request for comment.