CARACAS, Venezuela — We were trying to count the people standing in a breadline when William Contreras arrived.
The line was forming outside of a bakery in the run-down Caracas neighborhood of Catia, about 20 people long with a half dozen more sprinting past me and our photographer, Cristian Hernández. It was a perfect illustration of the desperate situation of a country that was, a few years ago, boasting of its oil-funded socialist prosperity.
Contreras was our government minder, a bulky 50-year-old alderman with salt-and-pepper hair. When he pulled up to us, he seemed oblivious to the snaking line.
Over the next seven hours, Contreras's mission — making Venezuela look good — made Sean Spicer look like a man with an easy and relaxing job. But I was glad to have him: The Venezuelan government has shut off virtually all access to independent media, which officials like Foreign Minister Delcy Rodríguez say is responsible for creating an image of "hysteria" in the country abroad. At home, too, the images shown on state-run television networks and what is happening on the street are wildly disconnected.
I got around the ban the way reporters in authoritarian countries often do: by working official channels, in this case Ernesto Villegas, minister of communication. He put me in touch with a handful of loyal community leaders, who in turn led me to Contreras.
It was just after 8 a.m. on Sunday when Cristian and I piled into the backseat of Contreras's white Mazda pickup truck. Like most other people we met throughout the day, Contreras didn't waste time with introductions or small talk, but went straight into lengthy praises of former president Hugo Chávez's legacy and his successor's attempts at preserving it.
"We're fighting our own fight. A fight we like — love," he said with a hint of anger.
Anger has become the dominant feeling in Venezuela after years of shortages of everything from antibiotics to chicken, increasing violence, canceled elections, and triple-digit inflation have brought the country to the brink of collapse. As Venezuela enters its third month of protests, and with most countries in the hemisphere denouncing President Nicolás Maduro's autocratic tendencies, the oil-rich nation has become a virtual pariah nation.
High up on the government's list of priorities amid this downward spiral is ensuring that whatever support for the revolution remains inside the fragmented country is magnified by the local press, of which it has gained extraordinary control. It was Contreras's job to show me these remaining bastions of loyalty, where the revolution, in theory, is blooming.
Indira Martínez, Contreras's social media assistant, sat next to us as we drove away from the plaza. A group of five women rode quietly in the cargo area of the truck; they never introduced themselves or made conversation, but followed closely behind us, closing ranks whenever we talked to strangers.
The first stop of the day was a site formerly owned by Coca-Cola. In 2009, the company agreed to move its operations elsewhere so that the local government could build public housing at the site, according to local reports. The housing never came — instead the place has become home to about 55 small, neatly arranged plots of everything from lettuce to cilantro, which the government says is meant to help feed about 300 local families. Hunger has become dire here — Venezuelans lost an average of 19 pounds last year.
The coordinator of the urban garden, Antonia Aldana, greeted us at the entrance of the open-air depot.
"I am a tireless fighter," she said by way of introduction. "I go wherever the revolution takes me."
The garden, she explained as we walked among the rows of transplanted soil and vegetables, is part of the Local Food Production and Provision Committees, known by its Spanish acronym, CLAPs, a nationwide government program to grow and distribute food. Maduro launched the CLAPs program last year as a response to what he calls the "economic war," an effort by the country's US-backed bourgeois class to destabilize the socialist government.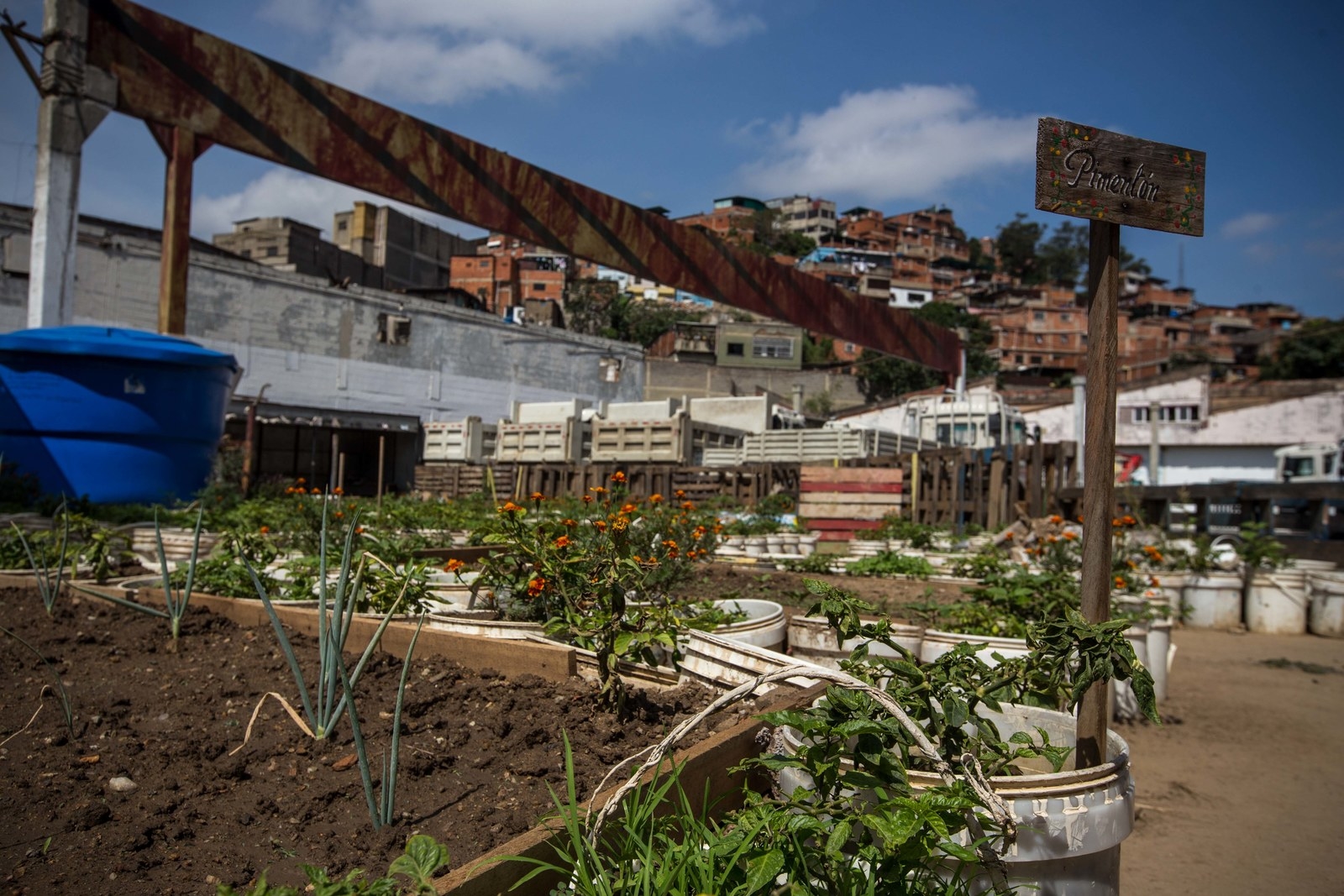 The long-term goal of Venezuela's food distribution program is to reach food sovereignty, Contreras said. In recent months, the program has expanded to include the distribution of maternity-related items such as baby formula and diapers. Medicines are next, officials have said.
There's just one catch: "It's only and exclusively for and from the revolutionaries," said Contreras.
A few seconds later, he caught himself: The subsidized bags are distributed to everyone, regardless of political loyalty, he said. (That may be true officially, but a random sampling of people I spoke to after leaving Contreras said that they risk losing access to this subsidy if they don't attend pro-government marches.)
Aldana pointed out the different plots, held in place by recycled wood planks and buckets full of compost, and explained their contents. Hand-painted signs bearing misspelled crop names marked some of the plots, giving the place the feel of an oversize kindergarten project rather than the cornerstone of a hungry revolution.
The garden, Aldana said, is cared for entirely by volunteers, mostly stay-at-home women who until recently had little gardening experience.
Scattered throughout the garden were tables filled with dozens of tiny makeshift pots, constructed out of 2-liter plastic soda bottles and discarded Axion plastic tubs, doing little to dismiss the haphazard feel of the space. In them, the women had planted nonessentials like aloe and Chinese garlic.
"Look, we're even growing mint!" Aldana told Contreras proudly, snapping off a leaf and rubbing it between her fingers, its sharp scent hitting our nostrils.
"And you make toothpaste out of it?" asked Contreras.
"Well, yes, since there isn't any..." said Aldana with a laugh, before trailing off. We quickly moved on.
Outside the complex, a group of women sat on the sidewalk waiting to collect bags of food assembled especially for the community's youngest schoolchildren. It's a pilot program in Caracas; when the government realized that youths were missing school because their parents were unable to feed them properly, local leaders started handing out extra food items, Contreras said.
Zaida Calderón, in charge of the program for Catia, clutched a sheet of paper with the week's menu — minced meat with pasta on Wednesday, rice with chicken on Thursday, shredded chicken with mashed potatoes on Friday — as she watched women assemble into a neat line.
Calderón's preteen daughter sat with her back against the wall nearby, surrounded by bulging bags of corn, potatoes, and chicken. Her forehead wrinkled as she looked on at the women holding their sacks open while men deposited unrefrigerated meat and sugar into them.
I asked Calderón, who works full-time at the mayor's office inspecting houses for safety in high-risk areas, if she would have any time left to treat her daughter to a fun activity afterward. "This is her fun," she said.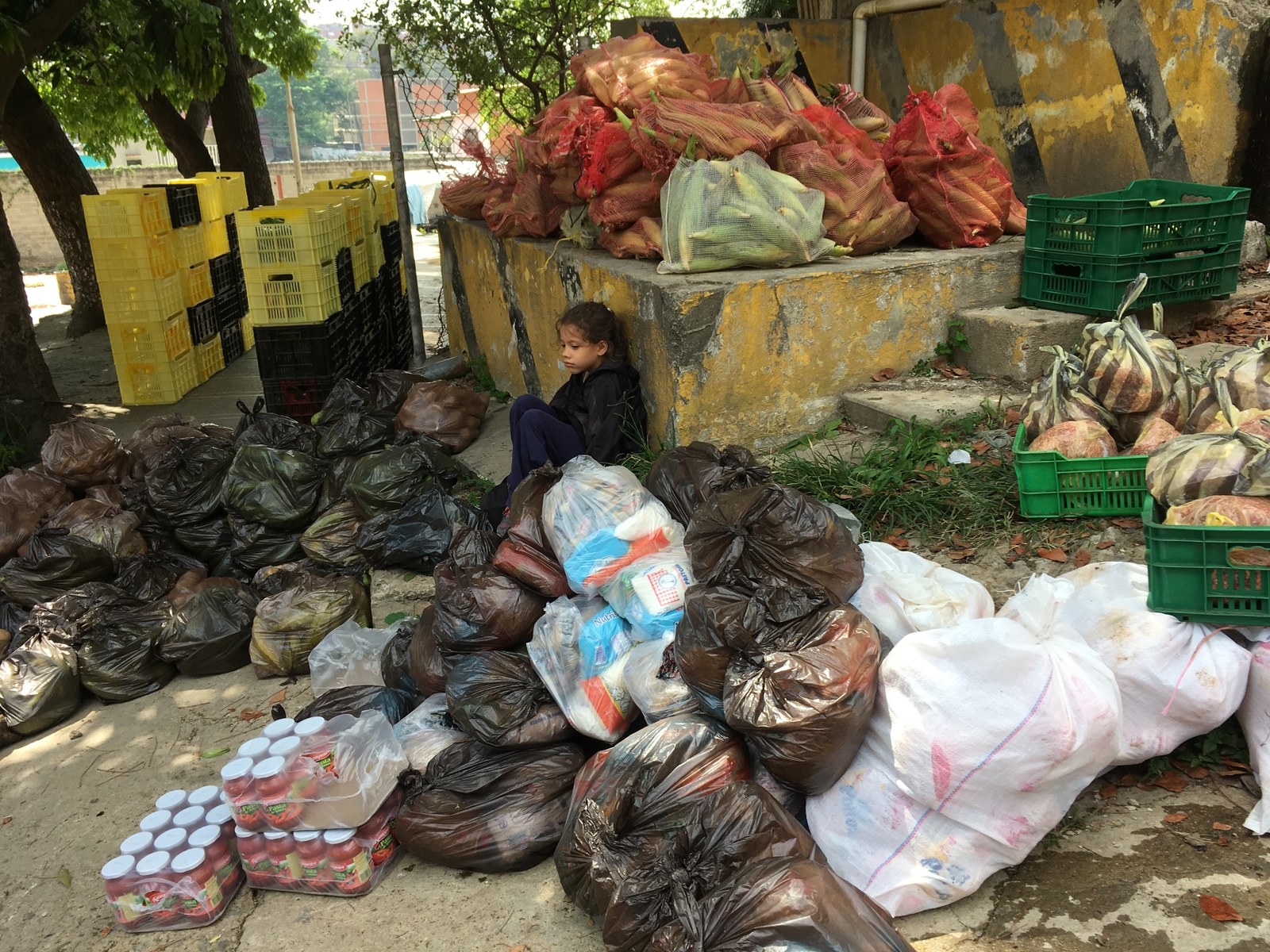 It was getting sticky-humid when we got back in the car. Martinez, Contreras's social media assistant, was rabidly curious about life outside Venezuela. She told me her sister had recently moved to Mexico, where I live, and she was curious: What really happened to the 43 students who went missing in Guerrero state?

I repeated the official version — the men were detained by local police and handed over to a drug gang who incinerated them — but added that many people are skeptical. She nodded, wide-eyed. Those kinds of things don't happen here, she said earnestly.
Contreras, in the meantime, was immersed in trying to pull up the stuck passenger window with the tips of his fingers.
Martinez got more practical as we drove. The Venezuelan government has begun replacing harina pan, the special flour used to make arepas, which has become hard to find and almost impossible to afford, in the subsidized food bags. How can she make arepas, the national staple dish, with Maseca, the corn flour manufactured and sold in Mexico to make tortillas?
She added that the lentils in the CLAP bags, another new import from Mexico, are much smaller than the ones Venezuelans grew up with. Do they require a different preparation?
Also, why do Mexicans put lemon in their mayonnaise?
The next stop on our tour was a hilltop where the CLAP boxes and bags are dispatched to the different neighborhoods in Caracas. A huge mural of Chávez adorned the loading area alongside a sticker: "Chávez did not die, he multiplied." Behind it were several more plots that looked like they had been recently planted.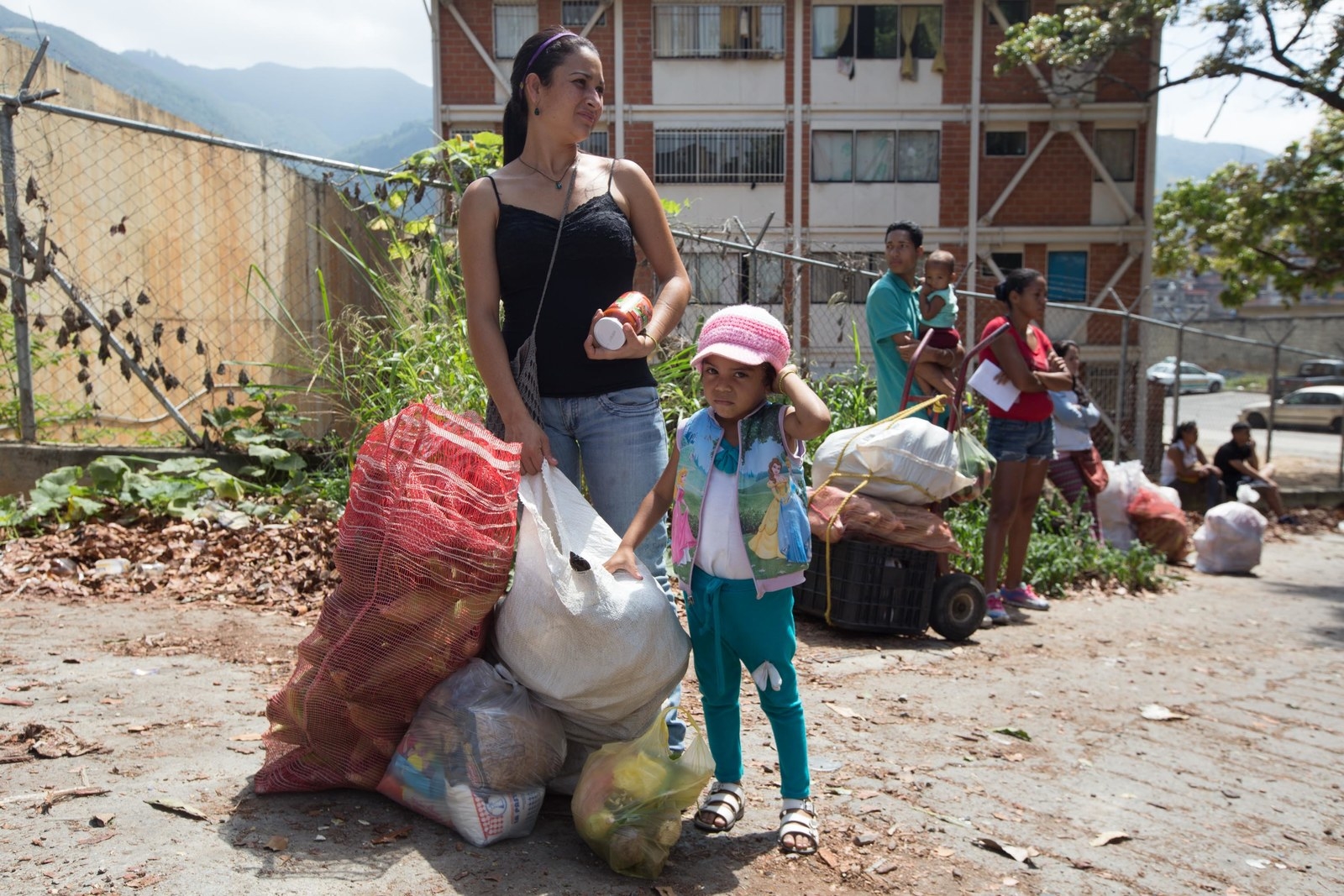 There were no delivery operations that day. The place was empty except for us.
Back toward the bottom of the hill, several dozen people sat in plastic chairs under a small metal roof, waiting to sign up for their carnet de la patria, or homeland license, another of Maduro's recent initiatives. Contreras said the ID will allow people to purchase the subsidized food bags electronically and gain access to other government programs.
One of the young girls waiting told me the new ID was required to get almost anything done — including bank transactions. Before she could tell me her name, Contreras appeared by my side and put his arm around my shoulders to steer me away to a nearby room where another group of people waited to have their photographs taken while they answered a short questionnaire:
How much money do you make?
Do you have any pets?
Have you ever had any dental pain?
A handwritten poster hanging on the nearest wall listed the telecommunication coordinators for the different areas of Catia. Rather than reach out to CanTV, the state-owned internet and telephone provider, residents call their local leaders when their service is down. The liaison between the leaders and CanTV, Carmen Huice, stood off in the corner, whispering something to Contreras while women fanned their children with folded sheets of paper.
Everyone around here seemed to want to be friends with Contreras.
The driver stopped the car near a busy intersection at the Parroquia La Vega, the site of a violent protest several days earlier. He wanted to show us how local volunteers were cleaning up the mess "made by terrorists" during the confrontation (that is how officials refer to opposition protesters).

As we got out of the car, Martinez told me to hide my cell phone down the front of my pants. I complied, slightly surprised that being near a Chavista leader did not afford us any clout. Outside, a group of middle-aged women wearing red shirts and hats with official slogans like "I am Chávez" was already waiting to escort us around the neighborhood.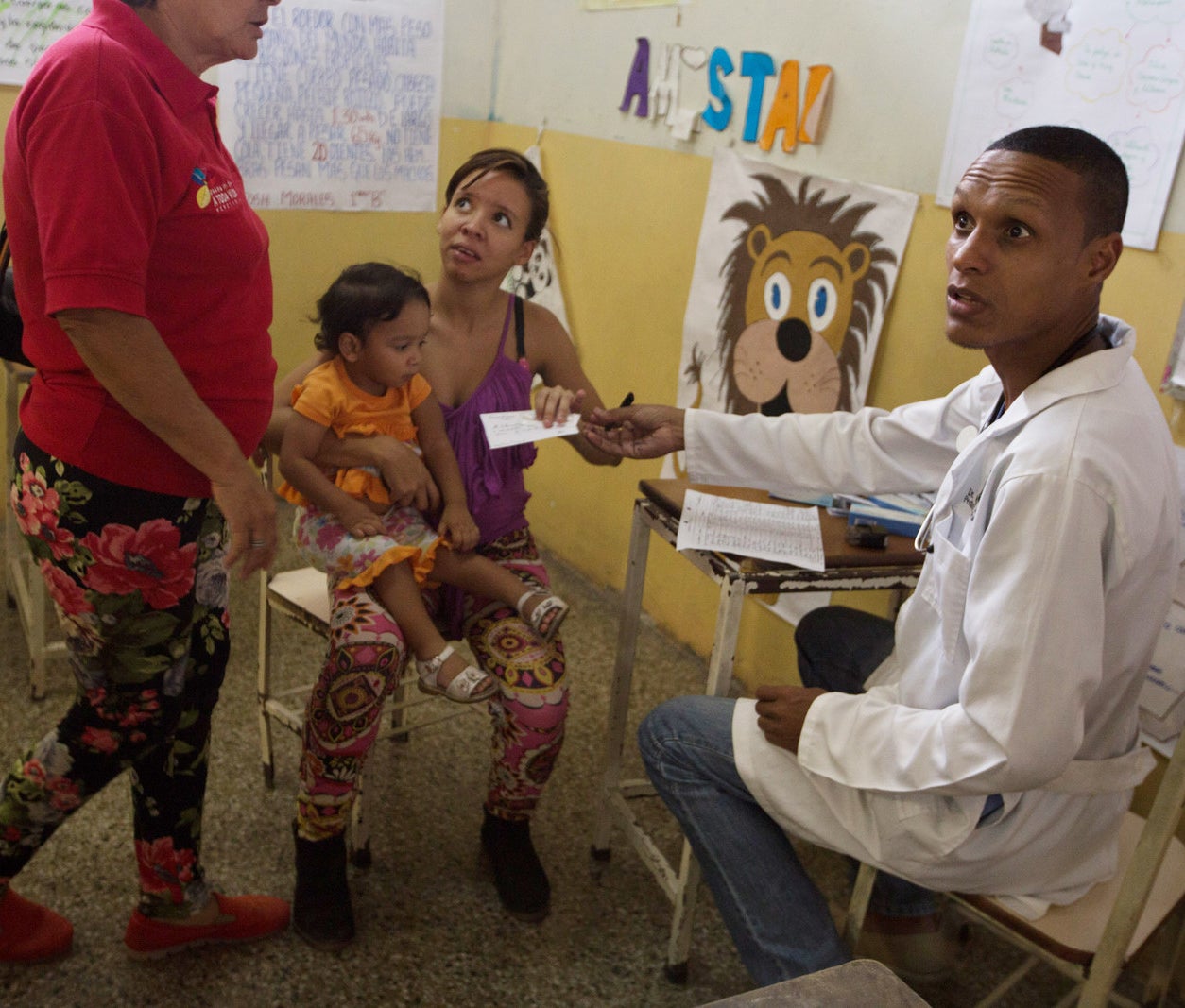 We walked for several blocks along a narrow street that smelled of shit and gasoline. There were no cleanup activities in sight.
Finally, we reached a public school where community leaders were planning the week's activities and medical students were providing free checkups to children. Parts of the building were dark; the light bulbs were out and there was no money to replace them with, Griselda Oliveros, another local Chavista said.
Oliveros was recently put in charge of supervising the implementation of Plan 700, a program carried out in tandem with the armed forces to ensure that 90% of the production at each bread shop goes toward government-regulated bread, and only 10% is used for "luxury" items, like desserts.
Like the other 700 or so inspectors, Oliveros stalks Caracas's bakeries, counting bags of flour, making sure no one is stealing dough and reporting owners who are not following official production quotas: a regular Caribbean sugar gestapo.
Our last stop of the day: the Sierra Maestra Ibis Pino CDI, a public clinic operated in part by Cuban doctors in the 23 de Enero neighborhood, a Chavista stronghold in Caracas.

A simple piece of paper taped next to the portraits of Latin America's leftist revolutionaries inside the entrance spelled out the government's message: "Let's be very clear: No one here speaks badly about Chávez or the revolution."
There are about 550 CDIs, or integral diagnostics centers, across Venezuela. They were created in 2003 by Chávez in an effort to bring specialized medical care to marginalized communities.
A Cuban doctor greeted us at the lobby, introducing herself as the coordinator of the hospital but asking that her name be withheld because she was not authorized to talk to press. The doctor, who said she'd been in Venezuela for five years and is eager to return home in June, begrudgingly agreed to give us a tour of the facility.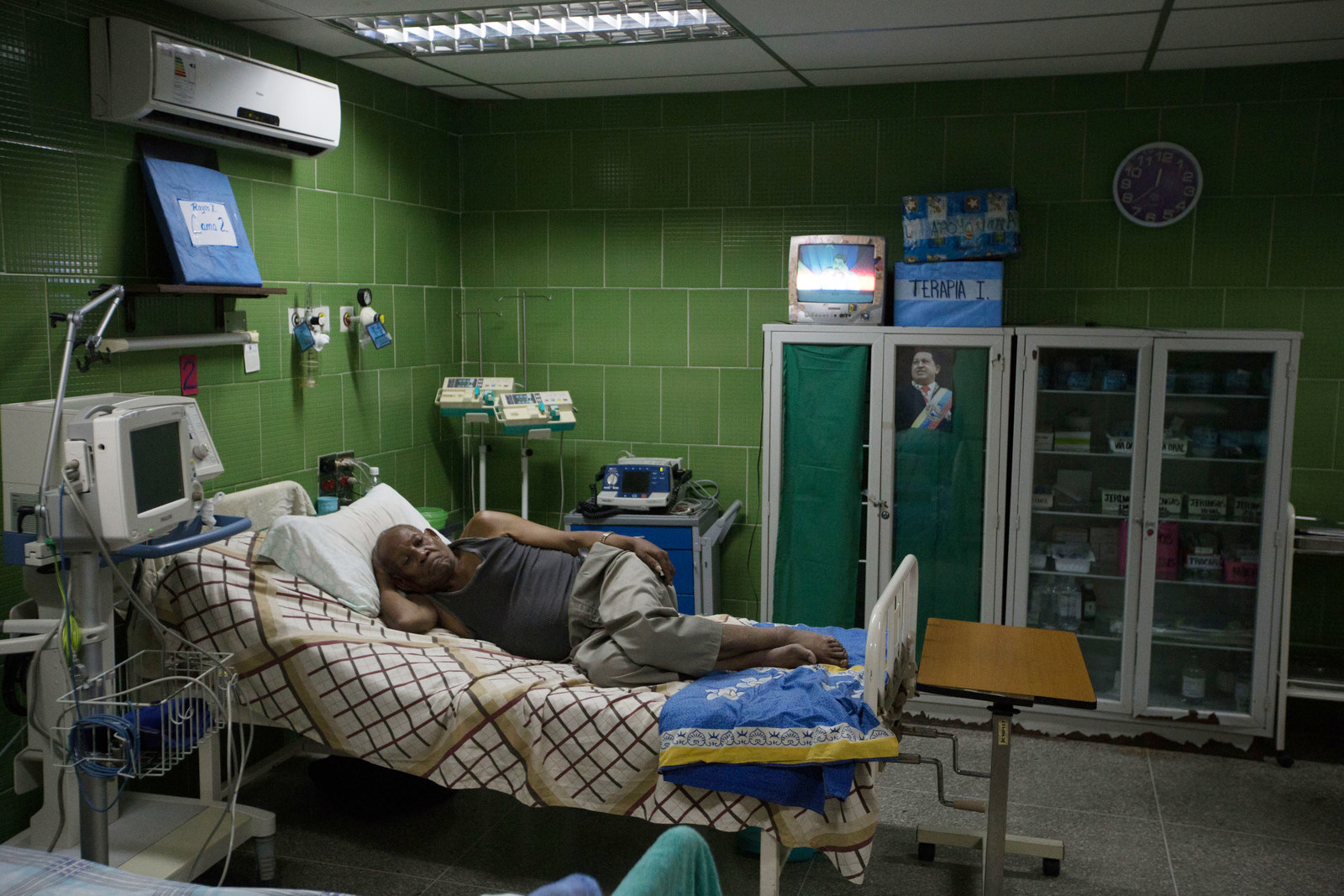 The clinic seemed, at first glance, to be in fighting shape. The medicine cabinets had some syringes and pillboxes, a rarity amid the widespread shortage of medicines in the country. For the first time during the day, Contreras appeared to have let his guard down.
As we headed for the door to wrap up the day, Mery Mendoza, a middle-aged woman who volunteers at the clinic regularly, approached Contreras.
Mendoza's trembling voice oozed with frustration as she threw a barrage of complaints at him: The hospital was struggling to feed patients anything other than rice; one of the hallways had gone dark for days until a social worker fixed the light bulbs; patients had to bring their own soap and donate Clorox to have the floors cleaned.
Oh, and the AC at the morgue wasn't working.
The Cuban doctor had joined the conversation and nodded quietly in agreement. If it weren't for the goodwill of patients' relatives, the place would be a wreck, she said, but it was hard to accept the help knowing that it came from people who were themselves going through deep financial struggles.
Contreras looked like he wanted to melt into the floor as he listened to Mendoza. He walked off as soon as he could.
Mendoza followed him out. "You see the ambulances?" she asked him, pointing to the right. One of them was missing the front panels and the motor was visible from several feet away.
Mendoza asked Contreras to send a letter to Freddy Bernal, the director of the food distribution program and one of the most prominent members of the regime, on the clinic's behalf. She said the hospital staff had sought help from different authorities, including the minister of health, but no one had listened.
"Yes, yes. You see, the visit yielded a positive result," Contreras told her with a tight smile as he got in the car, promising to ask Bernal for help. He was visibly irritated as the driver started the car and admitted to me that sending Bernal a letter would be a waste of time. Bureaucracy, he said, "is one of the problems that remain in the revolution."
Cristian asked him if this feeling of impotence and invisibility among Venezuelans is what had prompted a woman attending a pro-government rally to throw a mango at Maduro's head in 2015. "If you can, call me," a message on the tossed fruit read.
Contreras avoided the question. The contour of Chávez's eyes, etched into the concrete fence of a soccer field, seemed to follow our car as we drove away from the clinic. ●