CONCEPCIÓN DEL URUGUAY, Argentina — Lucía Pérez. Miriam Lemos. Denise Juárez. Silvia Gutiérrez. Every 30 hours in Argentina, a woman is killed — just for being a woman.

The number and viciousness of femicides — or the killing of women simply because they are women — in Argentina is so extreme that many officials have called it a national emergency. According to the Supreme Court's Women's Office, which currently provides the only official national statistics on femicides, there were 254 such killings last year, up from 235 in 2015, and 225 in 2014. This year is likely to exceed that: Activists have already recorded 133 femicides between January and May.
With little faith in the state's ability to protect them, Argentine women have been fighting back. In the last month, all eyes have been on the #MeToo movement, which was born 10 years ago, but went viral following the Harvey Weinstein scandal. But in Argentina, there is #NiUnaMenos, a grassroots movement launched by women that brought hundreds of thousands out to protest in cities across the country.

The hashtag — which translates as #NotOneLess — took off in 2015, instantly becoming an organized campaign and spreading across Latin America, which, along with the Caribbean, accounts for 12 of the 25 countries with the highest femicide rates, according to a 2016 report. Only 16 countries in the region have amended their penal codes to specifically criminalize femicide.
The women behind #NiUnaMenos made many demands on the government — from setting up school workshops to prevent violent relationships, to housing subsidies for victims of gender violence, and legalized abortions.
But two years after #NiUnaMenos was heard around the world, following protests across Latin America and a call to arms from some of the most influential women in the region, what has really been achieved? With so much attention on the #MeToo hashtag, what lessons can be learned from a feminist movement born on the internet to affect real change in women's rights?
Activists in Argentina fear that, for all the efforts they made, for all the noise they created, women's rights have barely inched forward — with new laws largely ignored, few safe havens for victims of abuse, and a justice system that remains dominated by men.
"She was a spark. She came and revolutionized everything."
It was to counter this very threat and to make sure that no woman would again suffer at the hands of a man that a young woman called Micaela García joined #NiUnaMenos.
García, a 21-year-old student, often wore a T-shirt with the hashtag splashed on the front, but it was about much more than aesthetics for her — she was committed to looking for real solutions. García became well known in Concepción del Uruguay, a small city 185 miles north of Buenos Aires, for her work with women there. When she arrived at the impoverished settlements where she volunteered, children flocked to her, and other activists sought her advice.
At the same time, García was steadily rising up the ranks of the Evita Movement, a left-wing political organization named after Argentina's former first lady and ardent supporter of the female vote, Eva Perón.
At home, García would occasionally scold her mother for raising "machista" sons who weren't expected to help with household chores and vowed that when she got married, every member of her family would help equally. She began working early on to ensure her independence, paying for school trips with her own savings, and convincing classmates not to drop out.
"She was a spark. She came and revolutionized everything," Graciela Alves, García's grandmother, said of the outspoken feminist.
It was that fiery, independent spirit that drew her boyfriend Alejandro Jacquet to her. For their first date, García took the lead — bringing him to a poor neighborhood where she was volunteering. Over the next four years, their interests, social groups, and families all merged seamlessly. "We complemented each other perfectly," Jacquet told BuzzFeed News.
García stood up against gender violence, devising strategies to combat machismo and organizing massive women's marches — her notebook was full of plans to educate other women about their rights.
Like so many femicides, her death is one that could have been stopped, if only the law had been applied, if only men were properly punished for their crimes.
"Update femicide data. Women and machismo. Combating the patriarchy → what is it?" García wrote in her notebook ahead of Women's Day earlier this year. Scrawled at the top of another page: "#VivasNosQueremos." We want us women alive.
Which is what makes what happened next so distressing to her fellow activists.
On April 1, García went out for the night with her friends in Gualeguay, a small city 90 miles southwest of Concepción del Uruguay. But as she made her way home in the early hours of the morning, she became the latest victim to be added to the list of women murdered by men.
Like so many femicides, her death is one that could have been stopped, if only the law had been applied, if only men were properly punished for their crimes.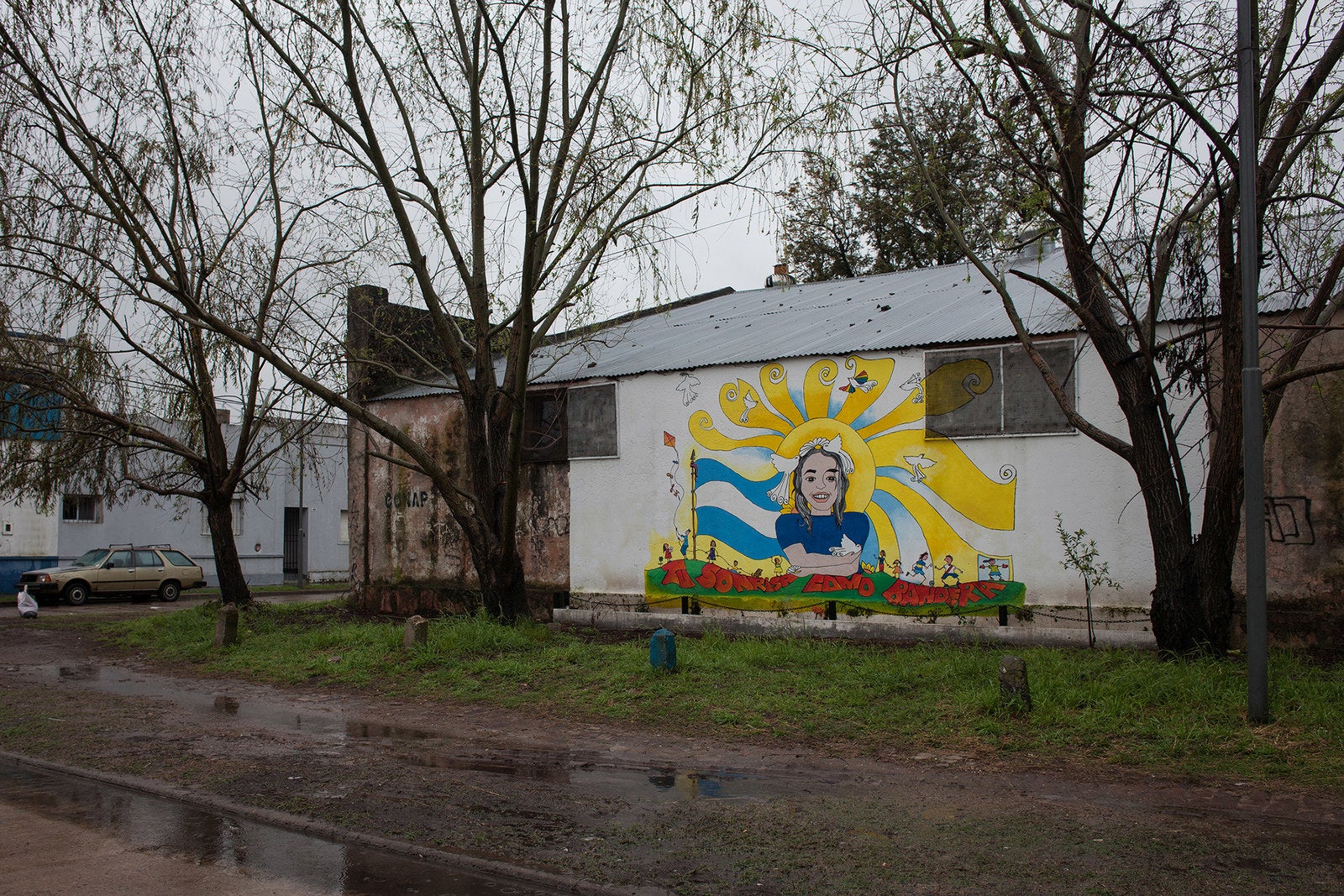 The man who killed García was not supposed to be walking freely around Gualeguay that night.

In 2012, Sebastián Wagner had been sentenced to nine years in jail for two counts of rape — a third could not be proven. When he became eligible for parole last year, it seemed unlikely that he would be granted it.
Wagner "has not undertaken a profound analysis of the reproachable acts he has committed," determined a report from a group of psychologists and social workers who evaluated him last year. He continued to take drugs in prison and "maintains inadequate impulse control, scant reflexive capacity," according to the report, an excerpt of which was seen by BuzzFeed News.
But Carlos Rossi, the judge in charge of enforcing sentences at the court that had jurisdiction over Wagner's case, thought otherwise.
Rossi argued that Wagner's good behavior during monthly visits to his grandmother over the previous year and a half indicated that he was ready to walk free. Besides, the judge argued, parole "is a very important attenuating instrument for the super-high levels of violence and growing and alarming rates of overcrowding in prisons."
He set Wagner free.
And then, as the story goes thousands of times a year in cities around the world, Wagner attacked again.
His first target was a friend of his then-girlfriend's 12-year-old daughter. One day, according to the girl's mother, when her daughter was changing at Wagner's house after a playdate, he barged into the bedroom, covered her mouth, and began touching her. The girl kicked him and managed to escape. Then he began flooding the girl's Facebook messages with threats.
At first the girl didn't tell anyone, but when the burden became too heavy, she confided in her sister, Jesica Cristani, 24. The two went to the local police station to file a complaint, immediately naming Wagner and telling the officers they had evidence. The family told BuzzFeed News that the police turned them away because their last names didn't match with that of the girl, since she was adopted. They then went to the local juvenile court but the judge wasn't there, and they were told to come back the following week.
BuzzFeed News repeatedly attempted to contact both the police station and Rossi. Calls and emails to the police station went unanswered; an assistant at Rossi's office said the judge was not speaking to press.
All of this meant that Wagner, who found a job at a car wash, was out on the streets the night García went dancing with her friends. According to the García family's lawyer, Wagner had finished a booze- and drug-fueled dinner with his boss when the two decided to go looking for a prostitute.
Just then, García was getting ready to leave the club and walk the 10 blocks home. As she walked on the side of the road, a car stopped and the men inside grabbed her and pulled her in. They took turns raping her before strangling her to death.
Then they dumped her naked body on the side of a dark, muddy road on the outskirts of the city.
García's death transformed her from a campaigner against gender-based violence to one of its victims. And while activists tried to shine a spotlight on the threats faced by women, the situation on the ground was getting worse. Deaths like García's are so common in Argentina that it is nearly impossible to open a newspaper and not read about a new femicide — or about a man being released after committing the most horrific of sexual assaults.
"There has been a reversal in [gender] politics," said Mariela Labozzetta, head of the public prosecutor's specialized unit for violence against women.
She pointed to things that were highly visible, including the fact that only two women serve in the cabinet of President Mauricio Macri. "Society is conservative, machista, patriarchal," said Fabiana Tuñez, head of the National Women's Institute. Only 25% of the most recent victims had lodged an official complaint against their assailants before they were killed, she said.
When the executive branch initially published the 2017 budget, it was missing the $3.8 million allocated last November to the National Women's Council and the National Action Plan Against Gender Violence. The funds were reintroduced only after a group of NGOs filed a formal complaint.
García's death transformed her from a campaigner against gender-based violence to one of its victims.
This summer, the government announced its plan to open three new safe houses for women fleeing domestic violence. But the mistake it then made speaks volumes about its lack of attention to the issue: It initially sent reporters the exact locations of the shelters, defeating the secrecy many women need when escaping. Women's rights activists were outraged, but rather than issue an apology, the government sent out a nearly identical announcement shortly after, with a note saying that it was suppressing the addresses for "the safety of the people receiving support there."
Meanwhile, the government still does not know the full extent of the dangers faced by women. But its limited efforts to find out tell a shocking story.
In its first gender violence poll conducted last year, the government of Buenos Aires discovered that 26.9% of the 1,003 women surveyed had suffered both physical and sexual violence, and more than half had been subjected to psychological violence. Only 10% of the women who suffered any kind of violence had reported it to the police.
A poll conducted by a group affiliated to #NiUnaMenos revealed that 97% of the women surveyed had experienced harassment either in public or at home and 67% had suffered physical abuse from their partner.
"We could've prevented what happened to Micaela," said Karen Cristani, another sister of the girl who tried unsuccessfully to report Wagner after he assaulted her.
"You look like such a little whore, my love."

"Mami, if I catch you, I'll make you another son."
"What if you suck my dick the way you're licking that ice cream?"
It was a bold, innovative campaign against catcalling, launched in Argentina in 2014: plastering posters with the taunts written in bold on the side of buildings, lampposts, and trash cans. "If it's uncomfortable to read it, imagine having to listen to it," the signs read.
Macri, at the time the mayor of Buenos Aires, waved off the campaign.
"Deep down, all women like to get a flirtatious compliment," he said. "Those that say they don't, that they get offended, I don't believe them at all."
Those comments would come back to haunt him the following year, when #NiUnaMenos exploded after the murder of 14-year-old Chiara Paez. She was the latest in a string of girls killed because of their gender.
"Actresses, politicians, artists, businesswomen, opinion makers… women, all, bah… aren't we going to speak up? THEY ARE KILLING US," Marcela Ojeda, a local journalist, tweeted after Paez was killed.
A group of female journalists responded to her call to arms. Several days later, they met to draft a list of demands for the government, including enforcing the use of ankle bracelets for men with restraining orders, and to organize a march in Buenos Aires. #NiUnaMenos soon went viral — first in Argentina, then across the world.
None of the march's organizers expected what came next. As many as 300,000 people, mostly women, packed into the Congressional Plaza, one of the main gathering points in the city, as night fell on June 3, 2015, carrying handwritten signs and sharing personal stories of sexual assault.
"What you saw on the street was an act of enormous rebelliousness," Marta Dillon, one of the movement's founders, told BuzzFeed News during an interview in her apartment. Almost overnight, #NiUnaMenos forced parents and teachers to start long-overdue, difficult conversations about toxic masculinity and its impact. Women started talking about the "patriarchy."
Some things did change: Buenos Aires passed a law against street harassment; the Supreme Court announced it would begin gathering national femicide statistics; the federal government set up a helpline for women experiencing violence.
"Just like the military dictatorship was the most impactful socioeconomic issue in my memory, so will [NiUnaMenos] be for today's youth," Paula Rodríguez, the author of a book about #NiUnaMenos, told BuzzFeed News.
But as the movement gained strength on the streets during the months that followed, it was losing cohesion behind the scenes. The founders, strong-willed and influential journalists for various media, disagreed over what to do with their new political capital. Some wanted to convince more celebrities to promote the movement; others wanted to focus on pushing legislation. Cliques formed and communication broke down.
"What you saw on the street was an act of enormous rebelliousness."
These fractures have hampered the movement: The groups chose different starting points for big marches, scattering women around the city. "It became totally anarchical," Ingrid Beck, another founder of the movement, told BuzzFeed News.
"They are stuck in a small fight, not the big battle," said Néstor García, Micaela's father. Shortly after her death, a group of #NiUnaMenos organizers asked him to lead a march in her honor but before it began, another group involved in the event reached out with the same request. "I don't like it one bit," Néstor added.
The group is still trying to pressure the government, but its wish list is being met at a glacial pace compared to the urgency of the situation. Most victims of gender violence outside of the capital still do not have access to specialized and free legal support from the state; comprehensive sex education remains limited; and ankle monitors for sex offenders are still largely unavailable.
The government claims some victories. Last month, it "elevated" the National Women's Council to the rank of an institute, which means it has slightly more autonomy but remains under the jurisdiction of the Social Development Ministry.
For many, the move fell short of what was really needed. "No one has ever believed this issue to be important enough to merit a ministry," said Natalia Gherardi, director of the Latin American Justice and Gender Team, which is based in Argentina. In the past decade, the president has approved the creation of the ministries of agroindustry, science, tourism, modernization, and security — but nothing for women.
Justice remains elusive for victims. Of the men who killed women last year, only 9% were found guilty, 21% were at the trial phase, and 47% remained under investigation by the time the Supreme Court published its annual report in June.
And that doesn't tell the story of the families torn apart by the murders of these women. The García family is struggling together to deal with their pain. A few months after Micaela's death, they all decided to get tattoos of her nickname — even her 82-year-old grandfather has "Mica" on the inside of his wrist.
They're still learning to tread the delicate line between remembering García by continuing her projects and forcing themselves not to imagine what she went through during the last hours of her life. For some, the defense mechanism is keeping busy. Andrea Lescano, García's mother, works on the foundation she started after the murder, often late into the night. Her therapist told her to cut back but any time she's idle, the pain returns, so she sends emails and text messages to volunteers until her eyelids get heavy.

Others count getting out of bed as a victory. García's grandmother, Maria Ines Bruno, is inconsolable. She can no longer remember what it was like to wake up without tears already streaming down her face. "I never imagined this is how I would spend old age," she said, her voice barely above a whisper.
The court case offered little sense of closure for the Garcías. After six months of a highly publicized trial, Wagner was found guilty and handed a life sentence on October 17. His boss, Néstor Pavón, was given neither a rape or homicide conviction. Instead, he was sentenced to just five years for helping Wagner hide his crime.
But the fight continues for the García family, which is now considering appealing Pavón's sentence. ●