CARACAS, Venezuela — Maikol Mendoza shivered under his flannel blanket, pulling it tightly around him, despite the stuffy, humid conditions in the corridors of Dr. José Manuel de los Ríos Children's Hospital in Caracas.

A nurse pushed his wheelchair from an emergency dialysis session back to the ICU, wheeling him past bare, peeling blue walls and a bank of broken elevators. When Maikol's aunt squeezed his shoulder along the way, he reached up, hooked his arm around her neck and pulled her closer.
"I thought I was going to die," he whispered in her ear, their faces wet with his tears.
Just a week earlier, on Holy Friday, he had been certain of precisely the opposite: In the midst of Venezuela's dire health crisis, Maikol had been given a new, healthy kidney.
For the first time in two years, the soft-spoken, husky teenager had started making plans. He would finally have the energy to go back to catechism classes, join his neighbor's foosball games, and plan his 17th birthday celebration.
But then everything went wrong.
Maikol's relatives could not hunt down all the medicines he needed amid the country's rapidly growing medical shortage, including post-op anti-inflammatory drugs. The hospital ran out of protein-rich food. There were no ambulances available to transfer Maikol to a different facility to get a sonogram done that would evaluate for any complications. When one was finally assigned to him, an anti-government demonstration made it impossible to get there.
Then, Maikol became infected with a highly resistant bacteria borne out of the hospital's poorly maintained water pipes.
Before he could make sense of what was happening, Maikol, the last transplant patient at the hospital in this dying nation, had to be rushed back to the operating room to remove his new kidney.
"We're not dogs," Taina Rodríguez, Maikol's mother, said angrily. Doctors had told her to prepare for the worst after the transplanted organ began to fail. Rodriguez recently quit her job packaging Doritos to sit by Maikol's bed in a vigil while the rest of his family has taken turns to visit from Barquisimeto, their hometown, 230 miles west of Caracas.
This left Maikol back at square one, or worse. His life had been snatched from him again, and now his family was left full of uncertainty once more: Would he survive the second surgery? Would they ever find another donor?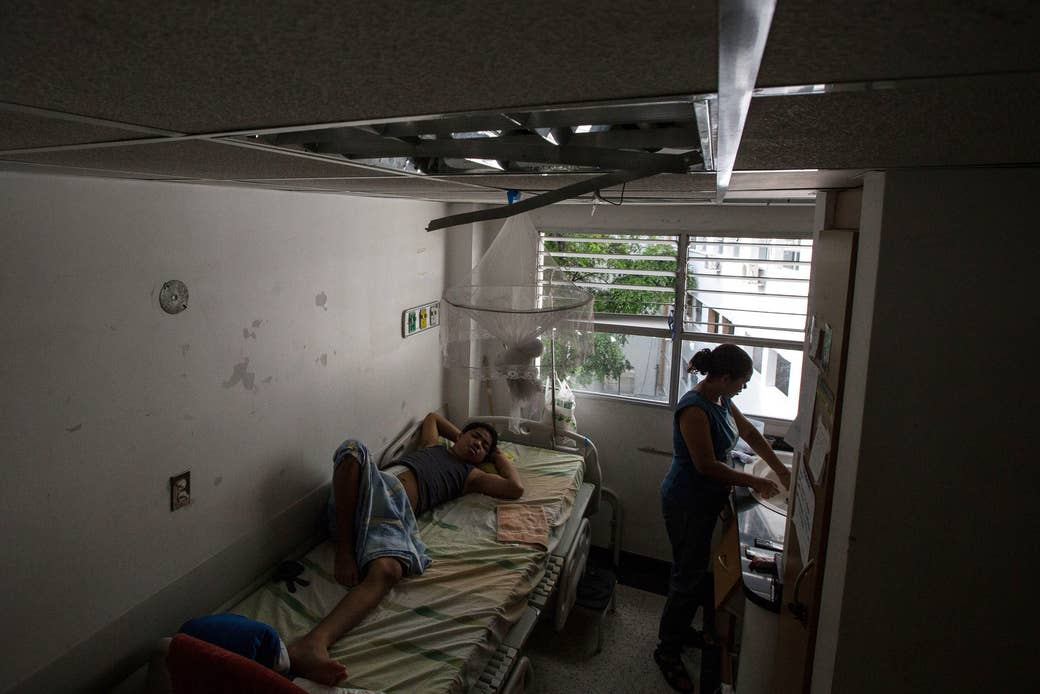 Stories like Maikol's are everywhere in Venezuela, where the health care system is on the brink of total collapse and patients who thought they were in the clear are back to fighting a harsh reality. Hospitals have left patients' families to fend for themselves, scurrying to purchase everything from syringes to anesthesia, often at exuberant black market rates, and forcing doctors to perform surgery with antiquated equipment in operating rooms cleaned with dirty water.

The Health Ministry's first set of data since July 2015, published earlier this month, should come as no surprise: infant and maternal mortality rose 30% and 65% last year, respectively. The statistics show the country has come a long way from the 1950s to 80s, when Venezuela's vast oil reserves made it one of the wealthiest countries in the region.
The Dr. Jose Manuel de los Rios Children's Hospital, the gem of Venezuela's public pediatric care, is a prime example of the health care system's widespread failure. A report conducted last year by the Universidad Simón Bolívar warned that the hospital's water tanks had an infestation of rodents and that both the ER and ICU were contaminated by sewage water. It also revealed that in 2015, the hospital received the equivalent of just $39,560 from the federal government for everything from medicine to equipment repair, down from $2.7 million in 2011 (the authors used the parallel, or black market, dollar rate, which has skyrocketed because of currency controls and inflation).
Doctors at the hospital had heard that immunosuppressants, the drugs needed to prevent patients like Maikol from rejecting transplanted organs, were no longer available in the country, but the Health Ministry had yet to make an official announcement.
"There was no way to know if we could really accept the transplant," admitted Belen Arteaga, the head of the nephrology department at the children's hospital. "There's real misinformation."
On Friday, over one month after Maikol underwent the first surgery, the government office in charge of transplants, Fundavene, sent a letter to Arteaga announcing that it was suspending kidney transplants from deceased people until further notice.

If the health system is on the brink of collapse it's because Venezuela is systematically and rapidly falling apart. Inflation is expected to hit 2,000% by next year; shortages of everything from milk to chicken have led to people losing an average of 19 pounds; and homicides have soared in the already-violent country. President Nicolás Maduro, the less-than-charismatic and increasingly autocratic successor of Hugo Chavez, has announced that he is pulling the country out of the Organization of American States and set in motion a rewrite of the constitution. Daily protests have convulsed the country for over two months, during which more than 50 demonstrators have been killed.
In a move that seems extraordinary for a country not at war, opposition leaders have asked Maduro to allow a channel of humanitarian aid from abroad, a request echoed by a bipartisan group of US senators. Maduro, instead, has handed control over the distribution of medicine to the country's armed forces.
Amid this chaos, it is children like Maikol who are left with no idea what their future will look like. His second chance at life dashed by the failed transplant, he doesn't know if he'll get another one.
In any case, doctors told him that he will have to wait at least a year to try again. By then, Maikol will be an adult. "He told the doctors he never wants to come back to this hospital," his mother said.
Every evening at 7 p.m. on the dot, shortly after the sun begins to set, Norelys Hernández reaches for her phone. Sixty-two other women from all walks of life do the same across Venezuela. They have one thing in common: breast cancer.

Together in a WhatsApp group called "Connected to God," they pray to heal, or to stay in remission. Their shared dream is to become the first generation of women to overcome cancer without medicine — not because they have ethical qualms, but because supplies are barely available.
"We are putting in the effort and have the best possible attitude … but all we want is to get to the pharmacy and hear that the medicines have finally arrived," said Hernández, 39, sitting in her small, airy apartment in Caricuao, a densely populated neighborhood of southwestern Caracas, her short hair neatly combed.
Like the women of "Connected to God," hundreds of people who have overcome terminal illnesses across Venezuela are now struggling to hold on to their hard-fought victories, which require a regular stream of specialized medications.
"The fight ends when remission begins, but then another starts," said Mayra Cardenas, the founder of the group and a cancer survivor herself.
Virtually none of the women can find all the medications they need to keep the disease in check in a timely manner. Cardenas has been traveling to Colombia and Panama every 21 days to get immunotherapy treatments — she's one of the lucky few who can afford these trips. Twelve of the group members, already in remission, have relapsed in recent months.
In the absence of medication and hospital beds, patients on the front line of the Venezuelan health crisis are forced to do what they can with very little. For the women from the WhatsApp group who live in Caracas, that means coming together twice a month to do yoga and art therapy.
But even these gatherings have fallen victim to the protracted mayhem: A recent session had to be canceled because a group of protesters had blocked the roads around the mall where it was scheduled to be held.
Hernández was diagnosed in 2010, just after her second daughter was born, but saw her cancer enter remission with treatment. In 2012, she fell ill again. Since then, she's started eight different chemotherapy treatments; the medicines have run out before she's been able to complete any of them.
Even the doctors are doubtful about how much more they can help — Hernández's has asked her to trust in God.
In a sign of how unwittingly macabre the search for medicine in Venezuela has become, Hernández regularly scours social media for messages from people whose relatives have succumbed to cancer and are willing to donate their leftover medication. She zigzags the city by bus, looking for the components of each chemotherapy cocktail in different pharmacies and hospitals. And she checks "Connected to God" multiple times a day to see if someone has gotten their hands on an extra dose, of something, anything.
The search is almost as defeating for the women as their health troubles. It gives them anxiety, worsens their hypertension, and has led to bouts of depression. Still, they have little choice but to keep going it alone.
Their chances of success are bleak. Imports by the Venezuelan Chamber of Medications (CAVEME) fell by nearly 75% between 2014 and last year. The organization provides the public sector 65% of its "high-impact" medicine — including those for cancer, HIV, and dialysis.
According to a pharmaceutical executive in Venezuela who asked for anonymity because he feared reprisals from the government, the variety of available medications in the private sector has decreased by 80%. And the downward spiral is likely to continue: According to CAVEME, there will be at most 300 million units of medical supplies available in the country next year, down from 710 million in 2014.
Pharmaceutical experts and economists attribute the shortage of medicines in this oil-rich country, in part, to a dramatic fall in oil prices. Coupled with government price controls that have led to a thriving black market for medicines, this has meant that people like Hernandez must undertake Odyssean journeys to find, at best, a portion of their doctor-mandated, time-sensitive treatments.
Even the doctors are doubtful about how much more they can help — Hernández's has asked her to trust in God.
The "Connected to God" participants are hopeful that Maduro will soon give in to local and international pressure and open a humanitarian aid channel, though analysts say that it would be a one-off, temporary solution that could be misused by the government if they end up in charge of the donated supplies.
Opposition leader Henrique Capriles agreed that allowing aid in would only briefly extinguish one of the proliferating fires ravaging the country, but agreed that it's necessary. "Be it three months or six months, it works for something, believe me. They're lives. To save a life is important," Capriles told BuzzFeed News. (Capriles was ambushed and tear gassed by pro-government forces on Monday while attending a protest, part of a systematic assault on opposition leaders, several of whom have been jailed in recent years.)
Hernández is perpetually torn between being realistic about the ruthlessness of her partly treated cancer and holding on to hope as the country descends further into authoritarianism. "Meanwhile, the illness is accelerating," she said.
Hernández thinks of her daughters, too. For their sake, she covers up the growing bags under her eyes with a dab of makeup a few times a week, dusts off the fake flowers and bright tabletops in her home and musters whatever ingredients she can find in nearby shops to bake her family some sweets.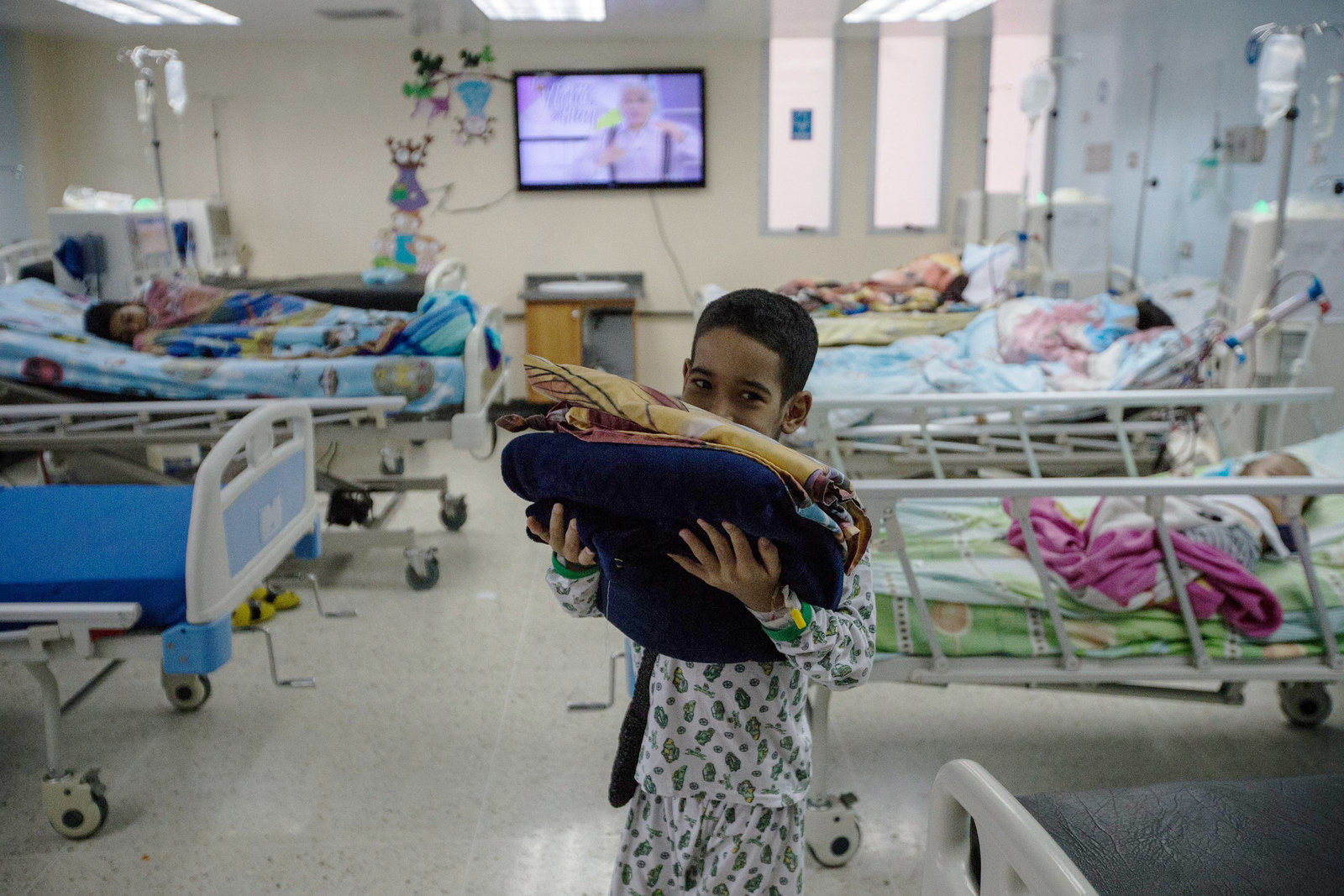 The children in the dialysis unit at Dr. José Manuel de los Ríos hospital — some of them lifelong regulars — have become as close as siblings. The cool and eerily quiet room where they spend more than a dozen hours together each week is their shared home.

On a recent evening, Cristian Malavá, 10, lay with his catheter hooked to one of the 11 functioning dialysis machines, a navy blue blanket covering his bony body up to his eyes. When his treatment was done, his blood at least in theory cleaned of the toxins inside, he put on his matching pajama shirt, hopped off the bed, and folded his blanket. Then he went around to the six other children there, peeking at the screens on their individual machines and letting them know how long they had to go. He rubbed their shoulders in a fatherly manner.
The last patient on the circuit was Samuel Becerra, a 12-year-old who lay in a tight fetal position facing the wall.
"You have 54 [minutes] left," Cristian told him.
"Get me out of here," Samuel pleaded with him, without looking up.
Cristian stared at him, anguish spreading across his face. "Diana, get Samuel out of here, he's too cold," he yelled at the nurse before saying goodbye. He was eager to go home and watch TV.
He walked over to the scale by the nurse's station, called out his weight (59.5 pounds!), and stepped out into the hallway, into his mother's embrace.
Samuel died 13 days later.
Katherine Martínez, president of Prepara Familia, a local NGO, said that the children, and their mothers, are traumatized by their proximity to death — Samuel is the third dialysis patient to die this month. She has asked Psychologists Without Borders to send a therapist to speak to the patients.
Maikol is struggling to process his feelings: He's fearful that he will also die, mournful of his unsuccessful transplant, and fraught with guilt for having received a donated organ before all the other children at the hospital.
He's also angry. Angry that it got this complicated. For the past two years, his mother had tried to convince doctors to give Maikol one of her own kidneys, since a living related donor transplant is more likely to be successful. However, two operating rooms were required for a living donor surgery, and even here at the foremost children's hospital in the country, only one was in working order.
Even that proved to be insufficient for a kidney from a deceased person.
Arteaga, the head of the nephrology department, admitted that the hospital had significant problems, including not enough personnel and "lacking conditions at the operating room." Still, she told BuzzFeed News that Maikol had a number of risk factors prior to the surgery that made him likely to reject the new kidney.
Rodríguez denied ever being told this. "I wouldn't have risked an operation if that was the case," she said.
What Rodríguez didn't know was that the hospital was falling apart. Shortly before the transplant surgery in mid-May, the water pipes in one of the wings had burst, flooding the rooms and forcing doctors to temporarily shut down the operating room.
During a tour of the hospital, a nurse showed how there was no soap in the nurses station, and that to open the faucet she had to reach down to turn an exposed, rusting handle near the floor.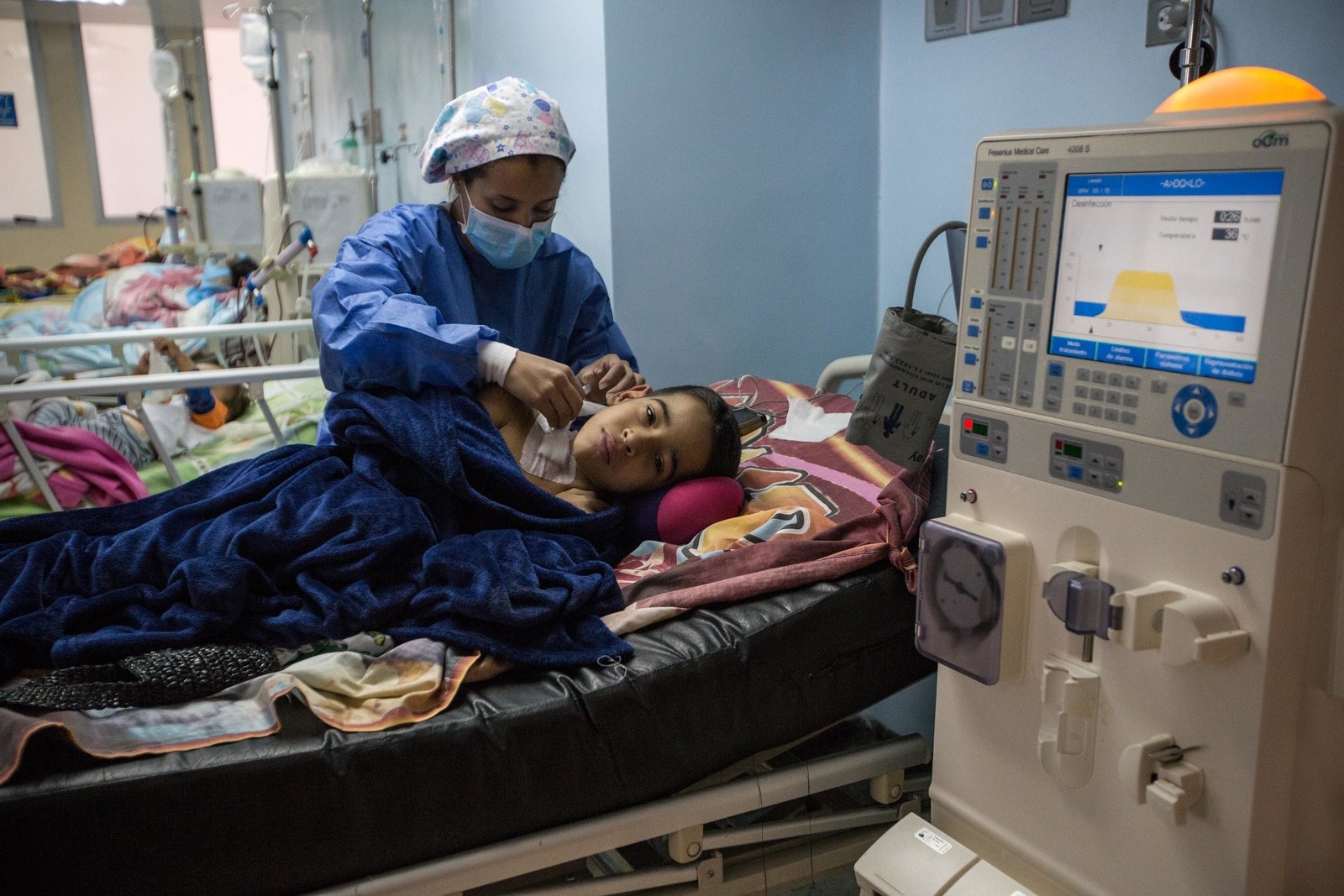 About 18 of the children who go in for dialysis regularly have gotten bacterial infections in recent weeks; doctors say that dialysis machines are being cleaned with the hospital's dirty water.
Then there's the third floor. A fire ravaged through several rooms there in 2013, leaving only charred beds, old syringes, and broken pipes strewn around. When gusts of wind slip through the broken windows, dust rises up from the dirty floors, where rodents freely roam.
It's not just the patients and relatives who are affected by this — the medical staff are left in despair, too.
"Six years of studies served for nothing because I won't be able to cure them," said Nell Rivas, a fourth-year medical student. Rivas was volunteering at the monthly party that Prepara Familia organizes for the children at the hospital. Rivas, tears welling in her eyes, said all of her patients are thin and lonely, since their relatives spend most days out hunting down medicine.
"What motivation do I have to keep studying?" she asked.
A few hours after the party, Maikol sat quietly next to his mother on a bench near where the children had gathered for cake, waiting for the time to pass.
Behind them, an advertisement from the National Transplant Organization of Venezuela showed two smiling boys, only slightly younger than Maikol.
"Collecting Victories," it read.