SUSTICACÁN, Mexico — The phone in Manuela Marina's sparsely furnished home in a tiny, picturesque town in central Mexico is her only lifeline.

It rings once every two or three months with the promise of help from her children in Chicago, 1,850 miles to the north. By the time she gets a call, her noisy refrigerator is almost empty, the tank of gas connected to the stove she uses to cook beans is nearly dry, and her debts to her neighbors have multiplied.
Marina, one of about 930 residents here, eats only two meals a day; she can't remember the last time she and her husband had chicken. When asked what she would buy if she got all the money she could ask for, she laughs.
"I don't know of luxuries," she said. Then, after more thought, an answer: Canned mango juice from the nearby convenience store and a few dollars for her local church.
The bulk of Marina's income — between $100 and $150 a handful of times a year — comes from her son, who works at a fruit factory in the American Midwest; rare extra dollars come courtesy of the goodwill of her three daughters' husbands in California. Without this support, life for her and her husband "would be pure suffering," said Marina, her eyes glistening, framed by deep wrinkles.
Despite the constant economic struggle, Marina says her life has been a "lovely one." She's grateful for her body, which is petite but strong enough to regularly haul some 14 pounds' worth of grain for nearly 2 miles. And she's proud of her dim and basic living quarters, just across the courtyard from the sun-drenched and elegantly tiled rooms her son has built for himself to occupy when he moves back.
Like most houses on the town's main street, Avenida Benito Juárez, the exterior of Marina's single-story home is impeccable. The salmon-colored facade looks well-tended, the flowers sprouting from a clay pot near the entrance are blooming, and the sidewalk is even and clean.
When asked what she would buy if she got all the money she could ask for, she laughs.
This postcard-perfect town, nestled near a low mountain range 420 miles northwest of Mexico City, is unlike most in Mexico. Many of its houses appear recently painted and the trash cans look as though they've never been used. Most of all, it is quiet.
Susticacán is so quiet, in fact, that it has the feel of a ghost town. The streets are mostly empty; schools are struggling to muster enough students from nearby towns to stay open; parks are eerily quiet and desolate; and the handful of convenience stores open only for a couple of hours a day.
This is because hundreds of people from Susticacán have left for the US over the last few decades. Like Marina, residents who stayed behind have come to depend heavily on the money their relatives send from abroad — remittances, as they're known formally. According to local authorities, émigrés inject about $60,000 every month into the community.
Waiting for "the call" from relatives in the US announcing that a wire transfer is on its way is one of the most common activities here, where as much as 60% of the money in circulation comes from north of the Rio Grande. There is no cell reception, little industry, and only a handful of job opportunities available at any given time.
Now, a new anxiety has engulfed Susticacán. As part of his psychological warfare with Mexico, US President Donald Trump has threatened at times to both deport all undocumented immigrants and to make it more difficult for those who manage to stay to send money home, threatening the livelihoods of the 7 million people across Mexico who depend on remittances directly.

"If he does that, it will be the end of us. Who will have money to buy my products?" asked Eduardo Chávez, who owns a meat shop here. "Everything would be automatically paralyzed."
Chávez's fears resonate across town. "Do you think he'll really do it?" Marina's husband, Jesús Díaz, asked three times while sitting on their couch next to Marina.
Díaz, 77, is nearly deaf and partly blind, the latter from working the nearby cornfields for most of his life. These days, the little work available in town is in construction — building houses commissioned by people who emigrated to the US and travel home for two weeks out of the year to attend the town's annual party, a street fair tradition across towns and small cities in Mexico — and his physical condition makes him less than competitive.
If his son stops sending money, said Díaz, "we'll have to go back to placing all our faith in the sky."
Or, he added, "we'll have to beg."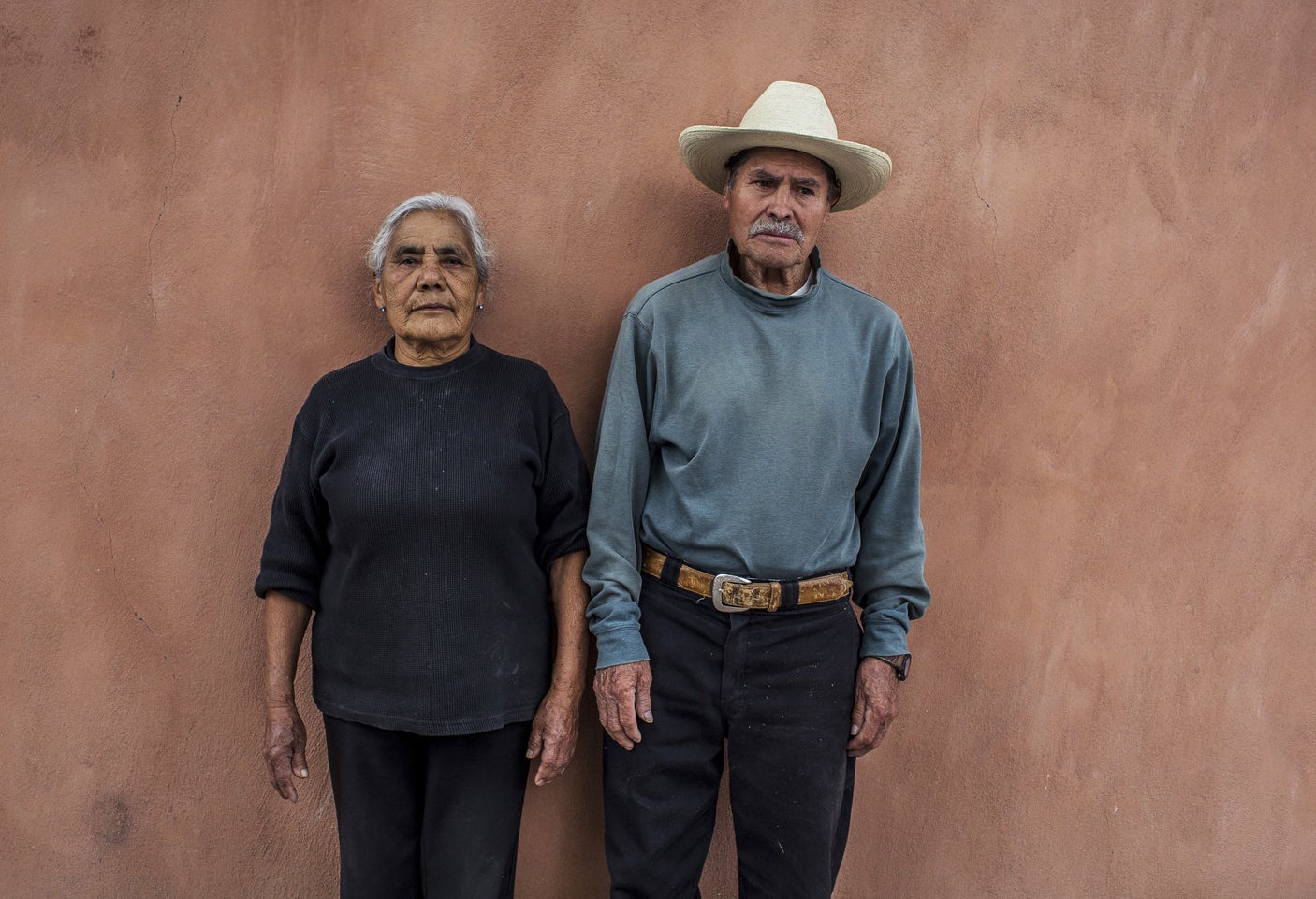 Monica, a mother of three living in Chicago, is intimately familiar with the new dilemma many undocumented immigrants in the US are facing: Keep sending relatives back home money or save it for a lawyer in case they get detained by authorities?
It used to be that the receivers of remittances — poor and dependent, like Marina or her neighbors — had the most to worry about. Now, in the era of Trump, the senders, too, are terrified.
The pressure has become such that Monica, who has been undocumented in the US for 15 years, is ready to go back home to Durango, a state in northern Mexico. BuzzFeed News agreed to withhold her last name due to her fear of deportation.
Monica wires her mother, who needs medicine and a costly special diet to keep her diabetes in check, about $60 every month. But recently, her mother has begun encouraging Monica and her sister — the only sources of income she has — to start sending their money not to her but to a bank account in Mexico for when, not if, they are deported.
Throughout Trump's campaign chants of "build that wall" filled the former reality TV star's rallies, which erupted into deafening applause when he promised to make Mexico pay for it. Trump once told the Washington Post how he would do it: Require all immigrants wiring money outside the US to show proof of legal residence.
He has not mentioned his campaign-era proposal since taking office, but Rep. Mike Rogers, a Republican from Alabama, revived the matter last month when he introduced a bill which would impose a 2% fee on remittances to Latin America.
"Anyone who sends their money to countries that benefit from our porous borders and illegal immigration should be responsible for providing some of the funds needed to complete the wall," Rogers said in a statement.
Rogers did not respond to repeated requests for additional comment from BuzzFeed News.
Mexico received almost $27 billion in remittances in 2016, up 8.8% from the previous year. That money accounts for 2.6% of the country's total GDP, making it the second-highest source of foreign income after auto exports. That's made Mexican officials very interested in protecting the flow of cash across the border.
Undocumented immigrants in the US who spoke with BuzzFeed News say they have limited the time they spend in public places significantly.
Armando Ríos Piter, a Mexican opposition senator, proposed in September an initiative to ensure that fiscal measures that harm Mexicans abroad are reciprocated to citizens from that country living in Mexico. (Like many Trump-related measures in Congress, it has yet to be discussed seriously among lawmakers.)
The concern goes all the way up to the top echelons of the Mexican government. In January, President Enrique Peña Nieto included the protection of a continued and "not more expensive" flow of remittances in his list of priorities during ongoing negotiations with the US.
"The Mexican government takes attitudes and decisions based on what the government of the United States decides," Virgilio Andrade, director general of the Bank of National Savings and Financial Services, told BuzzFeed News. We will "defend the fruits of our fellow Mexicans' work to the maximum," he declared.
Despite concerns, analysts agree that a tax on remittances is unlikely to have a significant effect on their flow. Remittances already cost an average of $8.45 dollars to send, so a slight tax won't cause significant psychological impact. Given the political climate, experts add, a small tax may even be welcome as the lesser of two evils.
"If you eliminate the uncertainty during the years Trump will be in power with a 2% tax, migrants will be open to it. Uncertainty is terrible," said Jesús Cervantes, manager at the Center for Latin American Monetary Studies.
What the proposed changes to the remittances industry will do, experts say, is nourish and expand the black market that already exists, used to launder the profits of drug sales back to Latin America.
Or they may simply force undocumented immigrants to turn to relatives or friends with legal residency to send the money for them.
In the meantime, Trump's threats continue to spread fear on both sides of the border. Undocumented immigrants in the US who have spoken with BuzzFeed News say they have limited the time they spend in public places significantly, increasingly afraid that they will be picked up by police and deported. Monica says she and her husband have signed and delivered a power of attorney letter handing over temporary custody of their children to one of their neighbors in case they are detained.
She's also begun the process of obtaining Mexican citizenship for her children. Just in case.

That house was rebuilt using remittances. This one was abandoned by people who moved north. Those other two — the yellow ones — abandoned. Built with remittances. On the corner, abandoned.

Gustavo de Santiago Sánchez, the town's mayor, sitting in the passenger seat of a car slowly cruising through the town's main street, pointed out the houses that had been built with remittances and those which were left empty by people who emigrated to the US: Virtually all of them fit either of these two categories.
Sánchez waved discreetly at the handful of people walking on the sidewalks as he spoke. The saying here goes, Pueblo chico, infierno grande, or "small town, big hell," because everyone knows everyone's business, for better or for worse.
Private citizens aren't the only benefactors. The cemetery, an old people's home, and the main park, a manicured square with canopied entrances and brand new–looking trash cans, were all paid for as part of the "3x1 for Migrants" program.
Under the program, launched in Zacatecas in the mid-1980s and now adopted throughout the country, the federal, state, and local governments match every dollar sent by migrants in the US to build schools, churches, and other public works.
That is, if money from the US doesn't stop coming in, either because of strict regulations on remittances or from mass deportations. If it does, crime, nearly negligible now, would go up, unemployment would multiply, and people would go hungry if food supplies remain as they are, said Sánchez.
Sánchez pointed to a two-story coral-colored house — the Guardado residence, built almost entirely from remittances. What started off as a two-room home with a compact kitchen has become a comfortable residence with an elegant exterior for its seven residents thanks to the $500 or so that their relatives in California send every month.
"One lives always anticipating the arrival of help," said Sira Guardado. Hearing her sibling's voice over the phone spelling out the money transfer code is the highlight of her month, she added.
Like many residents here, Guardado was initially skeptical about talking to reporters about her family's finances, leaning firmly against the elaborate quarry framing the entrance. People say the biggest problem here is envy among neighbors.
The six Guardado brothers, who have lived in Los Angeles for decades, now own an Italian restaurant. The money they send home pays for their family's food and gas, their nephews's school supplies, and the alfalfa used to feed the 60 cows they own. There are two houses under construction next to the Guardado's house; they both belong to the California-based brothers.
"We would have to declare a state of emergency."
Even with the new uncertainty, life goes on as usual for now. After Marina picks up her money transfer from Jerez, a nearby town where she also buys groceries, she pays her water and gas bills (mostly on time, even if it means asking neighbors for a loan), and keeps a pile of coins around for whenever she goes to the local mill to have her corn ground (50 cents per bucket). There's one restaurant in town, about one kilometer down the street, but Marina has never been to it.
She also saves a dime for every time she visits church. That's the extent of how much most elderly people can donate; Father Juan José Padilla, who's been working in Susticacán for a year and says tithes here don't suffice, lives off a special subsidy for bishops.
Remittances have made Susticacán — but they've also been its curse. Many people here say that the wealth that has come in has taken with it the motivation to become self-sufficient, an argument that resembles one often made north of the border about the social safety net.
When Sánchez organized a course to teach local women to sew and men to plant vegetables, he says, few people showed up. Residents don't mind being dependent on the remittances that so closely resemble foreign aid and don't care about being productive, he added.
"I haven't seen people with the initiative to progress, and create industry and jobs for people," said Padilla.
Like many towns that remain afloat from money from the US, Susticacán is ill-prepared for a decrease in remittances. The beautiful houses that line the streets could potentially be shown to be just facades should the money from north of the border suddenly dry up. And if Trump goes ahead with his campaign promises, residents agree, the effects would be not only traumatic but potentially unmanageable.
"We would have to declare a state of emergency," said Sánchez.