MEXICO CITY — The Venezuelan opposition, worn down and frustrated after three months of street protests that have been extinguished by violent repression from the state, has taken its plight global.
On Sunday, they organized an unofficial vote to deliver a strong, if only symbolic, message to President Nicolas Maduro: We want you out. It was held across Venezuela but also around the world, in 90 countries.
More than 7.1 million Venezuelans cast their vote; of these, 693,789 did so abroad.
The mobilization of expat communities across the world was masterminded from Caracas by the opposition coalition, called the Democratic Unity Roundtable, and organized by its representatives in major cities abroad, from New York to Rome. In many cases, upon hearing of the vote on Facebook, groups of Venezuelans contacted the coalition back home, who mailed them voting materials so they could establish a polling location.
"The way this plebiscite has come together is from the outside in," Eudoro Gonzalez, an opposition congressman, told BuzzFeed News by phone from Caracas.
Much of the organization, including volunteer recruitment, happened via social media and WhatsApp groups during the weeks leading up to the plebiscite. Many of the voting locations, dubbed "sovereign points," were restaurants whose owners donated food to volunteers.
Voters were asked to vote on whether they reject a new assembly called by Maduro to redraft the constitution and whether they demand that the army back up decisions made by the opposition-controlled Congress. They also hope to push for an election to replace Maduro and form a new "national unity" government.
At one polling center in Mexico City, more than 30 volunteers helped elderly men get out of cars, tended to a young man who started feeling dizzy, and ensured people did not spill onto the street.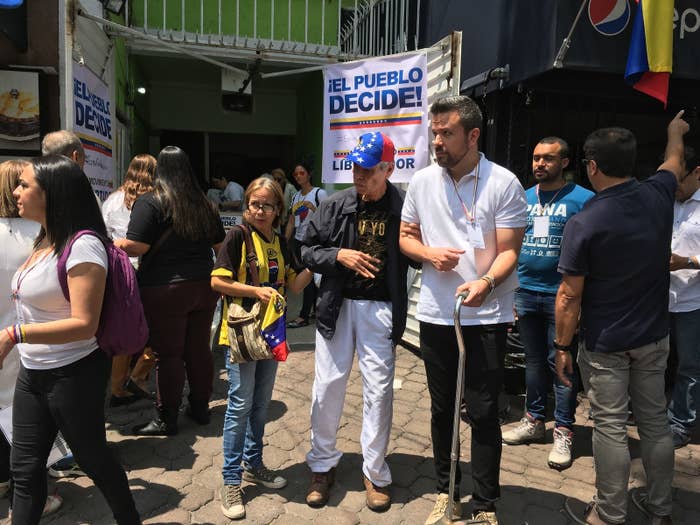 The referendum is the latest effort to rid Venezuela of a government that has postponed free elections indefinitely, jailed political opponents, and violently repressed regular protests in which nearly 100 people have died. People acknowledged that their vote would likely not force Maduro into making major concessions, like calling for elections, but said it was a necessary step in the protracted battle against the unpopular government.
"Force doesn't crack the stone, persistence does," said Manuel Rojas, a volunteer at one of six polling centers in the Mexican capital.
Maduro called for a new assembly in May to redraft the country's 18-year-old constitution amid a worsening political crisis, skyrocketing inflation, a shortage of medicines and basic food staples, and a homicide epidemic. Critics say the assembly will solidify Maduro's increasingly autocratic rule.
The opposition, historically fractured but growing more united in recent months, responded with the referendum, which Maduro has called illegal. In December 2015, the coalition won a majority in Congress, wresting power from the governing party for the first time in 16 years.
Since then, Maduro's allies have hobbled Congress's powers. But members of the governing party have begun turning on Maduro, like the country's attorney general, who says she is expecting to be fired. Last month, Maduro warned that "whatever is not achieved with the vote we will do with weapons."
Venezuela's spiral has become a unifying concern among countries in the Americas, including the US. In May, President Donald Trump imposed a new set of sanctions on top authorities, including the chief judge of the Venezuelan Supreme Court.
Vicente Fox, Andres Pastrana, Jorge Quiroga, Laura Chinchilla, and Miguel Angel Rodriguez — the former presidents of Mexico, Colombia, Bolivia, and Costa Rica, respectively — traveled to Venezuela to oversee the referendum.
Inside Venezuela, one person was shot dead by government supporters and four were injured near a polling station.
Gonzalez, the opposition congressman, said Sunday's vote would not only intensify international pressure but also reveal the real size of the Venezuelan diaspora, which will help the opposition organize its protest activities abroad moving forward. They have said that the referendum will be followed by a "zero hour" — on Monday the opposition announced a general strike on Thursday.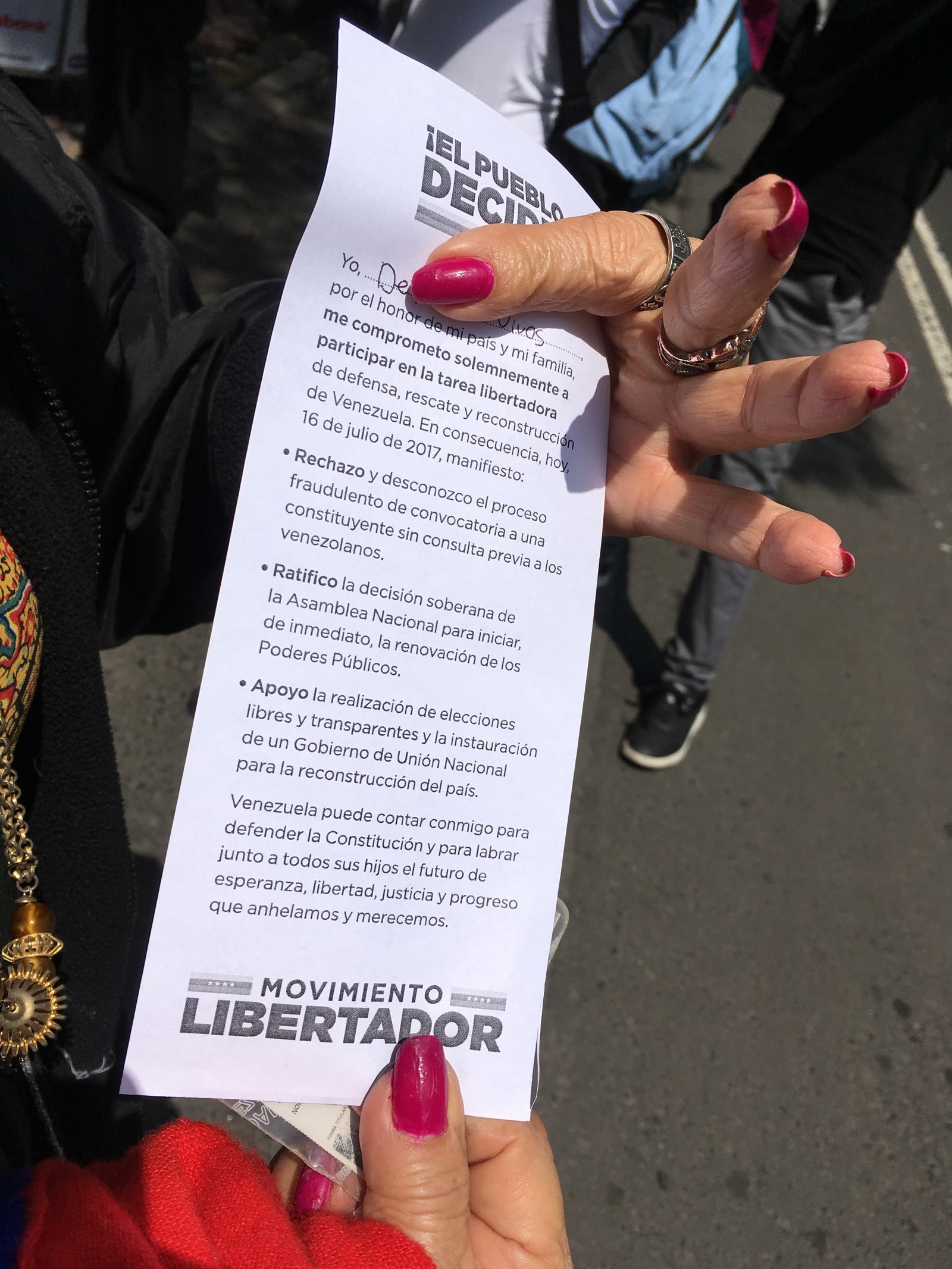 Anticipating an overwhelming vote tally, one of the government's most powerful figures, the mayor of Caracas Jorge Rodriguez, said from the command center of the new popular assembly that the referendum was a sham. He said the government has a video of a man who voted 17 times, traveling across Caracas on Sunday. Rodriguez has not made the video public.
At the Mexico City polling center, people heeded the volunteers' calls to stay on the sidewalk and not block the driveways. Nela Moser, a Venezuelan chocolate-maker who was visiting the city with her husband for a week, was pensive as she leaned against a wall. It was her last day in Mexico and she said she would spend most of it in line.
"If we can't sightsee, it doesn't matter," she said, her eyes tearing up. "What can be more important than living freely?"
Back at the start of the line, Rojas, the volunteer, ordered people taking selfies with the pamphlet confirming their "solemn compromise to participate in the task of defending, rescuing and rebuilding Venezuela" to clear the way for incoming voters. He was calm as he wiped sweat off his forehead.
"What happens now will depend on every Venezuelan that said no today," he said.