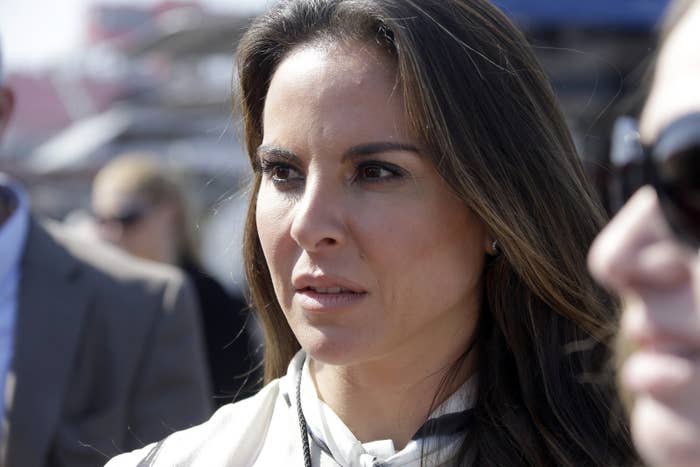 MEXICO CITY, Mexico — Kate del Castillo seems enamoured with narco culture. The woman who brokered the controversial meeting between American actor Sean Penn and Joaquin Guzman Loera, the world's most powerful drug kingpin, has played ruthless cartel bosses in several telenovelas and has publicly professed her trust in Loera, the world's most mythical drug lord, over the country's government.
On Saturday, Rolling Stone published a story Penn authored about his meeting with Loera, known as "El Chapo," one day after Mexican authorities captured the kingpin for the third time. It was also the day Del Castillo, 43, launched her own tequila brand, which was inspired by her career-defining role as Teresa Mendoza, the most powerful drug trafficker in the 63-episode telenovela La Reina del Sur.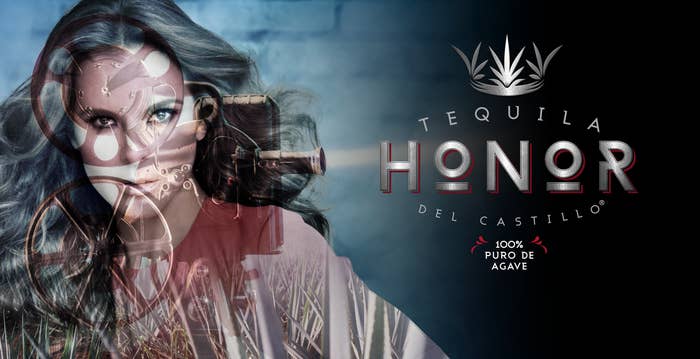 "As you know, I like tequila a lot, and Teresa Mendoza's character drank tequila all the time. So I later said, I should come out with my own tequila," Del Castillo said during a recent interview with Telemundo.
Like the world Mendoza inhabited, Tequila Honor del Castillo blooms amid the kitschy environment that evokes the idiosyncrasies of narco culture. In the product launch video, Del Castillo walks into a bar where men with commanding attitudes drape their arms around cleavage-bearing women. Lupillo Rivera, brother of the deceased Jenni Rivera who reportedly entertained at cartel parties, sings the product's official song.
BuzzFeed News reached out to Del Castillo's tequila company to inquire about her ties with Chapo and any arrangement that may have been made for product placement but has not received an answer.

Del Castillo's personal story has many parallels to a stock plot in dramatic Mexican telenovelas in which the female protagonist is wooed by a powerful, wealthy and virtually unattainable man. In the Rolling Stone article, Penn writes that El Chapo sent the twice-married Del Castillo flowers and a number of text messages. When they finally met in the cartel boss's home state, writes Penn, El Chapo strayed from routine and drank tequila — though apparently not Honor Tequila — with Del Castillo. He later accompanied her to her bedroom and stopped short of tucking her in.
El Chapo requested that he approve the article, in which Penn mentions Del Castillo's new tequila by name, before it was published.
The article has caused widespread controversy as reports of both Mexican and American authorities opening investigations into Penn and Del Castillo emerge.
Del Castillo, who was born in Mexico City, shot to fame for her portrayal of the female version of El Chapo in La Reina del Sur, or "The Queen of the South," a telenovela produced by Telemundo. The story was based on a book by Spanish journalist-turned-novelist Arturo Perez Reverte about Teresa Mendoza, who was thrust into the top echelons of the global drug trafficking world after her two-timing, drug-smuggling boyfriend is killed and she has to find a way to survive in Spain, where she flees to.
Since the series aired, Del Castillo has remained synonymous with Mendoza and the lines between the actress and the drug trafficking world have blurred.
"Today, I believe more in Chapo Guzman that in the governments that hide painful truths from me, who hide the cure for cancer, for AIDS, etc, for their own benefit and wealth," Del Castillo tweeted in 2012. "Mr. Chapo, wouldn't it be cool if you started trafficking with good?," the actress continued.
In the "Kate Cares" section of her official website, Del Castillo lists PETA, breast cancer and human trafficking as causes she is involved in.
After his capture on Friday, El Chapo was sent back to the same maximum security prison he escaped from in July.