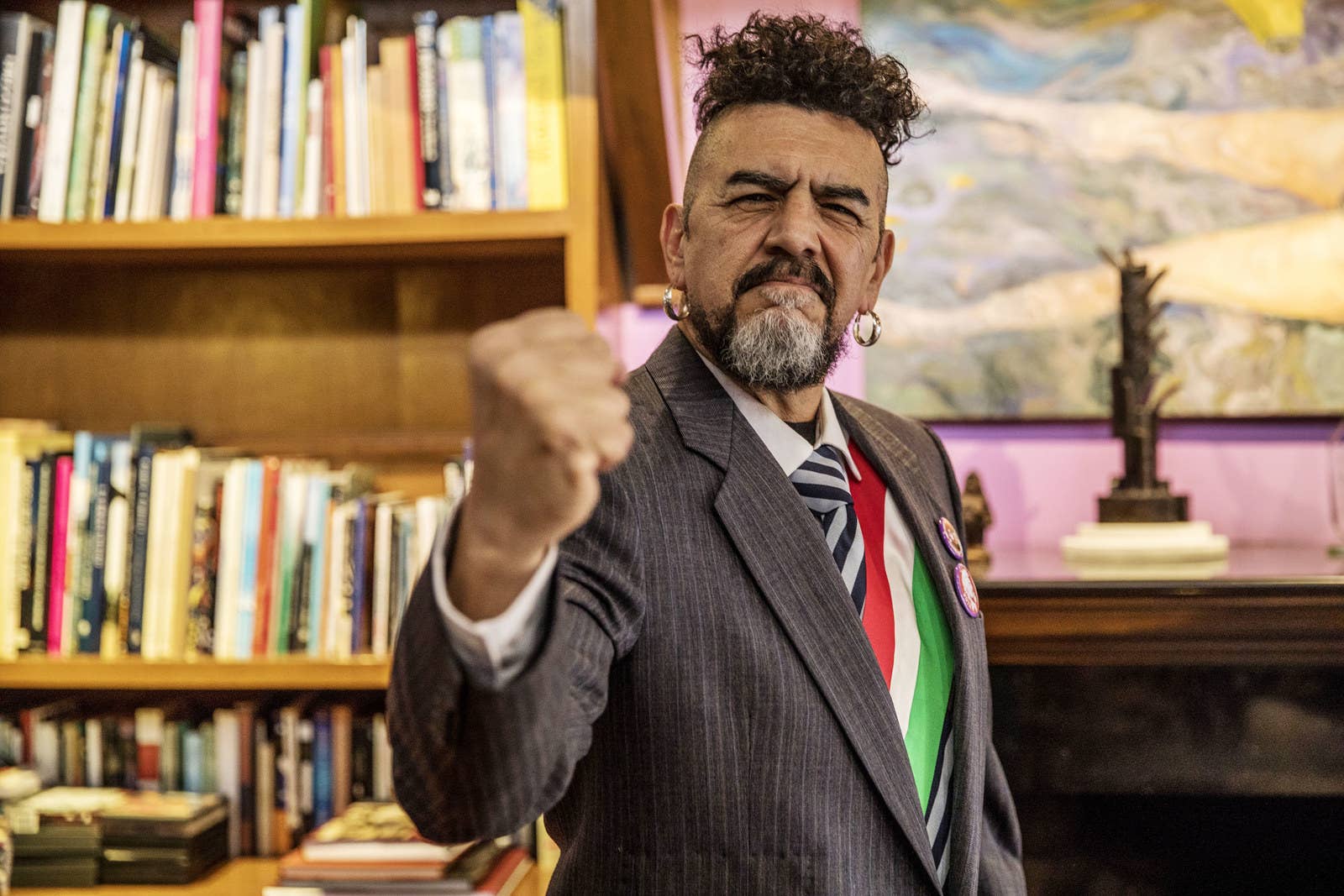 MEXICO CITY — Mexicans, you've been warned: If Sergio Arau becomes president, he will steal as much as he can. He'll negotiate with criminal organizations — for lower drug prices and "Cinco de Mayo" specials. And he has promised to kill two people per day.
"I'm the most honest candidate. I'm very corrupt," Arau says in one of his campaign spots, grinning straight into the camera.
"I say it up front and that is true honesty."
But Arau's candidacy is fake, as fake as the facade of a white button-up shirt he wears over his silver-studded skinny jeans. (It's actually a chest-sized scrap of cloth with a sewed-on tie and presidential sash, Velcroed to the inside of his suit jacket.) As Mexicans wrestle with widespread official corruption and plummeting faith in their political leaders in the lead-up to July's presidential election, his is a searing criticism of the country's ruling class.

"This administration has been greedier, more full of thieves, more crooked," Arau, 66, tells BuzzFeed News during an interview in his studio. "It has reached ridiculous levels of total cynicism."
Sergio Arau/Charco Industrias Creativas/Flesh
With his messy mohawk and prominent hoop earrings, Arau, a musician, filmmaker, and visual artist, may look unpresidential. But it is worth asking: What is considered presidential in Mexico?
If the main concern during 2012's election was the drug war and the skyrocketing number of murders that came with it, the biggest issue for this year's vote is government corruption. Its tentacles have penetrated the president's family, his closest political allies, state governors, local police, and labor unions, among others, costing the country millions in bribes and depleted state coffers.
By all accounts, corruption in the country has gotten worse since the last presidential election. In 2016, 51% of Mexicans gave a bribe, up from 33% in 2013, according to Transparency International's Global Corruption Barometer. Mexico also fell 59 spots on the group's Corruption Perception Index in a 12-year period: from 64 in 2004 to 123 in 2016.
But more than the extent of graft, what has enraged Mexicans is the audacity and mockery the powers that be are displaying when carrying it out.
After journalists discovered that President Enrique Peña Nieto's soap-star wife, Angélica Rivera, had purchased a lavish, modern mansion from a major government contractor in 2014, she released a video berating Mexicans for demanding an explanation. (Peña Nieto later apologized for the mansion — but not his wife's scolding).
Last year, four former governors from the ruling Institutional Revolutionary Party, or PRI, were arrested on corruption charges. One of them, Javier Duarte, the former governor of Veracruz state, smirked into the camera after being captured in Guatemala in June, accused by Mexican authorities of diverting millions of dollars earmarked for social programs to phantom companies. "My Uber is here!" Duarte exclaimed as he was loaded into a police van.
And Hilario Ramírez, former mayor of San Blas, a small coastal town in Nayarit state, boasted from the stage that he stole from his office, but "only a little bit because it's so poor," during a political rally three and a half years ago. "I only shaved a little bit off," he repeated into the microphone.
Fed up with corruption, a grassroots movement demanding transparency emerged in 2014. Under growing pressure, Peña Nieto signed into law a national anti-corruption system in 2015. But nearly three years later, the ruling class has yet to change its opaque ways. In December, Congress passed a law that renders information on military operations classified, dealing another blow to accountability.
Mexicans have come to expect less than ever from their government.
"The common denominator amongst people now is hopelessness," said Ignacio Isaías López, an electoral expert at Mexico's National Autonomous University.
"All [politicians] do is steal from the people," a traffic police officer directing cars near the presidential palace in the Zócalo, Mexico City's main square, told BuzzFeed News. The 28-year-old did not want to be identified because of the sensitivity of his comments.
Lowering his voice, the officer added that corruption has permeated every institution in Mexico. "Police used to be imposing but now that I'm part of the force, I know that it's all the same trash," he said, explaining that he has to bribe his bosses when they threaten to dock his pay for going to the bathroom during patrols or taking off his cap to wipe the sweat off his forehead.
It was at the Zócalo that Arau got his idea to run for president, albeit as a tragic joke. He was performing there during a demonstration against Peña Nieto in 2012 when he realized "these guys must be laughing their asses off watching our protests." Arau wanted in on the joke — but on his own terms.
In April, with the support of two local production companies (currently known as his campaign staff), Arau took an interview conducted by Univision News anchor Jorge Ramos and edited his answers in.
"Do you want to be president?" Ramos asked in the original clip.
"Of course I want to be president, who doesn't? Presidents steal, kill, disappear people, fuck people over, sell the country out," responded Arau. "Actually, I already know I'm going to win the elections," he said, a reference to electoral fraud.
When Ramos asked his actual interview subject about Mexico City's image as one of the deadliest in the world, Arau had the perfect answer.
"It's one of the safest cities there is! It is safe to say you will get mugged, cheated, swindled," Arau said with a smirk. "I've promised myself that I will commit two murders a day myself, to keep the numbers up."
The video has 1.9 million views.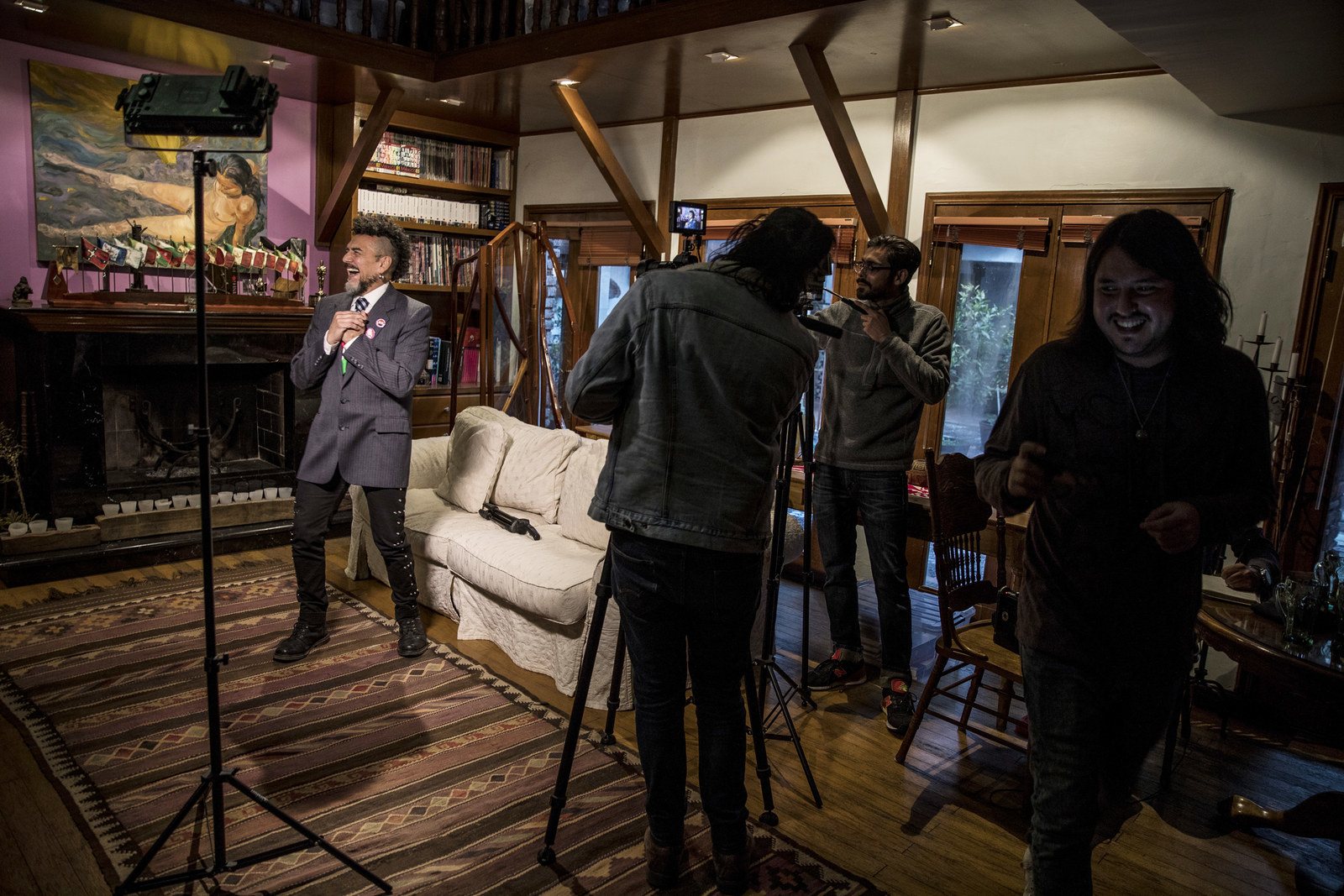 For now, Arau is having fun. He's had fake $16 peso bills (the cost of a liter of gas after a price hike that Peña Nieto had promised would not be implemented) printed, along with pre-marked ballots in favor of his "Heavy Mex Party." He's planning a "takeover day" next month: His supporters are going to hang campaign posters on lampposts while Arau delivers a series of speeches in the subway.
But Arau admits to feeling depressed and out of sorts.

At least 14 journalists were killed last year, making Mexico the most dangerous country for reporters in 2017, according to the International Press Institute. The murders remain unsolved but many of the victims were investigating official corruption when they were killed. Some of them were Arau's friends.
"If you are honest then there's no reason to kill journalists," Arau says. That idea became the basis for his fully transparent fictional campaign.
Experts say this election season is the most disheartening since the PRI, the autocratic party that governed Mexico uninterruptedly for 71 years, was defeated in 2000. (Peña Nieto's victory ushered the PRI back into power in 2012.)
Many people in Mexico say they are planning on staying home on election day, even though this is the first time in the country's history that independent candidates are allowed to compete against the long-standing parties.
"There is great confusion as to what each candidate represents. They are all in the same basket today," said María Amparo Casar, executive president of Mexicans Against Corruption and Impunity, a nonprofit group. "A basket of hypocrisy, corruption, and privileges for politicians."
Those are Antonio Ahumada's exact thoughts. "Why would you vote? It's a waste of time," said Ahumada, 60, a street sweeper in downtown Mexico City.
For those who do make it out to the polls, Arau's name won't appear on the official ballot — he had intended to register as an independent candidate but it was too late by the time he realized his voter ID, one of the prerequisites, had expired. Maybe it was for the best, he thinks. Even presidential hopefuls who aren't affiliated with any party are part of the polluted system.
Sliding back into character effortlessly during the interview, Arau says he's asking people to write his name in on the spot where undecided or protesting voters often write Cantinflas or El Chavo del 8, names of Mexican cultural icons.
What is he planning to do on election day?
"I hope they don't steal the election from me," he says with a laugh, "but if they do, I'll pay to have the ballot boxes burned."