TIXTLA, Mexico — Bernabé Abraján's legs were still sore from the long, cold plane ride when he arrived home to celebrate his grandson's eighth birthday party. The trip — his first ever on a plane — was one he wished he hadn't had to take. He had gone to Geneva to plead to the United Nations for help finding his son, one of 43 students whose disappearance in the dead of night one year ago horrified Mexico.

Bernabé, a farmer whose greying, unkempt mustache is overshadowed by the bags that hang deep beneath his eyes, had rushed from one meeting to another, criss-crossing the Swiss city in a jet-lagged daze. Geneva's clean streets and grand parks offered a stark contrast to his impoverished hometown of Tixtla, in the southwestern state of Guerrero, where horses and roosters roam drab alleyways.
Ever since Adán disappeared last September, life for Bernabé, 52, has become an improbable blur of bus rides, overnight trips, protest marches and public denunciations of unresponsive authorities. Peppered among these activities he has joined search missions to find the missing young men — because, despite widespread national belief that they are dead, many of their relatives hold out hope they are still alive.
Even with the extraordinary changes in his life, Bernabé feels like time has stood still ever since Adán went missing at the age of 24. "Neither forward nor backward," Bernabé said quietly of his new reality.
As the family gathered around Bernabé's grandson to sing happy birthday in February, the little boy, named Ángel, closed his eyes and made a wish. Then he walked over to the green and pink clay piñata and swung a wooden stick at it a handful of times before it shattered, sending bag fulls of candy flying across the concrete floor. Children dove to the ground as parents stood around talking. A couple of cakes sat atop a table nearby.
It was the first time Ángel had celebrated a birthday without his father, Adán. That evening, instead of testing out his new collection of soccer balls with Adán, Ángel deposited them in a corner of his cluttered bedroom and returned to the party, his sad eyes betraying what his forced goofy grin was trying to conceal.
BuzzFeed News has visited Adán's family regularly over the last eight months, interviewing dozens of his relatives, as well as survivors of the ambush that saw him disappear alongside 42 others. Adán's closest kin — his wife, Erica, two children, parents, sisters and grandparents — have swung pendulum-like across the stages of grief. They have done so without any professional psychological support.
"Our sons must be desperate, thinking we are no longer looking for them, that we've forgotten them."
As the attack recedes further into the past, the Abraján family, along with those of the other 42 students, has retreated into Mexicans' collective oblivion. "Each day is more maddening for us," said Delfina, Adán's 53-year-old mother, as she sat in the basketball court at the teachers' college where her son had studied, waiting for her husband to emerge from a meeting. "Our sons, too, must be desperate, thinking we are no longer looking for them, that we've forgotten them," she said.
The massacre has formed concentric circles of grief that expand well beyond the closest relatives of the missing 43 students. "There are at least 700 direct relatives of these victims that have also suffered the consequences of this loss, the impact of the pain, of fear," said Carlos Beristain, one of five international experts assembled by the Inter-American Commission on Human Rights (IACHR) to independently investigate the case, earlier this month.
This is the story of one such family, afflicted by an unimaginable tragedy, but also of thousands of Mexicans who have missing relatives — there are more than 25,000 disappeared people on the national registry, many of whom live in the poorest, most isolated parts of the country. These families have lost everything, including their faith in the justice system, after becoming another crime statistic in a country ravaged by drug-related violence and defined by the deep ties between criminal gangs and government officials.
The response to the massacre says a lot about modern-day Mexico, a country torn by violent crime on a scale barely imaginable to outsiders. When the ambush first happened last September, protest marches engulfed the country, and the government made promises that no stone would be left unturned in the hunt for the men who took the teacher trainees. But pretty soon, their public cries were diluted by dozens of groups fighting other social issues and piggybacking on their momentum and attention turned elsewhere — to a massacre in Michoacán in which more than 40 people died, and to the escape of Mexico's legendary drug boss, Joaquín "El Chapo" Guzmán.
Nearly a year on, families of the missing have been left nearly abandoned by the general public and many of the organizations that helped them initially deal with the fallout of one of the most egregious episodes of lawlessness in Mexico's modern history — away from cameras, the government and, in some ways, each other.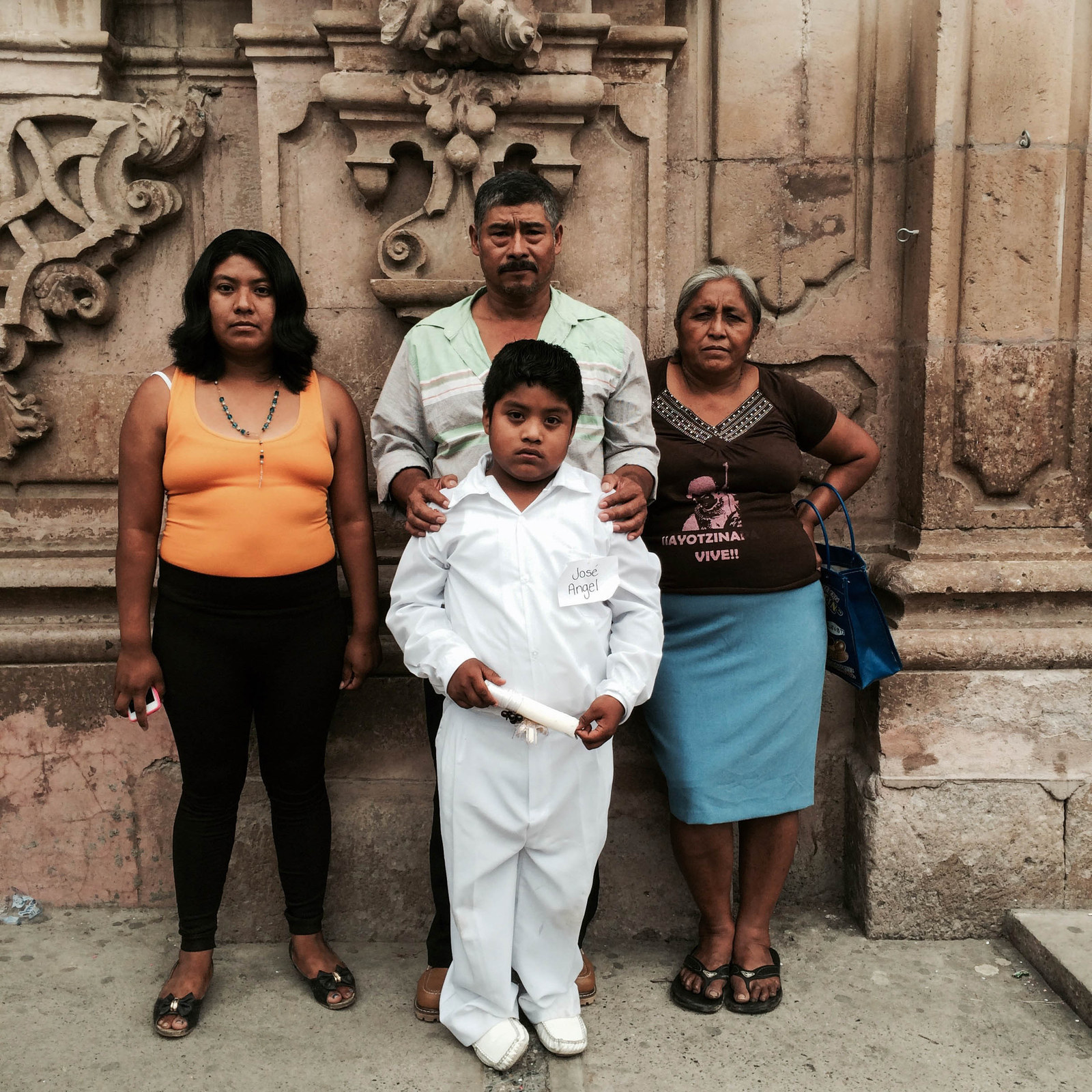 To understand the roots of what happened last year, it is essential to understand another student massacre which occurred on October 2, 1968. Mexican military and police forces opened fire on a group of protesters calling for a more democratic government, killing anywhere between 30 and 300 students and civilians — the number is unclear because the authoritarian regime at the time refused to carry out an official investigation. The Tlatelolco Massacre, as it came to be known, took place during Mexico's so-called Dirty War, a period beginning in the late 1960s and lasting through the early 1980s when hundreds of leftists were killed on the government's orders. The events of that day have cast a shadow over protest movements ever since.

It was with the intention of marking this tragedy that Adán and around 100 other students made their way to the city of Iguala, some 80 miles north of their teacher's college in Ayotzinapa, southwestern Mexico, on September 26, 2014. There they commandeered several buses in order to complete the journey to the capital.
The young students had taken control of the buses in the evening and were driving away when local police gave chase, cornering them just a few feet away from the beltway. The police began raining bullets on the students, forcing some to crouch under seats and sending dozens scrambling in different directions around the city and into the encircling hills. It was mayhem. "Shards of glass from the windows were falling on us ... we were calling our classmates that are now missing," said Xalpa, 19, who survived the ambush and asked that his name not be published for fear of retaliation from authorities. Three students were killed on the spot.
There were a number of coordinated attacks in Iguala and the surrounding area that night, adding to the chaos, with officers also opening fire on a bus carrying a local soccer team. The police apparently confused them for students, and killed one player, the bus driver and a woman traveling in a taxi nearby.
What happened next is simultaneously well known, and widely contested. The only thing that is certain is that 43 students are missing.
According to the government's version, the police — under orders from Iguala's mayor and his wife, whom authorities said had ties to local criminal gang Guerreros Unidos — detained 43 of the students. Shortly after, they handed them over to members of Guerreros Unidos, who believed some of the students were members of a rival gang. They then took the men to a trash dump, lit a pyre made of tires and burned their bodies — some had already died of asphyxiation but several were still alive — to ashes.
It took the attorney general's office 10 days to take over the investigation from state authorities and President Enrique Peña Nieto nearly two weeks to address the mass disappearance publicly. He ordered his security cabinet to "find out the truth and ensure that the law is applied to those responsible for the events, which are without a doubt outrageous, painful and unacceptable".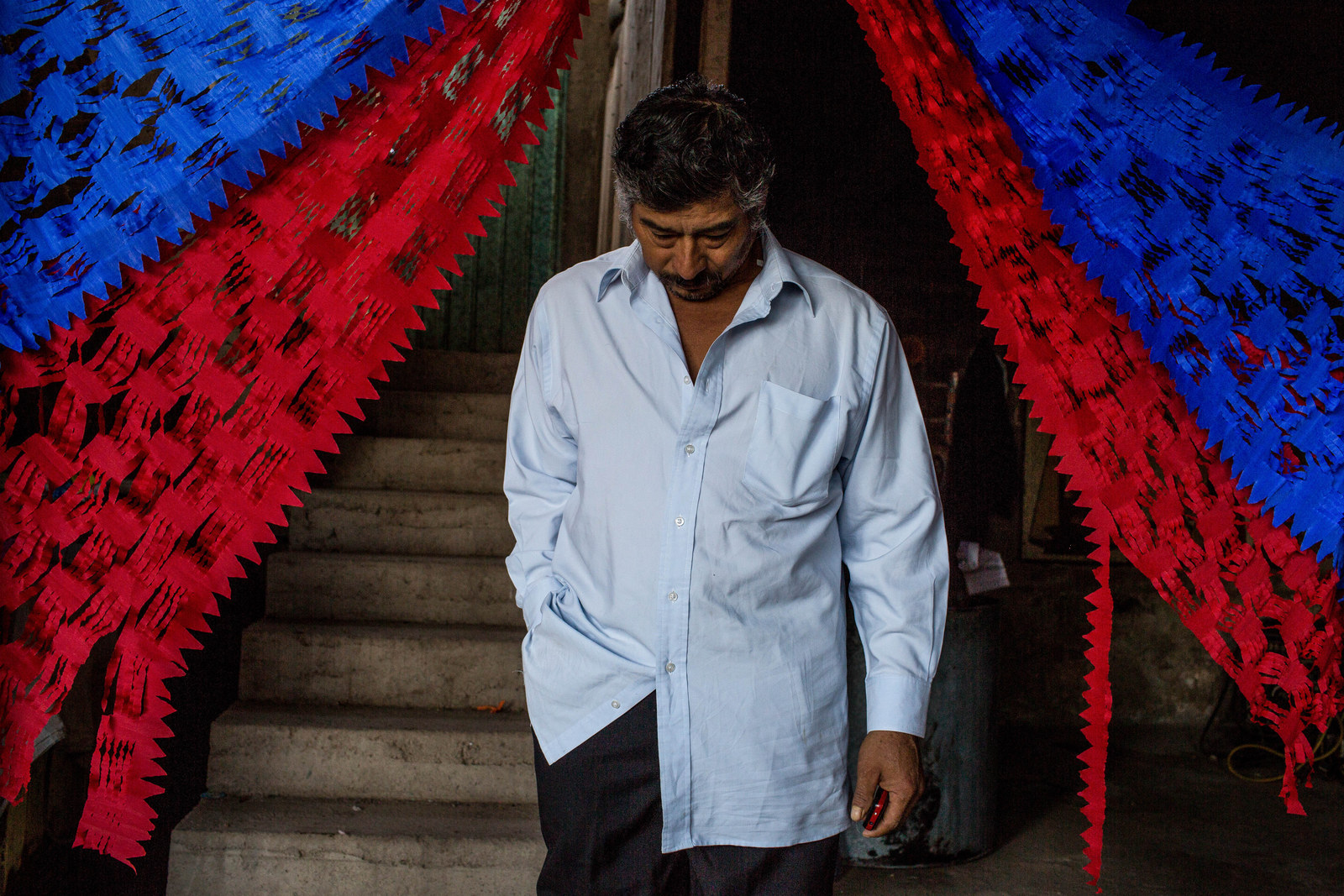 Despite this, the response of the Mexican government has at times appeared negligent, at others almost deliberately antagonistic. Just two months after the attack, with the investigation still open, Peña Nieto called on residents of Guerrero state to "really make a collective effort to to look forward and really get over this moment of pain." With no conclusive investigation, no sign that the students were gone forever, he was effectively telling the victims' families they just needed to get over it. Peña Nieto, who has yet to visit Ayotzinapa, declined to grant BuzzFeed News an interview to discuss the case.
In January, the then-attorney general of Mexico, Jesús Murillo Karam, declared all the students dead, even though only one had been identified from the ashes recovered at the trash dump (a second student was identified last week). He cited forensic testing and dozens of statements from surviving students and suspected drug gang members as evidence. By then, the state governor had stepped down as a result of the scandal, and about 100 people had been arrested, including local policemen, and the mayor of Iguala and his wife, accused of having links to the drug gang believed to be responsible for the massacre. Last week, authorities captured an alleged leader of the Guerreros Unidos, Gildardo López Astudillo, who they accused of ordering the students' execution.
Still, questions remain unanswered, many of which continue tear the families of the victims apart. Why did local police ambush the students? Did the drug gang to whom the police handed over the students really mistake them for members of a rival gang? Were they really incinerated on a pyre? And why do the authorities seem so reluctant to get at the truth, and assist the victims in their attempts to rebuild their lives?
"Crime devours the state."
Organized crime and the Mexican government spent much of the 20th century in bed together, with deals keeping the former in business and the latter in nominal control. This case was no different. "In Guerrero we are moving from the parasitic stage, where criminals control part of the state, to the symbiotic stage, where crime devours the state," said Jorge Chabat, a drug and security expert at CIDE, a research institute in Mexico City.
The official investigation into the massacre, released in January, has been criticized not only by relatives, who say they were kept in the dark about findings and were treated dismissively by authorities, but also by an independent group of Argentine forensic experts, recruited by the students' parents and their representatives.
Two students have been positively identified by the Mexican authorities, including one last week, but the Argentine experts have cast doubt over these, saying they were not present when the remains were collected.
The panel of experts assembled by the IACHR released its findings earlier this month: they rejected the official version, citing huge discrepancies including testimonies taken under apparent duress which described a pyre that could not have possibly burned 43 bodies, given the time span and conditions reported.
"That event, just like it has been described, did not occur," said Beristain, of the group of five independent experts who investigated the case.
Despite the relatives turning to these outside experts, the attorney general's office deputy director of human rights, Eber Omar Betanzos, claimed they still trusted the government. "It is not distrust in their authorities, but rather a search for greater transparency," Betanzos said earlier this month, having just arrived from an audience with 40 relatives of other missing people across the country.
But in a bizarre admission of the disconnect between authorities and the families, Betanzos asked BuzzFeed News for assistance in contacting the father of Alexander Mora, one of the two students whose remains have been identified. "If you can help us have that contact, we would be delighted," he said.
Betanzos refused to answer questions about the holes in the investigation, saying that was the responsibility of the attorney general's office's organized crime division. BuzzFeed News requested an interview with that unit but it was denied on the grounds that the investigation is ongoing.
The families want accountability but remain viscerally averse to authorities, at all levels. "Narcos and police are the same, they just change clothing at night," said Erica, Adán's wife.
It's not only that relatives feel ignored by the government; they feel mocked and even taunted. Earlier this year, elections officials visited the Abrajáns, asking to speak to Adán since he had been chosen to volunteer during the upcoming elections. Delfina was outraged.
"This is a joke. Assholes, he's disappeared."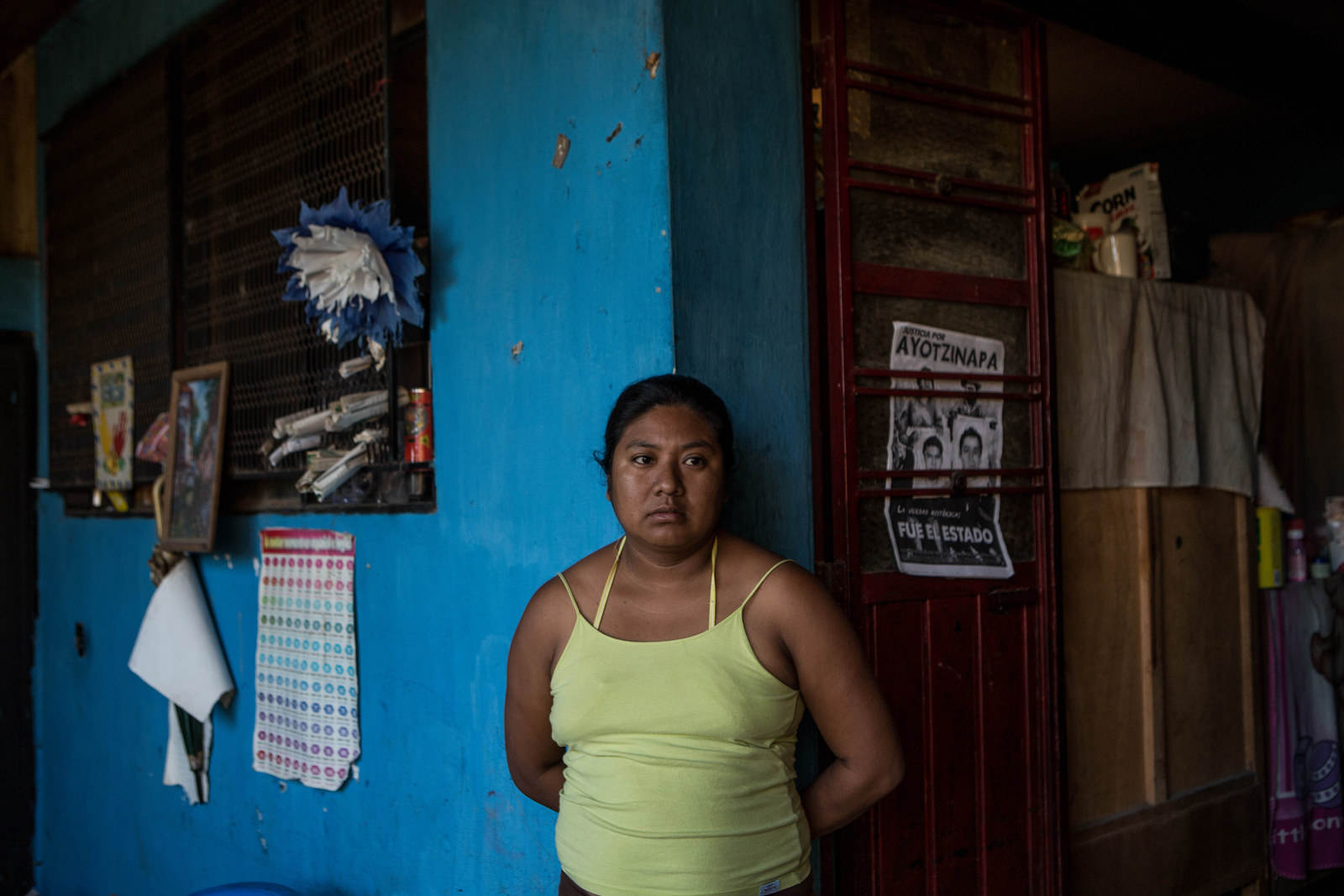 Sitting in the bedroom she shared with her husband and children one afternoon in April, Erica described the different emotions that have filled the Abraján household for a year: anger, resentment, resignation and profound sadness. But that day, she said they had begun to feel numb. "At first we cried a lot but our tears have run out. Now it's desperation and rage," said Erica in a tired monotone, slumping in a chair.
Adán's possessions were still strewn around the room, flanked by empty food wrappers, pizza boxes and dirty clothes. His guitar sat on a shelf, watching over his family, just across the room from a candle that Erica has kept lit around the clock since he went missing. Erica — taciturn, with small raven eyes — focused her gaze intensely and with a hint of suspicion on the people around her.
The Abraján family home sits at the end of a narrow, winding road on a hill overlooking a dry, mountainous landscape in Tixtla. Just a 10-minute drive from Ayotzinapa, many of the students at the teachers college come from this little town of just 40,000 people.
The Abraján family's crops, including tapayola, a marigold look-alike, and velvet flowers, have dried up. If they were poor before, they are practically destitute now. In the absence of Adán, his wife Erica has become mother, father and bodyguard to their children, who have struggled with bullying at school and depression. For a year now, Adán's parents, Bernabé and Delfina, have existed on a diet of little sleep, exhausting, sun-drenched marches and frequent, hours-long meetings with other parents and members of a support group set up by relatives, human rights organizations and local trade unions. Agustina and Isabel, Adán's sisters, have kept their heartache bottled up, throwing themselves into menial household chores, odd jobs and school.
"This is a mourning that perpetuates itself."
Amid the grief, a new routine has emerged, with the women taking turns to care for the family's young children, to cook and to accompany Bernabé on protest tours from which they return zombie-like. Ángel, whose clothes always fit either too tightly or too loosely, tries to think of creative new ways to make his younger sister Allison laugh and stop her tears, a normal childhood for either of them now as unlikely as the return of the 43.
After eight years and two children together, Adán asked Erica, 28, to marry him last year. Hardly believing her luck after a difficult life with an alcoholic, abusive father, she said yes immediately, and the two were married in a civil ceremony shortly before he left to study in Ayotzinapa, she said.
The main event — the religious ceremony — was due to be held last December. Erica set to work planning the wedding; the venue was booked, menu decided and decorations arranged. All Erica needed was a dress. But then Adán disappeared.
Erica said she still plans to marry him in a church: "I'm still waiting. For me what is sworn is fulfilled."
Playful and engaging, Adán played soccer regularly, inspiring Ángel's passion. But most of all, Adán loved to pamper his children, surprising his son at school during lunchtime and coming home from Ayotzinapa unannounced.
He was also a romantic, serenading Erica when they first began dating. They first bonded over their mutual dislike of partying and drinking. When Erica opened up to Adán about her father's violent, alcoholic past, he swore he would protect her and worked hard to create a home environment in which she felt safe. "I never thought I would have this much," said Erica.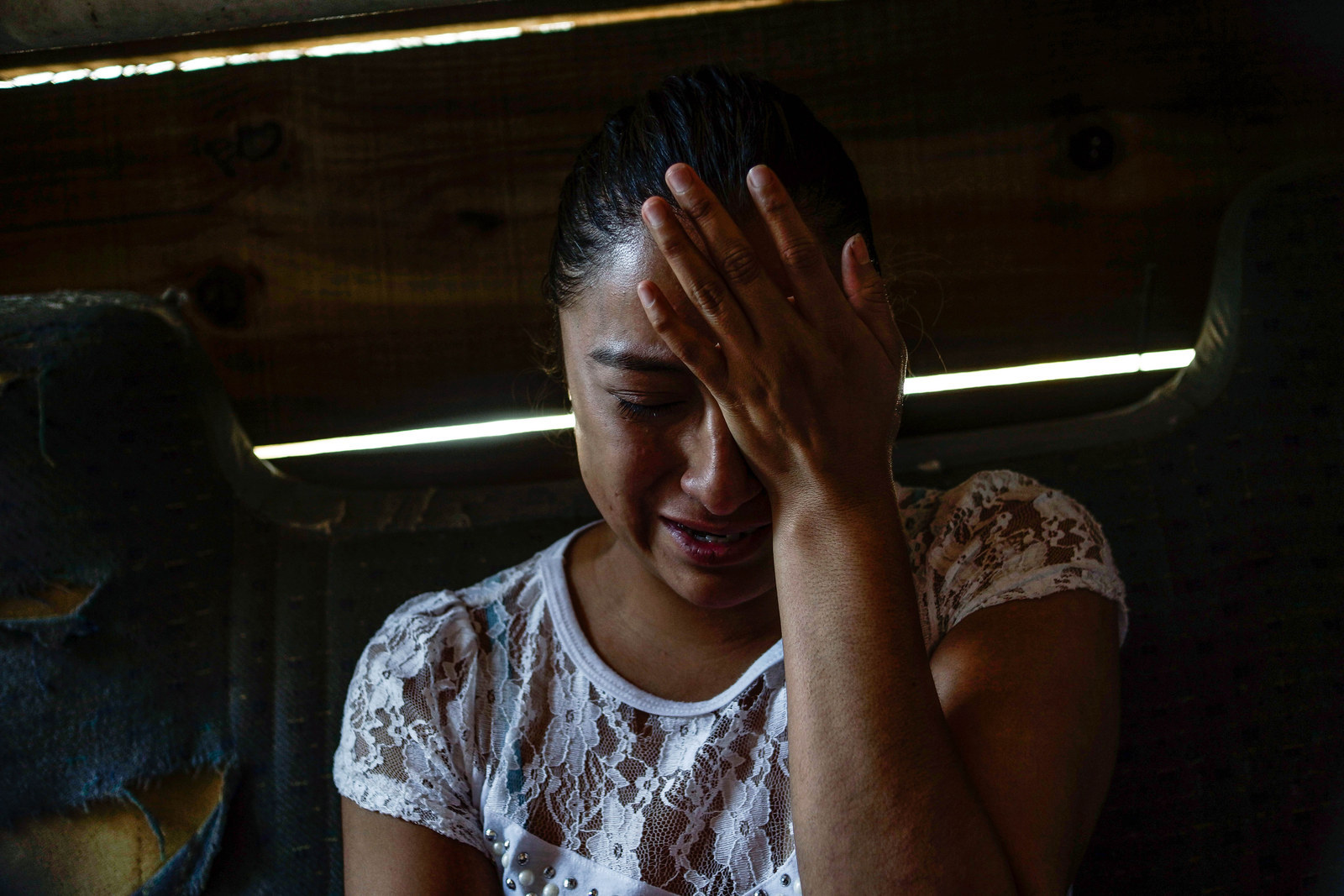 In recent months, Erica has started helping Agustina, who works for her uncle Juan, one of the best known breadmakers in Tixtla. One morning in February, Agustina, 23, reminisced about her brother, who loved technology and frequently eyed his sister's cell phones, wanting to get his hands on the latest models. As she expertly kneaded moist piles of dough between her fingers, an old radio played in the background, its melodies pierced by a pig's cries behind the thatched, single-room baking area.
Business had been slow. Teachers in town had been striking for months — they were against a recent education reform launched by Peña Nieto — and had less money to spend. Agustina and Juan would bake more than 2,000 pieces of bread (to sell at $0.15 each) throughout the morning, twisting dough in different directions to form distinct patterns while deftly rearranging trays inside the brick oven, and then sell them at the Sunday market. Juan says he applied for a small-business loan from the federal government when sales slumped but was denied it.
As Agustina threw raisins into the mix, she laughed, joking that they looked like flies. Her nose and mouth scrunched up just like Adán's did when he giggled — the two look strikingly alike, confirmed by the photographs of Adán plastered throughout Tixtla, waved during protests, and showcased prominently in the Abraján living room tribute to him. They both have dark, almond-shaped eyes set wide apart and meaty lips forming a sharp, stern line in between.
The memories of each relative's last encounter with Adán have become increasingly hazy over time, slowly modified as layers of regret calcify around them. Agustina said she barely got to talk to her brother the last time she saw him as the strict Ayotzinapa rural teachers' college where he studied had only granted him one hour's leave to attend their sister's baby shower. Erica remembers Adán complaining about a sore throat and needing to get injections shortly before he went missing. The last time she saw him was cut short because she had to attend a meeting at Ángel's school. For Ángel it's traumatic to remember that he was away at mass when his father last came home from college, shortly before he disappeared.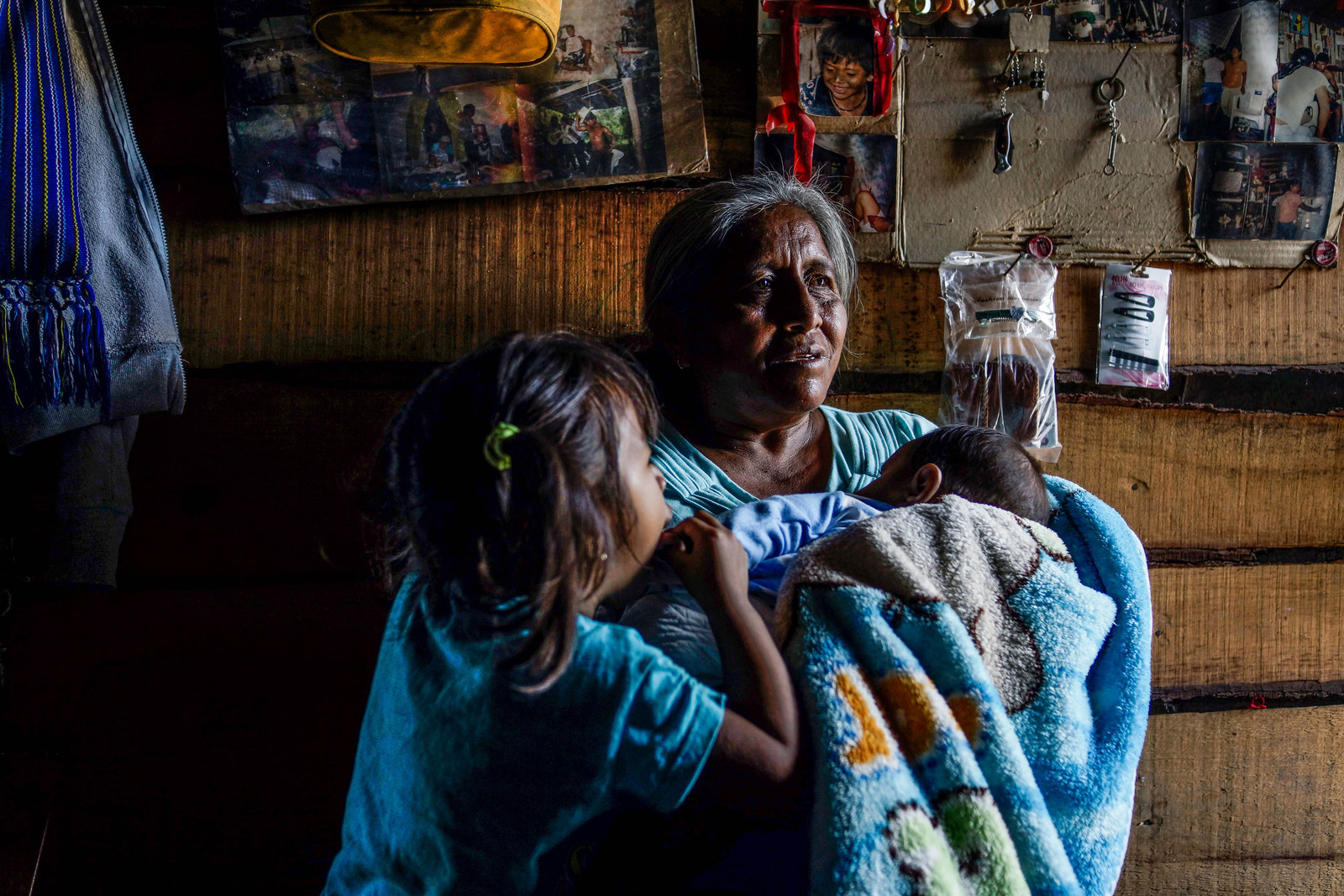 Delfina, who encouraged her son to go to college, feels responsible for what happened to Adán. "If I had known, I would not have told him to study," she said, patting down flyaway white hairs from her bun.
"This is a mourning that perpetuates itself," said Ana Zellhuber, a psychoanalyst who specializes in post-traumatic stress. She said the standard grieving process, which involves denial, anger and negotiation, is exacerbated in cases like this one, where there is no body.
Feelings of guilt among relatives are especially common, and those, said Zellhuber, may be partly responsible for the family's belief that the men are still alive. According to Zellhuber, it is natural for the relatives to try to keep the flame alive for their loved ones as a way of showing their devotion.
Adán's family, like other relatives of the missing students, believe he is being kept underground by the government, forced to do hard labor. They therefore focus much of their concern on whether he is getting fed and is able to get rest. But their biggest worry is that when Adán returns, as they insist he will, the family won't be waiting at home and he will feel like they gave up on finding him early on.
Most of all, everyone at the house has religiously followed an unspoken rule since Adán disappeared: to make sure fresh flowers around his memorial in the open-air living room immediately replace old, dying ones.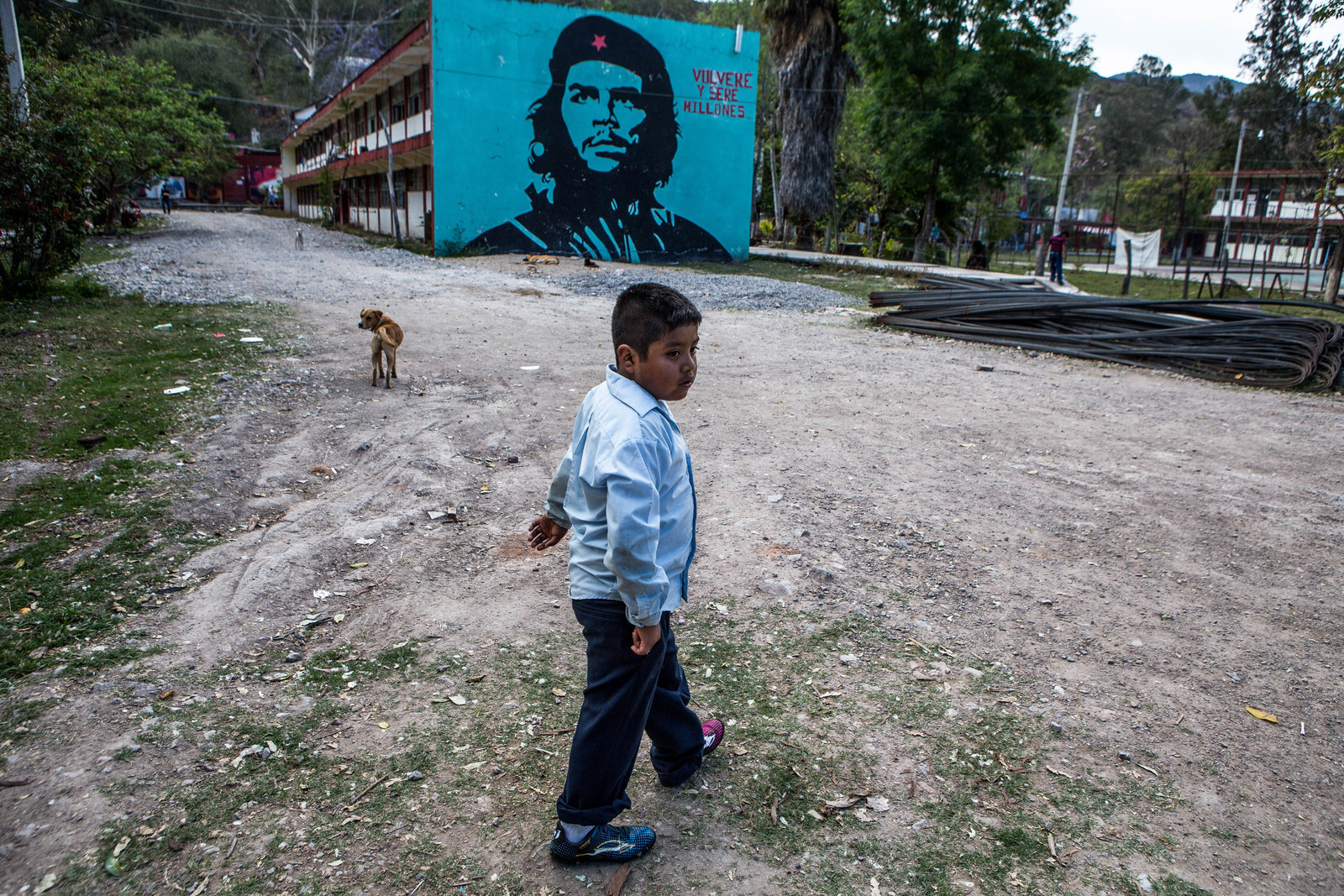 To get a sense of the environment in which Adán and his fellow students became politicized, you need to travel to the campus of the Ayotzinapa teachers' college. Sprawled over a shallow hill, the heat beats down on row after row of run-down classrooms covered in colorful, socialist murals of revolutionary fighters.
The Ayotzinapa boys, especially the first-year ones, are not your typical students. But the school is not exactly typical either.
Ayotzinapa is one of the most radical of Mexico's rural teachers' colleges. Images of Che Guevara keep watch over the school. In the 1960s, one of its students, Genaro Vázquez Rojas, founded a guerrilla army to fight for land rights and social justice for this impoverished corner of Mexico. His best known disciple, Lucio Cabañas, continued the fight, eventually forming the Party of the Poor. Cabañas was later killed during a confrontation with the army, thrusting him into the region's folk hero hall of fame.
Students from Ayotzinapa see themselves as responsible for continuing this fight. They forego time at the library to plough the corn fields on campus. They spend their mornings doing military-style drills, their afternoons asking for donations at highway toll booths and their evenings carving the names of their girlfriends into dorm walls. Most of all, these young men are on the frontline of the battle against social inequality — and they lay the blame squarely on the government.
Two million Mexicans fell into poverty between 2012 and 2014, bringing the total to 55.3 million people out of a population of nearly 120 million, or 46.2%, according to government data. At the same time, the country's wealthiest ten percent has amassed more than 64% of the country's wealth, says Credit Suisse's Global Wealth Report 2014. It is in this context that the ideological struggle of the young students in Ayotzinapa finds its expression.
These colleges give mostly poor young men an opportunity to study for a teaching degree and look for work in the most inaccessible, destitute parts of the country. Students at these institutions, which receive minimal resources from the government, must seek out alternate ways of funding their education and their fight for social justice. They ask for donations at highway toll booths and steal buses to take them to protests where they can voice their demands.
In the third-year student dorm, a young man known as "La Cotorra," or Chatterbox, is scrolling through a playlist on his desktop, books by Karl Marx strewn around his feet. "Our dignity is not for sale, it won't change. As Che used to say, we are the rebellious dignity," said La Cotorra, asking that his real name not be used for fear of being identified by authorities who distrust the radicalized students in Ayotzinapa. "What did we do to deserve this? Why students? And why aren't the students at private universities hit like this?" he questioned.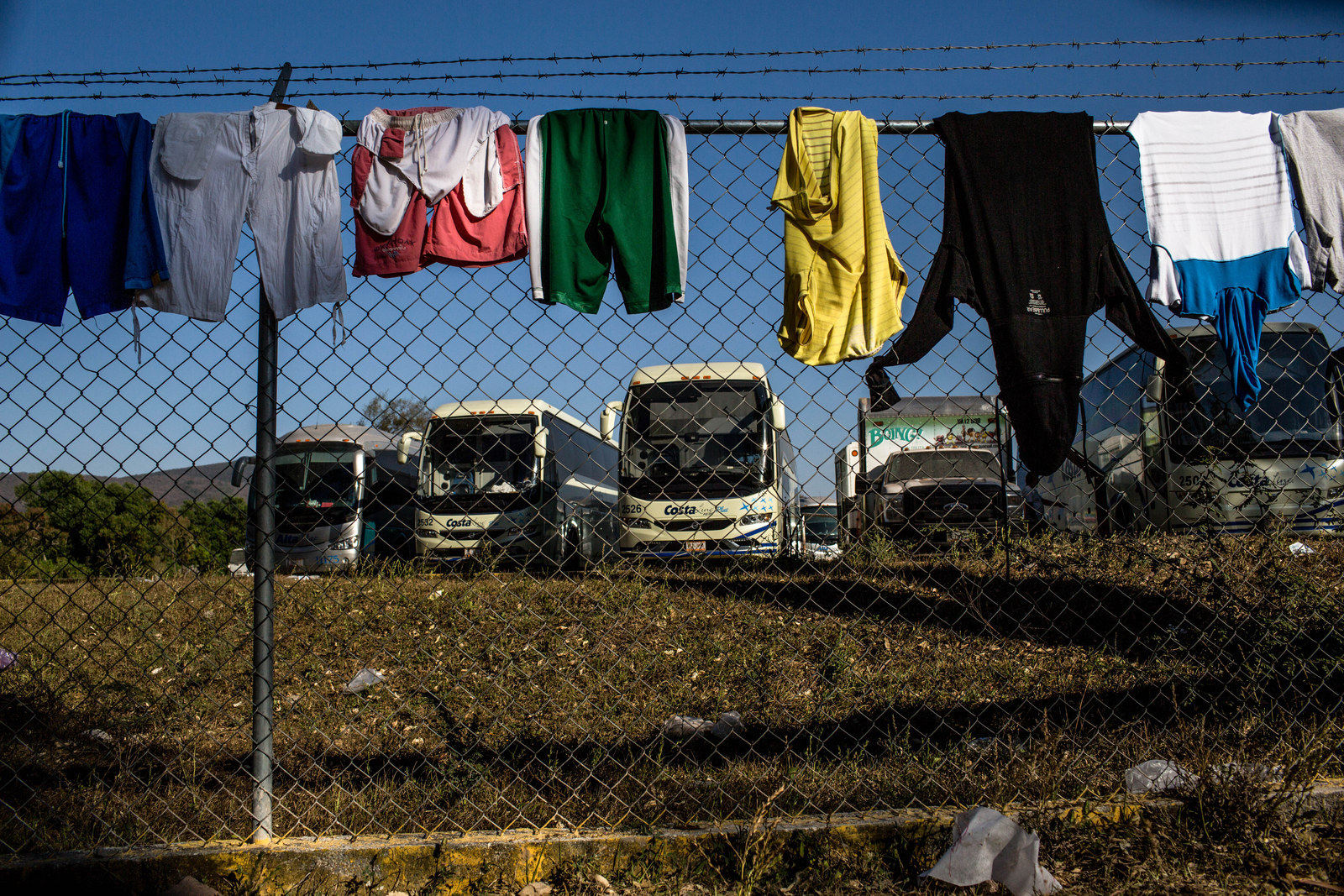 Students in Guerrero have been stealing buses since the early days of the guerrilla movement there, commandeering them along the highway, forcing passengers off and using them to move around the country attending protests. When protests exploded across Mexico following the ambush, this led to surreal scenes at the college. Ayotzinapa's students needed transport like never before, and the enormous parking lot on campus was soon backed up with hijacked vehicles; dozens of brand new passenger buses were taken and parked in neat rows next to stolen Coca-Cola delivery trucks. Students took the drivers hostage too, forcing them to live on campus for weeks at a time, waiting idly in patches of shade when they weren't driving the young men to marches.
It soon became clear this situation was untenable, and the school came to a strange new business arrangement with the local bus companies. In return for an end to the hijacking of buses, and the inconvenience this caused to passengers, the companies agreed to simply hand over buses for weeks at a time, according to students and drivers who spoke with BuzzFeed News. Drivers and their buses had become a very Mexican form of local taxation.
One such driver, Enrique, from Acapulco, who requested that his last name be withheld out of fear for his own safety, was kidnapped by students last November and released a month later. It hadn't been easy on him or his family, but he didn't blame the students. They have few alternatives, he said, because the government wouldn't give the school enough resources for them to live and study.
"They are held by the balls."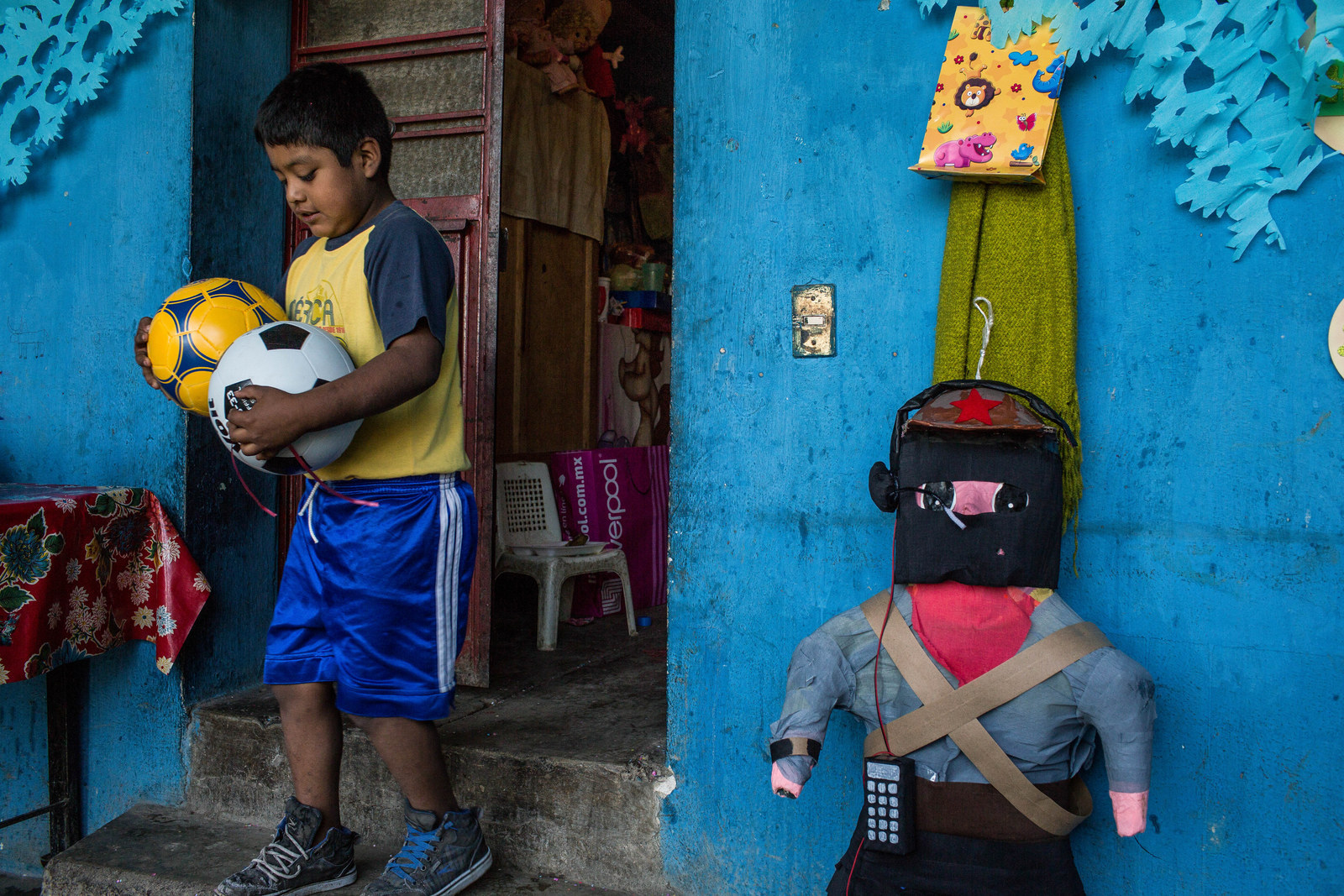 Back at Ángel's primary school in Tixtla, there are often few activities to be had. Classes were suspended for days at a time this year while teachers participated in marches or the school was taken over by local community police, who have set up a planning base here.
Ángel prefers not to go to school, anyway, since it is a bittersweet affair for him. He used to attend a different one but when Adán went missing, Ángel's peers started bullying him, calling him "gay" and a coward for crying over his father and telling him that he'd never come back.
Ángel cried for weeks after the ambush, begging his mother to let him stay at home. Erica finally moved him to a nearby elementary school where he is no longer bullied. But the trip to school and back is still painful for Ángel: all along the winding street that connects his home to school are yellowing handmade posters with the faces of some of the 43 students plastered on the facades of houses along with phone numbers to call with tips. A huge poster hangs a few feet from Ángel's house, just off the highway, offering a million peso reward from the state government for information about the missing students. The website listed as a contact on the poster is no longer active.
There is one other student at Ángel's school whose father is also one of the missing, but the two children rarely talk. Jorge Garcia Hernandez, the school director, said neither is receiving psychological help because their mothers have not asked for it. A number of the missing 43 students studied here as children.
Some days, Ángel begs his mother to pick him up early from school. "If I'm there and he comes back home, he won't see me. I want him to see me, I'm big now… he won't recognize me now," said Erica, quoting her son.
Ángel's memories of his father are beginning to fade and he gets easily confused about how long his father has been absent. With a slight stutter, Ángel reminisces about a few particular moments: when Adán took him to see a bullfight and carried him home after he fell asleep, when he helped his father carry cement to a construction job and when he took him and Allison to Acapulco for a brief holiday.
Ángel struggles to talk about his father's disappearance. When he has nightmares, he prefers to keep the details to himself. The morning after having one last winter, Ángel snuggled up to his mother's right side, exhausted from another restless night. He had dreamt that his grandfather, Bernabé, had been killed during a sporadic search for the students, which some relatives participate in around the hills encircling Iguala. He's afraid of ending up alone, especially with the family's adults often leaving to participate in protest-related activities. "If I've already lost my dad and I lose you, who am I going to have?" said Erica, repeating a recurring fear Ángel has.
Allison, his younger sister, curled up into Erica's other arm on the verge of tears, as she has been waking up since her father went missing.
"My son is not worth 10,000 pesos, or a million."
Ángel barely noticed as Erica slathered body lotion on his arms after the three had mustered the strength to get out of bed. She wore the same clothes as the day before, and explained that purchases are out of the question since Bernabé stopped working, and the family decided to dedicate much of their time to protests across the country calling on the government to find the missing students.
"Ángel knows he can't ask for much because daddy is no longer around," said Erica. Recently, Delfina and Erica started cooking for events around town, such as quinceanera parties. The children are slowly rekindling their desire for toys and candy, and with the family receiving less money from the human rights organizations that have been supporting them, they must find a way to earn money.
Adán's grandmother, Alejandra, says the government offered the family about 10,000 pesos, or $615, shortly after the disappearance but they refused to take it. "My son is not worth 10,000 pesos, or a million," says Delfina.
The patch of land across town belonging to Delfina's parents, where the Abraján clan grew their crops, has been overrun with weeds since the family started attending protests on a regular basis. Delfina's brother, Sergio, lives next door but has also struggled to care for his own plot since federal police beat him during a teachers' march in Acapulco, shattering the bones in his hand and cutting his head. Ángel attended that protest but his family had to carry him out after authorities fired tear gas at them, Sergio, 49, said.
On a recent morning, Delfina and Bernabé stood at the head of a long line of protestors, the sun beating down on them as they held a poster of Adán's face and a megaphone, respectively. Photographers swarmed around them and a group of young people with their faces covered by bandanas flanked the group, spraying graffiti all along the main thoroughfare in Chilpancingo, the state capital, and aggressively tearing down political campaign posters.
Adán's parents repeated the phrases fed to them by a speaker who walked ahead of them, holding a microphone — "The fight continues!" and "They took them alive, we want them back alive!" — as the group slowly advanced. The tired couple went through the motions mechanically, unfazed by the youths' vandalism, the punishing heat or the seemingly endless road ahead of them.
"Because we are farmers we know what it's like to walk from here to there," said Bernabé. But these protest marches are not exactly optional.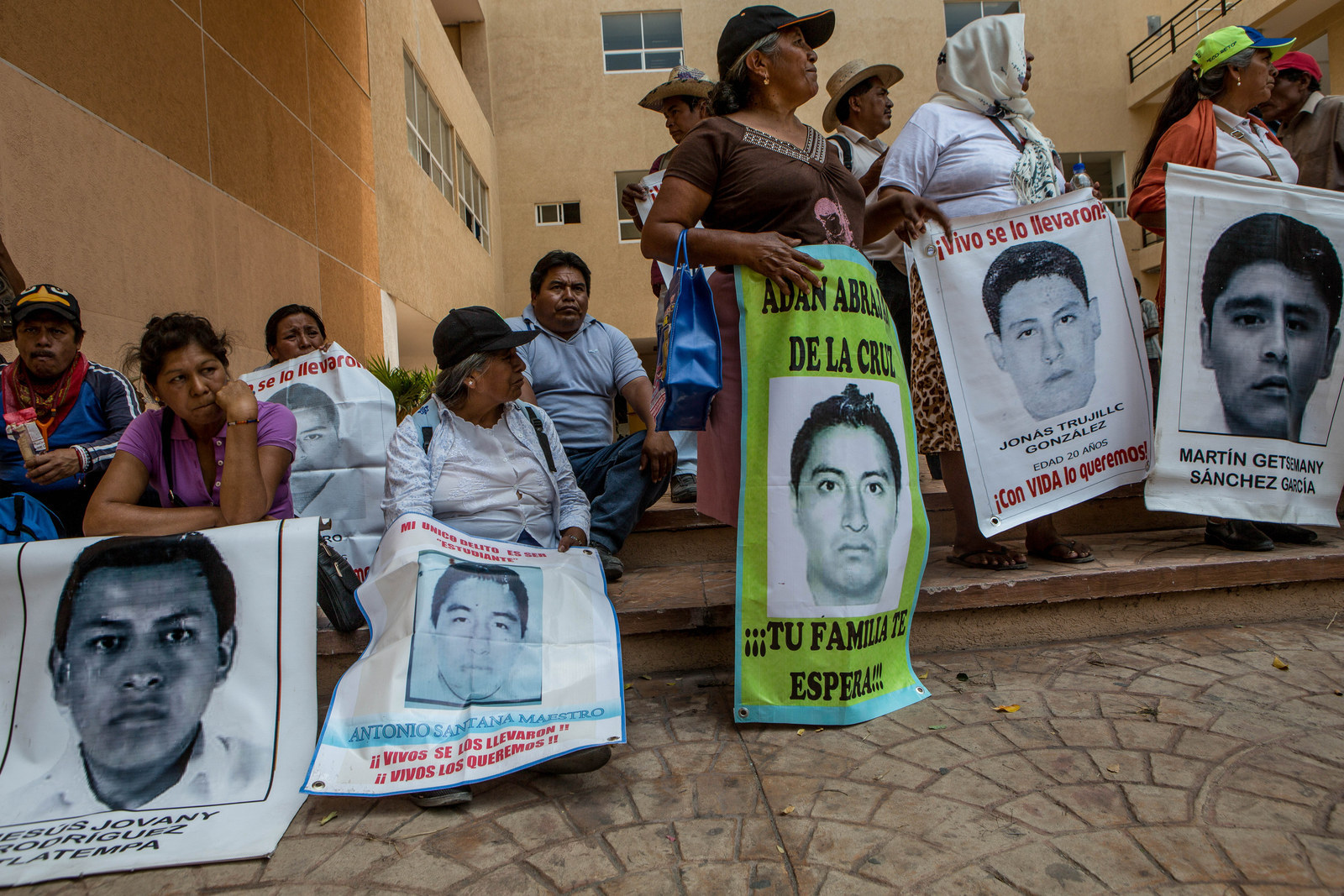 "Going to these activities to spread information is an obligation," said Erica. If relatives miss out on a march, they are not just seen as letting down the missing men, they can also be punished financially. A missed event can lead to a "fine" of anywhere from $12 to $24 of the meager allowance they are given by the treasurer of the Ayotzinapa support group.
For some families, the incessant marches and other protests activities have become increasingly taxing. "It's like being slaves. You can't go anywhere, you have to be on call," said Ezequiel Mora, whose son Alexander is one of the only two students who have been positively identified. Mora is reticent to believe that it was really his son since he never received his remains.
Even relatives that live in coastal communities, some eight hours away from Ayotzinapa, have been staying at the school year-round, ready to hop on buses and participate in these marches. By now, they are tired of the itinerant lifestyle, but quitting is not an option for most of them.
Ezequiel, who harvests beans and pumpkin in a town called El Pericon, near the coast, takes a public bus to Ayoztinapa every few weeks, riding quietly for three-hours along the winding mountainside roads. He lamented that intrigue and "arrogance" have corrupted the organization the parents had formed with human rights groups and different unions. There have been rumors that several of its leaders had "betrayed the movement," as the collective effort to find the students and attain justice is called. "They wanted to sell the movement to the government," said Ezequiel, referring to the one story currently circling among the group of parents.
The parents and their movement, despite waning media coverage, are a political bargaining chip in Mexico. The regional teachers' union organizes some of the marches, and uses them as a platform to voice its own demands, in particular its plea to government to backtrack on a controversial education reform bill, which amended old practices like inherited teaching positions and introduced teacher assessments.
"It bothers us but we are hand in hand with them," said Ezequiel.
Despite his concerns, he does not want to leave the group, in case the government is found responsible and forced to pay the families a hefty settlement. Ezequiel worries the group will have total control of any settlement, and will leave out those families who did not comply with its rules.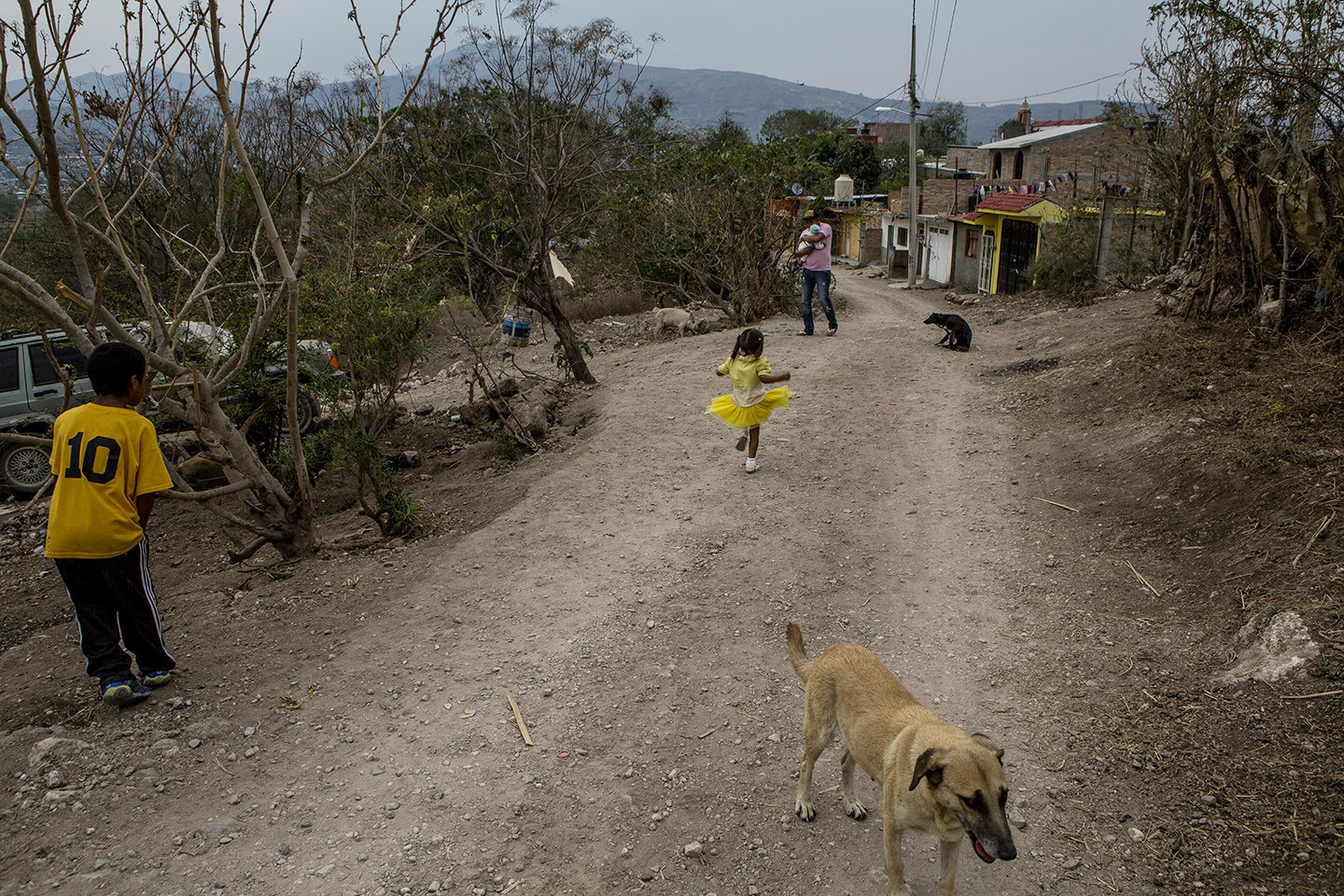 Back at the Abraján house, Erica handed Ángel a few baby bananas while she finished washing the breakfast dishes in a large, outdoor sink filled with standing water and four small pet fish. Days-old mango pits were strewn on the floor near them. A pot with yesterday's meat sat on a nearby ledge, unrefrigerated. A dusty piñata in the shape of the famed revolutionary from southern Mexico, Subcomandante Marcos, hung above the dining table. The plastic, flower-print tablecloth was covered with flies. Several people in the house have gotten dengue fever in recent months and outbreaks of the chikungunya virus have hit the region.
A few feet away, Candy Crush, the family's bone-thin dog, barked as he pulled on a chain tying him to the wall. Nearby, a couple of buckets sat filled to the brim with stagnant water, their surfaces covered with maggots.
All images by Adriana Zehbrauskas for BuzzFeed News.