SAN MATEO DEL MAR, Mexico — After Mexico suffered two massive earthquakes in September, killing 471 people and causing millions of dollars' worth of damage, the narrative that emerged — and was pushed hard by the government — was that the disasters had brought the country together.
Yes, groups around the country collected donations and drove hundreds of miles to deliver them to Juchitán, the most affected city after the first earthquake struck with the full force of its 8.2 magnitude on September 8. Less than two weeks later, volunteers in Mexico City — the area most affected by the September 19 quake, which struck at 7.1 magnitude — came out in such extraordinary numbers that many were told to stay off the streets.
The quakes spawned a new sense of patriotism — messages of unity and pride, such as #FuerzaMexico and "When I'm older I want to be Mexican," were tacked onto walls, phone booths, and lamp posts around the hip Mexico City neighborhood of Condesa. It was a respite after years of corruption scandals, soaring homicide rates, and a limping economy had battered the nation's morale.
"Today's Mexico is so much stronger, with greater social conscience, with a greater sense of community — which can sometimes be lost," said President Enrique Peña Nieto during an event at the national palace earlier this month. Frida, a rescue dog who became the mascot of the recovery efforts, sat in the front row, nodding off.
But that's only part of the story.
Nearly 500 miles from Mexico City, and far from the media spotlight, sit two towns on a peninsula in Oaxaca on the country's Pacific coast. Santa María del Mar and San Mateo del Mar have hated each other for decades. Now the earthquake is making it worse.
No one is quite sure how the hatred started.

The residents of both San Mateo and Santa María belong to an indigenous group called the Ikoots.
People in San Mateo accuse their neighbors at the tip of the peninsula of feeling superior because they renounced those indigenous roots when they became evangelical Christians; Santa María residents in turn say tragedies that have befallen San Mateo are a result of its residents' godlessness.
The strain was aggravated eight years ago when San Mateo claimed 1,300 hectares of land that Santa María said belonged to it. While the case made its way through federal courts, San Mateo blocked the road that connected Santa María to the rest of the mainland with a length of chain. It forced Santa María to acquire a handful of speed boats to ferry its 1,500 residents back and forth across a lagoon to the mainland.
In January, during the height of the high winds that batter the lagoon, one of these boats capsized, killing three passengers. The bodies were delivered back to Santa María, prompting officials to ask their counterparts in San Mateo to allow a shipment of coffins through the blockade. Their request was denied.
Then came the earthquakes.
The first one, on September 7, affected both communities greatly. Four people were killed and 150 were hurt in San Mateo, a town of about 6,000 people; while there were no fatalities in Santa María, more than half of the 300 houses were damaged or destroyed. It seemed as good a time as ever to call a truce.
For a moment, there was a glimmer of hope. Oaxaca's governor, Alejandro Murat, was allowed to drive through to meet with residents of Santa María. San Mateo began lifting the rusty chain to let a handful of trucks filled with aid get across.
But that's where the goodwill ended and the sparring resumed. Soon, people in Santa María started saying that guards manning the "border" between the two towns had been forcing drivers transporting post-earthquake aid to hand them half of the contents in exchange for access. Authorities in San Mateo say they've told their neighbors that the border is open but it's they who don't want to drive across.
"San Mateo is a traitorous town," said Julian Bartolo, a patrolman from Santa María.
"Their hearts are hard," Genoveva Montero, a woman from San Mateo who lost her home, said of people from Santa María.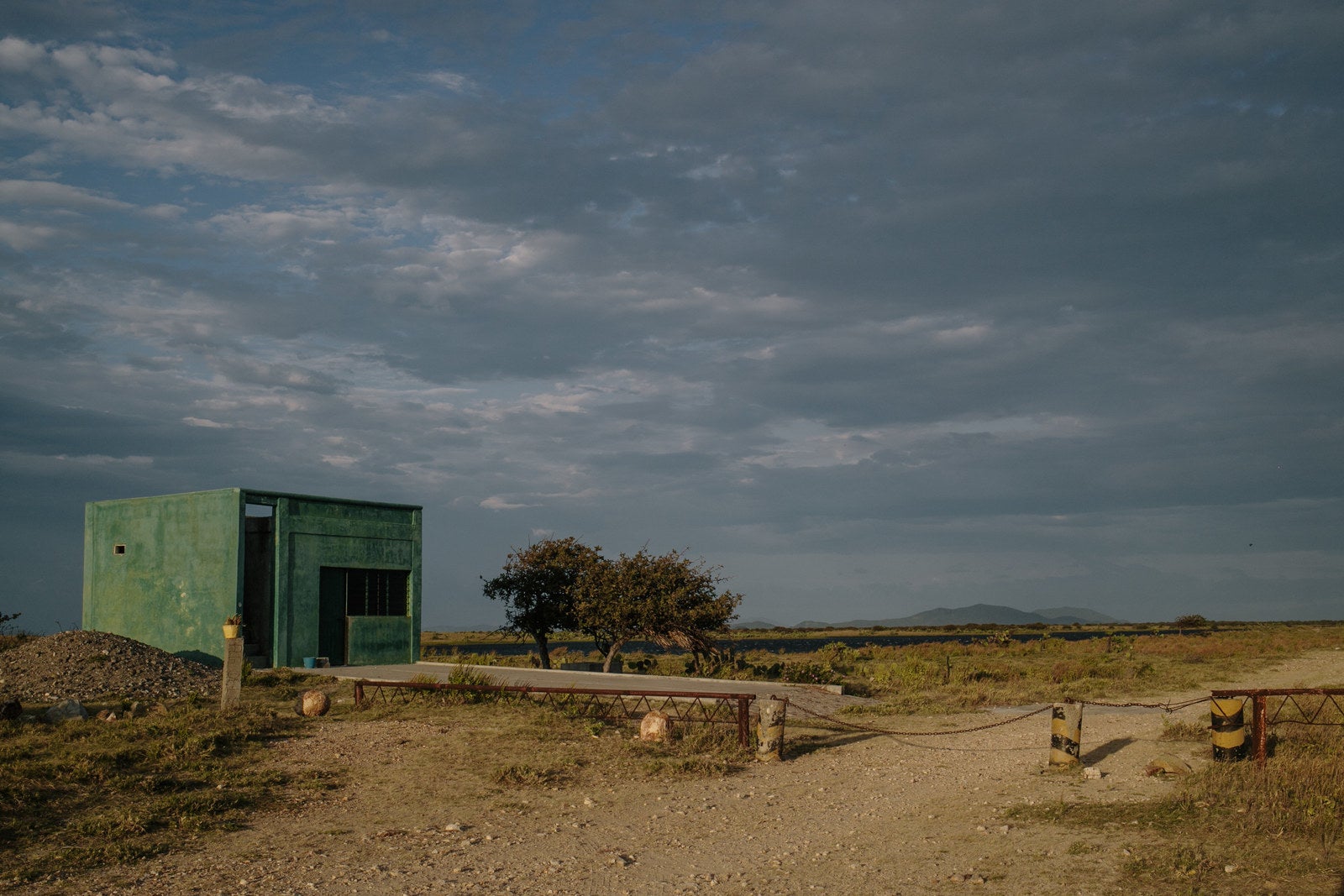 A small boulder with the Spanish word for "border" etched into it sits near the chain separating the two towns. Fortino Gijón, a guard manning the last outpost before the chain, told BuzzFeed News access was strictly forbidden.
Down the road past the chain is a 12-foot-long bridge that was recently damaged. Residents in Santa María, at the peninsula's tip, say their neighbors smashed a hole in it on purpose to stop aid from getting through.
Residents of the two towns are warning aid workers and journalists not to visit the other or risk getting shot. Within these and other communities, people are lining up multiple times for donations, even at the expense of their neighbors' needs. And across the region, officials are being accused of hoarding food and cots meant for victims.
Government aid, including water, medicine, and gasoline, has been arriving in Santa María by helicopter, but the community is worried that will soon end. When it does, the town will have to contend with a water source contaminated after the earthquake — skin infections have been spreading among the population.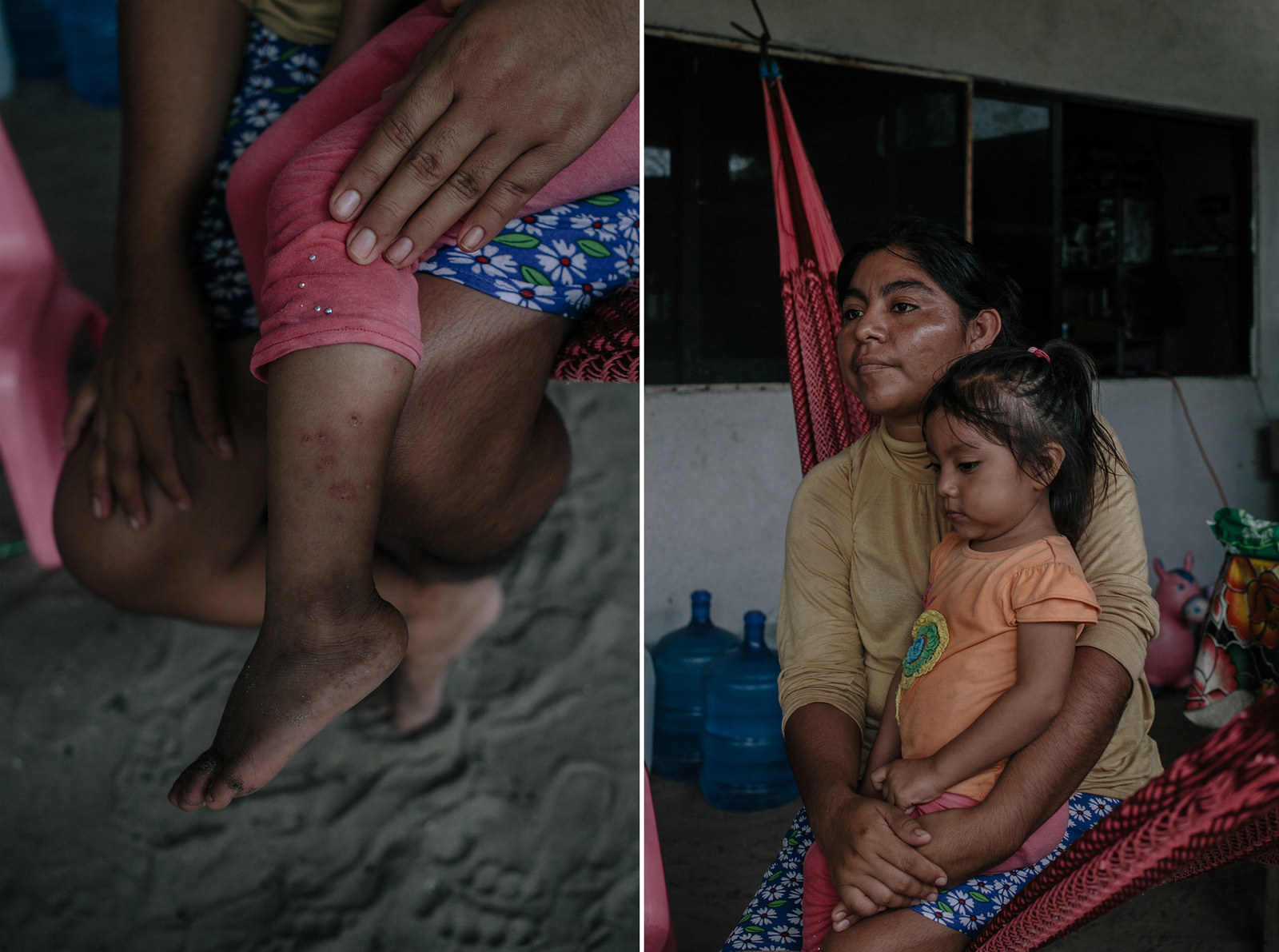 Earlier this month, Juchitán, the biggest city in the region, gave Santa María a brand new patrol car, the only working one they've had for months, according to Matías González, the town's top official. Certain that the conflict is beyond fixing, González ordered two of the community's speed boats to be tied together and crisscrossed with sturdy wood planks so that the car could be ferried from the northern side of the lagoon to the town.
Tensions have grown not just between towns since the earthquake but also within communities. Roselia Gutiérrez, a local leader in San Mateo, said that residents of the smaller districts along the road leading up to the main town have been stopping trucks loaded with aid and forcing drivers to unload boxes and bags and turn around.
"There are people that don't need as much as others but they want to get as much as their neighbors. It's part of the human condition," said Beatriz Gutiérrez, Roselia's sister and director of the San Mateo pre-school. The sisters, like many leaders across the region, have themselves been accused of hoarding food for themselves and their friends.
Families, too, have fractured after the earthquake. Ofelia Durán, a 42-year-old housecleaner from San Mateo, says her aunt has snatched handouts from her hands, moved into the only room left standing in her father's house, and hired lawyers to try to defend her claim to the property.
Durán and her parents, aged 74 and 84, are sleeping on the street while the issue gets resolved.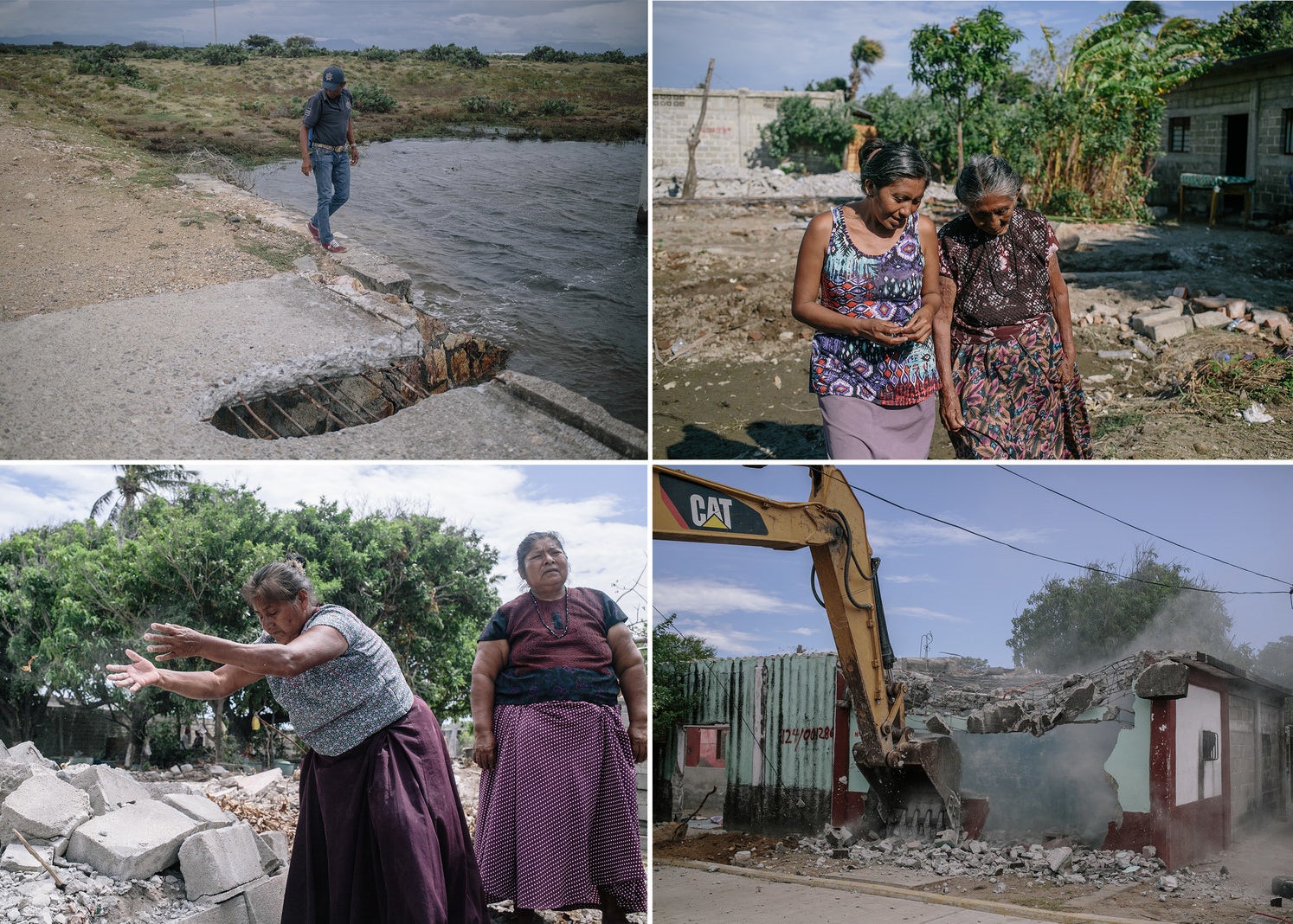 The tremors also exacerbated political rivalries. Juchitán Mayor Gloria Sánchez says she has been entirely sidelined by Murat and federal authorities, who belong to the rival Institutional Revolutionary Party, or PRI, during the disaster's aftermath. She says she's been the last one to find out every time they've visited Juchitán.
Sánchez's husband was recently filmed losing his temper as a mob of people outside his house demanded tarps. "Fucking priista!" he yelled at one of them, using the word for supporters of the PRI.
"That was a provocation, people there were prepared to film everything," Sánchez, who has been accused of prioritizing aid for her supporters, told BuzzFeed News. She said the disaster has fueled gender-based discrimination against her.
Back in San Mateo, an excavator smashed through the roof of a house that was badly damaged during the earthquake. A group of neighbors stood nearby, quietly taking videos and photographs.
"This had to happen," said Valentín Fajardo, the owner of the house, as he watched from a distance, the deafening sound of concrete breaking filling the air.
Across the peninsula, in Santa María, piles of rubble from four houses that had recently been torn down dotted the town.
Because they couldn't get excavators transported across the border with San Mateo, people had been left to demolish them by hand. ●