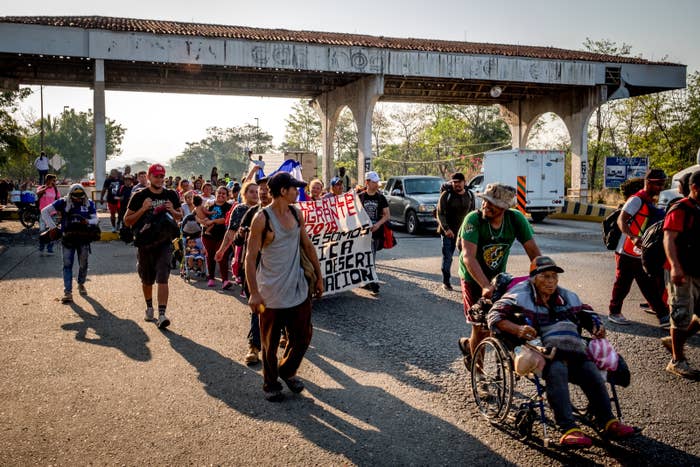 MEXICO CITY — A caravan of about 1,200 Central American migrants making its way up through Mexico has grabbed headlines for both its size and its unimpeded push north. But it's an exception amid a severe crackdown on undocumented immigration by the state — and a trek that other migrant rights groups warned would likely leave chaos in its wake.

"We do not share the vision of how these kinds of actions are carried out," read a statement by the Collective of Organizations and Defenders of Migrants and Refugees. The group called on the Mexican government to get in touch with the caravan's organizers to ensure the safety of the migrants.

Prompted by news reports about the caravan's advance in plain sight of immigration authorities, President Donald J. Trump tweeted that "Mexico is doing very little, if not NOTHING, at stopping people from flowing into Mexico through their Southern Border, and then into the U.S."
But contrary to Trump's tweets, undocumented migrants generally do not get a free pass through Mexico.
"It's not fair or accurate to say that Mexico isn't doing anything," said Maureen Meyer, director for Mexico and migrant rights at the Washington Office on Latin America. Citing the high number of apprehensions in the first two months of this year, Meyer said that "Mexico has not let up on law enforcement, so Trump's classification of Mexico being lax is not the case."

More often than not, undocumented travelers have to move in the darkness of night and aboard a cargo train known as "The Beast," dodging immigration authorities and criminals who extort, rape, and sometimes kidnap them. The treacherous journey has become local lore, documented in books and films.
The odyssey became even more dangerous after Mexico launched the Southern Border Program in 2014 in response to pressure from former president Barack Obama's administration after a wave of undocumented unaccompanied children rushed across the border. The opaque program seeks to make the country's border with Guatemala and Belize harder to cross and to capture those migrants who do manage to enter.
Since that program launched, Mexican authorities have detained and deported more than 420,000 Central American migrants. That boost has pushed the number detained and deported over the last 10 years to around 950,000.
Large caravans have been organized numerous times in recent years, sometimes finding themselves turned back. As of Monday afternoon, the government — including both federal and local authorities — had allowed the caravan Trump appeared to be referring to in his tweets to pass untouched. A federal delegate of the National Institute of Immigration — the Mexican government's main immigration body — told BuzzFeed News on Monday evening that the caravan would be dismantled by Wednesday, though some members will continue north.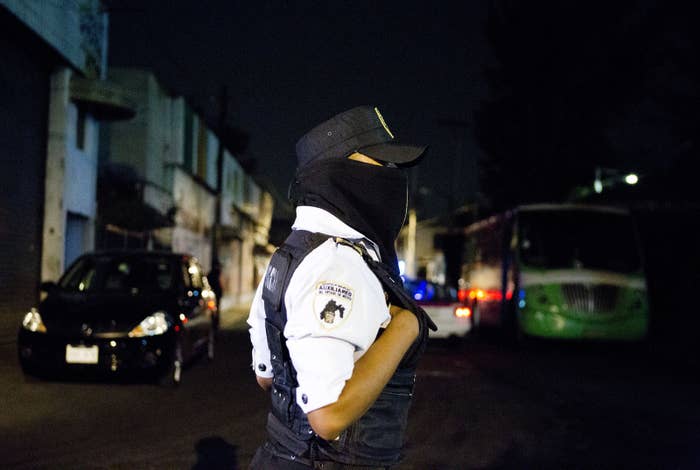 The caravan, initially reported by Univision Noticias and then covered by BuzzFeed News reporter Adolfo Flores, has been controversial since its departure from Chiapas, in southern Mexico. Dozens of migrant shelters and activists have publicly distanced themselves from it.
Alberto Xicoténcatl, director of the Casa del Migrante, a migrant shelter in Saltillo, in Coahuila state, said he learned about the caravan from Twitter. "It is counterproductive for shelters and the entire community of refugees," he said.
Citing a caravan of a similar size that crisscrossed Mexico several years ago, Xicoténcatl explained that such a large group is likely to be infiltrated by people who extort and threaten migrants — and use the caravan to move up through the country.
These caravans also leave mayhem in their wake, said Xicoténcatl. Because the highly organized network of shelters throughout the country is unable to provide support to that amount of people at once, the small, local, and often impoverished communities where the caravan stops end up collapsing from the pressure exerted on limited public services.
Xicoténcatl thinks Mexican authorities have not impeded the group's journey because they don't have the capacity to detain so many people at once. Once the caravan reaches the US and media attention wanes, however, "the people who will deal with the political repercussions are the ones who remain in Mexico."
Mexican Foreign Minister Luis Videgaray tweeted on Sunday that "Every day Mexico and the US work together on migration throughout the region," and blamed the controversy on "an inaccurate news report."
In a fresh escalation of tensions with Mexico, Trump accused the migrants in the caravan of attempting to "take advantage of DACA," or the Deferred Action for Childhood Arrivals, an immigration policy that protects immigrants who were brought into the US as children, via a tweet on Sunday.
But, despite Trump's declaration, the DACA program wouldn't apply to any of the people in the caravan. Analysts say that some of them could be eligible for asylum both in Mexico and in the US, however. The majority are from Honduras, which saw a spike in violence after President Juan Orlando Hernández's controversial reelection. The Organization of American States has called for a new election, while the United Nations human rights office published a report saying it was concerned that some of the people killed during protests following November's election — at least 23 — were extrajudicial killings carried out by state forces.
Some analysts believe that this particular caravan has a distinct political undertone. Dana Frank, professor of history at the University of California, Santa Cruz, said that chants of "out with JOH," as Hondurans refer to Hernández, are evidence that this is "clearly part of a long continuity of protests since the 2009 coup."
On Monday, DHS Secretary Kirstjen Nielsen tweeted that she was "Working with Mexican officials to address the yearly illegal alien caravan. Exploring all options."