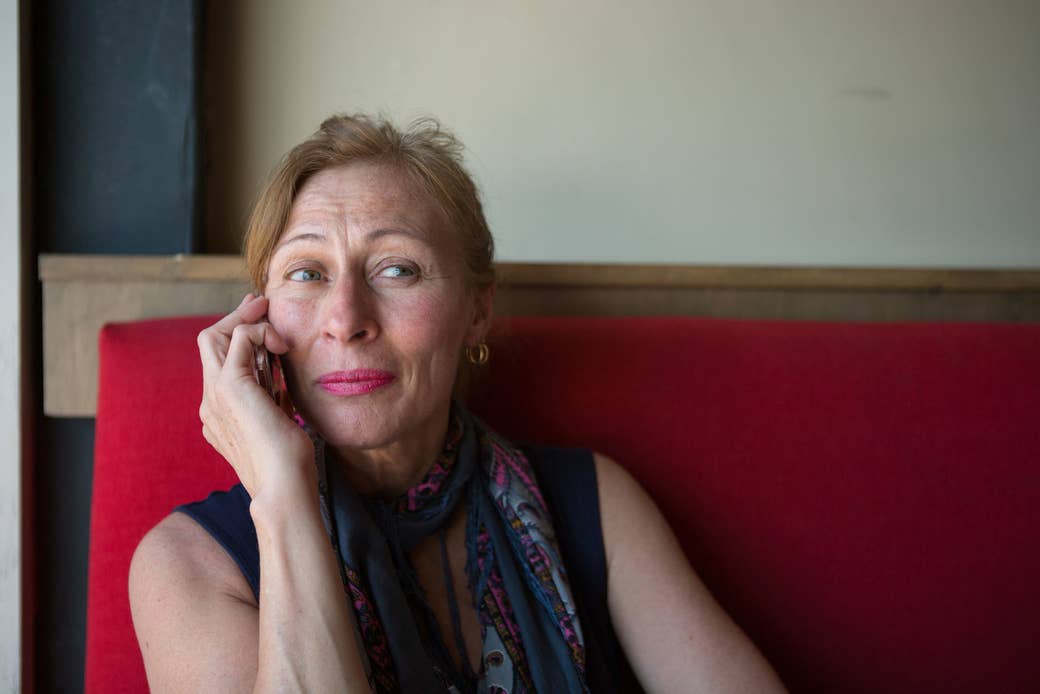 MONTERREY, Mexico — Tatiana Clouthier still had 264 characters left to fill on Twitter after she was done eviscerating her boss's rival.
"Who do you propose?" she responded to José Antonio Meade, a candidate in Mexico's upcoming election, after he tweeted that the country needs a "serious president."
His reply — "Me myself" — became a meme, turning Meade into the digital laughingstock du jour, and Clouthier, campaign manager for the presidential frontrunner, Andrés Manuel López Obrador, into a social media darling.
An assertive but measured woman from business-friendly Northern Mexico, Clouthier was an unlikely but strategic choice for López Obrador, a 64-year-old leftie known for his repeated angry outbursts and tired populist rhetoric after two failed attempts at the presidency.
Clouthier has injected wit and lightness into López Obrador's movement. Without her, "the campaign would be stale," said Gilberto Miranda, a political expert who meets with Clouthier informally on Saturdays to brainstorm campaign ideas. "It would be the same old campaign."
Instead, Clouthier has drawn a fresh, young fanbase that is highly receptive to quick and cutting comebacks — a drastic change from López Obrador's long, pensive pauses between words and sentences.
"Jajajaj @tatclouthier is a SAVAGE !! TEN," journalist Javier Risco tweeted after her response to Meade. Clouthier, 53, responded with a photograph of herself, a sunglasses emoji over her eyes.
Her followers have dubbed her the Queen of Twitter and even asked her to be the candidate, instead of López Obrador. At the very least, "Tatiana, you be the candidate in 2024," wrote one Twitter user.
BuzzFeed News spent 12 hours exclusively with Clouthier over a period of two days earlier this month, during which she provided some of her most extensive comments to the press since taking over the front-runner's campaign. Her calm, direct, and playful influence over López Obrador has given him an advantage he lacked during his two previous campaigns — and may help push him over the finish line, at last.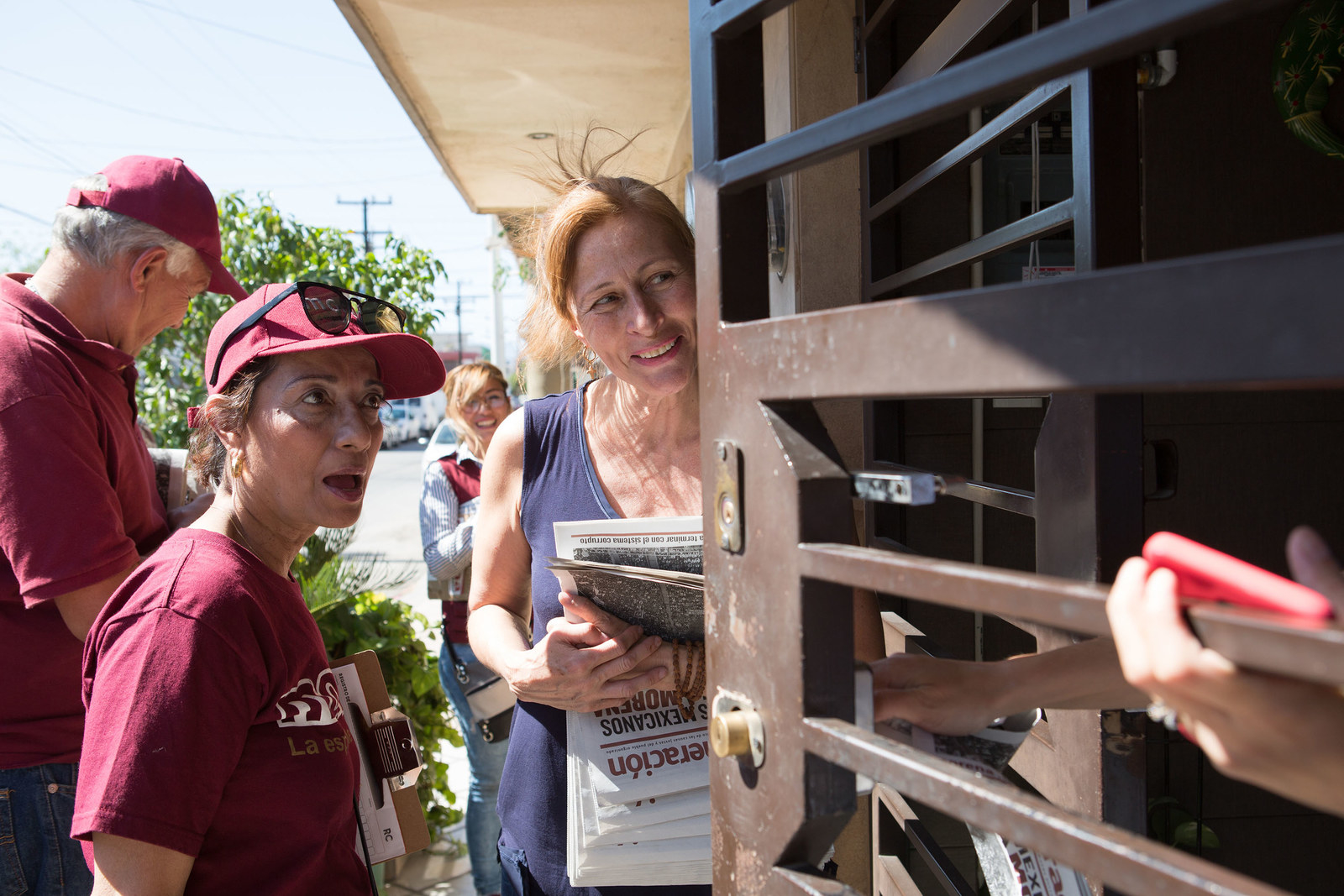 Sitting in her no-frills living room on a recent Saturday morning, Clouthier waved off a question about her evolving politics.
Until 2005, she was a member of the National Action Party, or PAN. Her father, Manuel Clouthier, was the PAN's presidential candidate in 1988. The conservative party ended the 71-year-long authoritarian grip of the Revolutionary Institutional Party, or PRI, in 2000, only to see it return to power in 2012.
"The right and left no longer exist," she said. Today, it's about "putting people front and center … and people are focusing more on personal stories."
López Obrador's political journey has raised flags both in Mexico and abroad following the recent rise of populists around the world — from the victory of Donald Trump in the US to the gains seen by Marine Le Pen in France, as well as the success of Brexit in the UK. Citing his threats of expropriations and disdain for the country's elite class, critics accuse López Obrador of having a messiah complex.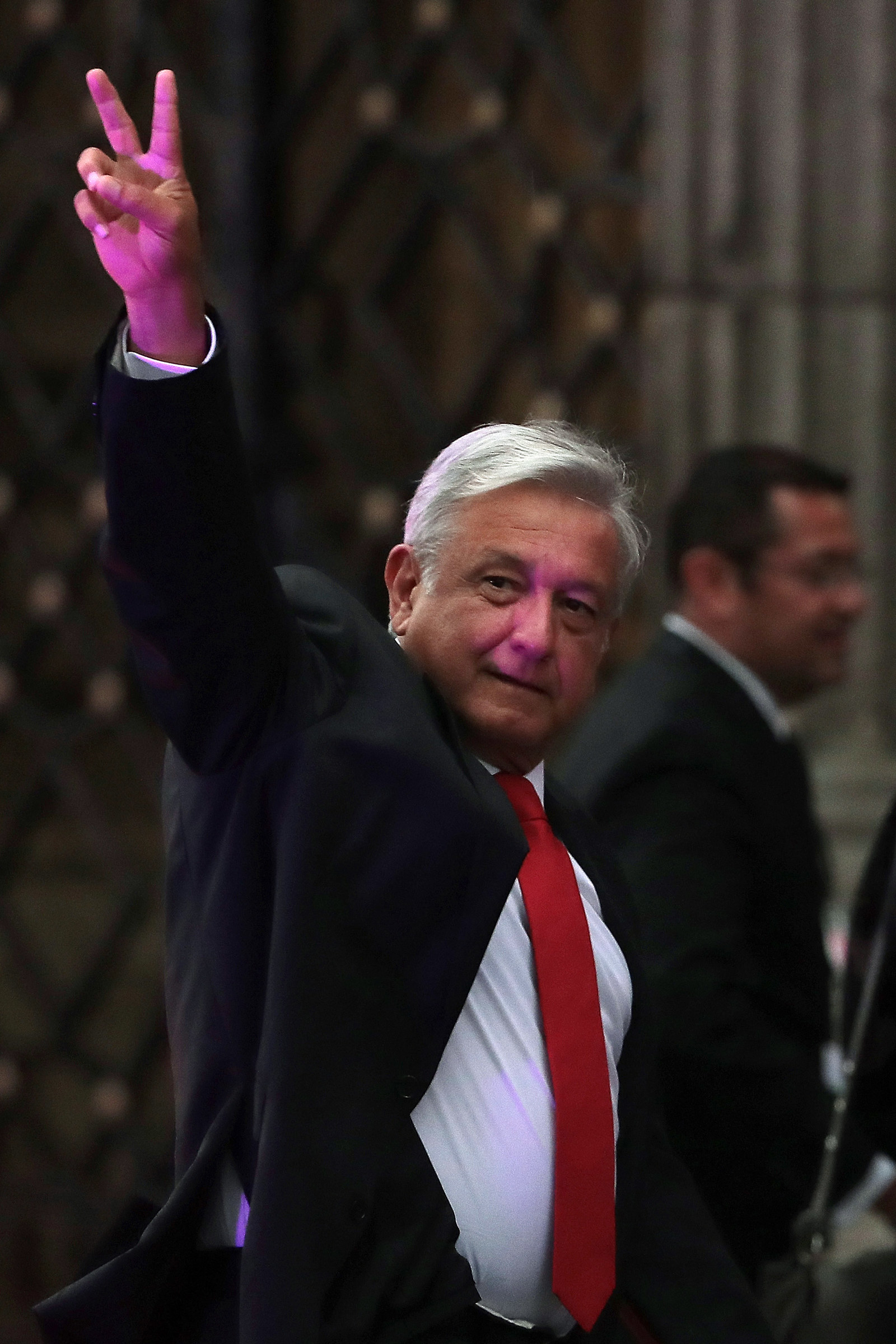 Drawing lessons from his previous presidential bids and tapping into these global fears, he toned down his socialist, intransigent rhetoric this year. He vowed to retreat to his ranch in Southern Mexico if he loses in July, quelling fears that he would wreak havoc on Mexico City like he did in 2006 after calling on protesters to shut down the main avenue for months.
He has also attempted to calm concerns among some in the business community by promising a hands-off approach with the Central Bank. Last month, López Obrador told the crowd at a bankers convention in Acapulco, Guerrero State, that his government would not confiscate goods, a widespread fear in financial circles in Mexico.
"Andrés Manuel has evolved," said Clouthier. "The bankers, too, have understood that he doesn't eat children."
If elections were to take place this week, López Obrador would get 48% of the vote, according to a recent poll published by national newspaper Reforma. Part of his strength, the poll suggests, is his ability to confront Trump, whose bellicose attitude toward Mexico has soured relations between the two neighbors. On Sunday, during the first presidential debate, López Obrador called Trump a "show-off."
"Dialogue, dialogue, and more dialogue," said Clouthier about the US-Mexico relationship under a potential López Obrador administration.
But pressed for details, she smiled and quietly pointed to her T-shirt: "Not your piñata."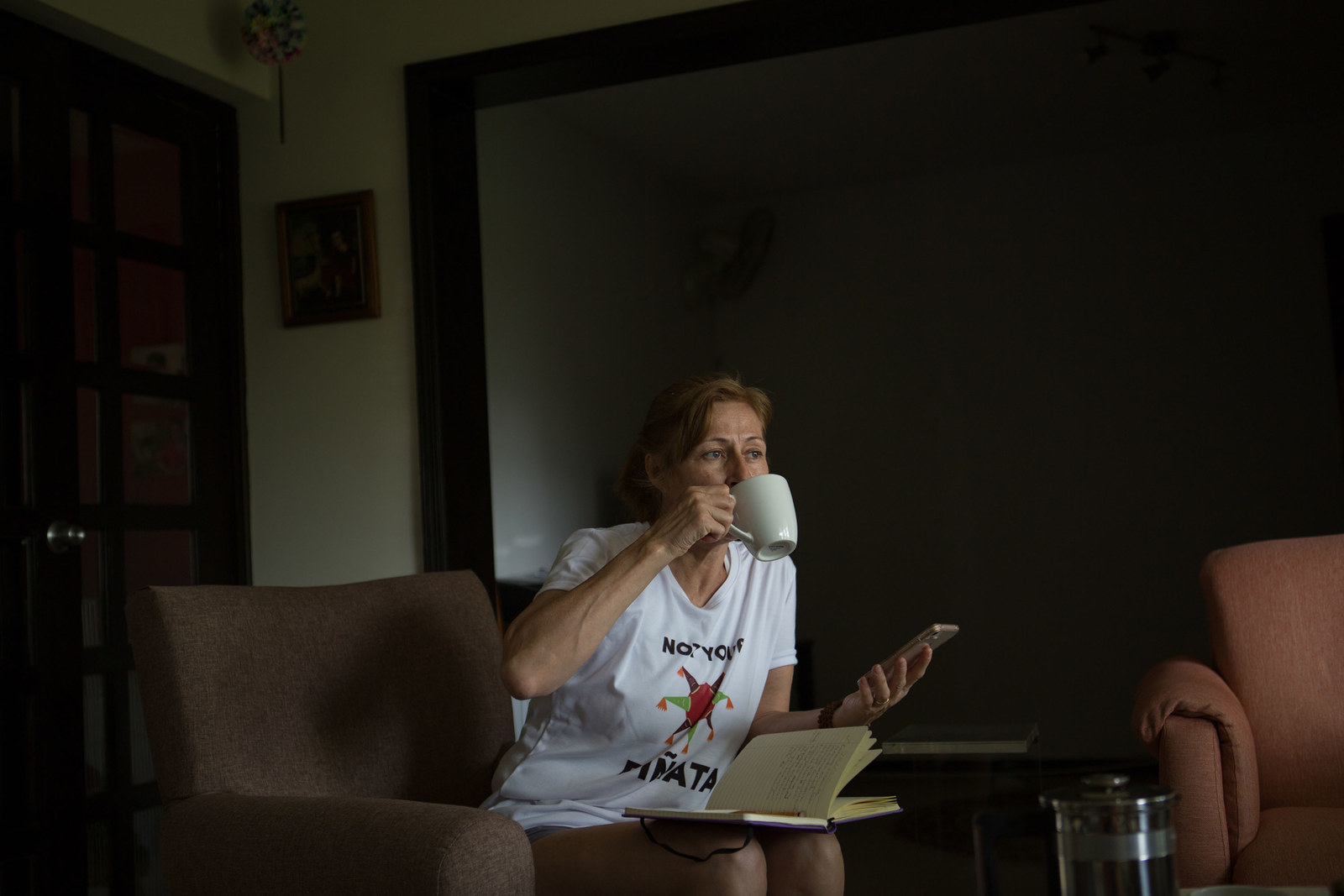 Originally from Sinaloa, in Northern Mexico, Clouthier moved to Mexico City to work as a substitute legislator for the PAN in 1991 and then again in 2003, as a legislator. Even though she had left Culiacán, her hometown, when she was a teenager because her parents worried that she would be kidnapped by local thugs, Clouthier was terrified about living in the capital, known at the time for its sky-high crime rate.
That's where she first came across López Obrador, who was then serving as mayor of Mexico City.
"I knew him before I met him," Clouthier said. She praised what she said was his ability to get crime rates down. Soon parks began filling with people. "I didn't understand why the people who criticized him would then go and copy his policies," she added, referring to social assistance programs that were later adopted by the federal government.
In 2006, a year after she had quit the PAN for, in her eyes, looking more and more like the PRI, mutual friends invited Clouthier and her family to a dinner party where López Obrador would be. Her mother declined the invitation; her husband went, begrudgingly.
In walked "a prudent, simple man. My husband says he was taken by how restrained [López Obrador] was in his eating and drinking," she said. "He was surprised to see a politician who let others talk."
The two hit it off. After a brief introduction, López Obrador asked Clouthier to join his presidential campaign. Though neither of them followed up, Clouthier says she "quietly" voted for him. They spoke again in mid-2010, and in 2012, she joined his second presidential campaign.
In December, López Obrador invited Clouthier to his ranch in Chiapas, in Southern Mexico. "He wanted to show off the trees he had recently planted," she said. During a walk around the property, López Obrador asked her to be his campaign manager.
Clouthier says her biggest worry was the time she would miss with her children, living in her family's home in Monterrey. She spends several days a week traveling to Mexico City or touring parts of the country with López Obrador. When she's home, she says her days revolve around her family: She goes for morning runs, takes her son to school, attends meetings, and cooks and cleans her compact two-story, plainly decorated house.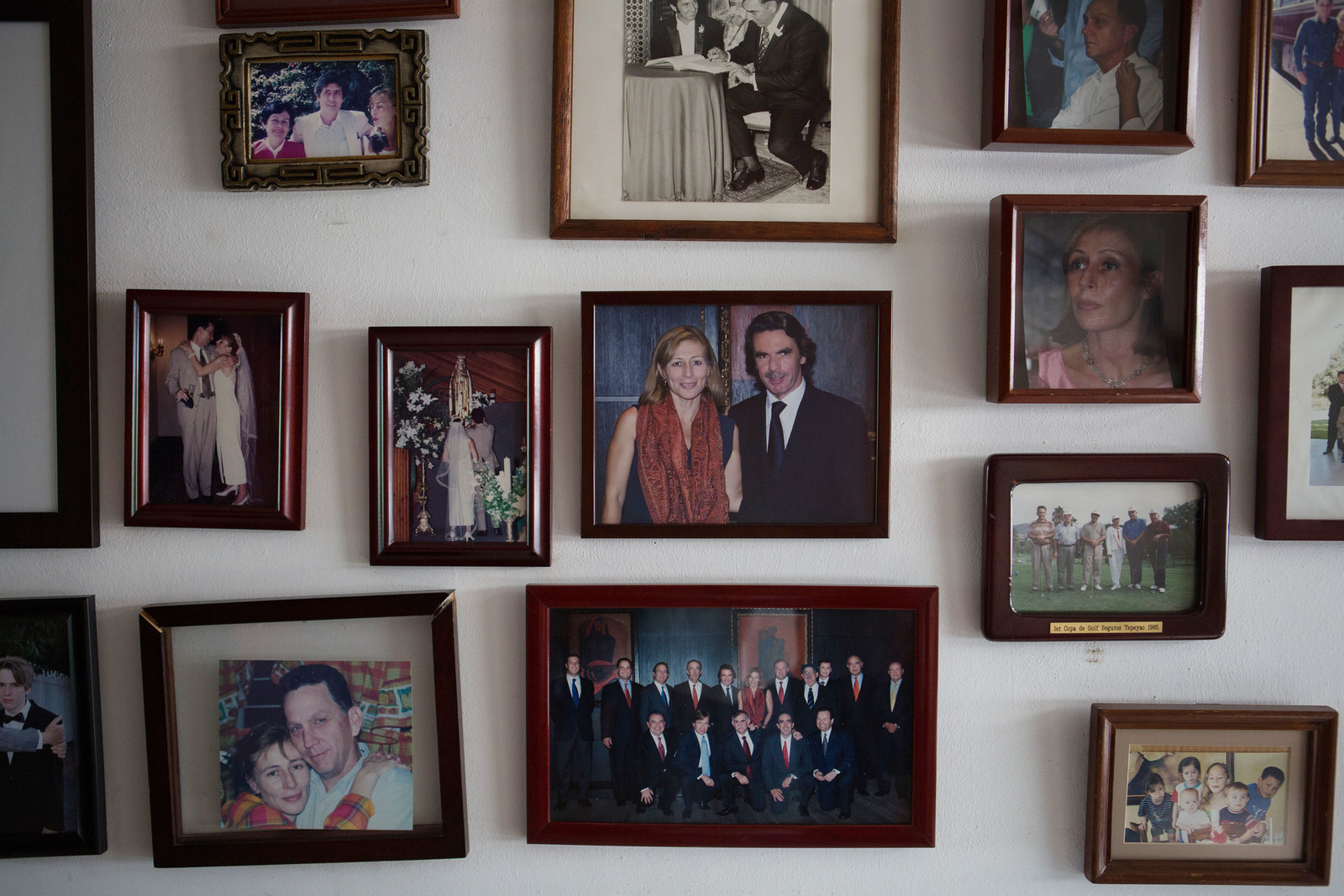 Her children keep her centered, she says. "Oh, keeping up with 'Aunt Tatis'!" her teenage daughter said with a dismissive laugh when Clouthier introduced her to a reporter while running a family errand on a recent Friday evening. (The nickname was coined by Clouthier's younger fans.) That day, Clouthier spoke to López Obrador on the phone three times. To reach him, she either calls his spokesperson or his wife. They never text each other.
Despite pleas from her Twitter followers, Clouthier says she doesn't have presidential aspirations; she says she doesn't even want a high-profile position in López Obrador's administration because she wants to be near her husband, who is in remission from cancer.
Many Mexicans, however, believe she will play a key role in López Obrador's cabinet if he wins.
Her assertiveness and influence are far from the norm in Mexico, where politics remain male-dominated and machista. But Clouthier refuses to call herself a feminist, saying the term is outdated. For her, the task now is figuring out what to do with the gains women have won — it's no longer about carving out space for women in the workplace, for example, but about ensuring access to nurseries, places to breastfeed, and flexible schedules.
When she's not on the road or preparing for TV and radio appearances, Clouthier goes door to door in a working-class neighborhood in Monterrey asking people to vote for López Obrador and handing them newspapers from Morena, the political party he founded in 2014. She is part of a strategy to soften voters in Northern Mexico, where less than 30% of López Obrador's votes came from during his last two presidential bids.
This time, getting more support from the region, the wealthiest in Mexico, is fundamental.
During a recent visit to Valle Verde, a neighborhood not far from her house, Gabriel Beltrán, a convenience store owner, told Clouthier he plans on voting for rightist populist Jaime Rodríguez Calderón, an independent candidate from Nuevo León, the state where Monterrey is located.
"Think about it, you still have 70 days," Clouthier told him with a smile.
Beltrán stared at her for a few seconds, pensive. "I like and respect you. For you, maybe I'll change my mind," he said.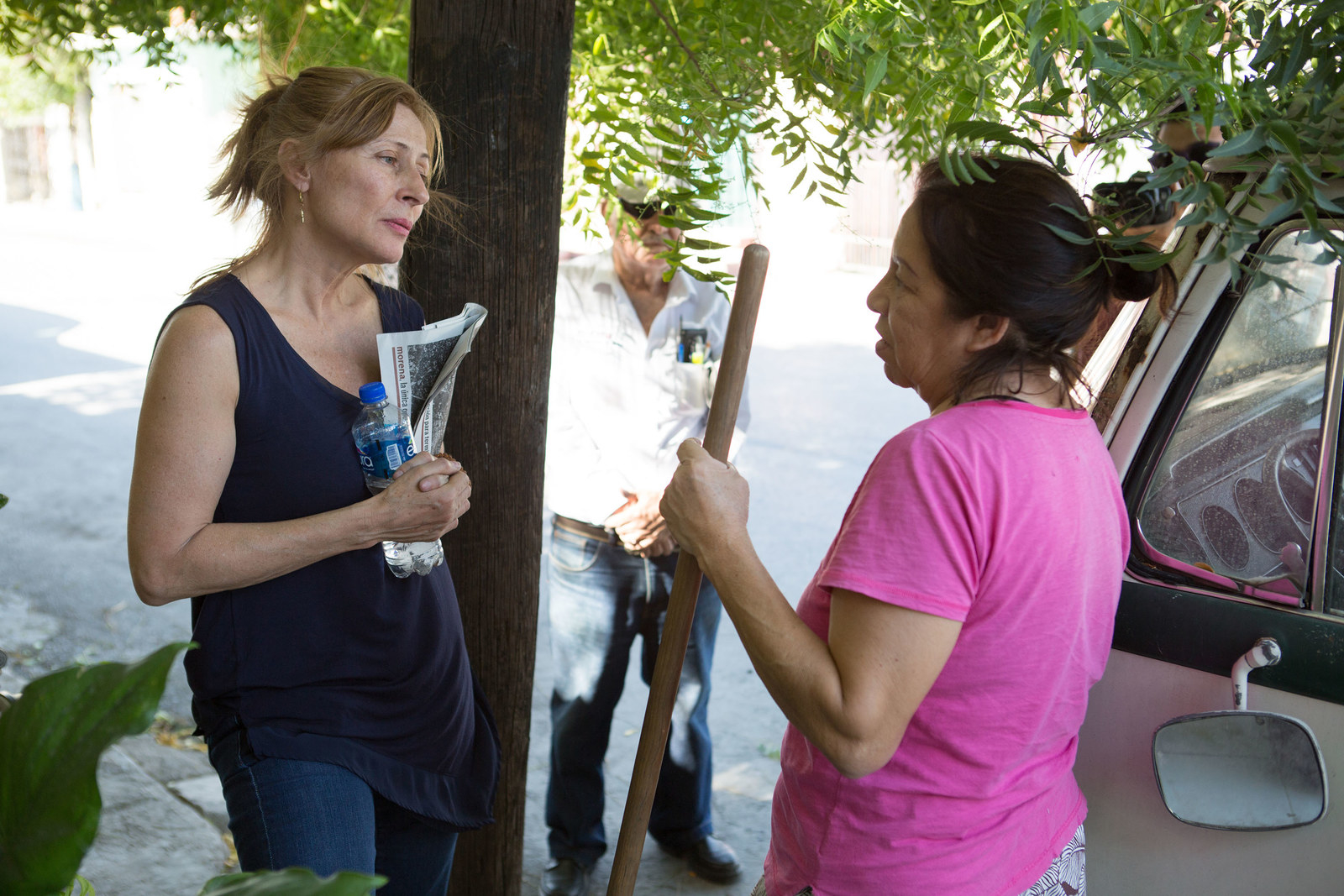 It hasn't been an easy road. Women with high political aspirations in Mexico still pay a high price.
Clouthier was heavily criticized after Mexican media published a photograph of her resting her hand on López Obrador's arm and her head on his shoulder, the two of them laughing, in January.
"You must have so much accumulated rancor to not care what other women will think about you invading the personal space of whom you think will be president," Javier Livas Cantú, a former member of the PAN, wrote in an open letter.
The image, Clouthier said, was captured shortly after López Obrador announced her new position as his campaign manager at a public event. When Clouthier got off the stage and took her seat next to him, he whispered in her ear proudly: "You gave a speech as a candidate and I as your campaign manager." Snap.
The photograph hangs on a wall near her living room.
She refused to respond to Livas Cantú. "It says more about him than it does about me," she told BuzzFeed News.
Clouthier has become a calming force for López Obrador, who is still reminded of his combative, intolerant speeches and interviews after his narrow loss in 2006's presidential election. After accusing the business community of financing a smear campaign and calling on supporters to occupy Paseo de la Reforma, Mexico City's most emblematic thoroughfare, he swore himself in as the "legitimate president of Mexico."
Clouthier speaks slowly, her voice even, her words carefully thought out. The tone she uses at home to address her husband — "love" — is almost identical to the one she uses during work events.
But as the campaign has heated up, her signature serenity has already been tested.
She recently joined Javier Lozano, one of Meade's spokespeople, for a roundtable with journalist Carmen Aristegui. With an authoritative tone, Lozano accused López Obrador of wanting to "forgive and forget" drug war criminals (the candidate floated the idea of an amnesty for cartel kingpins in December). Clouthier nervously shuffled the Post-its she had set on the table in front of her. "This isn't going very well for you," he said, shaking his head disapprovingly.
Smugly, Lozano pulled up López Obrador's proposal and read an excerpt out loud: "I do think that we should not forget, but we should forgive."
Suddenly, her confidence returned — Lozano had overplayed his hand.
"One thing is to read and another is to comprehend. You sound like a functionally illiterate person," Clouthier burst out.
Clouthier's team later told her she had taken it too far, but she says she was feeling overwhelmed and needed to subdue him. "I hit him exactly where I needed to," she said. •
CORRECTION
Tatiana Clouthier was a substitute legislator for the PAN in 1991. A previous version of this story misstated her position at that time.