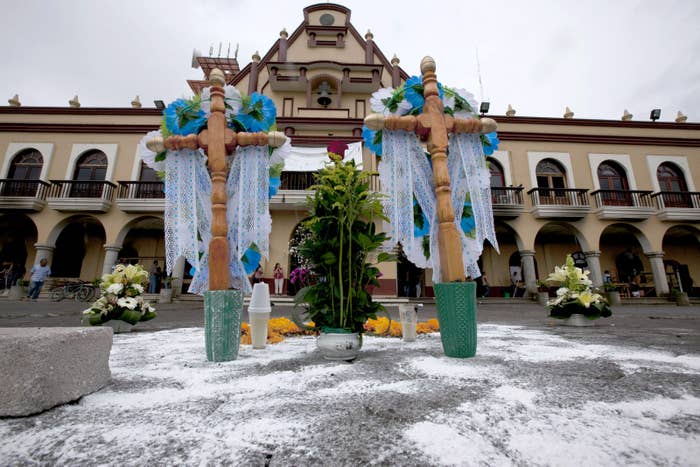 MEXICO CITY, Mexico — Police watched helplessly as an angry crowd lynched two men they believed to be kidnappers and burned down government offices in a town 170 miles from the capital, authorities said Tuesday. Relatives of the victims, Rey David and Jose Abraham Copado, say the brothers were pollsters inquiring about tortilla consumption.
Several graphic videos uploaded to YouTube show a mob standing near a bloodied body, aiming their phones at a man placing wooden planks on the victim and trying to set them on fire. The town hall in Ajalpan, in Puebla State, is visible behind.
Rumors of kidnappers snatching minors began circulating online last weekend, sending residents into a panic, said Gustavo Lara, Ajalpan's mayor, during an interview with Mexico City-based Milenio TV. (A search of Facebook and Twitter by BuzzFeed News was unable to locate any posts mentioning the rumors Lara referenced.) Lara explained that people rang bells in the small town, broke into the prison where the brothers were being kept, and dragged them out into the main square.
About 25 people suspected of carrying out the lynching had been identified by Wednesday, said Lara. People who have carried out lynchings in recent years have been given prison sentences of up to 37 years.
On Thursday, state governor Rafael Moreno Valle Rosas announced that his government, with support from federal authorities, would take over public safety in Ajalpan "until public order is reestablished and the safety of people, their goods and rights can be guaranteed."
Lynchings are common in the country, particularly in the seven states in southern Mexico. At least 366 have been registered in the last 26 years, a study by the Metropolitan Autonomous University revealed. The mix of distrust in authorities and widespread crime fuel these kinds of attacks.
The National Commission for Human Rights expressed its concern regarding the lynchings in Puebla in a press release. "The lynching phenomenon, or taking justice into one's own hands, and the frequency with which it has ocurred in the state of Puebla, show the fragility of rule of law." There have been nine lynchings in Puebla this year, the release continued.
The "social discontent and frequent complicity in Mexico between police and thieves, which has eroded society's trust in those who represent authorities," says a summary of the report.