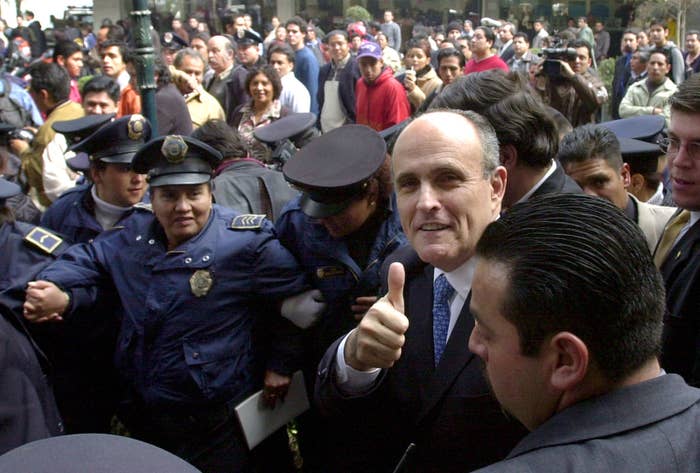 MEXICO CITY — Former New York City mayor Rudolph Giuliani, a top confidante for US President-elect Donald Trump, was once paid to make Mexico City safe.
In 2002, Mexico City officials reportedly spent $4 million to hire the Giuliani Group, a consulting firm owned by Giuliani, to advise the government on how to reduce crime. The city was at the time reeling from an epidemic of kidnappings and homicides, rendering large areas of the capital impenetrable even by police. That led city officials to turn to the man who instituted programs in New York designed to put the "broken windows" theory of policing — that stopping small crimes helps bring down overall crime — into practice.
"The similarities between what Mexico City faces today and what New York City faced in the late 1980s and early 1990s are striking," said Giuliani during a news conference in New York shortly after announcing the contract. Weeks later, Giuliani arrived here and, flanked by heavy security contingent, toured several crime-ridden neighborhoods. The firm produced a list of 146 recommendations for authorities.
Several former police chiefs at the time warned against comparing the security challenges the two cities faced and said Giuliani's zero-tolerance strategy would at best address the consequences of a security crisis, not its roots.
The episode is largely forgotten in Mexico City. When running for re-election or campaigning for other offices, the decision to bring in Giuliani, who is reported to be one of the top contenders to head the Department of State under Trump, hasn't been a major talking point for either Andres Manuel Lopez Obrador and Marcelo Ebrard, mayor and chief police of Mexico City at the time respectively.
Thirteen years later, experts too are ambivalent about Giuliani's work in Mexico.
"It was more of a PR thing than any substantive change," said Winifred Curran, co-author of a 2009 academic paper published in the journal Geoforum titled Policing in Drag: Giuliani Goes Global With the Illusion of Control. "There's very little legacy," she added. During a research trip to Mexico City in 2006, most people Curran spoke with said they did not feel an increased sense of safety.
But for some analysts, bringing Giuliani in during a security crisis was useful, at least to some extent. Duncan Wood, director of the Mexico Institute at the DC-based Wilson Center, believes Giuliani's efforts played a key part in rehabilitating the city. "In the popular consciousness that was not a successful experiment, but when you actually think about what happened, the center of Mexico City became a much, much safer place," he said.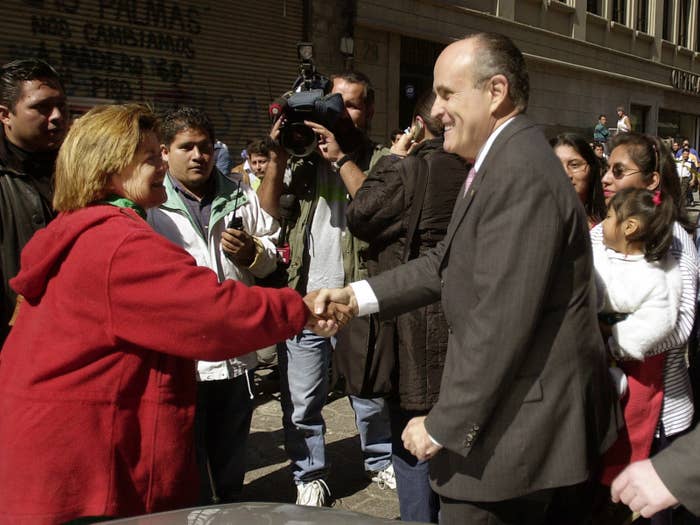 Crime figures suggest the city has become slightly more deadly in the years since Giuliani's tours: There were 1,641 homicides last year, up from 1,635 in 2003, the year the firm delivered its list of 146 recommendations to authorities. At the same time, kidnappings are down to 55 last year from 136 in 2003, although research groups suggest that less than 10% of crimes have been reported in recent years.

In her report, Curran noted that crime dropped about 28% in the city's historic center, more than three times what it did throughout the rest of the city. Analysts believe the disparity is due to the demands of Carlos Slim, the telecommunications and real estate magnate who reportedly financed part of the multimillion-dollar contract, though there are no indications as to just how much Slim kicked in. Some of Slim's fortune comes from the large number of properties he has amassed in Mexico's downtown area.
The Giuliani Group recommended that authorities create an anti-graffiti unit, bring franeleros (people who place a hold on public parking spaces and charge for them) under control, and provide schooling opportunities to the children of police officers, among other options.
"I am not a fan of [Giuliani's] zero-tolerance program," said Joel Ortega Cuevas shortly after becoming Mexico City's new police chief in 2004, according to La Jornada, a national newspaper. Ortega added that he would prefer instead to revise and reorient all programs toward fighting high-impact crimes like homicides and sexual assault.
The Giuliani Group did not immediately respond to a request for comment from BuzzFeed News on the Mexico City initiative.

The Mexico project was the first international contract for the group, which went on to provide services to Brazil, Colombia, El Salvador and Guatemala, among other Latin American countries. It has also profited from a contract with the government of Qatar and the Canadian company behind the Keystone XL oil pipeline.
Giuliani's work with foreign governments and powerful businessmen began eliciting concerns of a conflict of interest in the days leading up to speculation about his potential appointment as secretary of state by Trump.