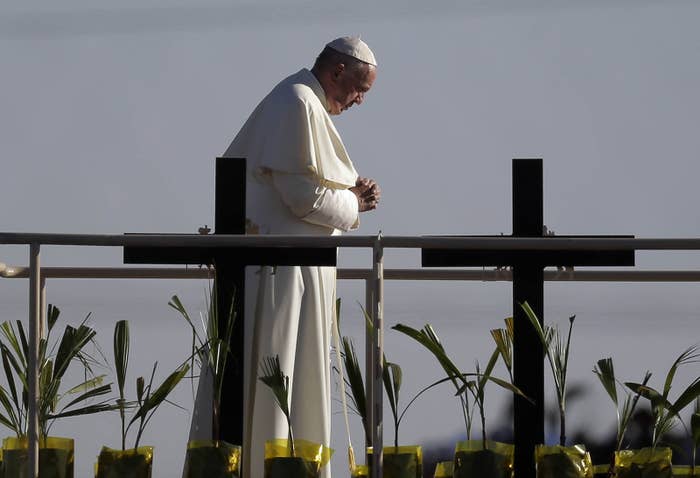 CIUDAD JUÁREZ, Mexico — Daniel Melgar sat at a coveted fourth-row seat at Pope Francis's mass on Wednesday. All around him, people stared straight ahead, but Melgar craned his neck to the right and fixed his eyes on the mid-rise, clay-colored buildings just across the border in El Paso, Texas. Outside, a never-ending line of people stood under the punishing sun for more than six hours, waiting for a fleeting glimpse of Pope Francis.
"My eyes are sore from looking at the other side so much," said Melgar, a Honduran national who arrived in this border city last week. The 24-year-old left his hometown of San Pedro Sula six months ago after a local gang tried to recruit him. "I want to grow wings and go over here," he said, looking across the Rio Grande.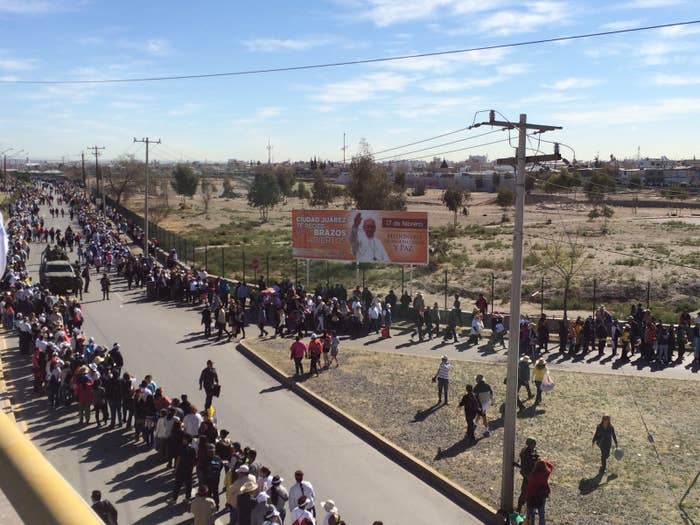 Francis's mass was directed at people like Melgar: migrants who are punished both by violent conditions at home and by hostile attitudes abroad. The stage was set up close enough to the border that people on both sides could see Francis, who at one point walked over to a small platform just a few feet from the river that divides the cities.
"We cannot deny the humanitarian crisis which in recent years has meant the migration of thousands of people," said Francis. "This crisis, which can be measured in numbers and statistics, we want instead to measure with names, stories, families."
Thousands of Central American migrants, many of them unaccompanied minors, have crossed through a hyper-violent Mexico and into the U.S. since 2014, many of them fleeing a turf war between gangs and seeking asylum. In January, Obama's administration launched the latest wave of arrests, and additional raids are expected.
The pope's mass comes as the immigration issue, already controversial in the United States, heats up with Donald Trump's anti-migrant rhetoric and promises to build a wall along the border.
One of the cities pressed as close to that border as possible, Ciudad Juárez, where approximately half of the residents were born elsewhere, was eager for Francis's arrival. Signs welcoming him overwhelmed the dry landscape, and souvenirs with his image were available across the city. For many, Francis's visit was an opportunity to broadcast the image of a city that has recovered after years of extreme drug war–related violence.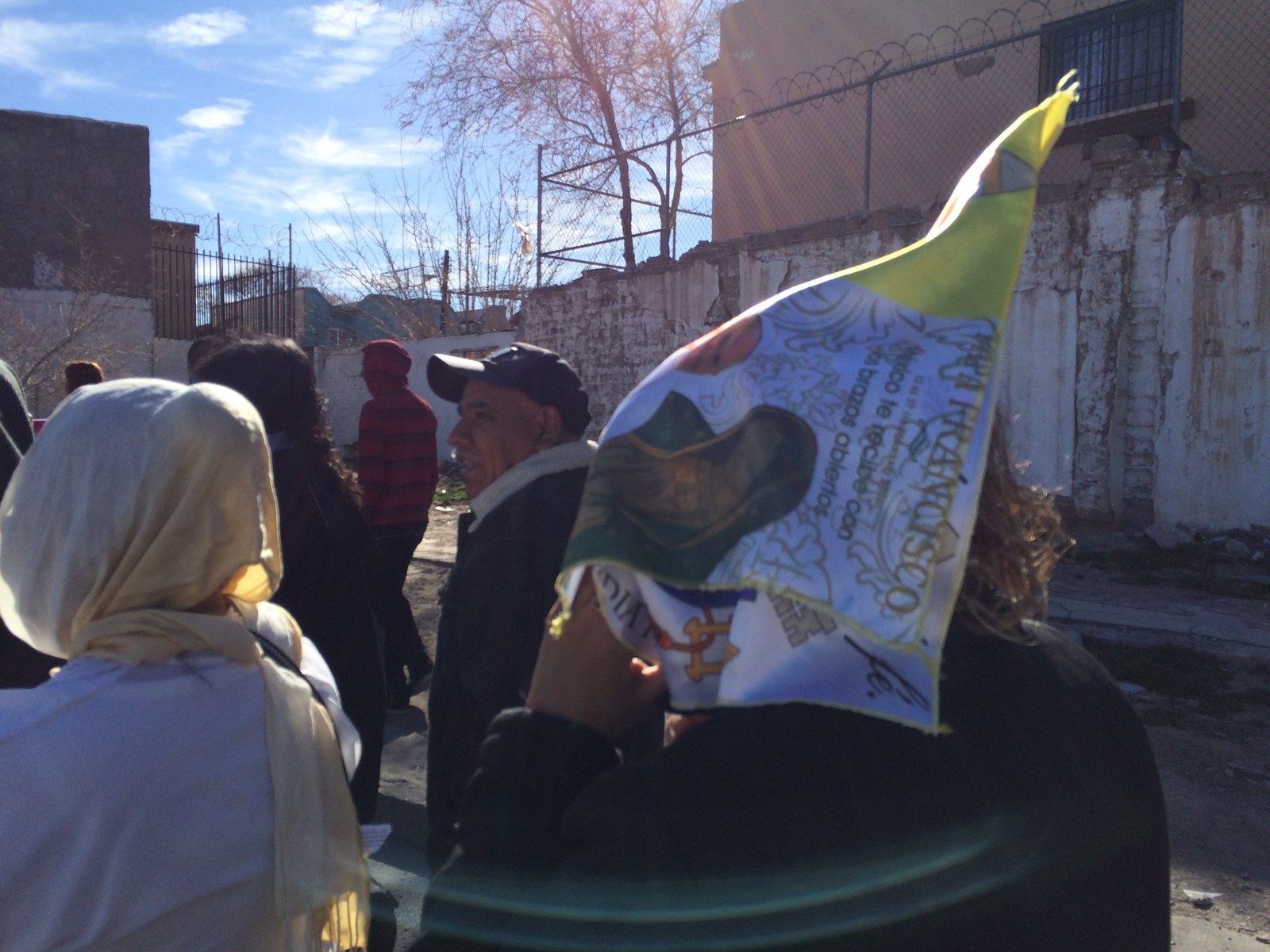 El Chamizal, the area where Francis held mass, is a small piece of land but is especially symbolic: For nearly 40 years, it was the subject of a dispute between Mexico and the U.S., after the Rio Grande shifted south, naturally transferring land from the former to the latter. In 1963, the U.S. agreed to redraw the border, give back the sliver of territory to Mexico, and relocate several hundred American residents.
Mass attendees were hopeful that the Pope's focus on immigration issues could signify a shift for those who have gone "up north."
Lourdes, a lifelong Ciudad Juárez resident who did not want to reveal her last name, has not seen her brother since he left for the U.S. nine years ago: Neither can legally cross the border at will, which was visible from where she stood in line waiting to enter the area where the religious event was being held. U.S. Border Patrol cars rode slowly up and down the narrow paved strip of land just north of the city.
"The U.S. is in charge," said Lourdes, speaking of what she referred to as the immigration problem. "But now it is the pope. Things will change today."
Francis has meted out sharp rebukes since his arrival in Mexico six days ago. During his first stop, in Mexico City, Francis stood before President Enrique Peña Nieto, his family, and the country's top political players and spoke about the dangers of corruption and greed.
"Every time we look to the path of privilege or the benefit of a few at the cost of the good of all, sooner or later society becomes a fertile ground for corruption, drug trafficking, the exclusion of different cultures, violence," he said. Francis's first visit to Mexico comes as the country battles unchecked crime and as numerous graft scandals surround Peña Nieto and his inner circle.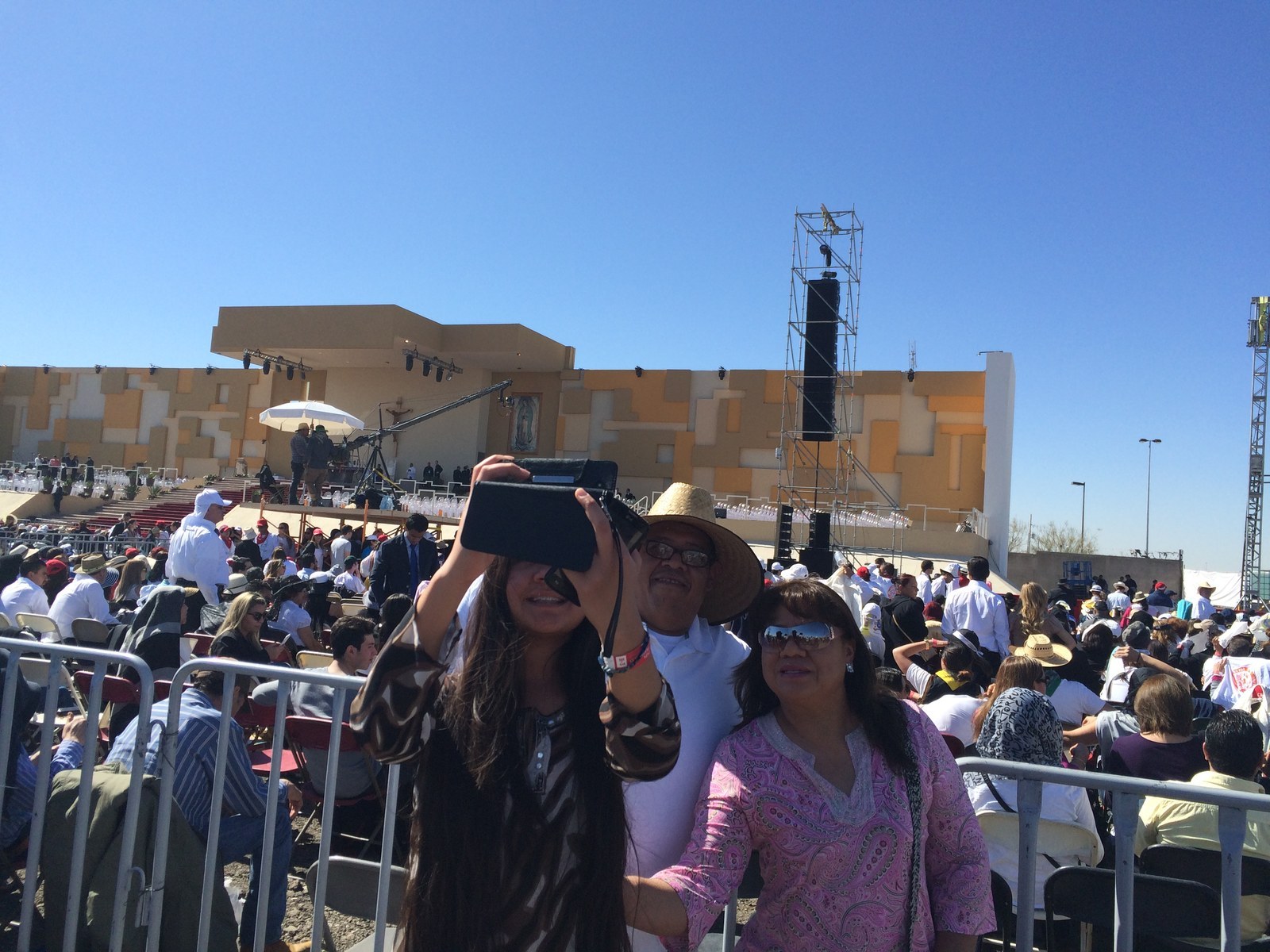 Francis also turned that critical gaze inward toward the Catholic Church. During a meeting with bishops in Mexico City's Metropolitan Cathedral on Saturday, Francis urged them to have "a clean gaze, a transparent soul, a luminous face," and to not let themselves "be corrupted by trivial materialism or by seductive illusions of the deals made under the table. "The Church doesn't need obscurity to work," he added.

At every subsequent stop along his route, Francis delivered similarly pointed rebuffs. In the state of Mexico, which is home to the largest number of impoverished people in the country, he spoke about the few hoarding wealth that is meant for all. In Chiapas, the state that birthed the indigenous Zapatista revolutionary movement, Francis urged people to apologize to native people for taking their lands and excluding them.
He comes to Mexico at a time when the Catholic Church is rapidly losing disenchanted subscribers. The number of Catholics in Mexico has steadily decreased over the years — in 2010, 82.7% of Mexicans declared themselves Catholic, down from more than 97% in the 1950s, according to the National Institute of Statistics and Geography. In Chihuahua state, where Ciudad Juárez is located, 76% of the 3.4 million residents are Catholic.
More than 220,000 people were expected to attend Francis's afternoon mass in Ciudad Juárez. Multiple lines of ticket holders filled the horizon in the early morning, many taking selfies and trying to shield themselves from the punishing sun.
Inside the fenced-off stage area, nuns and other attendees threw their hands up in the air in a religious, euphoric dance.
Melgar, sitting nearby with a group of men who currently reside at the city's migrant shelter, was less enthused. He looked up at the sky, counting helicopters. For the past week, he said, he had been unable to stop staring at the space between the two mesh walls dividing Mexico and the U.S., thinking about what he had been told by friends: Americans have little mercy with those who don't abide by their rigid rules.
The pope won't make it any easier for migrants like him, said Melgar. "Only God can change things," he said, squinting into the Texan horizon.