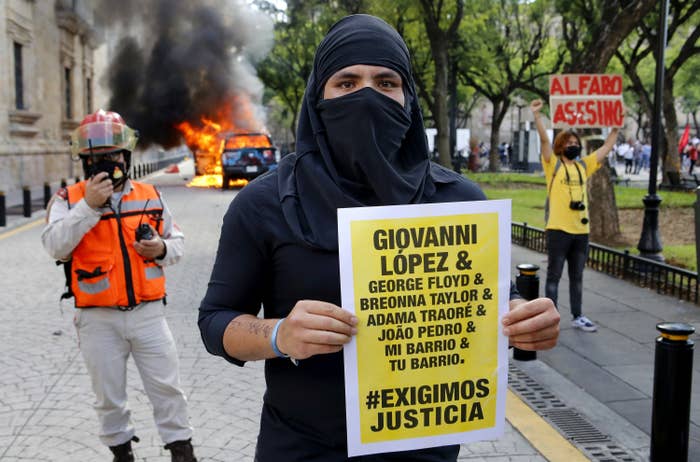 MEXICO CITY — Several prominent killings by police officers and thousands of arrests over violations of measures intended to curb the spread of the coronavirus have roiled Latin America. It's a region familiar with police brutality, but many people feel the pandemic has become a new excuse for security forces to crack down violently.

Last month, Mexican police detained Giovanni López, a 30-year-old bricklayer, for not wearing a face mask as bystanders pleaded for his release. His body was later discovered in the hospital, and an autopsy revealed that the cause of death was blunt trauma to the head.
In Argentina, officers beat up and detained Luis Espinoza, a 31-year-old day laborer, during an operation in May to ensure quarantine measures were being followed. His body was found in a ditch after a weeklong search. Nine cops have been detained in connection to the ongoing investigation.
"The police feel that there is another good pretext for them to be rash, to do some social control and enforce aggressively in the name of a pandemic," said José Miguel Vivanco, executive director of the Americas division at Human Rights Watch.
As protests spread across the US and other major cities around the world following the killing of George Floyd by a police officer in Minneapolis, anger over cases of police brutality has reignited in Latin America.
On Thursday, a demonstration erupted over the killing of López in Guadalajara, Mexico's second-largest city. Police fired tear gas at protesters, who smashed and burned vehicles outside the government palace. One demonstrator poured flammable liquid onto an officer's uniform, which caught on fire.
Last week, protesters in Rio de Janeiro, Brazil, called for an end to police brutality after João Pedro Matos Pinto, 14, was killed during a police raid. Like 75% of those killed by cops in Brazil, Pinto was Black. Demonstrators carried Black Lives Matter signs in an echo of events in the US.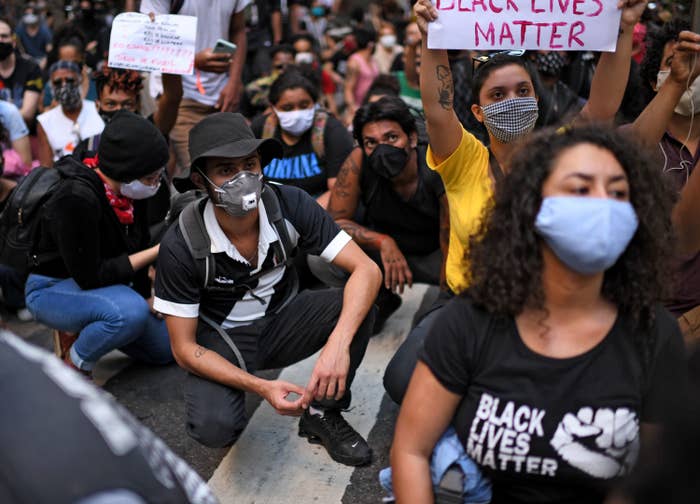 Police abuse has been widespread in Latin America for decades, with security forces often violently putting down political dissent and carrying out extrajudicial killings. Rather than produce a sense of trust, cops are generally seen as the cause of trouble. According to a 2010 report on police misconduct in the region, over 44% of survey respondents said their local police agencies were involved in crime.
And yet some Latin American governments have recently undertaken efforts to extend protections for police officers. Last month, Peru enacted a law eliminating a requirement that the use of force must be proportionate. In Chile last year, following weeks of mass demonstrations — during which the United Nations said the police and the army committed human rights violations — President Sebastián Piñera submitted a bill to "strengthen the protection of security forces."
With the coronavirus spreading rapidly across the region and governments enacting policies to try to contain it, including curfews and mandatory lockdowns, police feel like their role has been enforced and legitimized, experts warn. Among the thousands of arrests for quarantine and health violations — in Peru alone, more than 33,000 people were detained during the first two weeks of a state of emergency decreed by President Martín Vizcarra — some appear to have been unjustified and at times violent.
In El Salvador, Cindy Reyes was detained by police as she took her 4-year-old son to use an outside toilet. Like many of those arrested, Reyes has virtually no access to a qualified defense team. In Peru, police dragged a man into a police van after he crossed the street in front of his building to throw out the trash. It was after the 8 p.m. national curfew.
Lopez's case in Mexico has drawn widespread condemnation. Guillermo del Toro, an Academy Award–winning director, tweeted his anger.
Some officials have waved off critics of police abuse and protesters, saying they were trying to politically destabilize their cities or countries. In an echo of the claims of some US governors that protests have been led by outside agitators, the governor of Jalisco state, Enrique Alfaro, said protests had been planned from Mexico City.

"They wanted to provoke the government," Alfaro said during a taped message, referring to protesters. But Guadalajara's police, he added, "knew how to resist."