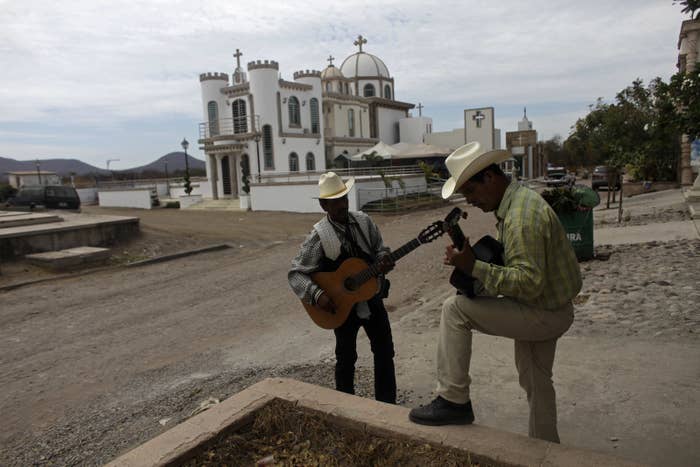 MEXICO CITY — Relatives of drug lords in the heartland of Mexico's cartels are being asked to rein in their partying during the Day of the Dead this year.
The municipal government in Culiacán, about 50 miles south of where Joaquin "El Chapo" Guzmán was born, is asking the musical groups who enliven celebrations across the city's cemeteries to abstain from playing narcocorridos — ballads that glorify cartel kingpins and their violent ways.
"We want it to be healthy gatherings," Carlos Sánchez, public works manager at the city government, told BuzzFeed News. "Those types of ballads incite violence and make a case in favor of crime," he added.

Narcocorridos have become an integral part of the culture in the region. It's in the north that the country's biggest drug lords are born, rise to fame, and die — often young. The crooning tunes are an ode to the wealth, women, and weapons that kingpins acquire during their short lives, a Mexican version of the highwayman ballads that were once sung in England.
As drug-related violence has risen in Mexico, the ballads have become controversial. Earlier this year, singer Gerardo Ortiz came under fire for enacting the killing of a woman in one of his music videos. (In it, Ortiz catches his voluptuous, lingerie-clad partner in bed with another man, who he shoots in the forehead. Then, he throws his girlfriend in the trunk of a car and lights it on fire.)
The government of Sinaloa, where Culiacán is located, has for years tried to wipe out narco-culture in the state. In 2011, the state governor banned narcocorridos in public places. (The Supreme Court later overturned the ban.) Two years later, authorities in Culiacán began replacing the elaborate shrines dotting the city, erected at the site of deadly shootings, with more discreet plaques. Since then, officials condition the granting of alcohol permits at public events, like county fairs, on the promise that artists won't play narcocorridos.
This year, authorities are asking bands to play other kinds of music during Day of the Dead celebrations. They will deploy about 120 police officers to cemeteries around the city on Tuesday and Wednesday, when relatives visit their deceased loves one in a celebration that dates back to before the Spanish conquest.
Families set up elaborate altars, filling them with their deceased loved ones' favorite foods and drinks, and make solemn pilgrimages to the cemeteries where they are buried.

Few cemeteries in Mexico are more opulent or celebrations more extravagant than those in Culiacán. In Jardines de Humaya, where Arturo Beltan Leyva, one of the most powerful drug lords and known as the "Boss of Bosses", is buried, mausoleums sometimes rise up three floors, have air conditioning, and are built entirely out of marble. Relatives organize parties there on special occasions, drinking and dancing well into the morning.
Since playing narcocorridos remains legal, authorities will be limited to pleading with the nearly 200,000 people expected to visit cemeteries during this year's festivities.
"We can't forbid it but we are suggesting it," said Sánchez.