MEXICO CITY — One person is killed every 25 hours in Iztapalapa, Mexico City's most populous district and one of its most dangerous. Crime, poverty, and overcrowding are rampant along its seemingly endless hills and valleys.
But for some residents, running out of water is the most frightening prospect of all.
In certain areas, people say taps go dry for months. Angry civilians have blocked off highways and squared off with riot police, wresting control of water distribution from the government.
"Crime affects us deeply but if you don't have water, you can't do anything," said Marisol Fierro, part of a group of women in charge of delivering water to neighbors.
Across the ocean, authorities in South Africa talk about Day Zero, when Cape Town is set to run out of water and the city is forced to shut off its taps. It has made headlines around the world, as people watch on with bated breath. But here in Iztapalapa, a sprawling, drab Mexico City borough where nearly 2 million people live, that day has already arrived, offering a window into what the future may hold for millions of people when the taps run dry.
Police officers are sometimes forced to guard water trucks, popular targets for kidnappers who sell their contents for hefty prices. In other cities, politicians might promise expanded broadband, better health care, or higher wages to win votes, but in Mexico City, mayoral hopefuls have made simple access to water central to their campaigns.
Reserved and quiet, Emma Pantaleón seems an unlikely protagonist at the front lines of this daily battle.
Pantaleón joins Fierro and other women — housewives who juggle child-rearing, house chores, and part-time jobs — gathering water requests from their neighbors, coordinating trucks' routes with local authorities, and riding along to ensure the operation runs smoothly.
On a recent morning, she sat in the passenger seat of a water tanker as it revved its motor up a hill, dwarfing the dilapidated single-room houses along its path. When the driver swerved left and stepped on the brake, Pantaleón leaped out.
It was a scene straight out of Mad Max: Fury Road.
Pantaleón, 41, walked over to the nearest cinder block house and called out to its owner. As soon as Catalina Cortéz opened the door, the driver and a helper marched in, pulling the truck's hose straight up to a plastic water storage tank taking up a third of the patio.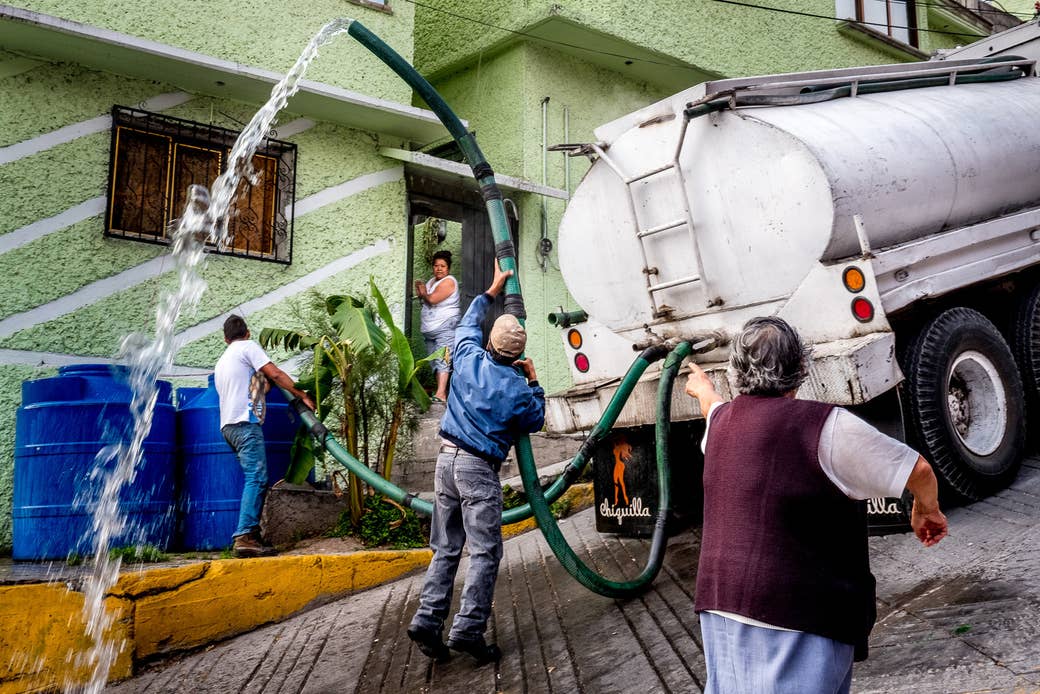 Every day, the water trucks zigzag through Iztapalapa, offering a lifeline for hundreds of families. Residents beyond the reach of the trucks, or who find themselves in need on a day when no deliveries are scheduled, have no choice but to wait for hours to access a water well, bathe their children with bottled water, and find creative and increasingly frustrating ways to recycle what little water they do manage to get.

Recent violent earthquakes have underscored the increasing fragility of access to water in the city, which has been a nightmare for many citizens for decades, despite 16–21 feet of rain falling on the capital each year. The government, lacking a successful long-term strategy, has been drilling increasingly deeper wells, causing parts of the city to sink and crumbling streets and buildings.
The more time that passes without a solution, the less water there is. With the city sinking, and an aging network of pipes that urgently needs to be replaced, many fear that millions of people could be left without water at any time.
Juan José Salas, director of urban services in Iztapalapa, said the crisis is approaching "very critical" levels: "If money isn't set aside for this problem, the situation is going to become uncontrollable."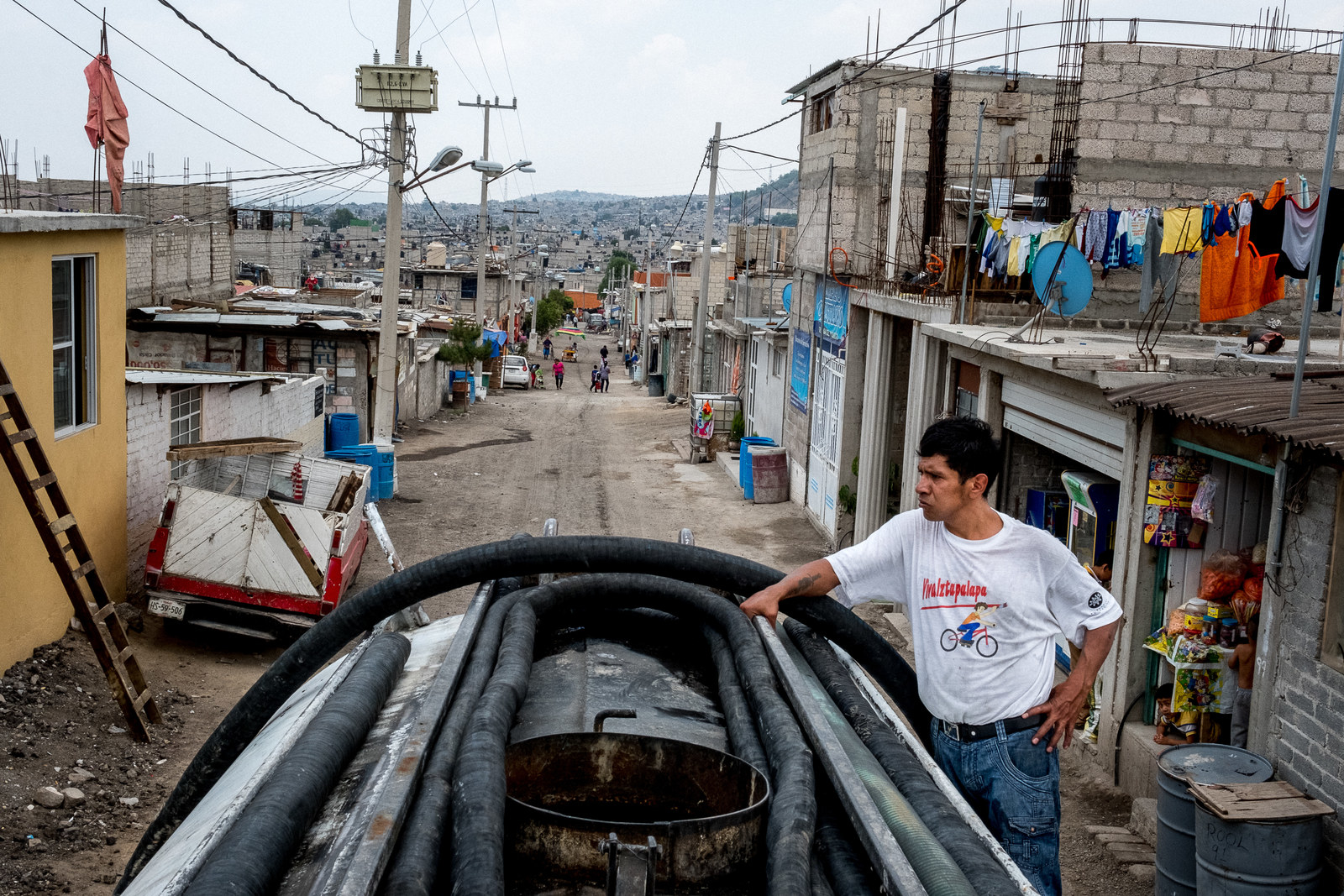 Liliana Espíndola's patience ran out almost a decade ago.

Espíndola and her neighbors in Iztapalapa had not received a drop of water through the tap for four months. Desperate, they had been forming human chains along streets where they knew water trucks would drive by, forcing the drivers to stop, and climbing onto the vehicles to make sure that they delivered water fairly and free of charge. But even that water was brownish and soon, people started getting sick.
A natural-born leader, Espíndola knew this wasn't sustainable. She convened a rally in January 2009 and then a major protest. Several hundred people spilled onto a nearby highway, blocking the road for hours and facing off with riot police. Then, they walked to the local government offices, barged in, and demanded a solution.
In an extraordinary admission of the government's inability to provide the most basic and essential commodity, authorities in Iztapalapa agreed to cede control to the people: Espíndola and her friends would now be in charge of water distribution in their neighborhood.
At 10 a.m. on distribution days, the women set up a table and plastic chairs on the sidewalk in front of a house in Mixcoatl, a neighborhood in Iztapalapa. By then, a handful of people will have already penciled their names onto sheets of paper taped to a garage door, the first of dozens who will stop by throughout the day with their water demands.
Gossip and sweet breads help pass the time in between a steady stream of calls from neighbors and to water authorities. A constant parade of water trucks arrives throughout the morning, and the women take turns jumping on and directing the drivers to those who have signed up.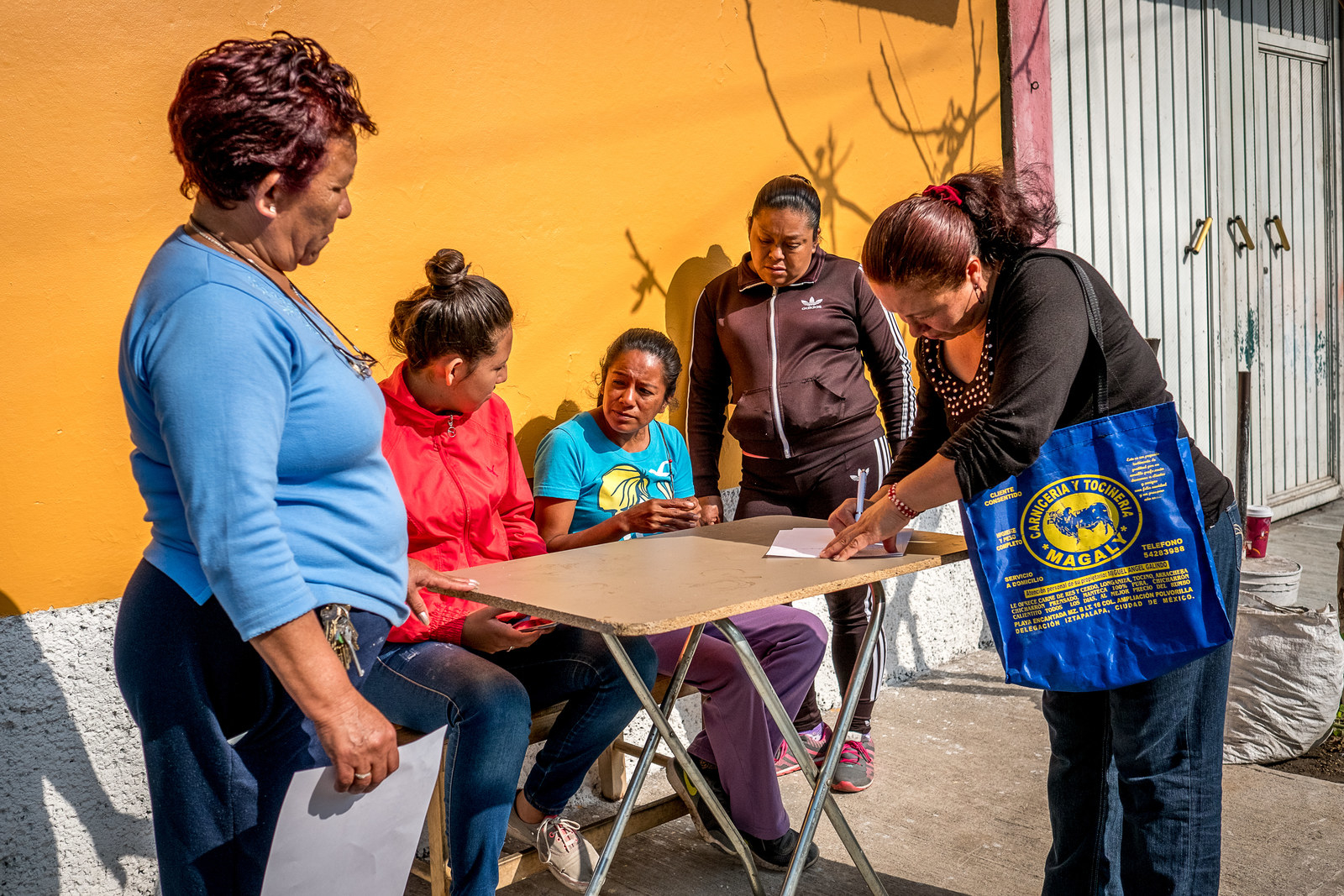 Several groups like Espíndola's, called United Women Working for Mixcoatl and You, have sprung up in Iztapalapa. The water problem extends to other parts of the city as well. Its availability has decreased as Mexico City's population has grown. The trend is expected to continue: According to a 2016 report by Mexico's National Water Commission, Mexico City residents are expected to have access to only 136 cubic meters of renewable water per person per year by 2030, down from 148 in 2015. The UN's Food and Agriculture Organization of the United Nations says absolute water scarcity is experienced when there are less than 500 cubic meters per capita per year.
The government has been digging deeper wells. Last October, President Enrique Peña Nieto inaugurated one of four new 1.2-mile-deep wells near Iztapalapa. "One of a kind in the world," a release from his office proudly called it.
But drilling for water in Mexico City has triggered a chain of potentially deadly events. It's a vicious cycle: Groundwater extraction makes the city sink further (in some parts, more than 15 inches each year), which creates fissures in the ground. The fissures damage water pipes, causing leaks and prompting the need for more water.
"The consequences of this are costly and unpleasant," said Gabriel Auvinet-Guichard, a geotechnical expert at Mexico's National Autonomous University. Hundreds of buildings have been razed because of damage to the ground underneath them, he added.
As swaths of Mexico City continue to sink, the water pipes that weave their way underneath the city's 21 million inhabitants grow older and more brittle. Several major earthquakes in September severely damaged the pipes in Iztapalapa, causing about 800 leaks, leaving the area parched for weeks and causing chaos on the streets.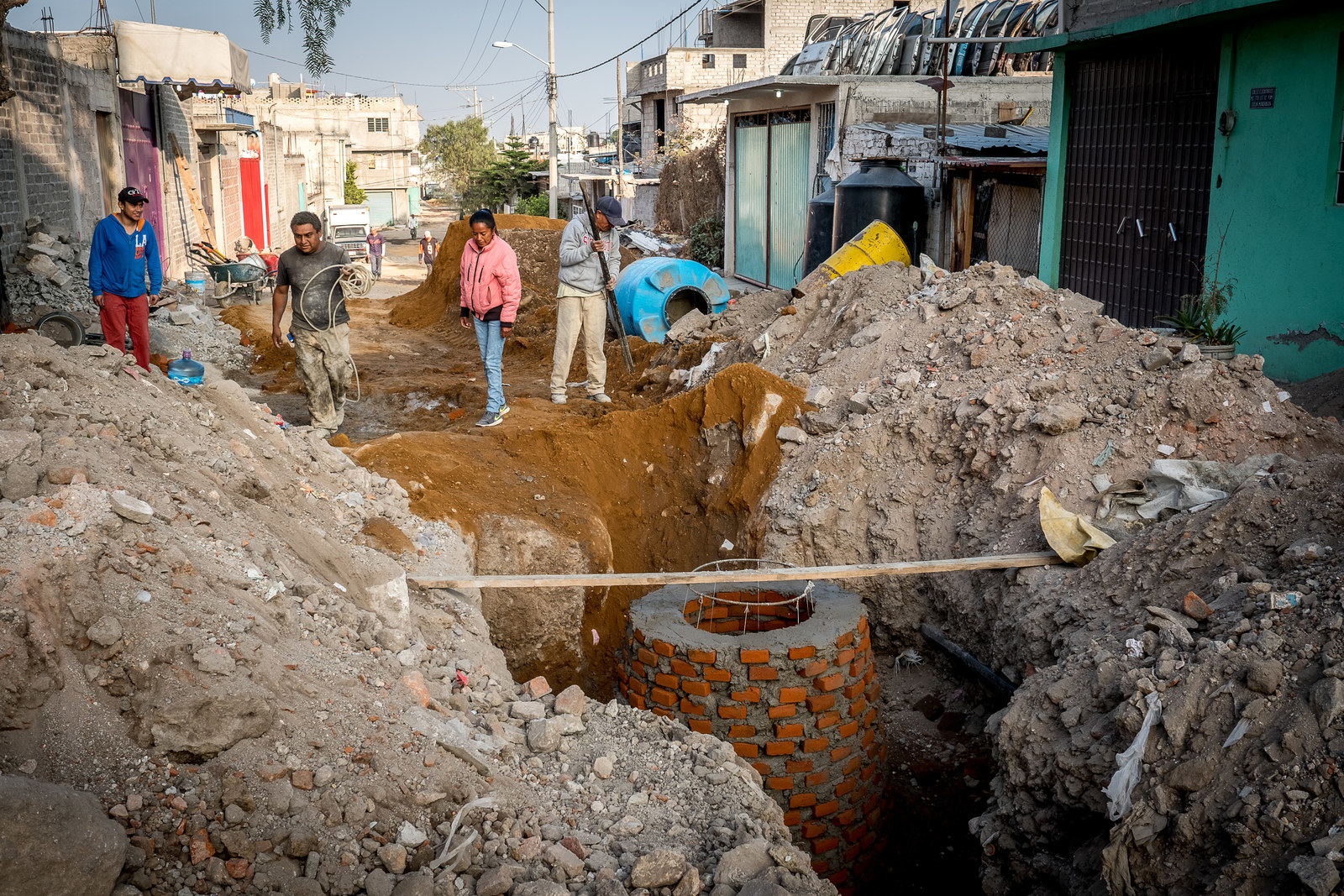 For weeks after the earthquake, bandits intercepted the flurry of water trucks rushing across the narrow streets here, kidnapping the drivers and redirecting them. At one point, Pantaleón was held up by a man with a gun when the truck she was riding in stopped at a red light. Unsurprised and resigned, she simply asked the man to drop her and the truck back off at that same spot when he was finished.
The government began deploying police escorts to trail the trucks during deliveries.
Jorge Rodríguez, a spokesperson for the Iztapalapa government, said in many of those cases, the kidnappers and the city's drivers — who earn as little as $160 a month — were in cahoots, splitting the profits from the sale of what should have been free water for desperate families.
It's nearly impossible to prevent city employees from selling off at least a portion of the water they are tasked with delivering, said Salas. During the hottest season, people grow desperate, flag down the trucks, and offer drivers money to stop at their house. These detours are kept off the books.
But it's not just money. In the driest corners of Mexico City, water has become a political bargaining chip. Often, the local government will send water trucks to people who say they need it, only to discover that supporters of one political party or another have redistributed it among neighbors in exchange for votes, Salas said.
Worn down by years of unfulfilled promises, few people here believe that politicians will deliver — or that water issues are purely a natural phenomenon.
Micaela Juárez, an Iztapalapa resident, is particularly skeptical: "How is it that when elections are coming up the water is suddenly crystal clear?"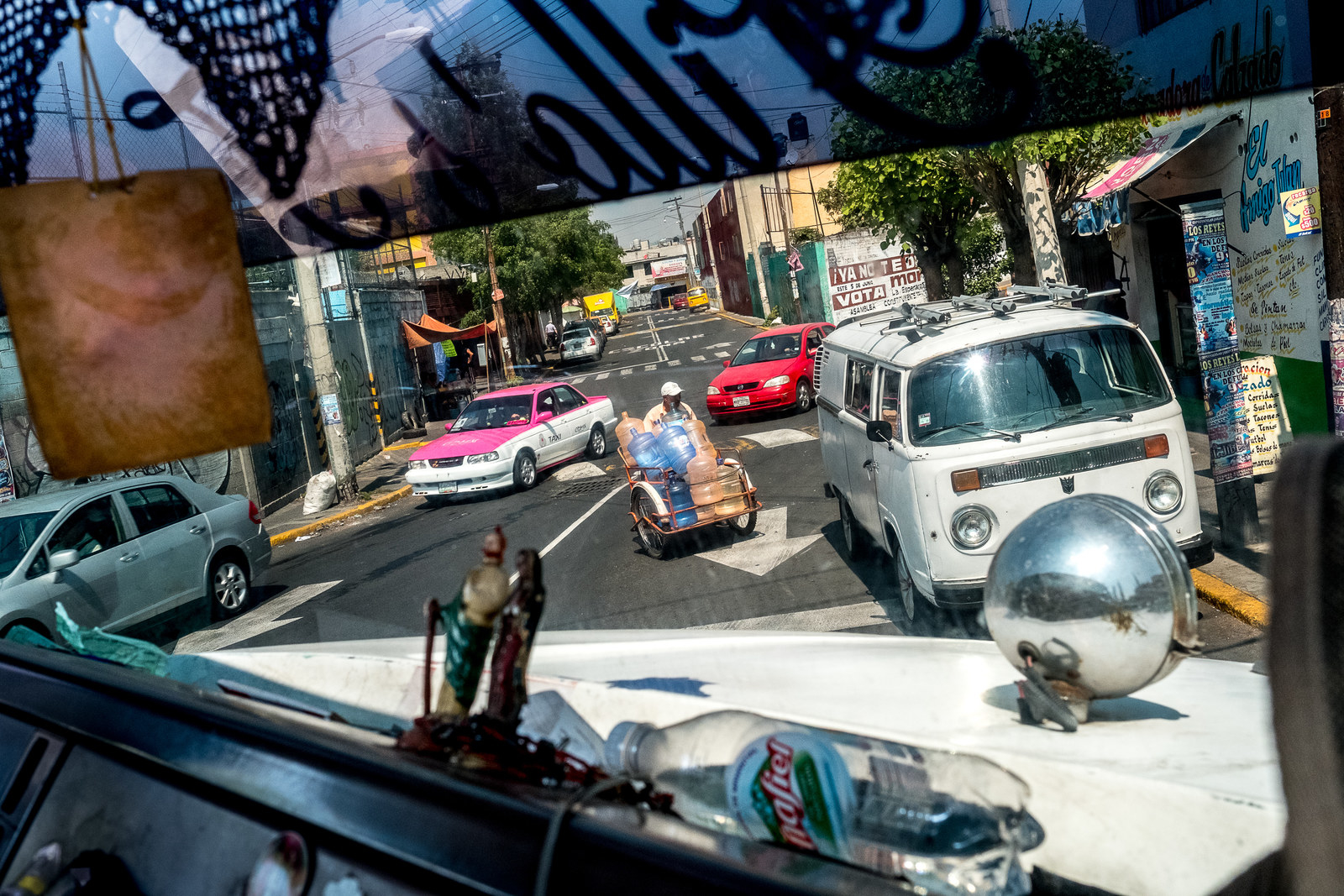 When the water does flow, it's often so dirty it cannot be used. When government employees recently stopped by Rosa María López's house to deliver free purifiers, they advised the 35-year-old mother of two not to connect them to the tap, or risk ruining them. Instead, they said, she should filter bottled water or water from delivery trucks.

López used to bathe her children with bottled water but that became too expensive for the family's tight budget. She began mixing in tap water, but now prefers to take them to her mother-in-law's house to shower, since the water there appears slightly less "like tamarind."
Like López, many people in Iztapalapa are constantly thinking of new ways to recycle water to make it last. Many save the water from their showers in buckets, and then use those to flush the toilet, bathe their pets, and clean the sidewalks in front of their houses.
They often flag Pantaleón down when she's walking her daughter to school or supervising the construction of a sewer system the government is finally installing in her neighborhood. During a recent morning, Pantaleón carried a folded piece of paper in her small slingback purse: "Store. Seafood spot. Doña Alma. Across from Hernestina."
She stopped at her own house to fill the cistern, which she shares with 10 other families. Pantaleón took a photograph of the underground cavity as it was getting filled up and sent it to Espíndola immediately, for their record keeping.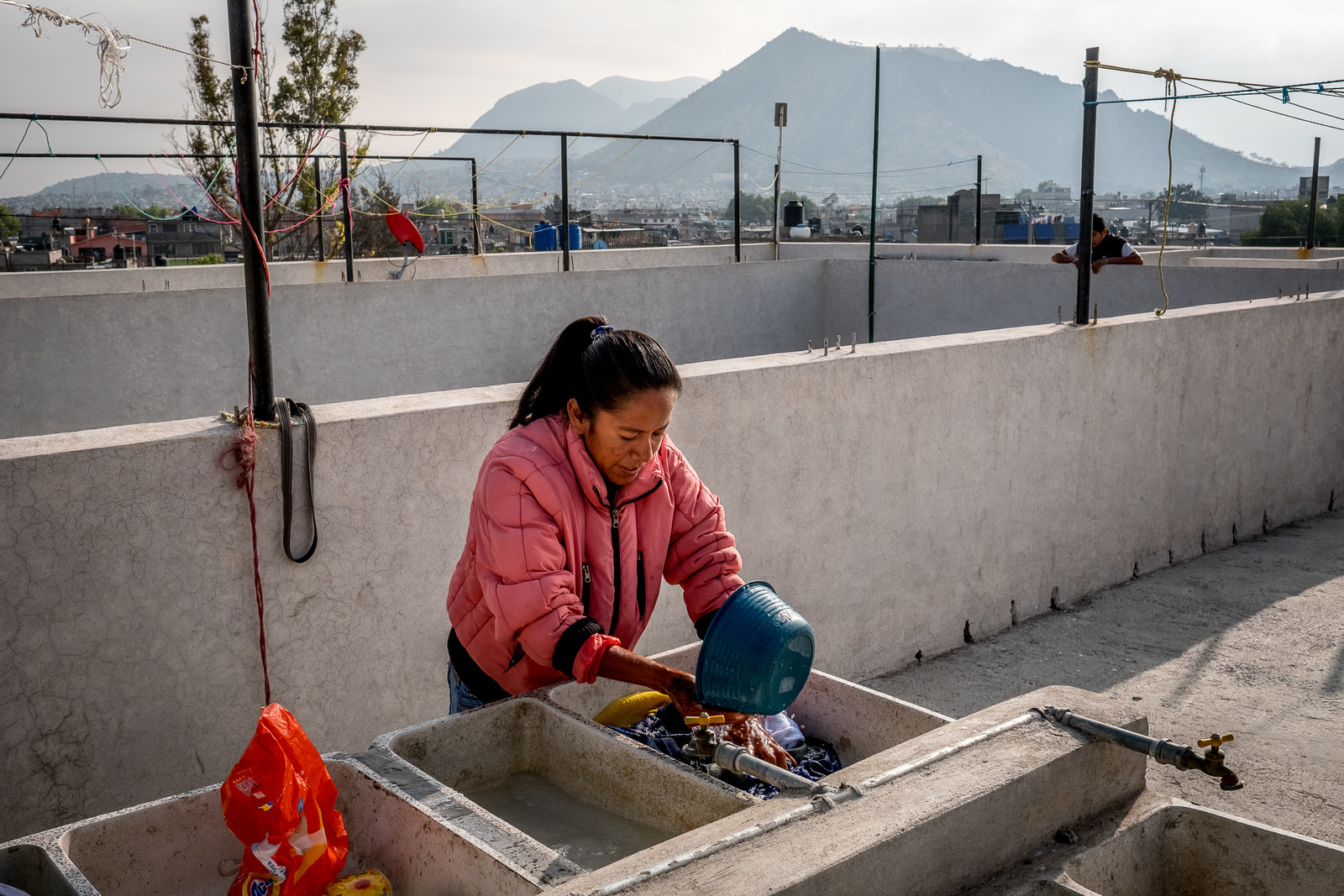 Pantaleón says she doesn't make any money from helping with the water deliveries, and that it has become a point of tension with her husband, who has a night job. By the time she gets home after the last water delivery, he is on his way to work, she says. He's frustrated that they seldom see each other and that she doesn't have time to tend to the house.

Still, she loves it. "I get satisfaction from leaving a mark on my neighborhood," said Pantaleón. "When I'm no longer here, people will remember that I brought water to them."
For Gaudencia Macedo, Pantaleón's deliveries mean life or death. She lives only a few blocks from Pantaleón but her living conditions are far more precarious. Her water tank is smaller than most, and it is worn and broken. She keeps water stored in four trash cans and one large water jug; all together, Macedo is able to hold about 1,700 liters of water at once, which she, her taxi driver husband, and their 14-year-old son must use and reuse with almost surgical care.
Sometimes, Pantaleón comes around twice a week to refill Macedo's water supply. When the wells aren't operating properly, it can take up to two weeks. That means Macedo and her family can only use about 113 liters of water per day.
On average, each person in Mexico City uses up 320 liters of water per day; in Iztapalapa, that number goes down to 235. Macedo, who says she watches the news all day and has several family members in the US, including some DREAMers, is acutely aware of the injustice.
"The wealthy always have water," she said, noting that many who live in the leafiest parts of the city own pools and send their housekeepers off to water the grassy sidewalks in front of their houses almost daily. "It's the working-class communities that are going dry."
Macedo has a plan. When water finally runs out in Iztapalapa, where she pays $54 per month for her tiny house, she'll return to Guerrero State, about 200 miles southwest, where she's originally from.
"I'll live off of the rivers there," she said with a smile.