Obama And Castro Hold Historic Meeting In Panama
The highly anticipated tête-à-tête between U.S. President Barack Obama and Cuban President Raúl Castro is the first significant encounter between the two country's heads of state since 1956. Karla Zabludovsky reports from Panama City, Panama.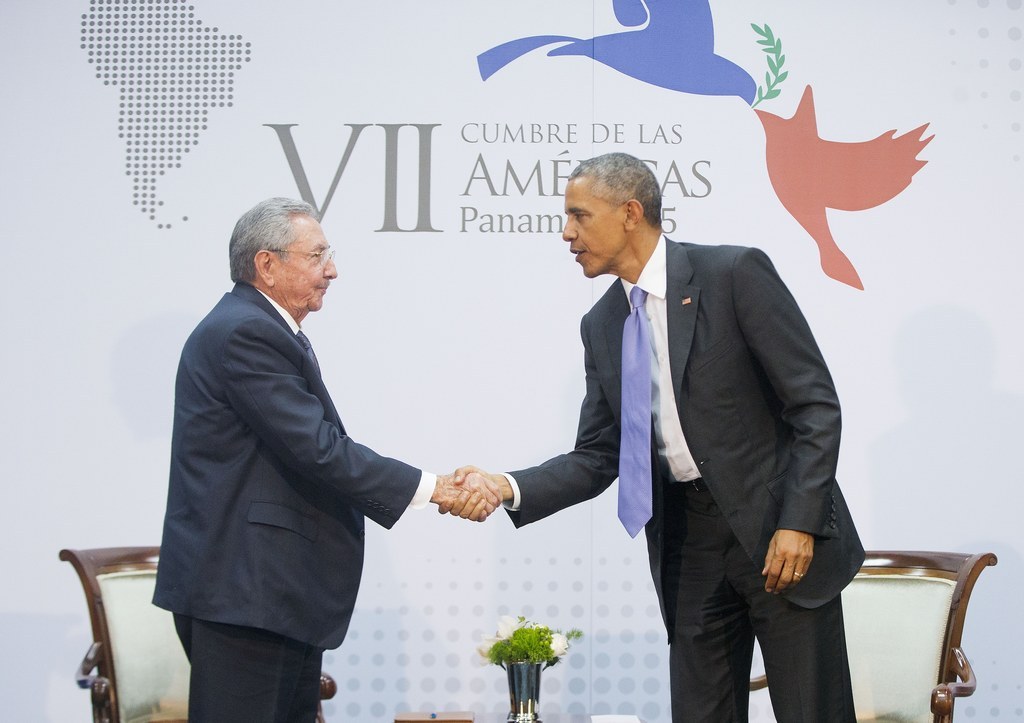 PANAMA CITY, Panama — It took more than half a century.
U.S. President Barack Obama and Cuban leader Raúl Castro held a bilateral meeting in Panama on Saturday, the first of its kind since 1956, coming one step closer to extinguishing one of the last vestiges of the Cold War. The two, who exchanged a handshake on Friday, are attending the Summit of the Americas, a gathering of Western hemisphere heads of state.
The last meeting of this kind took place between former presidents Dwight D. Eisenhower and Fulgencio Batista, just three years before the latter was forced out of power by Castro's older brother, Fidel Castro. That encounter, which also took place in Panama, was tense, with Batista asking for help with the country's troubled sugar industry — it comprised 87 percent of Cuba's economy — and Eisenhower responding that the U.S. could make no promises and that they had "to work on these problems without getting angry," according to a diplomatic memorandum.
Fast forward 58 years, an American invasion of the Caribbean island, an escalation which brought the world to the brink of nuclear annihilation and a series of aircraft hijackings.
"What we have both concluded is that we can disagree with the spirit of respect and civility, and that over time it is possible for us to turn the page and develop a new relationship in our two countries," Obama said, describing it as "historic meeting."
Castro warned that the intrinsic differences between the two would remain. "We have agreed to disagree. No one should entertain illusions. It is true that we have many differences," said Castro.
During his official speech at the Summit on Friday, Castro said Obama's efforts to thaw relations have been positive and courageous, but he became riled up while talking about the cost of Americas military aggressions and economic blockade.
Obama and Castro announced the normalization of diplomatic relations in December, after a year and a half of secret negotiations. The thaw occurred in the midst of a shifting economy in Cuba; over the last years, Cubans have attained the legal right to buy and sell property, travel abroad and participate in a growing private sector.
To show their goodwill, the countries exchanged prisoners: Cuba released American contractor Alan Grossman, who had been jailed for five years, and the U.S. released three intelligence agents who had become national heroes in Cuba.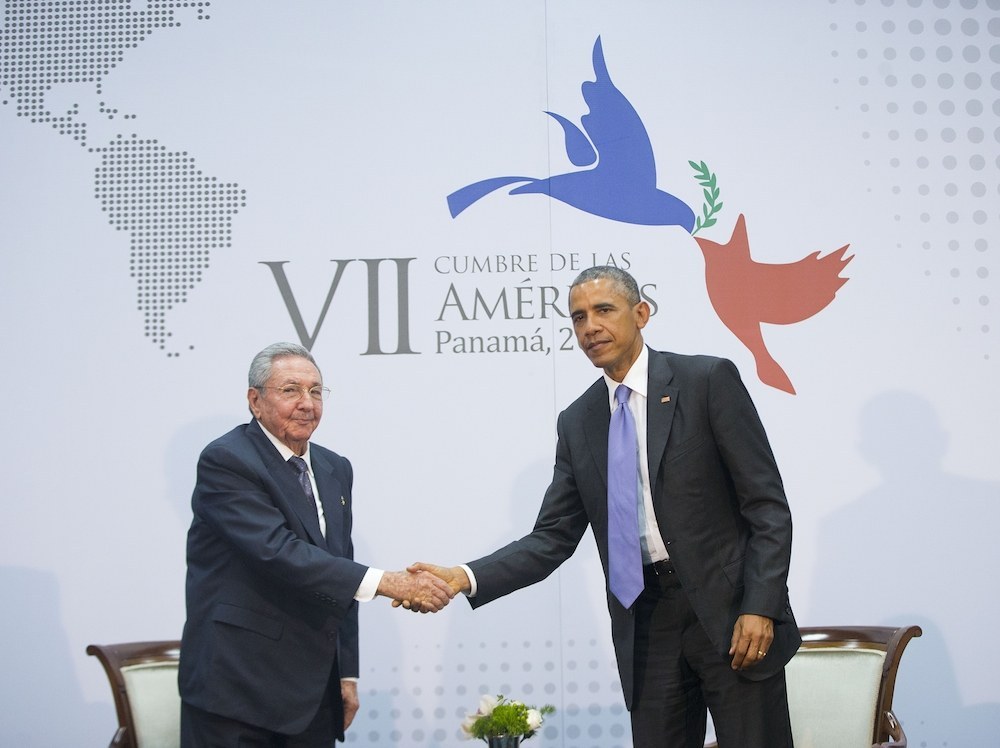 Since then, diplomats from both countries have come together for three rounds of talks; migration, human rights and reopening diplomatic outposts have been some of the issues on the agenda. In regards to the latter, the U.S. had hoped to reopen its embassy in La Havana, while Cuba had anticipated being taken off the U.S. list of states that sponsor terrorism before the Summit.
Still, the ground was set for a warm encounter. Obama and Castro broke the ice earlier this week with a phone call, the Associated Press reported. Before that, their interaction had been largely limited to a handshake and the exchange of a few words during Nelson Mandela's funeral in South Africa in 2013.
On Friday, the U.S. and Cuban foreign ministers, John Kerry and Bruno Rodríguez, respectively, met for talks in Panama in what was to date the highest level encounter for decades.
Later that day, Obama spoke about his expectations the Communist-government country during this new era. "As the United States begins a new chapter in our relationship with Cuba, we hope it will create an environment that improves the lives of the Cuban people," said Obama during the Civil Society Forum, "not because it's imposed by us, the United States, but through the talent and ingenuity and aspirations, and the conversation among Cubans from all walks."
While significant, the expected meeting between Obama and Castro is one of many steps in a long process, according to Joy Olson, executive director of the Washington Office on Latin America.
"Getting from here to a place where you really have a normal relationship with Cuba is going to take a while and it's going to take serious effort on both sides," said Olson, adding that the U.S. must still remove Cuba from its state-sponsors of terrorism list and the two have to reopen embassies, begin discussions of extraditions and reach cooperation agreements in regards to drug trafficking and the environment. Finally, the U.S. will have to give Guantanamo back.
Several scuffles between pro and anti-government groups have erupted throughout the week here, putting on display the profound divisions that plague Cuban society at home and the challenges that are likely to deepen with the warming bilateral relationship.
According to a recent poll commissioned by Univision News and The Washington Post, 53 percent of Cubans are dissatisfied with their political system. Eighty percent of those polled said they had a positive opinion of Obama while 47 percent said the same about the governing Castro.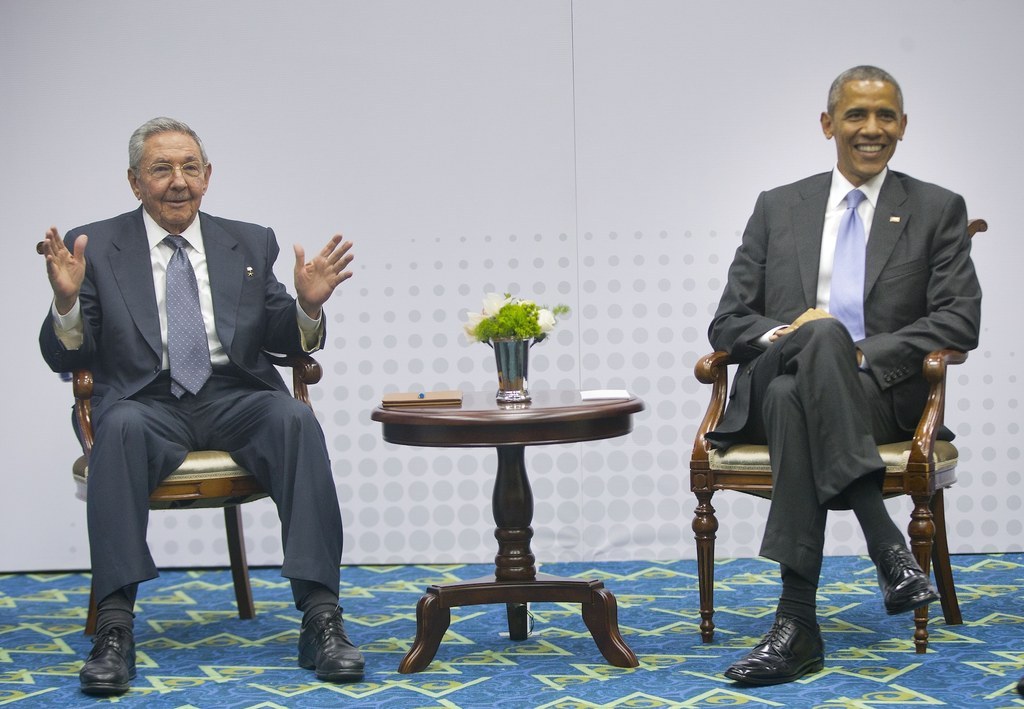 The language of this post has been amended to reflect that the meeting has now occurred.