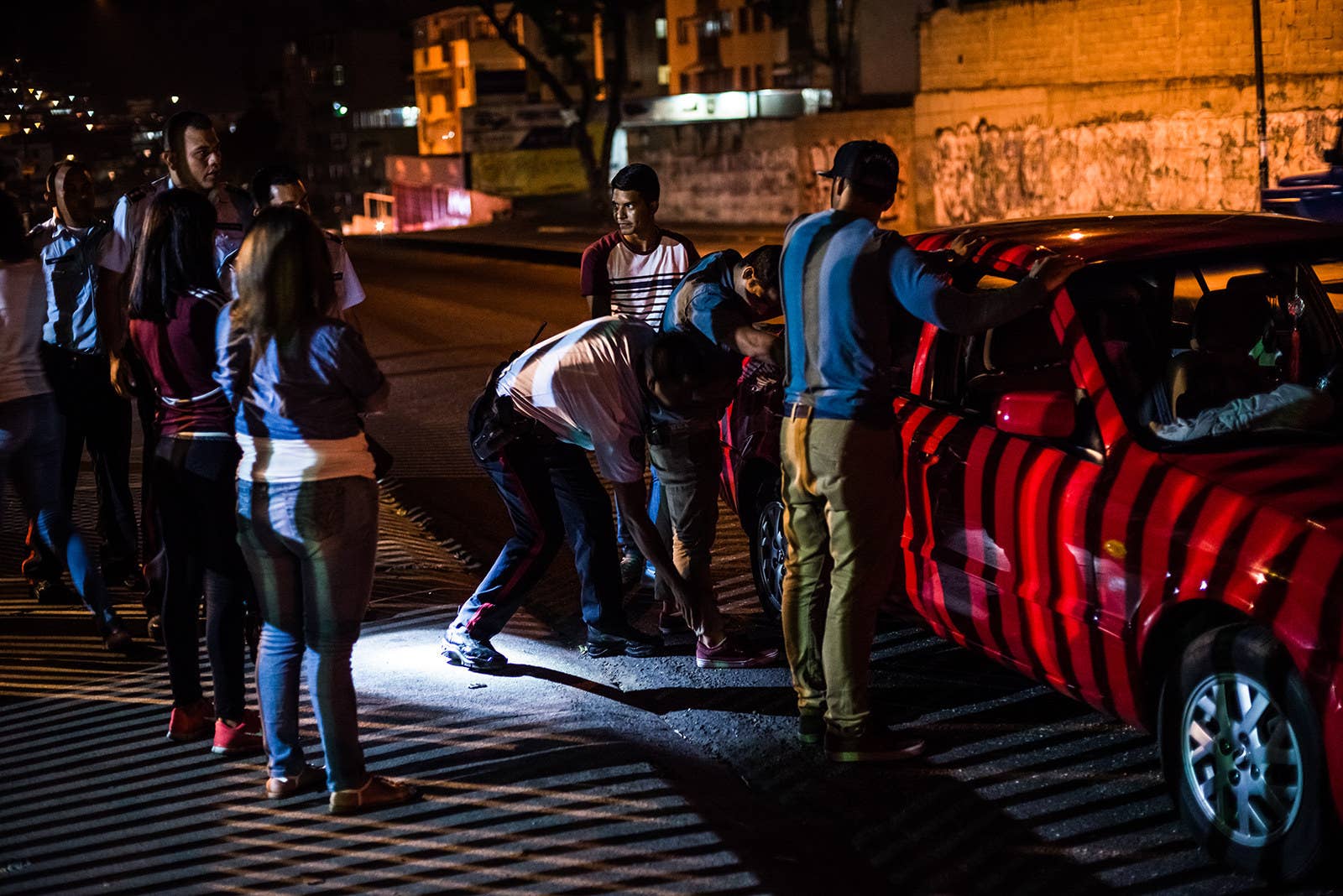 CARACAS, Venezuela — A group of young crime reporters stood in a circle outside the Bello Monte morgue, the main one in this city, as they do most days. There they wait patiently for a tip from the police so they can dash off to a crime scene, or for a victim's relative to walk up and share their story.

It is these reporters who provide the most reliable murder estimate in one of the most violent countries in the world, where NGOs accuse the government of failing to reflect reality in their official death counts. The reporters take turns standing guard in front of the morgue, counting bodies as they come in.
"The government wants to make information about crime invisible," said Javier Mayorca, a crime reporter for El Nacional newspaper. He holds regular shifts outside the morgue. "The only way we reporters have to reflect violence in Caracas and all of Venezuela is going to the morgue," he said.
It wasn't always like that. Mayorca, who has been covering crime in Venezuela for 23 years, remembers the days when reporters could browse through homicide records freely.
Then, in 2005, this access was restricted by the judicial police, shortly after former president Hugo Chávez passed the Law of Social Responsibility in Radio and Television. By 2009, reporters could no longer freely trail after cops. In recent years, police officers who share information with the press have been punished by being denied promotions and having their phones tapped, while authorities are asking victims' relatives not to talk to reporters, Mayorca said.
Mayorca says that by his count there have so far been about 16 violent deaths a day in Caracas in May alone, up from 14 a month earlier this year.
The Venezuelan Violence Observatory, a well-respected research institution, estimates that there were 82 murders for every 100,000 citizens last year — more than 13 times the global average. According to the UN, Venezuela has the second-highest homicide rate after Honduras. By contrast, the Venezuelan government said there were 39 murders per 100,000 population in 2013, according to local press reports.
Security experts say the fact that the true extent of the violence is hidden is, in part, what allows it to grow unabated. And they are seeing a new disturbing trend this year. Among those being increasingly targeted are police officers, as criminals seek more weapons and street cred.
"I don't even know if they killed him with his own gun."
Killing police officers boosts the reputation and standing of gang members, and coupled with the near-certainty that they won't be prosecuted, makes killing authorities even more tempting, said Alejandro Moreno, a priest who conducts research on violence in Caracas' poorer neighborhoods. According to him, 94% of murders never turn into a police file and only 4% end with a prison sentence.
Last year, 338 policemen were murdered in the country, up from 295 the previous year, according to the Due Process Foundation, an advocacy group in Venezuela.
At least 52 officers have been killed so far this year in Caracas alone, according to Rafael Graterol, a commissioner at the Miranda State police unit. They appear to be most at risk when they are off duty, since they generally carry their handguns but have no backup nearby.
That was the case for Junior Barrios, a police officer here who moonlit as a bodyguard for a pharmacy delivery truck. Barrios was parking his car outside his newly purchased home in 2012 when two young men ambushed him, his wife, and young daughter. The men were after the car but when they realized he was a cop, said Karem Berrios, Barrios' wife, they took his gun, shot him in the back of the head, and ran off.
"I don't even know if they killed him with his own gun," said Berrios, 32.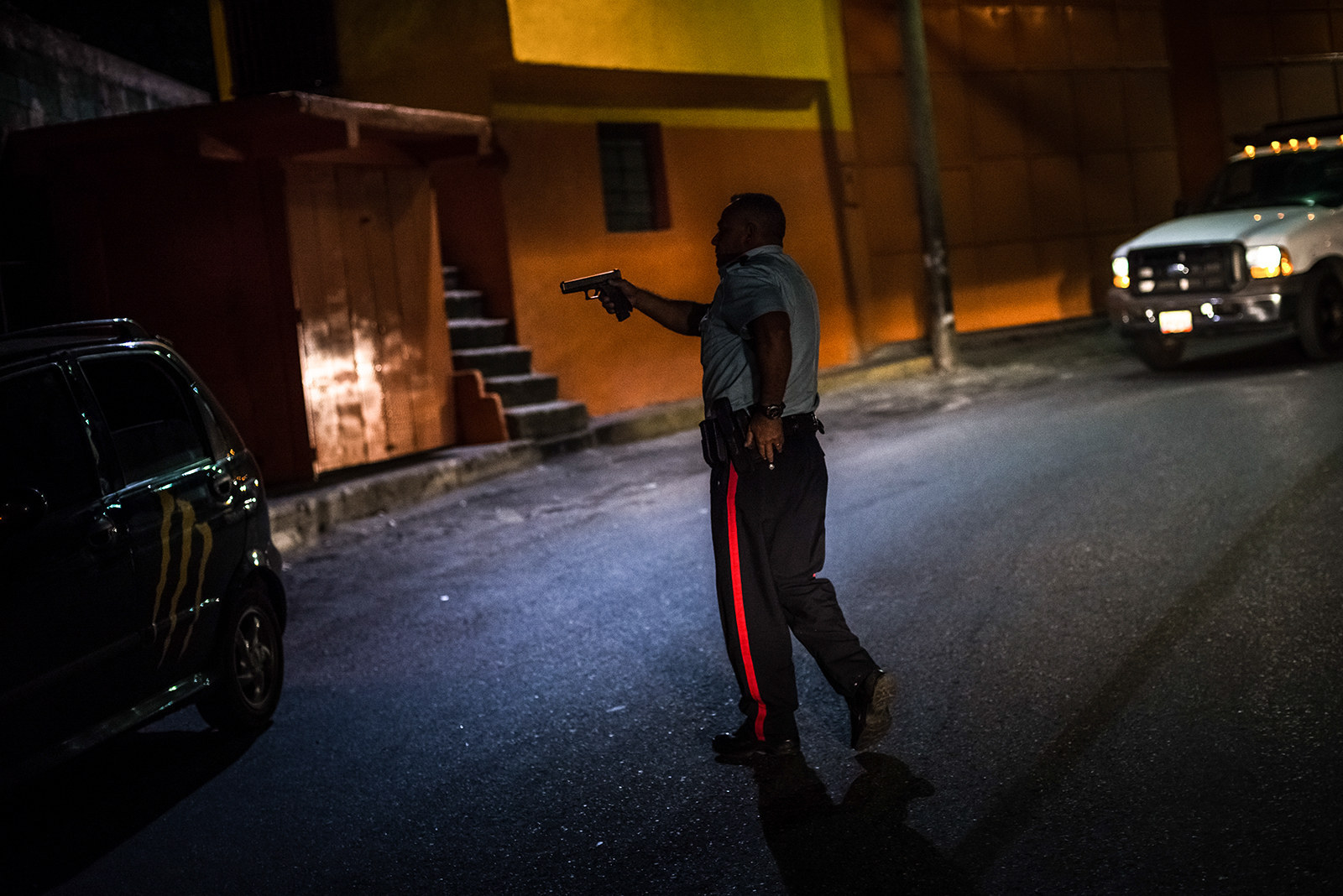 As the night progressed during a recent weekend patrol, a police unit in Petare — a crime-ridden, working-class neighborhood sprawling over several hills in Caracas — discussed the growing likelihood that they would be ambushed. Officers drove a motorcade of Kawasaki motorcycles and a couple of beaten-up vans up through winding, narrow roads, stopping to frisk young men on the main avenue in search of drugs or weapons. Still, it was a calm night and the officers seemed surprised. Officers admit that criminals are better armed than they are; earlier this month in Aragua State, two investigative police stations were attacked with grenades.

"Relax, mami, it's only a robbery," an officer told a visibly shaken woman, grinning. The woman had been walking down a busy street in Petare's commercial area when a man jammed a gun into her back and took her cell phone. In Caracas, that almost counts as petty crime.
Higher up one of the hilltops, at the Valle Alto police station, officer Jennifer Blanco, 28, stood near a corkboard that had photos of three murdered officers tacked on. Blanco said the growing risks entailed with her job make her worry about her 1-year-old daughter being left an orphan. She wishes she could find another job and hopes to go to law school someday.
The problem is not just keeping officers on the force, but convincing others to join it, said Graterol. "We are desperate for officers," said Graterol, adding that his force of nearly 2,000 police officers needs about 3,000 more.
With an average salary of about $20 a month at the black market dollar exchange rate, it's easy to see why police officers are in short supply. "The salary of a cop in Venezuela is something symbolic," Graterol said. "Police work here is something that comes from the heart."
With inflation nearing three digits, the salary barely suffices for on-the-job meals. A handful of pre-dinner Gatorades and a bag of chips cost $2.50; for one of the officers on duty that night who earns about $14 a month, the purchase represented nearly 20% of his salary.
Berrios admitted that, given their low salaries and widespread corruption, cops are easily tempted to supplement their income by engaging in other activities, some outside the law.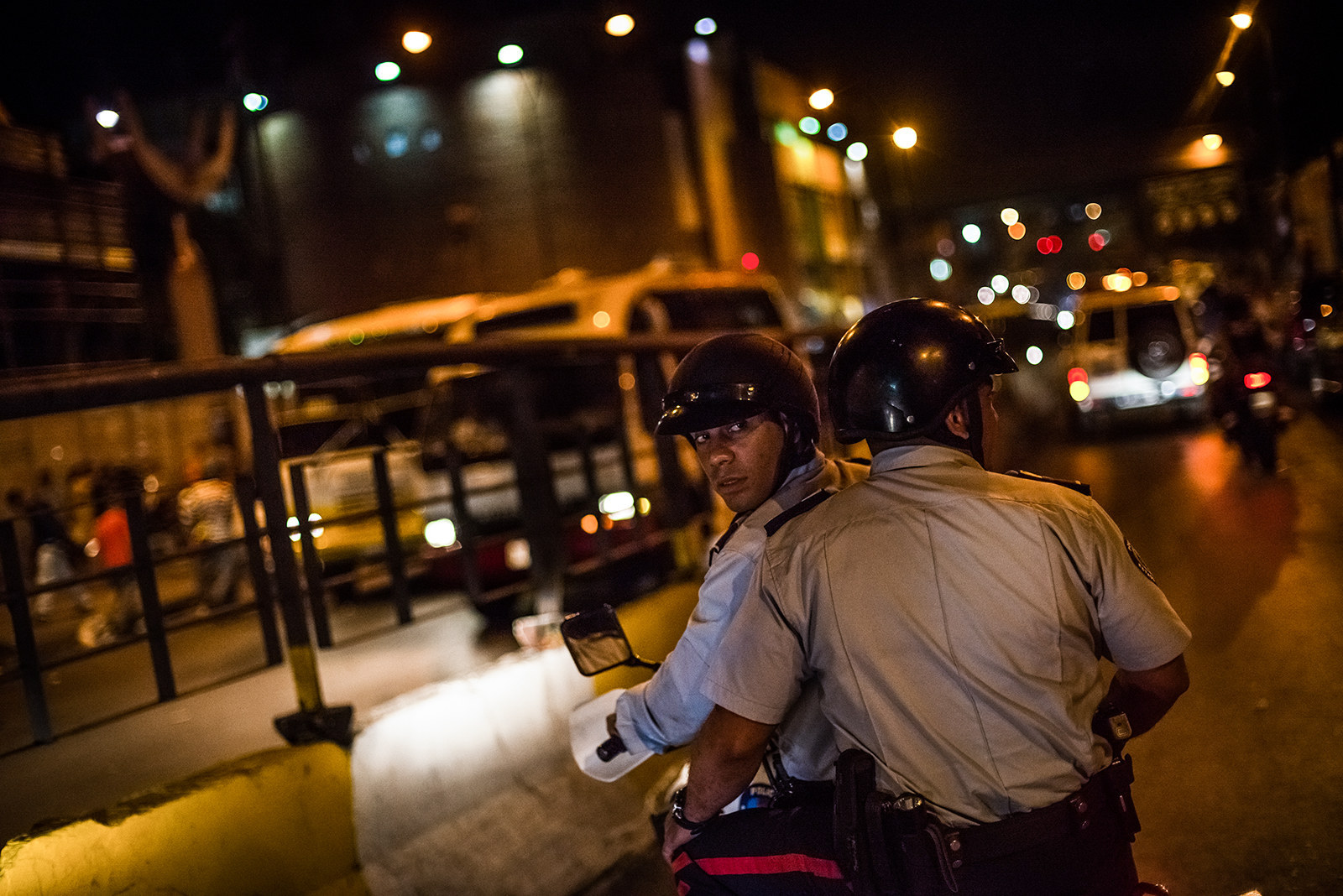 Corruption among authorities is rife. Moreno said that members of the National Guard and military steal and sell weapons on the black market. It is a virtually risk-free endeavor, especially recently. Two years ago, President Nicolás Maduro ordered Cavim, the government-owned ammunition company that supplies the military and police forces with bullets, to code the bullets, but they remain unmarked. Analysts say the military benefits from the thriving black market for arms, so its unwillingness to comply with Maduro's order and code bullets is unsurprising.
"We have reached the conclusion that those who govern us are not delinquents, but rather, the delinquents are those who govern us," Moreno said.
But police officers are only a sliver of the homicide victims that last year numbered 24,980 nationwide, according to the Violence Observatory. Violence has spilled over into places that would seem like safe havens elsewhere. At the Central University of Venezuela, for example, a man was shot to death on a recent afternoon. Local media reported that the 24-year-old's body lay sprawled in what is known as "No Man's Land," a swath of grass flanked by several different schools and visible from the library.
"We come to study filled with anxiety," said Ricardo Márquez, an international relations student protesting the murder at one of the university entrances. He said there are around 10 muggings a day on campus and that night classes are being held earlier so students do not have to walk in the dark.
According to Iván de la Vega, an expert on migration patterns in Venezuela's Simón Bolívar University, one of the main push factors for students leaving the country in historic numbers is insecurity.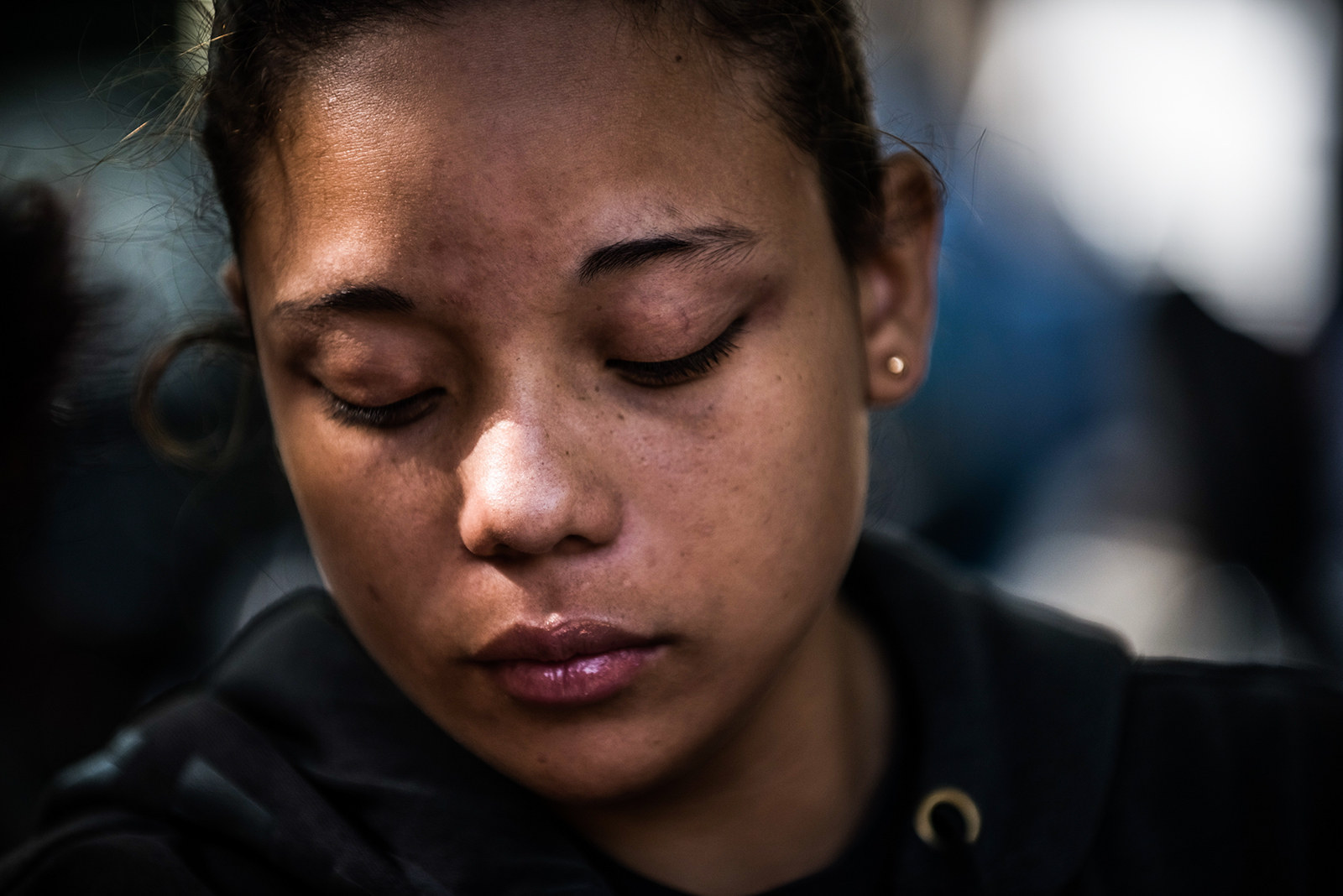 Back at the morgue's doorstep, reporters oscillated between sharing information with each other and hoarding precious scoops for their own publications. They formed a tight circle around María Rodríguez, an 18-year-old woman whose husband, Jonathan Acevedo, had been killed over the weekend. They thrust microphones and cameras in her face and prodded her about their relationship, his work, and how many bulletholes dotted his body when it came crashing down on the pavement.

Their questioning was relentless and Rodríguez was in tears, but Acevedo's death would make it into their tally.