Missing Mexican Journalist Found Dead, Mayor Under Scrutiny
Moisés Sánchez had been missing for three weeks. A former policeman confessed to the killing, which he said was ordered by the local mayor.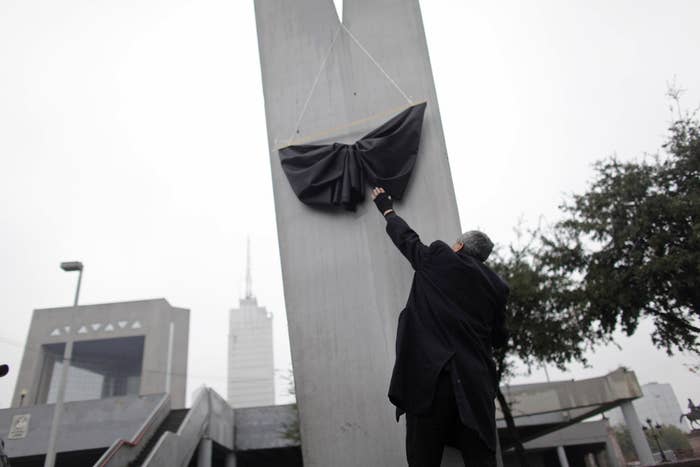 MEXICO CITY — Moisés Sánchez, a local journalist who reported on official corruption and violence, was found dead after being abducted by armed men three weeks ago, authorities said Sunday.
A former police officer confessed to the killing and said it had been ordered by the deputy director of the Medellín de Bravo Police Department, according to Veracruz state prosecutor Luis Ángel Bravo. The town mayor is now under investigation.
Veracruz, in eastern Mexico, has become one of the most dangerous states for the press in the country, with at least nine journalists killed there since 2011. Periodistas en Riesgo, a crowd-sourced map of violence committed against journalists and bloggers in Mexico, has documented at least 31 aggressions in the state during the last two years.
The modus operandi -- a local official recruiting a member of a drug gang to carry out a violent act on his behalf -- is reminiscent of the disappearance of 43 students in Guerrero State by members of a criminal organization at the instruction of the Iguala mayor, a case that sent shock waves through Mexico.
Clemente Noé Rodríguez, who belonged to a local drug gang, said he, along with five other people — one of whom is also a former police officer — took Sánchez from his home on January 2. Witnesses said that the men also took the journalists' computer, camera and cell phone.
Sánchez, who also held a job as a taxi driver to fund La Unión, a small online newspaper, ran for public office last year. During that time, he accused Mayor Omar Cruz Reyes of interfering in the election process.
Cruz Reyes' bodyguard approached the leader of a local gang and asked him for a special favor, said Rodríguez during his filmed confession. Sánchez "was getting in the way of his community and in his work as mayor," explained Rodríguez, shifting on his chair and looking off-camera, adding that "There would be support from the municipal police so that they could continue doing their job."
Veracruz Governor Javier Duarte dismissed Sánchez's journalistic work, telling local reporters earlier this month that Sánchez was a taxi driver and local activist. When pressed by reporters, Duarte said Sánchez's work appeared on Facebook. "Let's call things by their name and that is what this is" he added.
The state has been buffeted by a number of high-profile attacks on press in recent years. In 2012, a correspondent for Proceso, a national weekly investigative magazine, was killed in her home. A few days later, the dismembered bodies of three photojournalists were discovered in a canal in Boca del Rio. The body of Gregorio Jiménez, who worked for two local papers, was discovered in a clandestine grave, along with two other people, last year.
According to Article 19, an organization that defends the right to freedom of expression, four reporters have gone missing and remain unaccounted for since 2000.
Carlos Lauría, senior program director for the Americas at the New York-based Committee to Protect Journalists, told BuzzFeed News that Sánchez's murder was part of a concerning pattern in the state. "The fact that so many attacks against the press have happened here in such a short period of time, without any kind of successful prosecution, sends a very alarming signal and a chilling message for journalists that are covering the issues affecting the lives of citizens in Veracruz."