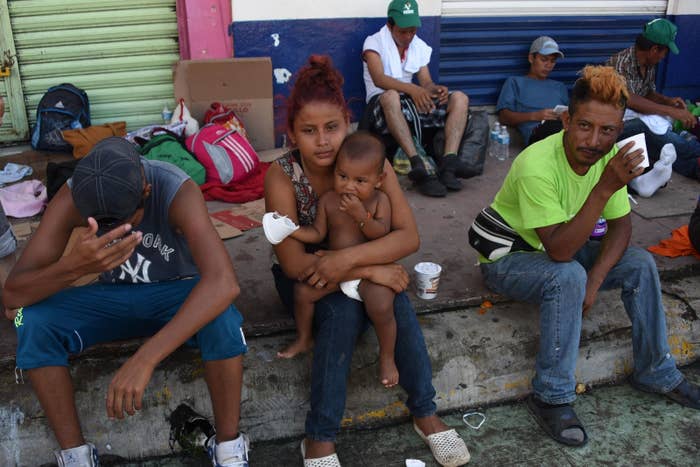 HUIXTLA, Mexico — The Mexican federal government is limiting humanitarian aid to those members of the migrant caravan who registered with them — and who are now forbidden from leaving the city of Tapachula — leaving the bulk of the caravan to fend for itself.
The lack of aid from the federal government was clear when as many as 6,000 migrants stumbled or were given rides by strangers to the center of Huixtla (population 40,000) on Monday night. More than 50 miles from the border, the population in this tiny Mexican town swelled by 15% as the group arrived.
The influx created a logistical challenge of unprecedented proportions for the local government. Immediately, the 600 municipal employees deployed themselves throughout the city, alongside local volunteers, handing out homemade rice and tamales from the backs of trucks, giving people cardboard to sleep on and providing basic medical assistance to exhausted migrants.
The Mexican government? Except for a handful of human rights observers, it was nowhere to be found.
"Humanitarian assistance has been conditioned by detention," said Brenda Ochoa, member of the Fray Matías de Cordova Human Rights Center, during a press conference in Tapachula on Monday.
Local authorities said they have not had any communication with federal officials.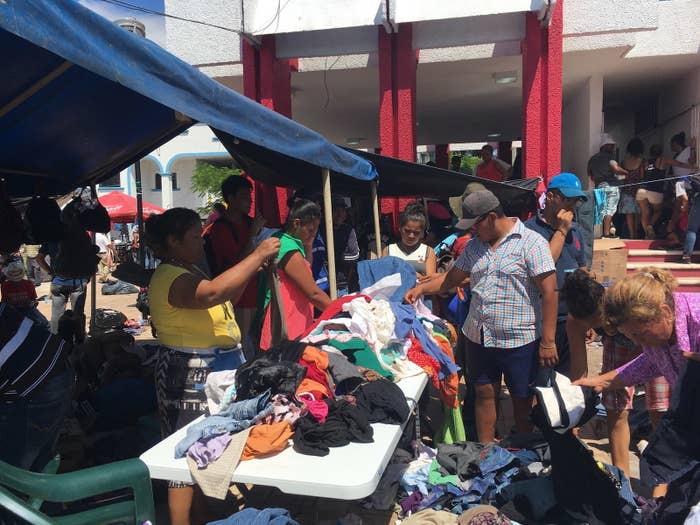 President Enrique Peña Nieto's administration on Saturday said through a press release that it had given "constant and humanitarian attention" to the migrants who the previous day had made it to the bridge connecting Mexico to Guatemala, nearly one week after departing by foot from Honduras. But it seemed to be referring only to the 1,699 who agreed to be registered with immigration authorities, taken to a government shelter, and forbidden from leaving Tapachula and continuing north until their visa was processed — a procedure that can take up to three months.
"I don't see them and I don't hear them," said Huixtla Mayor José Luis Laparra during an interview in his office, a portrait of Peña Nieto hanging on the wall behind him. "We are alone in this."
"We cannot help them because we don't know where they are," a federal immigration official who did not want to be identified by name told BuzzFeed News.
That wasn't a problem when the migrants first began to cross into Mexico. There was no shortage of riot police on the bridge and the highway as the caravan departed from Ciudad Hidalgo, the Mexican town on the banks of the Suchiate River, the natural border with Guatemala. In a show of force, hundreds of police set up checkpoints on the road, only to move them up as the migrants made their way up toward the US. Once the caravan reached Tapachula, most federal authorities vanished.
Peña Nieto, like his Honduran, Guatemalan, and Salvadoran counterparts, has been under growing pressure from President Donald Trump to stop the caravan, which has riled Republicans days before key midterm elections in the US.
Members of the caravan, the majority of which come from Honduras, are fleeing abject poverty that has left 1 in 4 children suffering from chronic malnutrition, and widespread gang violence.
Most are afraid to register with the Mexican government because they fear its a trap. Since Mexico launched its Southern Border Program in 2014, shortly after a wave of unaccompanied minors crossed into the US, more than 420,000 Central Americans have been detained and deported.
On Monday, with the caravan preparing their advance to Huixtla, Trump tweeted that he would cut off aid to the three Central American nations and announced that he had "alerted Border Patrol and Military that this is a National Emergy [sic]." He also warned that there were "unknown Middle Easterners mixed in" though migrants scoffed at that accusation.
Undeterred, they kept going. While they walked, a 32-second audio note began to circulate through WhatsApp among the residents of Huixtla, where more than 65% of the population lives in moderate to extreme poverty, asking people to take "water, diapers, milk, shoes, clothes" to the municipal palace, located in the main town square.

Once they arrived, the migrants set up camp in the main center and all along the sidewalks in the downtown area, using plastic bags to shield themselves from the rain. They tried to keep the area clean, depositing trash in neat piles that were later removed by local authorities.
Despite the support from the local population, conditions for the migrants were dire. A tent city haphazardly erected in the town center gave only limited respite from the 90-degree heat. Some fainted from the heat. People sat close together on the sidewalk, some asking for spare change. A few wrapped towels around their waists while they changed their underwear, in a failed attempt at privacy.

According to Laparra, Huixtla's mayor, local employees treated at least 315 people for foot lesions after migrants walked nearly 50 miles in two days.
Schools and businesses shuttered, both because of fears that some migrants might cause trouble and in order to join the efforts to support the newcomers. As night fell, volunteers packed the backs of pickup trucks, handing out bottles of water and cooked beans.
The population rushed to help the migrants. Porfirio Morales, a local mechanic, sat on a stool in the main square giving free foot massages that included a minty ointment. At least 15 people stood in line, their feet swollen and blistered.

"This is not for profit, for political gain or for personal convenience," said Morales. "We do it because we are humanitarian."