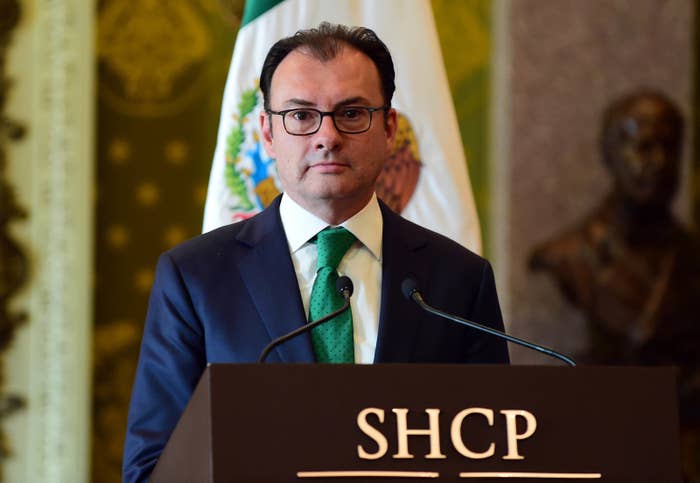 MEXCIO CITY — Luis Videgaray, who reportedly masterminded US President-elect Donald Trump's controversial visit to Mexico last year, will now head the Foreign Ministry, President Enrique Peña Nieto announced Wednesday.
The meeting between Peña Nieto and Trump ended in conflict after opposing claims about who would pay for Trump's proposed southern border wall. Videgaray, who was the finance minister at the time and Peña Nieto's closest ally, stepped down after the visit.
There was widespread disapproval following Peña Nieto's announcement Wednesday, with many here saying that his decision is based on a close personal relationship between the two men — and a pre-established relationship with some of Trump's team — rather than on Videgaray's diplomatic qualifications.

The former finance minister was highly criticized at the end of his last time in government for extending an invitation to Trump after the then-candidate called Mexicans "rapists" during his candidacy announcement, promised to build the border wall, and threatened to pull out of the North American Free Trade Agreement. Trump also said during the campaign that as US president he would deport millions of undocumented immigrants.

"It seems like dignity is not in vogue," said Raul Trejo, a sociologist at Mexico's National Autonomous University and a political commentator. "This goes against the cohesion that is sorely needed in Mexico and in its society."

Mexico and the US must build stronger bilateral ties, said Peña Nieto Wednesday. "These objectives will have to be reached at all times, promoting the interests of Mexico, without the detriment to our sovereignty and the dignity of Mexicans," he added.

Videgaray, who will take office immediately, did not speak during the announcement.
Videgaray's return to Peña Nieto's cabinet comes at a vulnerable time for Mexico's economy. The peso continues to tumble while road blocks have paralyzed parts of the country for days after a 15% price hike in gas took effect. Inflation is expected to rise in the coming months. And companies like Carrier and Ford have announced that they will keep jobs in the US rather than move them to Mexico as planned, a fact Trump has taken credit for.

The new foreign minister's ties to Trump's team, including the president-elect's influential son-in-law Jared Kushner, could make communication between the two countries smoother, experts say, but it will not be enough to bridge the growing divide.
"Really sustaining and improving US–Mexico relations has to move beyond the capitals of the two countries. It can't just be Washington and Mexico City, and that is the challenge that he will have," said Shannon K. O'Neill, a Latin America policy expert at the Council on Foreign Relations. "It's not just about being friends with the person in the White House."