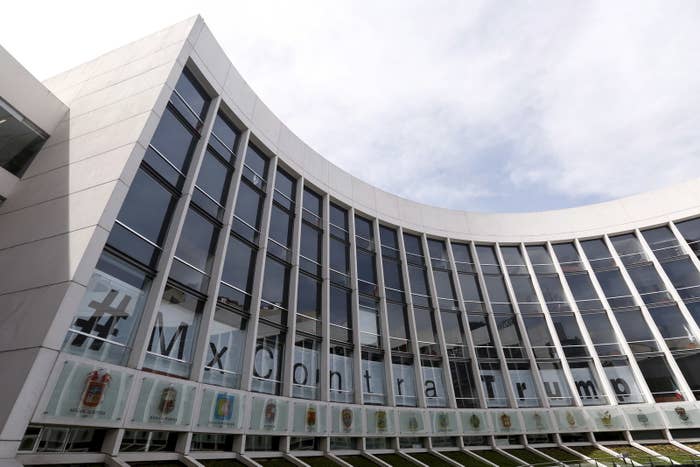 MEXICO CITY, Mexico — Stop buying corn from the US. Levy a special tax on Americans living in Mexico. Reclaim nearly 210,000 acres of land from New Mexico and Arizona.
Lawmakers from across the political spectrum in Mexico are churning out a steady stream of proposals — some mild and others bordering on the absurd — to combat US President Donald Trump's policies that directly affect Mexico's economy or its immigrants.
"There's a much more proactive dynamic [in Congress], and much less partisanship," said Senator Armando Ríos Piter of the months since Trump, who has blamed Mexico for a litany of problems in the US, was elected.
Some of the measures are outwardly retaliatory, like the one urging the Mexican Foreign Ministry to draw up a list of US cities that support mass deportations and make it public so potential tourists avoid them. Its architect, Senator Jorge Luis Preciado, was inspired by the travel warnings the US State Department regularly emits about Mexican cities it considers dangerous, which he says cost the country millions of dollars in tourism revenue every year.
"Why do they want my money when it's to travel around, but they don't want my money when it's to work?" asked Preciado rhetorically.
Preciado, who belongs to the opposition National Action Party, or PAN, is also pushing an additional tax on Mexican branches of US banks that agree to raise costs on money sent to Mexico. Trump has floated using funds from remittances to build the border wall he's ordered, which he continues to insist that Mexico will pay for despite repeated denials from the Mexican government.
Another initiative: Wean Mexico off of its corn dependence on the US over the next three years, purchasing it instead from Canada, Brazil, and Argentina, while investing in making Mexico's fertile land profitable again.
That proposal came from Ríos Piter, who is behind Operation Monarch, a program launched shortly after Trump's electoral victory. The program's goal is to deepen support for undocumented migrants in the US (by making more attorneys available at consulates, for example) and help deportees transfer the credits earned in the US to apply to their schooling in Mexico.
Ríos Piter has also suggested amending the constitution to guarantee that no public funds go toward financing the border wall Trump plans to build.
While the proliferating proposals in the Mexican Senate are a clear sign of growing concern amid legislators, most are unlikely to become law. The Senate isn't exactly a high-octane body: There are several unrelated initiatives that have been languishing in the Senate for six years and counting. Of the 1,035 initiatives presented since September 2015, only 96 have been approved.
For an initiative to become law it must generally be approved by both houses of Congress and then by the president, who has veto power. The process should take a couple of months by law but it all depends on "political will," said José Luis Camacho, a scholar on the Mexican Congress.
Still, autographing Trump-related proposals is in vogue at the airy Mexican Senate building, where whispers about how these are a way to get political clout and airtime abound.
Meanwhile, the relationship between the US and Mexico remains on a tightrope. Trump's border wall, along with his campaign promises to deport millions of undocumented immigrants and pull out of the North American Free Trade Agreement, has undone decades of efforts to deepen goodwill and cooperation between the two neighbors.
That tension reached a peak shortly after Trump took office. Peña Nieto was cornered into canceling an official visit following an argument over Twitter about whether Mexico would pay for the wall, a move that was widely lauded.
It was a short-lived victory for the Mexican leader, who has been accused by many people here, including legislators, for being too soft on Trump. His approval rating, already hurting from years of corruption scandals, soaring crime rates, and a flagging economy, tumbled to near single-digits at the end of last year.
Now senators are trying to distance themselves politically from Peña Nieto's lukewarm response to Trump, pushing out proposal after proposal to highlight their differences.
"Peña is not Mexico, and Mexico is not Peña," said Preciado, adding that the US Congress needs to know that there are sectors of the Mexican government that will stand up to Trump's bullying.
One of those is Patricio Martínez, a senator from the ruling party. Martínez recently ordered a topographic study of the border, cross-referencing it with a series of binational treaties that determined where Mexico ends and the US begins. More than 268 miles of the border are placed further south than they should be, the study Martínez commissioned revealed.
"We must proceed to demand that the border is put in its rightful place and that that territory is returned to us," Martínez said.