MEXICO CITY — The Mexican government declared North Korea's ambassador persona non grata on Thursday and gave him 72 hours to leave the country.
Mexico "absolutely rejects [North Korea's] recent nuclear activity, which signifies a real and growing violation of international law and represents a grave threat to Asia and the world," the Foreign Ministry said in a press release announcing that it was expelling Ambassador Kim Hyong Gil. It also reiterated its support for the UN Security Council's resolutions regarding North Korea.
Last week, North Korea announced that it had tested a hydrogen bomb, only days after firing a missile over Japan. At a UN Security Council emergency meeting on Tuesday, US Ambassador Nikki Haley said North Korea was "begging for war."
Mexico's move comes as Donald Trump's US administration works to convince countries from Southeast Asia to the Middle East to Latin America to cut diplomatic and trade ties with North Korea in hopes of further isolating the country in response to its nuclear ambitions. Though more than 90% of North Korea's trade is with its most important diplomatic ally, China, many other countries buy everything from seafood to small arms from Pyongyang, which depends on both legal and illicit commerce to finance its weapons programs.
In August, US Vice President Mike Pence urged Mexico, Brazil, Peru, and Chile to break off their relationships with Pyongyang. Mexico engages in trade with North Korea, but the amount is very small.
"Secretary Tillerson has made North Korea a priority and directed that to be so for chiefs of mission around the world," said David Maxwell, associate director for the Center for Security Studies at Georgetown University and a US army veteran who has served several tours in South Korea and Japan.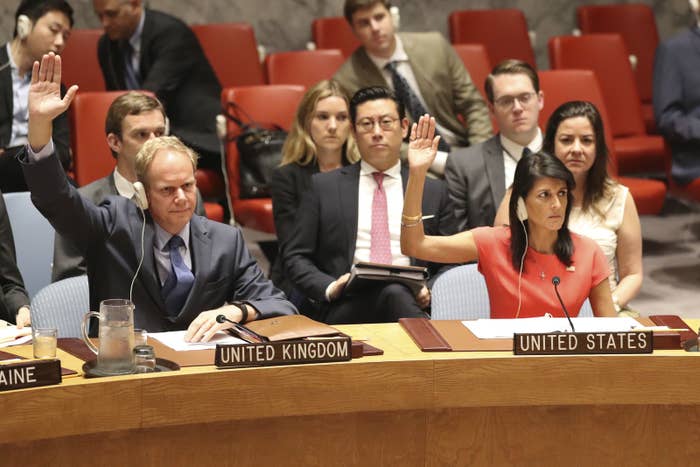 The US has put diplomatic pressure on other countries over their ties to Pyongyang in the past, but the Trump administration has made it explicit it's a high priority.

Mexico's announcement comes at a sensitive time in its own relationship with the US. Trump's frequent assertions that Mexico will pay for a border wall and his aggressive immigration policy have forced President Enrique Peña Nieto to take a harder line with the US.
The two countries are currently renegotiating the 23-year-old North American Free Trade Agreement, a pact that eliminated most tariffs between the US, Mexico, and Canada. Representatives from the three countries who have met for two rounds of talks say they have made progress, but the thorniest points, such as whether salaries for Mexican workers should be raised, have not been discussed.
"In the grand scheme of things this helps bilateral relations but does not affect the nitty-gritty of the negotiations," said Duncan Wood, director of the Wilson Center's Mexico Institute, adding that the missile North Korea fired over Japan likely pushed Mexico to act.
"Of course, it is strange that Mexico has a North Korean Embassy at all!" he added.