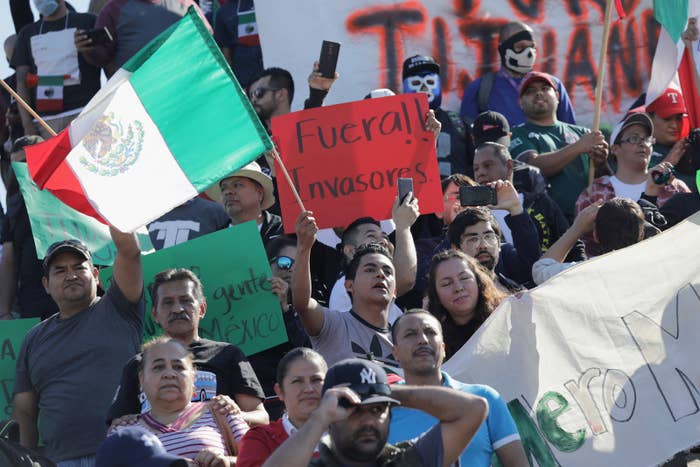 TIJUANA, Mexico — The sun beat down on Rebeca Escala's hands as she gripped a sign at a roundabout in this border city: "Tijuana, home of immigrants." Around her, about a dozen people waved multicolor flags and handwritten placards denouncing xenophobia.
Suddenly, the small group dispersed. About 100 anti-immigrant protesters who had gathered at another traffic circle down the block, many of them wearing black, were making their way toward them, yelling, "Out, Hondurans! We don't want you here!" At times sprinting and eventually growing to nearly 300 total, the self-described nationalist demonstrators reached the perimeter of the shelter, where 2,526 recently arrived migrants are being housed. A line of riot police stood between the crowd and the families inside.
"It's barbaric. They are influenced by Trump's speech," said Escala, 28.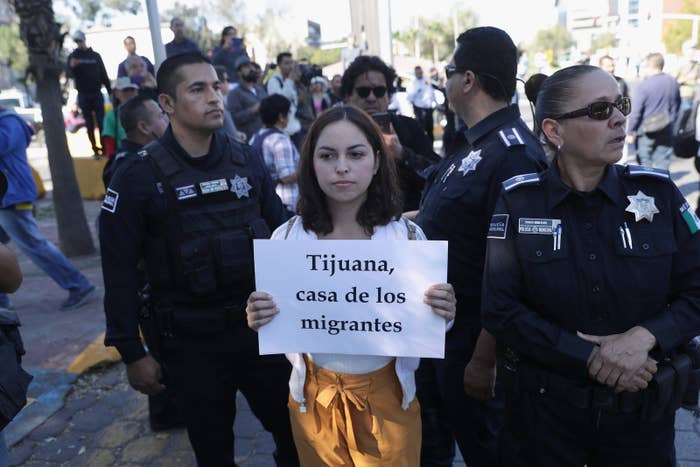 The two dueling marches — one in support of and one against the migrant caravan — are a window into the burgeoning, and at times vitriolic, debate over immigration in Mexico. In recent months, it has awoken nationalistic and xenophobic rhetoric rarely heard here but increasingly normalized north of the border with the political rise of President Donald Trump.
Like Trump and many of his supporters, residents of northern Mexico have compared migrants of the Central American caravan that entered the country last month to animals, accused them of posing a risk to women, and claimed that they are bringing filth and disease with them. On Wednesday, several anti-immigrant protesters tried to run off a group of migrants who had recently sought shelter in Playas, a borough of the city.
The arrival of the caravan has frayed nerves in this border city, the last stop in a five-week-long journey for Central Americans intent on seeking asylum in the US. In southern Mexico, the migrants were showered with donated clothes from strangers, hot meals from volunteers and entertainment from mariachis and clowns, but the goodwill began to peter out as they made their way north from Mexico City.
A city of immigrants and deportees, Tijuana has generally been welcoming to newcomers, but the influx of the caravan — authorities here expect nearly 10,000 people — has opened a passionate dispute about whether the city is prepared to handle this group and if stretched resources should be funneled to them or directed at local residents.
Most members of the caravan, which includes families and children from Honduras, Guatemala, and El Salvador, are fleeing gang violence and prolonged unemployment. They are traveling in a large group to avoid high smuggler fees and get some immunity from criminals and corrupt Mexican officials.
After the arrival of the caravan in Mexico City, social media was flooded with complaints about how the government's response to the victims of Hurricane Willa, which wreaked havoc on Nayarit State, was tepid compared to resources granted to migrants — like the massive tents that were set up in a sports complex in the middle of the city.
In Tijuana, anti-immigrant groups coalescing through Facebook and WhatsApp groups have threatened to block highways into the city while the mayor has been seen wearing a red "Make Tijuana Great Again" hat.
On Friday, a small group of people set up about 50 individual tents in a city park near the border wall — open only to homeless Mexicans. The leader of the group, Sergio Tamai, said Mexicans were being displaced by the recently arrived migrants at local shelters and would have to move there.
"Why are they going to come and make a mess in Tijuana?" Tamai yelled into a megaphone, referring to the caravan migrants. Tamai heads the group Angeles Sin Fronteras, which advocates for deportees and homeless people in the city. "They should all be detained and deported immediately and not be provoking confrontations between Tijuana residents."
Unlike the southern states in Mexico that welcomed the passing caravan for a day or two last month, Tijuana is bracing for a prolonged stay for many in the group — as long as six months, Mayor Juan Manuel Gastélum said during a press conference on Friday.
Members of the caravan left Central America had hoped to reach the US, but Trump has made it increasingly difficult for them to enter, legally and illegally. His administration announced this month that migrants who cross between official ports of entry will be barred from seeking asylum. Those who do enter at official border crossings will be forced to wait more than a month to get their turn, the result of a growing backlog of cases.
Trump, who had gone quiet on the caravan after turning it into a major issue before the midterm elections, rekindled his base over the weekend.
Further complicating the matter for Tijuana is the looming change of government: The current president's term ends in less than two weeks and he has largely washed his hands of the crisis. Javier López Casarin, who will work for the incoming administration, toured the Tijuana shelter where most migrants were staying Saturday and said that for now, the new government was just observing and would reveal contingency plans after taking office Dec. 1.

Immigration is likely to present one of the biggest challenges for President-elect Andrés Manuel López Obrador, who said last month that he would offer work visas and jobs to the recent influx of migrants. His proposed interior minister, Olga Sánchez Cordero, told newspaper La Jornada that caravans were a grave problem and that they "could deteriorate the relationship between Mexico and the United States."
Mayor Gastélum said that his staffers were planning a citizen poll on how to respond to the migrants' arrival. He did not provide details about what questions the poll would ask.
Outside Tijuana's Benito Juárez Sports Complex, where a makeshift camp for the migrants has been erected, the anti-immigrant demonstrators pushed up against the line of riot police. They sang the Mexican national anthem and yelled, "Bring them out!"
Orlando Aguayo, who had joined the small pro-migrant march at the beginning of the day, said he was heartbroken to see Tijuana, a "noble" city, reject newcomers.
"The intolerance we are seeing in the US has become viral," he said.