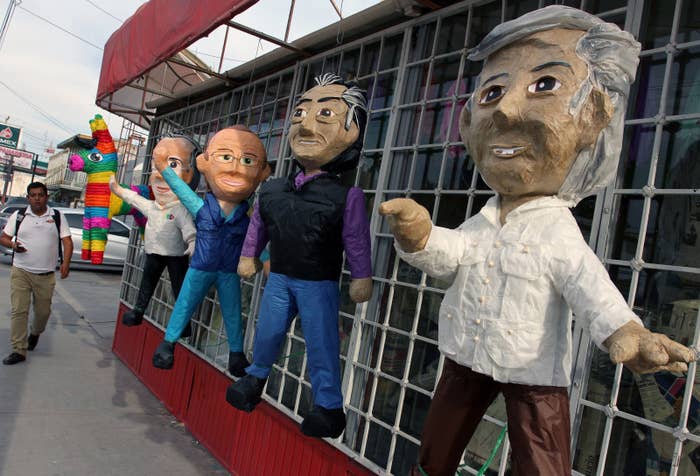 MEXICO CITY — Jaime Rodríguez Calderón has no chance of winning in Mexico's election on Sunday. An independent candidate with no party to back him, he has about 3% support in the polls. But he's offered a remarkable proposal to end crime and corruption in Mexico once and for all.
"We have to chop off the hand of whoever steals," he said during the first presidential debate, to the bewilderment of the moderator, who repeatedly asked him if he was serious. Rodríguez Calderón, known as "El Bronco," insisted that he was.
The odds that Mexico would take up such draconian measures to curb corruption are laughable. But it's still among the most concrete proposals that the candidates are offering ahead of the country's historic election.
It's a seemingly baffling turn of events. Corruption is a massive drain on Mexico, both in terms of its economy — costing the country anywhere between 5 and 9% of its GDP each year — and its psyche. Thirty-five percent of voters have said corruption is the most important factor behind their electoral choice; the same percentage of voters said the economy was at the top of their list, and 24% put security first, according to one poll.
But the man every poll has named as the likely winner of the presidency has offered an unusually simple scheme: If the president is truthful, everyone else will follow suit.
"We are going to summon all Mexicans to a pact of honesty," presidential candidate Andrés Manuel López Obrador said during an interview last year.
López Obrador, who more often goes by the initials AMLO, has said repeatedly that he will not prosecute President Enrique Peña Nieto, whose administration has been defined by its egregious graft scandals, and even floated the idea of awarding amnesty to criminals.
Yet, frustration with corruption is exactly what has made this outsider, whose political party is only 4 years old and who's has two unsuccessful presidential runs, more appealing than his main rivals, who come from long-standing parties. López Obrador's battle cry has been the end of the "mafia of power," the term he uses to refer to the country's corrupt elite.
At least a dozen current and former governors are behind bars, under investigation, or on the lam for graft; some $429 million was transferred from 11 government offices to eight public universities and then to hundreds of phantom companies through illegal contracts between 2013 and 2014 as part of one of the most elaborate corruption schemes revealed by Mexican media; and then there is the first lady's controversial purchase of a multimillion-dollar mansion — from a favored government contractor.
Mexico is historically corrupt; a popular saying here goes "Whoever doesn't cheat doesn't get ahead." The country has become even more corrupt in recent years: it fell from No. 105 in Transparency International's Corruption Perceptions Index in 2012, when Peña Nieto assumed office, to No. 135 last year.
And yet, neither López Obrador nor his closest rival, Ricardo Anaya, have articulated a "clear anti-corruption policy with a comprehensive framework," said Eduardo Bohórquez, executive director of Transparencia Mexicana, a watchdog group.
Anaya, who is languishing behind the charismatic López Obrador by around 25 points according to a poll by newspaper Reforma, has offered at least a few more details about his anti-corruption agenda.
If he were to win, Anaya has said, blockchain technology will track the flow of money within government, eliminating the need for cash — which has been hard to trace during the current administration. He has also insisted on an independent prosecutor's office to investigate corruption, for the first time removing the president's ability to influence the outcome of some of the most high-profile criminal cases.
Anaya has also promised to create a special prosecutor's office to investigate Peña Nieto, warning that if he is found guilty, he will serve jail time. It's a welcome proposal: 78% of people are in favor of Peña Nieto being investigated for corruption, according to a poll by Gea-Isa.
Both candidates have said they would amend the article of Mexico's constitution that grants sitting presidents immunity from prosecution for corruption. But Anaya's insistence on putting Peña Nieto behind bars has placed him at odds with López Obrador, who has admitted that he would not open any new cases against Peña Nieto or jail him.
This could have significant repercussions. "The failure to properly investigate, prosecute, and punish the most responsible parties simply fuels more violence," James A. Goldston, executive director of the Open Society Justice Initiative, told BuzzFeed News. The Justice Initiative recently published a report arguing that Mexico needs an international mechanism to combat impunity.
The ruling party's candidate, José Antonio Meade, has meanwhile proposed confiscating stolen goods from guilty officials. (He has been averse to discussing recent corruption scandals and is trailing in third place.)
The few proposals that the candidates have floated have overestimated the effect they can have, said Bohórquez, who added that they're "turning means into ends."
Bohórquez used the example of López Obrador's idea to make it obligatory for all bids for government contracts to be made public on a digital database. "There's no guarantee that the information will be used for something," he said, adding that a database like the one he's proposing has existed since 1995.
Even if the information is analyzed and some form of action is taken, there's no way to tell if corruption is decreasing as a result. "How are we going to measure results? How will we know if we're making headway?" asked Bohórquez, pointing out that none of the candidates have answered those questions.
For López Obrador, who has proposed strengthening conflict of interest laws, the answer lies within the "moral constitution" he has promised to draw up. Philosophers, psychologists, the elderly, poets, and indigenous communities, among others, will get together to draft the document, meant to fight corruption and serve as a road map to "reach true happiness," López Obrador has said.
The concept stands at odds with his choice to bring several reviled characters into his circle, such as Napoleón Gómez Urrutia, a former mining union boss accused of stealing $55 million from workers.
López Obrador has waved off criticism, saying that Gómez Urrutia has been "stigmatized" by those in power. During an interview last month, he said it is time to move forward and avoid "political prosecutions."
"I don't care much for" whatever has come before Sunday, he said.