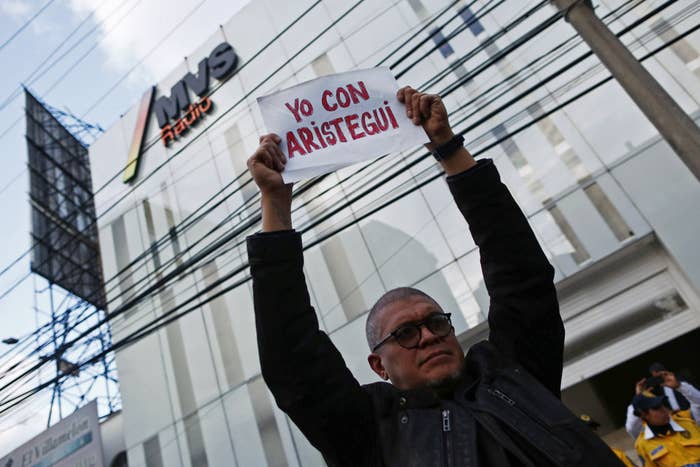 MEXICO CITY — Carmen Aristegui, a widely respected Mexican journalist who has investigated the president's hidden properties, has come under attack by her employer, MVS Radio, for forging an alliance with the recently launched whistleblower site Mexicoleaks without the media company's authorization. Two members of her reporting team have been fired.
"The use of our brand, without express authorization from its owners, constitutes not only a grievance and an offense, but also a deception to society, as it involves an unfortunate abuse of trust," said a release from MVS Radio, where Aristegui has been hosting Primera Emisión, a morning show, since 2009.
Aristegui, in turn, said she was surprised by the public manner in which MVS Radio, which is owned by Mexican businessman Joaquín Vargas, criticized her actions. "We will see what it is about, where it comes from, and get to the bottom of a message with these characteristics," said Aristegui during her morning show on Thursday, adding that an independent platform like Mexicoleaks provides journalists with an essential tool to fight corruption.
In a country where the dominating media company, Televisa, is perceived by many to regularly censor information that is uncomfortable to ruling government interests, Aristegui is warmly regarded as an invaluable source of nonpartisan news.
Social media users, including leading members of the press corps, galvanized behind Aristegui. "Whoever minimizes persecution and censorship of #reporterteam MVS ignores legal principles of #FreedomOfExpression #EndefensadeAristegui," tweeted leading feminist journalist Lydia Cacho. The last hashtag Cacho tweeted out translates to "In defense of Aristegui."
"If Vargas/MVS do not reach an agreement with Carmen Aristegui and she withdraws from radio, they will have contributed to the unfortunate Putinization of Mexico," tweeted Denise Dresser, a political scientist and author of the book One's Country: Reflexions on How to Understand and Change Mexico.
A Change.org petition to protect Aristegui's position at MVS had garnered 75,000 signatures by Friday morning.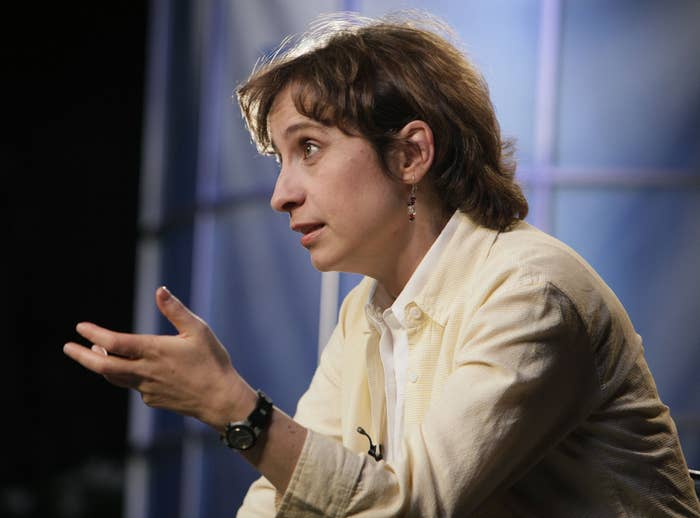 Aristegui, who also hosts a nightly evening show on CNN en Español, has uncovered numerous cases of official corruption. Her team reported on a prostitution network inside the ruling party's operations in Mexico City and on President Enrique Peña Nieto's wife's $7 million mansion which was built and owned by the same company that won a bid to built a $3.7 billion high-speed rail.
On Thursday, Daniel Lizárraga and Irving Huerta, members of Aristegui's team who worked on the "White House" investigation, as the story on the first lady's house was referred to, were fired. The decision was "part of the measures the company is taking to avoid improper use of our human, technological and material resources," said a release from MVS Radio.
"The request is to return Daniel and Irving to this working team. The request is to revert a decision that was made in a disturbing context," Aristegui responded during her early morning show on Friday. "There is, in fact, a mechanism in our contractual relationship which we can turn to to resolve this circumstance or litigate this situation."
Mexicoleaks is a platform for citizens to securely and anonymously send information and complaints to eight different media and civil organizations, including Aristegui's team at MVS Radio.
No stranger to clashes with MVS, Aristegui was temporarily fired in 2011, when she reported on then-President Felipe Calderón's rumored drinking habits.