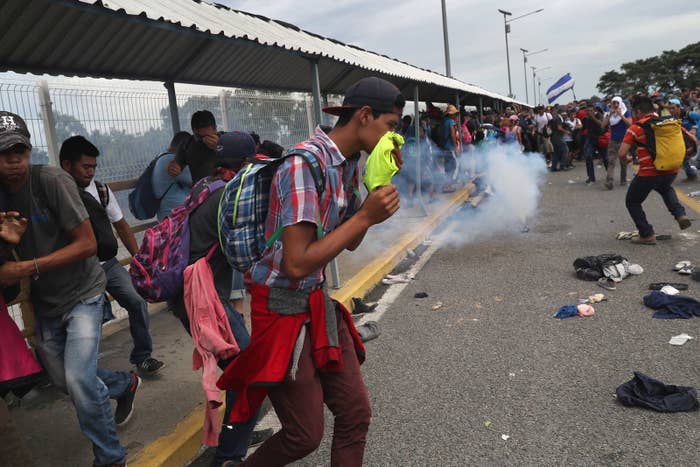 DOCTOR RODOLFO ROBLES INTERNATIONAL BRIDGE, Mexico — After days of growing pressure from President Donald Trump to stop a caravan of migrants heading for the United States, Mexican authorities met the group of Hondurans with tear gas when the crowd of thousands breached the gate at one of the official but porous crossings with neighboring Guatemala.
It was one of the most aggressive actions ever taken by Mexico on its southern border.
Firing rounds of tear gas, authorities clashed with several members of the caravan, sending people on the bridge into a panicked retreat. In the mayhem, children were separated from their mothers and many fainted from heat and exhaustion. Some people jumped into the river while women and children — who had been instructed to stand at the front of the line — began trudging back the way they'd came.
At least 20 people were treated for injuries after clashes with authorities, including a Mexican reporter, according to the Guatemalan Red Cross.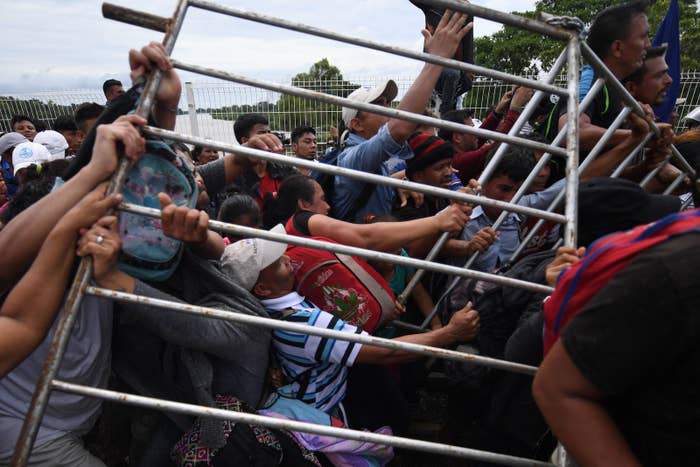 The caravan, made up largely of migrants from Honduras seeking refugee status, has become a central rallying point for Trump, whose administration is mired in a number of controversies, three weeks before midterm elections. The US president threatened to stop sending aid to Guatemala, Honduras, and El Salvador if their governments do not turn the caravan around. And he warned that if Mexico did not stop the group, he would dispatch the military to shut down the southern US border.
The situation is fraught enough that Secretary of State Mike Pompeo, who's juggling several crises himself, flew to Mexico City to meet with his counterpart on Friday. "We are quickly reaching a point which appears to be a moment of crisis" in Mexico-US relationships over migration, Pompeo said in a joint press conference with Foreign Secretary Luis Videgaray.
Videgaray responded that Mexico's laws will be applied in "a humanitarian manner."
These kinds of caravans, which provide safety in numbers on a journey fraught with danger and serve as a political statement, have made their way through Central America and across Mexico annually for the past decade. Since Mexico launched the Southern Border Program in 2016 — a result of pressure from the US after a wave of unaccompanied minors crossed the border — more than 420,000 Central Americans have been detained and deported.
This recent caravan is unprecedented in size. As many as 4,000 people have joined the group since it formed last Saturday, traveling almost entirely by foot. They are fleeing widespread gang violence and an economy in shambles. Even the Honduran government admits that many children have two alternatives: join the army or become a gang member.
People say they learned about the caravan through word of mouth and television reports.
"All Hondurans knew about it," said Amada Romero, sitting under a tree with her family in Tecun Uman, a small town on the Guatemalan side of the Rio Suchiate, ahead of the attempt to cross the bridge into Mexico.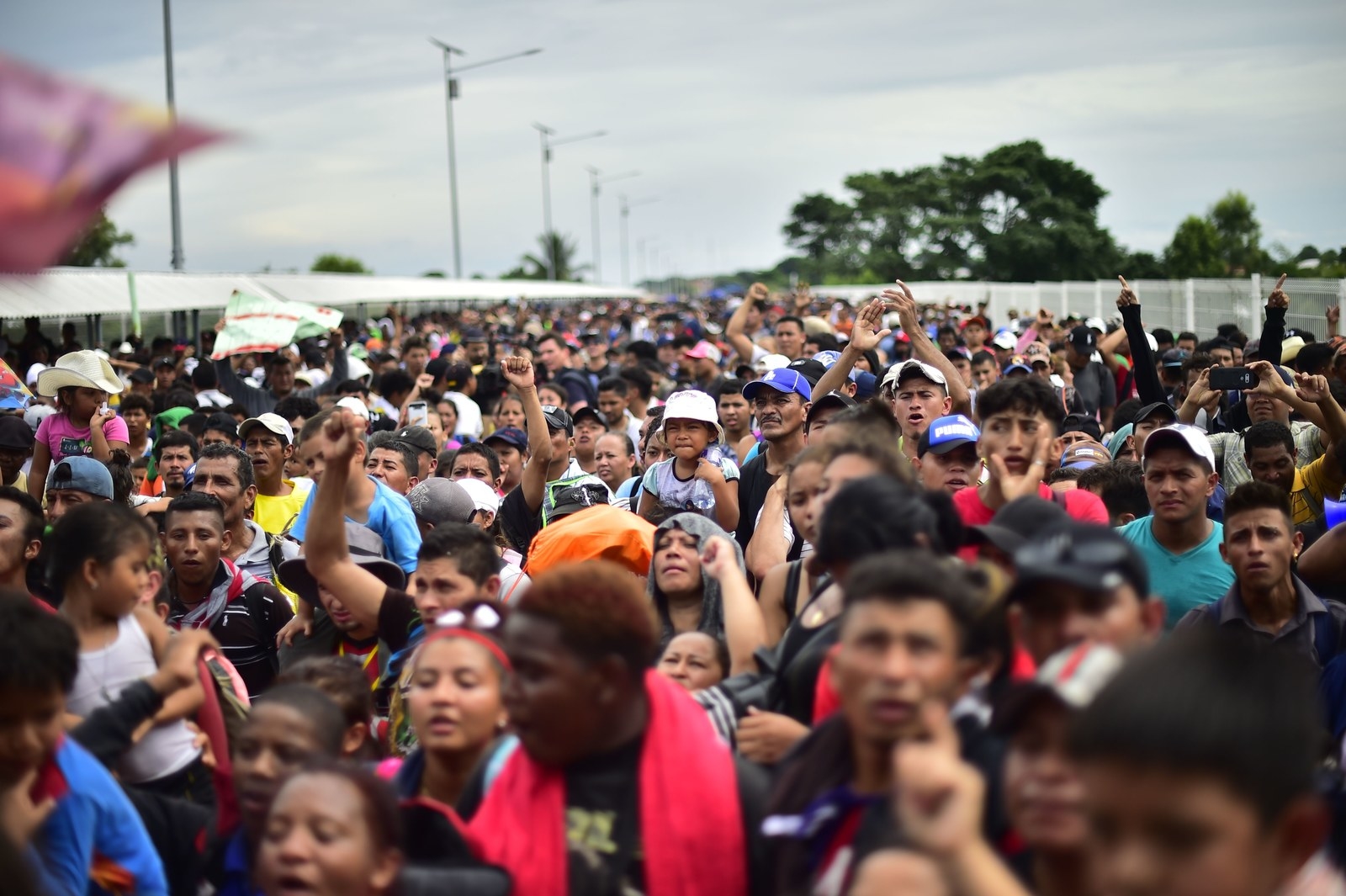 Hundreds of Hondurans had spent the night sleeping on the ground in the main square. Many of them had been walking for six days carrying little more than their children and small backpacks with a day's worth of clothing.
"We are running away from hunger," said Karen Amado, a 40-year-old. Amado was traveling with a group of friends, including Verónica del Carmen Vázquez.
Vázquez, 25, was feeding a small spoonful of ice cream to her 1-year-old, who had recently been hospitalized for malnutrition. She said they had received food and water from charitable Guatemalans during their days-long journey.
As the group prepared to walk from the square to the bridge, Amado said she was anxious about how the Mexican government would greet them but held on to one glimmer of hope.
"Jesus Christ will open their hearts," she said. "He is the only advocate we have."
When the group arrived at the gate on the Guatemalan side of the bridge, it appeared at first that Amado might be right. The crowd began to organize after getting word that Mexico would open its door for them: women and children would enter the country first.
But after Mexican authorities pushed them back, clusters of defeated families sat on the bridge, trying to figure out what to do next.