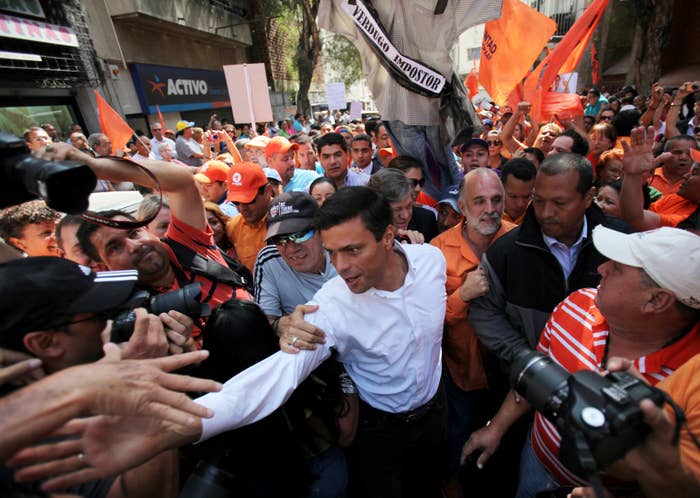 MEXICO CITY — After more than three years in jail, Venezuela's most prominent jailed opposition leader was granted house arrest on Saturday in the midst of intensifying political violence in the country.
The Supreme Court cited health concerns and administrative irregularities in its decision to allow Leopoldo López to serve out the rest of his sentence of 13 years and nine months from home, which it called a "humanitarian measure."
"To give Leopoldo López house arrest indicates how desperate and divided they are, a show of weakness from a cornered regime," wrote Javier Cremades, López' lawyer, on Twitter.
Venezuela's protracted political crisis, pitting the embattled socialist government against an increasingly unified opposition bloc, has deepened in recent months, during which nearly 100 people have been killed at the site of regular protests. This week, pro-government demonstrators stormed the opposition-controlled Congress, injuring five lawmakers and several reporters.
The oil-rich country is on edge as a vote to determine the members of a citizens assembly to rewrite the constitution is expected on July 30. The opposition, which says President Nicolás Maduro's initiative is rigged in favor of the state, is planning to hold a referendum against it on July 16.
"What we cannot do with votes we would have to do with weapons," Maduro warned during a televised appea rance last month.
Fractures within the government have been growing in recent months. Attorney General Luisa Ortega has urged Venezuelans to reject the rewrite; according to Reuters, at least 123 soldiers have been detained since April on charges of treason and rebellion, among others.
Shortages of medicines and basic food staples, triple-digit-inflation, and a homicide crisis have battered the South American nation. Countries around the region have put in a concerted effort to pressure Venezuela's government to restore democracy.
López has become a rallying crying for the opposition, which has demanded the release of all political prisoners. The photogenic 46-year-old is convicted of inciting violence during the 2014 street protests in Venezuela, in which 43 people were killed.
Maduro frequently refers to López as the "Monster of Ramo Verde," using the name of the military jail where he was held.
Lilian Tintori, López's wife, has met with leaders around the world, asking them for to support his release. In February, she met with US President Donald Trump and Senator Marco Rubio at the White House.
In June, Tintori said López would not accept serving out his sentence at home until the last of the political prisoners were released from jail.
There are 433 political prisoners in the country, according to Foro Penal Venezolano, a human rights group.