MEXICO CITY — Latin America suffered more than any other region during the deadliest year for land and environmental defenders ever recorded, according to a new report by Global Witness.
Brazil, Colombia, Peru, and Nicaragua accounted for 100 of the 185 recorded murders of people protecting their land from governments, companies, and criminals seeking natural resources in 2015. The number, which marks a 59% increase from the previous year, may actually be even higher, as many of these killings happen in hard-to-reach communities.
"High levels of corruption in Latin America and weak rule of law means many of these projects get the green light and perpetrators of violence get away with killings," Billy Kyte, a Global Witness campaign leader and author of the report, told BuzzFeed News in a phone interview. "Governments and companies are more and more brazenly killing environmental activists."
All told, 7 of the 10 most heavily affected countries are in Latin America.
People defending their land are being killed around the world at a rate of more than three per week, the report reveals. Of these, indigenous people are the most vulnerable, accounting for nearly 40% of the victims. The main projects people are losing their lives opposing include mining, hydroelectric dams, and logging.
According to the report, corrupt Nicaraguan local officials illegally sold land to powerful business owners, helping them skirt a law guaranteeing land rights of indigenous people. Last year, armed settlers on that land killed 12 people on the country's Caribbean coast, an area rich in timber. Gunmen operating in the area also wounded three people and kidnapped three others who haven't been seen since. Up to 3,000 people have been displaced by the violence, the report concludes.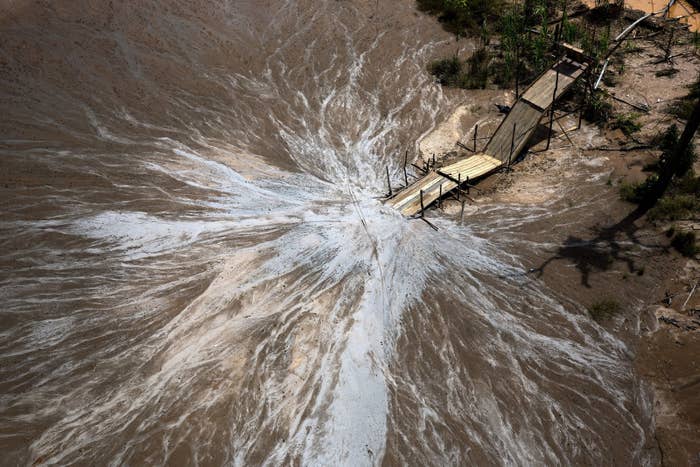 Those that have stayed behind have been unable to fish, hunt, and plant crops, because of the imminent threat they face. Their defenders, too, have come under attack: Six members of the Center for Justice and Human Rights of the Atlantic Coast of Nicaragua have received death threats on their personal cell phones. Messages like "You are first on the list of those we will send to rest" and "Gather your black clothes because we have a surprise for you" are among the worst received, Lottie Cunningham, the Center's president, told BuzzFeed News.
Cunningham said her organization has documented 28 deaths, 38 people wounded, and 18 kidnapped locals, most of them between 2014 and last year.
Activists and defenders in nearby countries have suffered similar attacks. In Guatemala, local teacher Rigoberto Lima Choc was killed after speaking out about a palm oil company allegedly polluting a local river. Similarly, Alfredo Ernesto Vracko, who led a movement to stave off illegal gold miners at a Peruvian forest, was murdered after denouncing several threats.
The problem isn't confined to Latin America; there were 33 killings in the Philippines last year, including the father and grandfather of activist Michelle Campos. The two, who had been campaigning against the exploitation of local coal, nickel, and gold reserves, were publicly and brutally executed.
Corruption, impunity, and poor implementation of land rights contribute to high murder rates amongst environmental activists. Paramilitary groups, armed forces, police, and private security guards were involved in 51 of the 185 cases last year.
"The brave women and men who risk their lives to protect the environment and rights of others should be lauded as heroes. Instead, the authorities typically fail to protect them, to investigate their deaths, or to punish those responsible," wrote John H Knox, Michel Forst, and Victoria Tauli-Corpuz, the United Nations' special rapporteurs on human rights obligations, human rights defenders, and indigenous people respectively, in a recent editorial published in The Guardian.
The report recommends refraining from investing in projects until informed consent is given by groups that could be affected by them, carrying out "prompt and impartial" investigations into threats and attacks on activists, and providing reparation to victims and their communities.
Last year's high rate of activist killings appears to be on track to be just as high in 2016. In March, the internationally renowned Honduran land defender Berta Caceres was gunned down inside her house. For decades she had spearheaded a campaign against the construction of a dam in the Gualcarque river, at one point prompting a Chinese company to withdraw from the project.
"This is the tip of the iceberg," said Kyte. "This problem will worsen in the coming years."