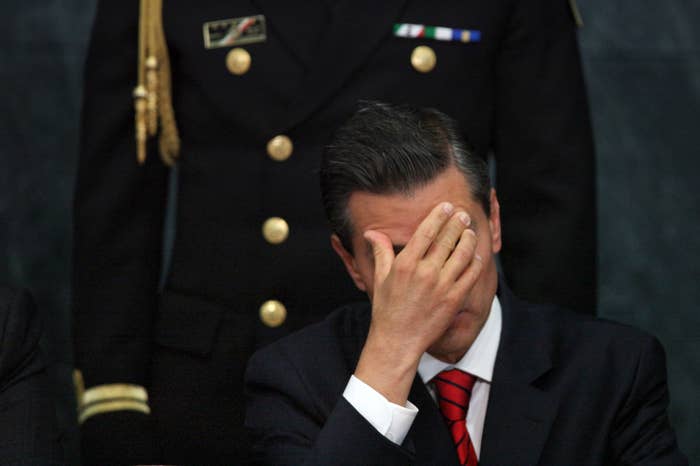 MEXICO CITY — May was the deadliest month in Mexico since 1997 with three people killed every hour, according to the Mexican government.
There were 2,186 homicides last month, according to figures from the Executive Secretary of the National System for Public Security which go back 20 years. In some states which were previously considered peaceful, like Baja California Sur and Nayarit, the rate doubled.
"This is the overwhelming and absolute failure of Peña Nieto's public safety policy," Alejandro Hope, a Mexican security analyst, told BuzzFeed News.
Hope and others attribute the uptick to a turf war between criminal groups, and the violent fragmentation within the Sinaloa Cartel headed by Joaquín Guzmán, known as "El Chapo."
Kidnapping, extortion, and car-theft rates also increased in May compared to the previous month.
A spokesperson at the Ministry of the Interior declined to comment on the homicide rate when reached by BuzzFeed News.

The record figure is likely to further hurt President Enrique Peña Nieto's low approval rating, which was most recently battered by the revelation that the government is spying on journalists and activists through spyware on their phones.
Several corruption scandals involving governors from his party and his inner circle, including his wife, have also eroded the message of change that propelled Peña Nieto into the presidency.
"We can live in a better country. We can live in a country that is peaceful and safe," Peña Nieto said in 2011, as he was preparing his presidential campaign. Mexico had already been buffeted by five years of violence after former president Felipe Calderón launched his anti-drug offensive.
Peña Nieto kicked off his administration in 2012 focusing on the economy and a package of overhauls, including of the education and energy sectors. But a series of violent episodes, including the disappearance of 43 students at the hands of local authorities, and a massacre committed by the army, forced national attention back to security issues.
A few months into his presidency, Peña Nieto announced the hiring of Óscar Naranjo, the former Colombian police chief, as his security advisor. Two years later, Peña Nieto launched the gendarmerie, an elite police unit to combat cartels. With homicide rates skyrocketing, a lawmaker with close ties to the president recently submitted a new internal security bill meant to broaden the scope of the police's power to detain subjects — a move that has been met with concern by human rights activists.
So far, 83,210 people have been killed during Peña Nieto's administration.
"2017 has presented a big challenge," Peña Nieto admitted during a meeting with state governors last month. "Crime rates in different states have begun to return to scenarios from the past which we do not want to see again."
The upward trend is likely to continue, said Hope, with the army and navy already spread thin across the country.