Keeping It In The Family: How Nepotism Is Helping Venezuela's Powerful Families
Power in Venezuela is concentrated in the hands of just three families who control government coffers, media and now, pop culture. BuzzFeed News' Karla Zabludovsky reports from Caracas.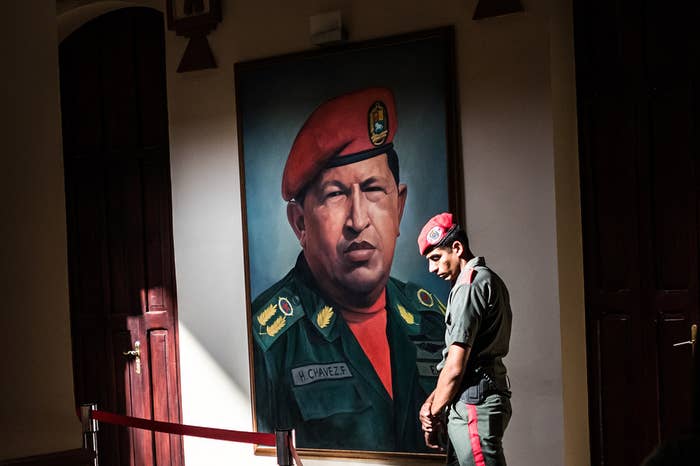 CARACAS, Venezuela — Daniella Cabello smiled sweetly at the crowd, clutching a Venezuelan flag against her white lace minidress. Cabello's voice filled the Karl Marx Theater, in La Havana, Cuba, with an ode to former president Hugo Chávez during a concert for peace in Latin America.
These days, Cabello and her youthful, delicate features seem to be everywhere. She appears frolicking on a white beach for an official tourism promotional video, walking alongside beaming elementary school children in a PSA video belying critics who have spoken out about worsening conditions in the country, and on morning talk shows, speaking about the youth's role in Venezuela's so-called Bolivarian revolution that Chávez started.
And yet, her videos "are atrocious, very kitsch, always corny, ridiculous," said Sergio Monsalve, a Venezuelan film critic who writes a weekly column for El Nacional newspaper, which supports the political opposition. "She is a parachutist with all of the resources of the state," added Monsalve.
Monsalve and many others here believe Cabello's budding celebrity is a result not of any artistic talent but of her father's position: Diosdado Cabello is the president of Venezuela's Congress and is considered the second most powerful man in the country. The Wall Street Journal recently revealed that U.S. prosecutors and the Drug Enforcement Administration are investigating him on suspicion of cocaine trafficking and money laundering.
"Nepotism has radicalized with the arrival of the Fifth Republic," said Monsalve, referring to the political period that began when former President Hugo Chávez assumed office in 1999.
It's not just Cabello. President Nicolás Maduro's son, Nicolás Maduro Guerra, has been appointed as coordinator of the National Film School, according to a number of industry experts. The problem, they say, is that Maduro Guerra has little more than a string of unfinished projects on his résumé. He is best known, rather, for dancing under a rain of bills at a wedding in a video released in March.
"Venezuelan society is no longer surprised," said César Batiz, editor of Poderopedia, an online platform that investigates and maps power relationships in the country, speaking of Cabello and Maduro Guerra. Nepotism, added Batiz, is not only on the rise but it "has become normal."
Analysts here say that power is concentrated in the hands of three families and their respective allies — the Cabello family; the Chávez family; and the Flores family, which includes President Maduro's wife — who treat the country's coffers as their personal bank accounts, place close relatives in key government positions, and ensure that their children get their wants met at any cost.
While nepotism has been on the rise since Chávez took power, many Venezuelans are becoming increasingly frustrated with the abuses of power as the country confronts near triple-digit inflation, is buffeted by food shortages, and descends into a growing spiral of violence that claims about 16 lives a day, on average, according to crime reporters here.
More worrisome than a pop celebrity and an aspiring film school coordinator are the relatives who control large amounts of public funds, says Batiz.
Take Cabello's family for example: His wife, Marleny Contreras, recently left her position in Venezuela's congress to head the Ministry of Tourism and preside over the National Tourism Institute. His brother, José David, who held several high-level positions under Chávez, is the current minister of industries and the director of the National Center for Foreign Commerce. Cabello's daughter, Daniella, does not manage public funds but many here believe she is a key component in a strategy to soften her father's abrasive image.
"I'm going to move some influences around there," said the rising pop star during a television interview with a giggle, speaking about how she convinced the team who produced the tourism spot she appeared in to include a shot of her grandmother's house.
Then there's Cilia Flores, Maduro's wife, who recently launched a weekly television show. The former attorney general and president of congress was said to have as many as 37 relatives in the parliament's payroll in 2008, according to local press reports. Today, her nephew, Carlos Erik Malpica Flores, is the national treasurer and a high-ranking director at the state oil company. One of her sons, Walter Gavidia Flores, is a criminal judge in the capital city of Caracas, Her brother, Bladimir Flores, was appointed inspector general of the investigative police last year.
Chávez's relatives round out the trifecta. They ensure that the former president's grip on power continues. His older brother, Adán Chávez, is the current governor of Barinas State, southwest of Caracas and Chávez's birthplace. One of his cousins, Asdrúbal Chávez, is the minister of petroleum and mining. His daughter, María Gabriela, was recently appointed Venezuela's deputy United Nations ambassador. Many say she is not prepared for the job, having never held a diplomatic position.
"The sum of it all tells us that they are not qualified," said Batiz, speaking of Chávez's, Cabello's, and Flores' relatives in power. The consequence of nepotism is that "we cannot guarantee democratic freedom, nor efficiency in government, nor a fight against corruption," he added.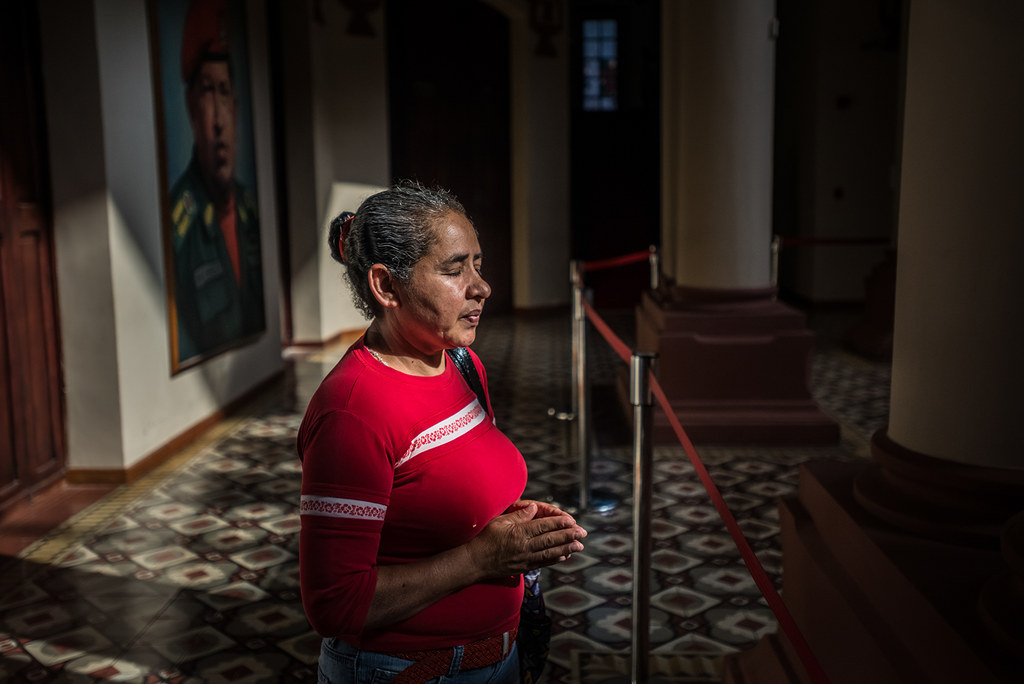 Chávez, whose eyes are reproduced on building facades, necklaces, and T-shirts, has become a center of attraction for tourists in the socialist country. Adoring followers, like Marta Elena Florez Diaz, visit his mausoleum regularly. Soldiers in elegant red uniforms with gold embroidery guard his body, at the military barracks on a hilltop overlooking Caracas, around the clock.
"I love him as though he were mine," said Florez Diaz shortly after leaning over to kiss the flower-covered granite tomb. A framed image of Simon Bolivar, the revered revolutionary who led Latin America's independence movement from Spain hangs above the tomb, just next to one of a checker-shirted, pensive Chávez.
A few feet from where Chávez's body rests is a small chapel. Its doors open once a month, on the anniversary of his death, but only to a selected group of individuals.
"His family, friends, and closest people," said the tour guide.