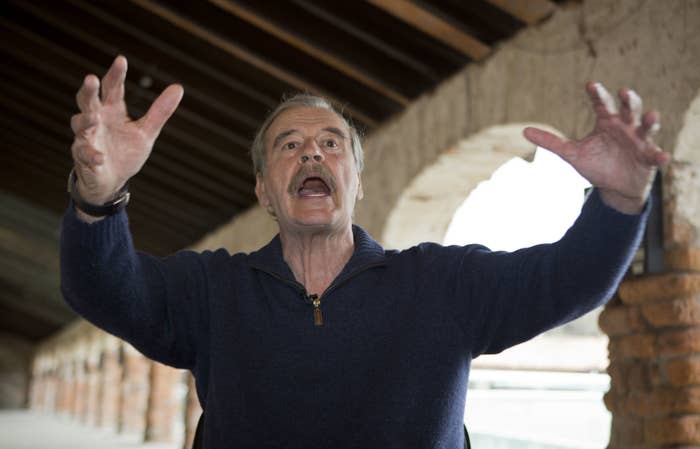 MEXICO CITY — Former Mexican president Vicente Fox is on a mission: Take down Donald Trump because, he says, "that dude is a pendejo."
You probably know a pendejo in your life — or several. A loose translation would be imbecile or even "fuck face," though research for this article revealed that it means, officially but unbeknownst to most people, pubic hair.
"I understood Hitler, I understood Napoleon, I understand a lot of very violent ones. This one I don't understand," Fox told BuzzFeed News during a telephone interview on Tuesday, 10 days ahead of Trump's inauguration. He "uses power to fuck people," the 74-year-old said bluntly.

If you scroll through Fox's timeline, you'll find plenty of 140-character bursts devoted largely to mocking and contradicting Trump. He takes his message offline, too, using interviews to declare things like, "I'm not gonna pay for that fucking wall" and "he's an illegitimate president," with the occasional "stand up to his bullying."
The former president, who's now best known for trying to legalize marijuana in Mexico, says tweeting is one of the channels he has easily within reach — literally — calling it an effective way to confront Trump's "loquacious" messages.

Fox has emerged as one of the most outspoken critics of Trump in Latin America, where people have felt especially discriminated against by the president-elect. In fact, slamming Trump on Twitter has been a near-obsession for Fox during the past year.
"Loco," "self-indulgent," and "obsolete" are some of Fox's favorite adjectives to describe Trump. He's not afraid to swear, especially when he's talking about the border wall Trump has promised to build. Fox even mocks the president-elect's unique style of tweeting, using his wife as the perfect subject:

(Fox also tweeted at Trump that he will never be invited to Cancun, where he was celebrating his wife's birthday.)
It's a convenient time to stand up to Trump in Mexico — and Fox knows it. People here are furious with President Enrique Peña Nieto, who appears to be cozying up to Trump, even after the president-elect called Mexicans criminals and promised to divide the two countries with concrete. The country has been rocked by protests in recent days calling for Peña Nieto's resignation.
Voices like Fox's "speak not so much about [Trump], but about the omission of the government," said Eduardo Villareal, a political science expert at CIDE, a Mexican research institute, referring to Peña Nieto and his cabinet. Earlier this month, Peña Nieto named Luis Videgaray, who reportedly championed Trump's visit to Mexico in August and was later forced to resign, as foreign minister.
The apparent feat of failing upwards shocked Mexicans, many of whom said the official meeting was an excuse to hand Trump the country's dignity on a silver platter.
Some people here have gotten a laugh out of Fox's tirades against Trump, but others think he's being hypocritical.
"This is the perfect psychological projection," said Virgilio Caballero, a lawmaker from the left-leaning Morena political party. "He turned out to be as much of a liar as he says Trump is."
(Caballero was referring to Fox's undelivered promises to eradicate corruption and his strengthening of Elba Esther Gordillo, a powerful figure associated with the Revolutionary Institutional Party, the party that Fox pushed out of power after a 71-year uninterrupted rule.)
Fox may be the politician speaking out against Trump most bluntly, but he isn't the only one. Peña Nieto compared the president-elect to Adolf Hitler and Benito Mussolini in June. The former president of Costa Rica, Oscar Arias, likened Trump to Nicaraguan president Daniel Ortega, who has consolidated power by banishing political opponents. But he is the only one doing it in bursts on Twitter, though, @-ing Trump with wild abandon.

Trump rarely addresses condemnations from foreign leaders and prefers to subtweet rather than directly engage when he does. Still, Fox told BuzzFeed News that Trump has reached out to him, once personally and again through friends, asking to meet at the Trump Tower, though he did not specify the dates. The Trump transition team did not respond to attempts to confirm this from BuzzFeed News.
Fox said he declined the invitations: "The answer has always been the same. Behave yourself."
In the meantime, he keeps tweeting on. The threshold for a Trump-related tweet isn't too high. "It's like in boxing, when a punch is hurtful," Fox said, mentioning Ford's recent announcement that it was scrapping plans to build a plant in Mexico following pressure from Trump on the automotive industry to keep jobs in the US.
Case in point: After Trump gave a press conference on Wednesday, the first since his surprise victory in November, Fox reached for his phone again.