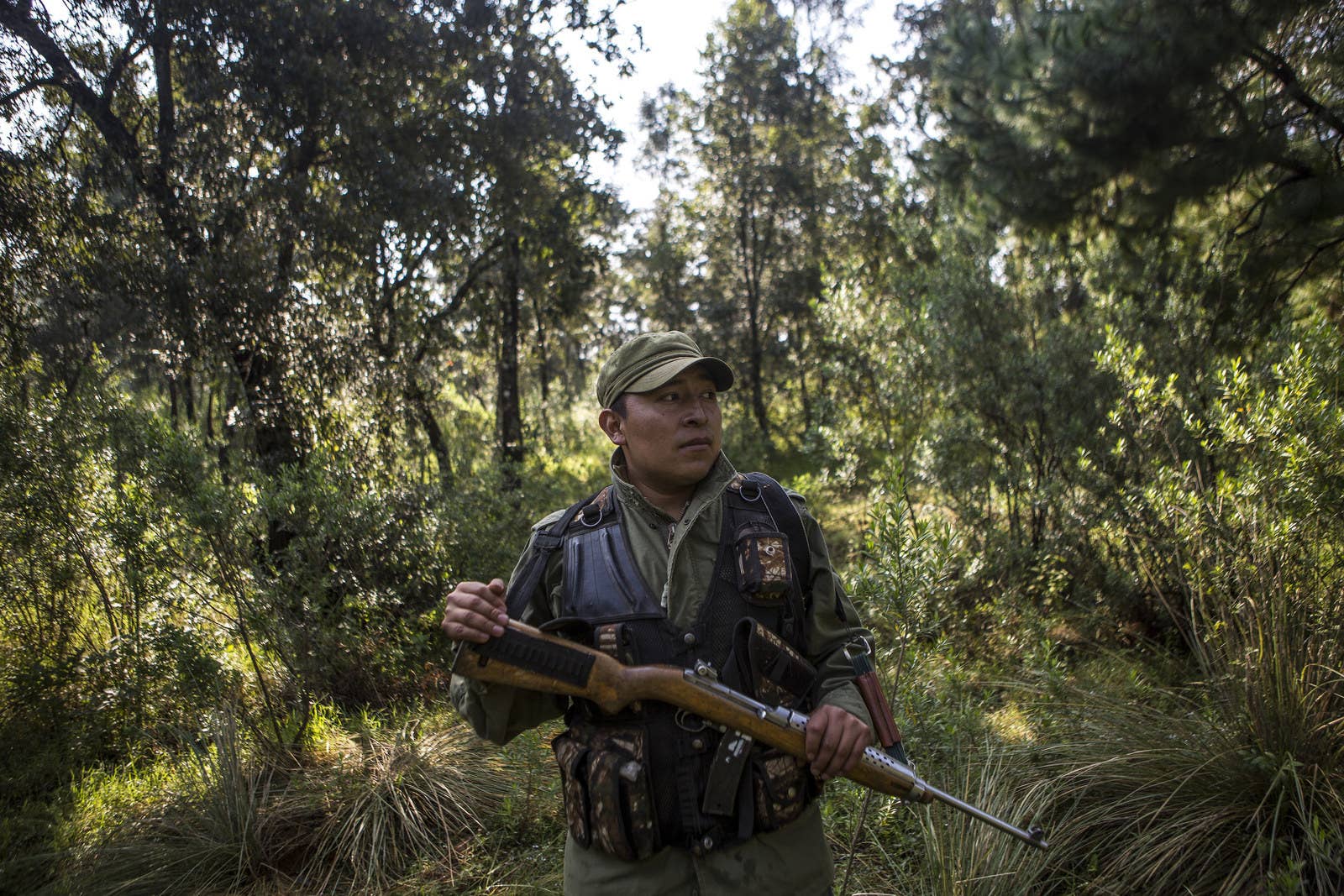 CHERÁN, Mexico — For many in Mexico, the word "Michoacán" evokes heart-pounding fear.
For years, it has been known as one of the most dangerous states in the country, wracked by drug war violence, many of its highways perceived to be impassable, its towns off-limits.
Yet in Cherán, a foggy town in the very heart of Michoacán state, people walk around without a care in the world — during the day, at night, and even in the woods that surround the town, once overtaken by armed illegal loggers. Today, residents roam these woodlands freely replanting pine trees.
"We've reclaimed territory," said Jorge Luis Sixtos, a resident of Cherán and member of the town's police force.
As Mexico maintains its reputation as one of the most violent countries on the planet, people are now asking: How did the town's 15,000 residents do it? It started with a legendary revolt.
By 2011, hordes of armed illegal loggers, who residents say were supported by organized crime, seized the hills that surround the town, obliterating about 70% of the area's woodland and scaring away locals. Residents appealed to local, state, and federal governments for help in stopping the loggers, but their pleas went largely ignored.
One morning in 2011, fed up with the deforestation, the high rate of accompanying violence, and official indifference to their plight, residents seized the police force's weapons, expelled all politicians, and barred entry to town. They set up bonfires on the town's intersections — about 160 of them — to keep criminals out, with all residents taking turns to keep watch around the clock.
Cherán's success is baffling in a region where rule of law is feeble.
Their revolt became legendary in Mexico, where large swaths of land have been overrun by criminal groups that have terrorized local populations, controlling the news flow, forcing citizens to abide by unofficial curfews and to spend as little time in public spaces as possible for fear of getting caught in a shoot-out.
Michoacán has been particularly hard hit by the drug war that has ravaged Mexico since 2006, becoming home to some of the biggest massacres the country has seen. The federal government has sent thousands of soldiers to try to deal with the violence, but homicides have grown steadily in the state since the start of the drug offensive, and dozens of state officials have been arrested on suspicion of ties to organized crime.
The surge of violence across the country, and the government's inability to deal with it, has led to the rapid proliferation of self-defense groups. These are groups that, worn down by years of violence and an ineffective police force, have taken public security into their own hands.
Noble in theory, many of the groups have caused their own problems in practice, leading to armed confrontations between them. Several have devolved into criminal gangs.
But Cherán, against all odds, has become a success story.
For town leaders, Cherán's success rests on the strong social cohesion among its residents. "All the families know each other," said Enedino Santa Clara, a member of the town's governing council, adding that 98% of residents have lived in Cherán for generations and feel a deeply ingrained loyalty to the land and their neighbors.

The town now boasts two police forces, made up of 92 Cheráneans. One guards the town and one patrols the forest. Many wear camouflage uniforms bearing the colorful flag of the Purepecha indigenous community, to which they belong. Some communities in the region have attempted to follow suit, visiting Cherán and seeking advice from its leaders. By and large they've been unsuccessful, their self-defense groups not cohesive or determined enough to fend off the encroaching violence.
"There is more trust in our town," said Francisco Sanchez, a resident here, adding that people from nearby towns visit more frequently now, leaving an important revenue stream behind. It's no surprise to residents in Cherán who agree that the town is infinitely safer; they walk around without looking over their shoulders and stay out late into the night.
The town council says that there have not been any murders or kidnappings — a frequent occurrence before the revolt — since 2011. The forests, too, have been secure, with people returning into the woods to tend to their lots and women roaming around picking wild mushrooms to sell in the main town square, known as the zocalo.
Cherán's success is baffling in a region where rule of law is feeble.
David Peña, a lawyer representing Cherán's residents, has a theory. "There is a component that is not visible: the economic component," says Peña. The town's robust economy makes it self-sustainable; its center extends for blocks and is filled with bustling businesses, many here profit from wood and resin or work in construction, and there is a constant flow of remittances. Unlike the Zapatistas, a group of indigenous rebels who have been fighting for land rights and autonomy from the government in southern Mexico since 1994, Cherán demanded political independence but ensured that the state continued giving the town its share of resources.
Pine-covered hills are visible from the center of town, which is surrounded by run-down, two-story buildings housing government offices. The rest of town is equally drab, with narrow streets and concrete houses, some covered in anti-government graffiti displaying slogans like "Political parties out." During the annual town party, which took place over the course of a week earlier this month, stands selling meat tacos and fried quesadillas filled the main streets. In the nearby bullfighting plaza, filled past capacity, people passed around bottles of tequila as they watched young men on horses lasso skinny bulls. People were unconcerned about safety.

And they have seen economic improvement as well. In 2011, there were 35 people who collected resin, a sticky, sap-like substance secreted by certain pine trees that is used for incense, medicine, varnishes, and amber. Now, says María Elena Hurtado, a member of the council, there are 400 of them. Resin is big business in Cherán; along many of the trails in nearby forests, a patch of the outer layer of thousands of trees has been sliced off and a plastic container nailed to the bottom to collect the viscous liquid. But it's not just business.
"They take away our life every time they cut down a tree," said Hugo Sanchez, a member of the police force, referring to illegal loggers. For people here, trees are a source of life but also of collective history and wisdom.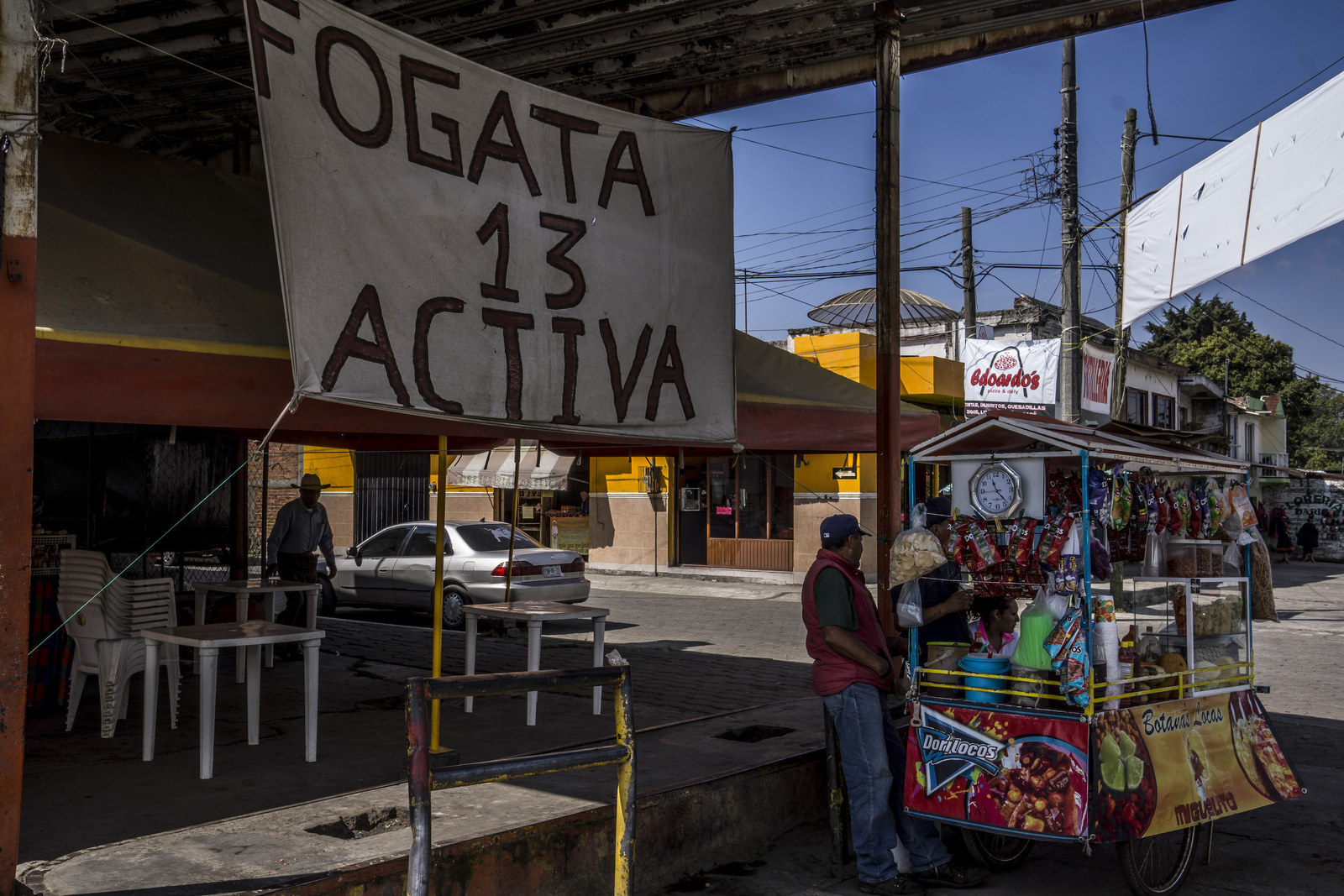 With help from the federal government and civil organizations, the town has built a tree nursery that grows 1.2 million pine trees every year and sells them to the National Forest Commission and several citizen organizations. The Communal Forest Nursery — "San Francisco," as it is called — provides jobs to about 50 people from Cherán.
The nursery jobs are announced at the bonfires. The flames that served as protection no longer burn, but the places where they once did now act as organizational units: Residents of each block gather there to vote for local public works and voice their concerns. Bonfire leaders relay these directly to the government, which is headed by the town's 12-member council.
Projects large and small are solved during these meetings. The town's water shortage saw community members decide to build a large, solar-power operated rainwater collection at the top of a nearby hill. Javier Duran, a member of the public works council, says that once the project, financed by the Mexican Institute for Water Technology, is completed, the potable water will be bottled and sold in Cherán. When a street needs to be paved or a streetlight fixed, the problem is tackled on the spot and with less bureaucracy than before. The council puts in part of the funds and residents donate the rest.
But for all its gains, the exceptional situation in Cherán is not without its challenges. Two methamphetamine labs have been found in the forest since last year and drug use is rampant, residents say. Authorities admit that illegal loggers — some of them residents of Cherán, locals say — still roam the forests at night, though it is "clandestine and very, very sporadic," says Pedro Chávez, one of the members of the governing council. And while they do not keep statistics, authorities admit that alcoholism is on the rise and domestic abuse happens but victims do not report it.
There is concern among many in town, including members of the council, that years of relative peace have led the town to lower its guard. In 2012, police manning barricades interrogated passengers and searched their cars thoroughly; now, they only ask their purpose for visiting, barely attentive to the response.
Residents sometimes now feel trapped inside their rebuilt community. "Leaving Cherán, crossing the barricades, may God protect you," said Ángel Chapina, a member of the town's police force.
Inside Cherán's protected borders, people here lament the shortage of jobs. Many men leave to the U.S., especially North Carolina, where they work tobacco fields, for months at a time. Women, especially, struggle to make a living.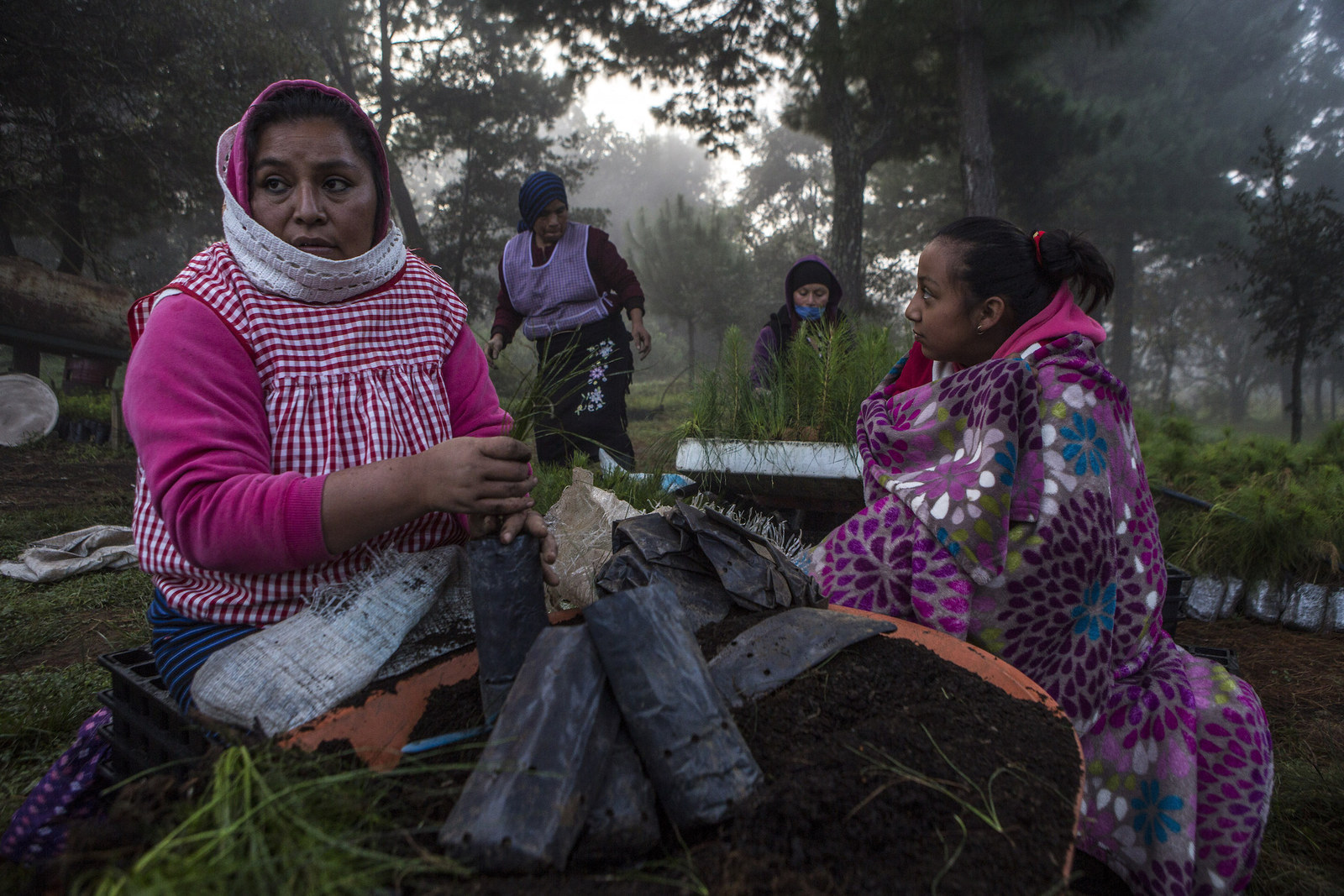 On a recent morning, a group of women sat hunched over wheelbarrows scattered near the nursery's entrance. María Elena Lemus, whose fingers were numb from the early morning cold, mechanically filled plastic bags with dirt and then carefully inserted individual baby pine trees with exposed roots. "This is the only option for women. We would like for there to be more jobs," said Lemus, adding that she was grateful to have been chosen for the highly coveted temporary work.
Some residents complain about the growing number of changes in what was supposed to be a perfectly democratic government. During the last election for the 12 council members who head the town's government, leaders in three of the four neighborhoods that make up Cherán decided that only people who regularly attend bonfire meetings could nominate themselves. There are no political parties, and candidates for public office are not allowed to campaign. And voting is public; people must physically stand in line behind their preferred candidate, their choice visible to the entire town.
As the state was gearing up for elections last year, a group of about 400 residents filed a petition to return to the political party-based system and vote in the statewide elections. The Michoacán Electoral Tribunal ruled that the "uses and customs" government would stay but that those who wanted to vote should be able to. Cherán's authorities opposed the ruling and ballot boxes had to be placed in nearby communities.
Juan Fabian Juarez, who signed the petition, said authorities commit abuses and act arrogantly. "It's a barbaric anarchy," he added. Justice imparted by authorities is a subjective, humiliating, and public affair. When people are caught stealing, they are forced to stand on a platform in the middle of the zocalo, holding up a sign for hours.
Marta Macias recently sat in the zocalo selling containers filled with honey. Macias, 38, complained about the discretionary powers the community police have. Her husband was recently jailed for a night and forced to pay $30 to be released after he was falsely accused of walking around town intoxicated.
Roberto Sixtos, who is in charge of the nursery, said that the successes achieved by Cherán may be undone by the very people who spearheaded them. "The problem is no longer with the outside, it's with our own people."